Avro 696 "Shackleton M.R.3"
British Four-engine Maritime Patrol Aircraft
---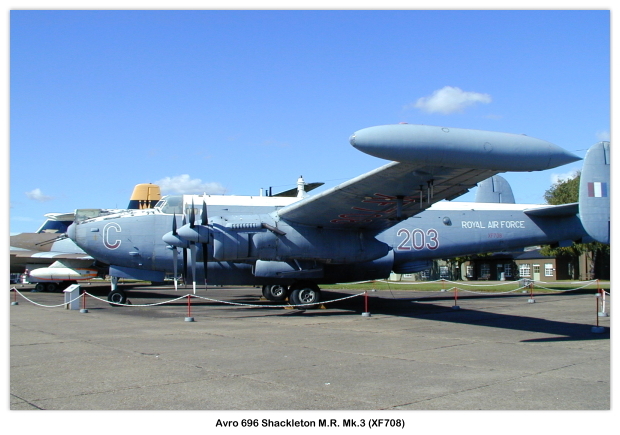 Archive Photos 1,2
---
Avro 696 Shackleton M.R.3 (XF708) on display c.1994 at the Imperial War Museum Duxford, Cambridgeshire, England (John Shupek photo copyright © 1994) 1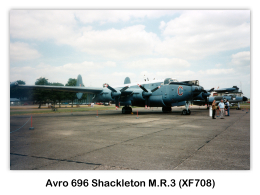 Avro 696 Shackleton M.R.3 (XF708) on display 9/10/2002 at the Imperial War Museum Duxford, Cambridgeshire, England (John Shupek photos copyright © 2002 Skytamer Images) 1
Airplane Card: Avro Shackleton, Wings, Topps Chewing Gum, 1952, USA, Card 67 of 200. (The Skytamer Archive, copyright © 2013 Skytamer Images) 2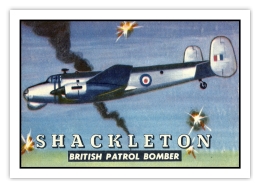 Overview 2
---
Avro 696 Shackleton
Role: Maritime patrol aircraft
Manufacturer: Avro
First flight: March 1949
Introduced: April 1951
Retired: 1990
Primary users: Royal Air Force, South African Air Force
Produced: 1951-1958
Number built: 185
Developed from: Avro Lincoln
The Avro Shackleton was a British long-range maritime patrol aircraft for use by the Royal Air Force. It was developed by Avro from the Avro Lincoln bomber with a new fuselage. It was originally used primarily in the anti-submarine warfare (ASW) and maritime patrol aircraft (MPA) roles, and was later adapted for airborne early warning (AEW), search and rescue (SAR) and other roles from 1951 until 1990. It also served in the South African Air Force from 1957 to 1984. The type is named after the polar explorer Sir Ernest Shackleton.
Design and Development 2
---
The aircraft was designed by Roy Chadwick as the Avro Type 696. It was based on the Lincoln, itself a derivative of the successful wartime Lancaster heavy bomber, one of Chadwick's earlier designs which was the then current ASW aircraft. The design took the Lincoln's wings and landing gear and mated them with a new fuselage, and was initially referred to during development as the Lincoln ASR.3. The engines were Rolls-Royce Griffons with 13 ft (4 m) diameter contra-rotating propellers, creating a distinctive engine noise and adding high-tone deafness to the hazards of the pilots. The first test flight was in March 1949 and front-line aircraft were delivered to Coastal Command in April 1951 and had their operational debut during the Suez Crisis. In the ASW role, the Shackleton carried both types of sonobuoy, ESM, an Autolycus (diesel fume detection system) and for a short time an unreliable magnetic anomaly detector (MAD) system. Weapons were nine bombs, or three torpedoes or depth-charges, and 20 mm cannon.
The M.R.2 was improved with feedback from operations and is considered by aficionados to be the definitive type. The radome was moved from the nose to a ventral position, to improve all-round coverage and minimize the risk of bird-strikes. Both the nose and tail sections were lengthened, the tailplanes were redesigned and the undercarriage was strengthened.
The M.R.3 was another redesign in response to crew complaints. A new tricycle undercarriage was introduced, the fuselage was increased in all main dimensions and had new wings with better ailerons and tip tanks. As a sop to the crews, on fifteen hour flights the sound deadening was improved and a proper galley and sleeping space were included. Total take-off weight had risen by over 30,000 lb (13,600 kg) (Ph. III) and assistance from Armstrong Siddeley Viper Mk.203 turbojets was needed on take-off (JATO). This extra strain took a toll on the airframe, and flight life of the Mk.III's was sufficiently reduced that they were outlived by the Mk.IIs.
Operational History 2
---
A total of 185 Shackletons were built from 1951 to 1958: around twelve are still believed to be intact, with one still flying (SAAF 1722 based at AFB Ysterplaat).
Royal Air Force
All marks suffered from using the Griffon engines - thirsty for fuel and oil, noisy and temperamental with high-maintenance needs. In 1961, M.R.2s engines needed top overhauls every 400 hours and went through a spate of ejecting spark plugs from their cylinder heads. It was not unusual to see an engine changed every day in a unit of six aircraft. They were constantly on the cusp of being replaced, but the potentially beneficial Napier Nomad re-engine did not happen.
The need to replace the Shackleton was first raised in the early 1960s. The arrival of the Hawker-Siddeley Nimrod in 1969 was the end for the Shackleton in most roles but it continued as the main SAR aircraft until 1972. The intention to retire the aircraft was then thwarted by the need for AEW coverage in the North Sea and northern Atlantic following the retirement of the Fairey Gannet. With a new design not due until the late 1970s the existing AN/APS-20 radar was installed in Mk.IIs as an interim measure, the A.E.W.2, from 1972. The Nimrod AEW replacement program dragged on and the eventual successor to the Shackleton did not arrive until the RAF finally abandoned the Nimrod AEW and purchased the Boeing E-3 Sentry in 1991.
South African Air Force
After evaluating four RAF M.R.2s in 1953, the South African Air Force ordered 8 aircraft to replace the Short Sunderland in maritime patrol duties. Some minor modifications were required for South African conditions and the resulting aircraft became the Mk.3 These Shackletons remained in maritime patrol service with 35 Squadron SAAF up to November 1984. The aircraft received SAAF designations 1716 to 1723. Although the joke has been applied to several aircraft, the Shackleton has been described as "a hundred thousand rivets flying in close formation."
Variants 2
---
Shackleton G.R.1 — The first production model for the RAF, later redesignated Shackleton M.R.1
Shackleton M.R.1A — Version powered by four Griffon 57A V12 piston engines, equipped with a chin mount radome. In service from April 1951.
Shackleton M.R.2 — More powerfully armed and cleaner version of Mk.1. New nose with two additional 20 mm cannon aimed by gunner who sits above bomb-aimer. Fixed under-nose radome of Mk.1 deleted and replaced in Mk.2 by retractable radome, located under fuselage aft of bomb-bay. Rear fuselage faired off with transparent terminal cone to provide look-out position. Single fixed tail wheel of Mk.1 replaced by twin retractable wheels. The Mk.2 prototype flew for the first time On June 17, 1952.
Shackleton M.R.2C — Number of Shackleton M.R.2s, fitted with the navigation and offensive equipment of the Shackleton M.R.3
Shackleton M.R.3 — Maritime reconnaissance, anti-shipping aircraft. Developed version of Mk. 2. First production Mk.3 (WR970) flew on September 2, 1955. Nose-wheel landing-gear; increased fuel capacity, incorporating wing-tip tanks; new clear-view cockpit canopy; internal changes for increased crew comfort, etc. The tail wheel was replaced by a tricycle undercarriage configuration. In production for Royal Air Force and South African Air Force. Eight exported to South Africa.
Shackleton M.R.3 Phase 2 — Similar to Shackleton MR.3 but fitted with two Viper turbojet engines for assisted take off.
Shackleton M.R.4 — Project of new maritime reconnaissance version, none built.
Shackleton A.E.W.2 — Airborne early warning aircraft. M.R.2s converted to take ex-Fairey Gannet airborne early warning radar.
Shackleton T.4 — Navigation trainer conversion.
Operators 2
---
South Africa: South African Air Force
United Kingdom: Royal Air Force
Avro 696 Shackleton M.R.3 Specifications 4,5
---
Type 4
Four-engined long-range Maritime Reconnaissance monoplane.
Wings 4
Cantilever mid-wing monoplane.
Wing root Aerofoil NACA 23018.
Incidence 4°.
Dihedral on outer planes (true) 4°.
Two-spar all-metal structure.
Hydraulically-operated split training-edge flaps, two between fuselage and inner nacelles, and two outboard of inner nacelles.
Total flap area: 187.3 ft2
Ailerons in outer wing panels, with trim and balance tabs in each.
Total aileron area: 113.4 ft2
Gross wing area: 1,421 ft2
T.K.S. porous-metal leading-edge de-icing.
Fuselage 4
Light-alloy stressed skin semi-monocoque structure.
Tail Unit 4
Cantilever monoplane tail and end-plate fins and rudders.
All-metal structure.
Total tailplane area: 285.4 ft2.
Elevator area (including tabs): 87.30 ft2.
Trim-tab area (two): 3.56 ft2.
Balance tab area (two): 3.54 ft2.
Total vertical tail area: 223 ft2.
Total rudder area (including combined balance/trim tabs): 100.2 ft2.
T.K.S. porous-metal leading-edge de-icing.
Landing Gear 4
Retractable nose-wheel type.
Main wheels each carried between two oleo-pneumatic shock-absorbing legs, retract backward hydraulically into inner engine nacelles.
Power Plant 4
Four 2,450-hp Rolls-Royce Griffon 67 twelve-cylinder Vee liquid-cooled engines.
Each engine driving a de Havilland six-blade co-axial counter-rotating constant speed fully-feathering airscrew.
Diameter of airscrew: 13 ft.
Accommodation 4
Crew of ten.
Pilot's compartment in forward fuselage section, seating two side-by-side.
Other crew positions in nose and fuselage.
Armament 4
Two 20 mm cannon in Bristol B.17 dorsal turret.
Large single bomb compartment can accommodate variety of anti-shipping weapons in many combinations.
Equipment includes extensive radio and radar, provision for carrying A/S.R. lifeboat, etc.
Dimensions: 5
Span: 119 ft. 10 in.
Length: 92 ft 6 in.
Height: 23 ft. 4 in.
Wing area: 1,321 ft2
Weights: 5
Tare weight: 57,800 lbs
All-up weight: 100,000 lbs
Performance 5
Maximum speed: 302 mph
Cruising speed: 260 mph
Initial climb rate: 850 ft/min
Ceiling: 19,200 ft
Range: 4,215 miles
References
---
Shupek, John. Avro 696 Shackleton M.R.3 photos via The Skytamer Archive (John Shupek photos) copyright © 1994, 2002 Skytamer Images. All Rights Reserved).
Topps Chewing Gum, "Wings", Airplane Trade Cards, 1952, R707-4, USA.
Wikipedia, the free encyclopedia. Avro Shackleton.
Bridgman, Leonard. "Avro: The Avro Type 696 Shackleton: Shackleton M.R.Mk.3". Jane's All the World's Aircraft 1954-55. The McGraw-Hill Book Company, Inc., New York, 1955. pp. 48-50.
Jackson, A.J. "Avro 696 Shackleton", Avro Aircraft Since 1908 (3rd edition). London: Putnam Aeronautical Books, London, 2000. pp. 415-421, ISBN 0-85177-797-X.
---