Airplane, Military and Non-Sports Trading Cards
A Collector's Guide to Airplane Trading Cards
---
About " Card Collecting or Cartophilia "
---
For the hobby of card collecting, there are two basic collecting categories: "Sports Cards" and "non-Sports Cards". We are all familiar with "Sports" cards, the most famous being Baseball cards. Of course, sports cards run the entire gamut of sports, i.e. baseball cards, basketball cards, football cards, soccer cards, hockey cards, etc. However, many people do not realize that there is card collecting other than "Sports" cards. The "Non-Sports" card category seems to include every other possible subject matter from "A" (i.e. Aeroplanes) to "Z" (i.e. Zoo Animals) and everything else in between. Retailers have used "Non-sports" cards as an advertising media since the late 1800s. Every conceivable product has been advertised via non-sports cards. Examples include chewing gum, teas, tobacco products, food products, ice cream, breakfast cereals, etc.
"Type" collectors make up the majority of the non-sports card collectors. For example, our Skytamer Images collection is focused on vintage aviation and military cards to display on our website. Other collectors may specialize in WWII cards, vintage gum cards, automobile cards, movie-star cards, railroad cards, super-hero cards, ship cards, etc.
Prices of individual cards and/or sets range from just a few dollars, up to thousands of dollars. The card value depends on the condition and scarcity of the cards and/or sets. The easiest way to start collecting is to use eBay. You may also purchase cards via online card stores. Just decide what you want to collect and go for it!
Since 2002, we've been purchasing vintage aviation and military related non-sports cards to feature on our Skytamer.com website. We are currently in the process of populating our website with approximately 400+ non-sports card sets, mostly aviation related. Nearly all of the featured card sets include both "original" and "computer enhanced" 600-dpi or currently 900-dpi scans of the fronts and backs of all the cards in the individual sets. We also include printable PDF checklists for each of the card sets featured on the website. By the way, if you print out these 600-dpi card images on any high-quality computer (including photo paper) and trim them, they make great full-size "Filler Card Images" to use before you acquire the real card. We should note that we are actually "Image Collectors" rather than "Card Collectors" per se. Once we've scanned a card for he Skytamer.com website, we're therefore have no use for it, and eventually post it on eBay.
Overview
---
A Quick Note: The non-sports card collections in this section are sorted alphabetically by set title. Use the 'A-Z' navigation buttons at the top to view the various card collections.
The Airplane, Military, and Non-Sports Trading Card section of the Skytamer.com website focuses on Airplane Trading Cards, with a few other "non-sports" cards thrown in for good-measure. The card images presented in this section were obtained from original card scans from the Al Kramer Collection, the Skytamer Archive, the Bob Dros Collection, and numerous high resolutions scans sent to us by fellow collectors. All of the images presented in this section have been computer enhanced/restored in an attempt to present the artwork in its original beauty. To this end, blemishes, creases, stains, spots and scratches were removed, borders whitened, card images re-centered, colors enhanced, etc. Examples of "original" and "restored/enhanced" card images are shown below.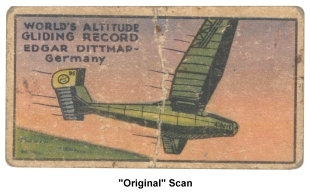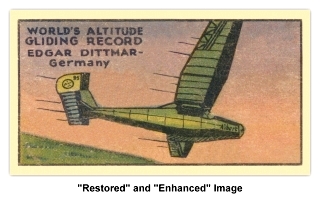 Each card series contains a brief overview of the card series along with a checklist and high-resolution (600/900-dpi) original scans of the fronts and backs of the cards plus the computer enhanced/restored images. In many cases, we have been able to include high resolutions scans of the various set albums, and a few of the "wrappers.&rquo; The "lofty-goal" of this section is to provide a comprehensive compilation of aviation related trading cards, including checklists, wrappers, and high-resolution scans. The only way that this can be done is with the help of fellow collectors.
The cards in this section were issued worldwide, but mainly from the United States, the UK, Canada, Australia, New Zealand, and many other countries as noted. The cards cover a time-frame from approximately 1912 to the present. The original focus was on the "Gum" issues, however that quickly expanded to include tobacco, gum, cereal, confectionary, bakery, ice cream, foodstuffs, gasoline and gasoline/oil products, etc. Basically, if they card has something to do with aviation, and its does not have feathers, we've tried to included it.
A Little History About Trade Cards
---
In the early days of trading cards, they were used mainly as an advertising medium. The cards were inserted in the individual packages of the related products to enhance the customer base of the product, and of course to lure potential customers away from their competitors. The greatest use of trading cards were with the tobacco issues produced during the period from 1885 to 1891. Of course these cards were targeted at adult males who smoked or chewed tobacco. Later on, companies who manufactured and sold household goods, decided to target adult women for collector cards. This led to sets such as the Arm & Hammer "Birds" Series, and the Arbuckle Coffee sets. During this period, children really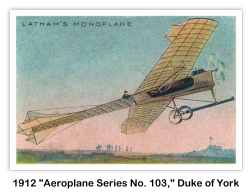 did not have any purchasing power, so the collector cards were not targeted for their market.
Things changed when the "Penny Candy" and the "Caramel" cards sets were issued between 1907 and 1914. These cards sets were designed and marketed to attract both juvenile and adult sales. A typical early caramel card is shown below.
During the early days of card collecting, things were much different than in today. For example, there was no radio, or television to provide the instant images of world events that we're so used to. The printed media was the primary source of information, and collector cards were a handy source of receiving information. Therefore, the heavy paper and cardboard collector cards became the source of both information and entertainment. During the early 1900's, families would build up scrapbooks of clippings, collector cards, postcards, and any other type of printed media that reflected the world and society of the times. The insert cards of that era were just one of the many different items that were available to collectors. Most of the cards were selected by chance or at random. This was due to the lack of mass media and marketing as we have today.
During the late 1920s and early 1930s, everything changed with the development and introduction of "Bubble Gum". Of course, children were to be the new key players as we entered the "Bubble Gum Age". In 1933, the Goudey Gum Company of Boston introduced their "Indian Chewing Gum" and their "Big League Chewing Gum" sets of gum trading cards. Not only did these multi-color artwork cards have a fancy wrapper, they also included a large slab of tasty gum.
This was a brilliant move by the Goudey Gum Company. They "killed two birds with one stone". They issued a psychological "slap in the face" to the Great Depression, and they challenged their competitors to "sink or swim". This was the shot in the arm that the trading card industry needed to extract themselves from the psychological quagmire of the Great Depression. Needless to say, the Goudey Gum Company posted record sales. The sales were to kids, not adults! We had officially entered the Golden Era of the Bubble Gum Age, 1930 to 1960. Since 1960, the actual Bubble Gum issues have given way to stand-along collector cards. However, the basic size and style of the current collector cards remaining the same. Even though the present cards to not include gum, they will always be known as "Bubble Gum Cards".
Types of Cards
---
There are three primary types of cards associated with card collecting: Advertising, Insert, and Souvenir cards.
Advertising Cards are cards given away or used solely for advertising purposes. They are not sold or paid for in any manner. The first type, which includes most of the smaller items, is often called Trade Cards since they were given to customers by the retail tradesmen or storekeepers. The second type, or Store Cards, were used within the stores as hangers, counter cards, banners, etc., and ranged up to several feet in length. While intended solely for store use, many have been saved and are highly prized by collectors. Trade Cards, in America, date back to Colonial dates.

Insert Cards were packed or inserted with a product and sold to the customer in that manner. They were obtainable only with some product such as cigarettes, coffee, or candy and are commonly referred to as cigarette cards, gum cards, etc., pending on their origin. They were made expressly to be collected and have always been popular with collectors. In some cases they were given in exchange for coupons that were packed with a product and so may take the form of albums or large-size items. Many were made of cloth or metal rather than cardboard. They were first used in the late 1870's.

Souvenir Cards, generally speaking, are made to be sold because of their own intrinsic interest. All of them have an underlying practical use or purpose of differing natures, but to collectors is the subject matter of the illustration or design and the artistic elements which, aside from the historical aspects, have the primary appeal. Some of them have an advertising or gift complex, but usually retained much of their essential souvenir nature. The best known forms are picture postcards, playing cards, and greeting cards, but there are several others of considerable interest.
Obtaining Cards
---
While many collectors restrict themselves to a small segment of cards, the best advice is to collect general, as far as possible, as a wide interest means a wider circle of friends and increased enjoyment of obtaining the items more frequently. There are numerous dealers who specialize in card items, especially postcards, and hundreds of others to dealing antiques, old books, prints, curios, and other Americana. These people are constantly finding old forgotten collections and will be glad to help serious collectors. Auction buying and selling via eBay is probably the most efficient and effective method of buying and selling cards. Skytamer Images has acquired most of the cards presented on this site via from eBay. EBay has the added side-benefit of increasing your worldwide contacts of people that are interested in the same hobby. If you have never used eBay, give it a try.
Contributors
---
Since 2002, there have been many card collectors that have contributed to the Skytamer.com website. The following are just a few of the Skytamer "Family" members that have helped us out with high resolution scans from their collections.
John Shupek — John is retired Aeronautical/Aerospace Engineer that lives in Southern California. John's 36 year aerospace career/adventure started in the mid-1960s when he worked for Pratt & Whitney at their "FRDC" … Florida Research and Development Center, West Palm Beach, Florida. John was part of the P&W jet engine design team for the CIA/USAF's Lockheed A-12/SR-71A "Oxcart/Blackbird" engines (J58/JT11D-20). He also worked on the RL-10 rocket engine and the JTF-17A which was P&W's entry into the United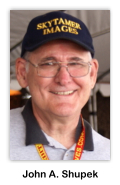 States' SST competition between Boeing and Lockheed. Several years later, John moved back to California and worked at the AiResearch Mfg. Company at LAX and Torrance. He originally worked on the thermal design of the HRE (Hypersonic Ramjet Engine) which was a supersonic combustion Mach 7 ramjet engine that was to be tested on the North American X-15. John did about three more years of jet engine design work before he disappeared for 13 years into the classified DOE "GCEP" (Gas Centrifuge Enrichment Plant) Atomic Energy program for the enrichment of U235. After the GCEP program was cancelled by the DOE in 1985, John was hired by Northrop Aircraft to do the thermal design for Northrop's entry into the ATF (Advanced Tactical Fighter) competition, the Northrop YF-23A "Black Widow II" stealth supercruise fighter. He also worked on the Northrop Grumman B-2A "Spirit" stealth bomber. After several years on a classified stealth missile program, John worked the remainder of his Aerospace career as one of Northrop Grumman's Program Directors on the United States Navy's F/A-18E/F "Super Hornet" jet fighter program.
During John's career at Northrop Grumman he served for five years as Northrop's "Vintage Aircraft Club" Commissioner and the Curator and Webmaster for the Western Museum of Flight in Hawthorne, California. Several years later, John was the volunteer webmaster (for about 3 years) for the Yanks Air Museum, Chino, California. He also served as President and webmaster for two different NPO's after his retirement. The Whittier Historical Society & Museum and Whittier Meals on Wheels.
John's love of aviation history and aviation photography lead to the establishment of this Skytamer.com website in 1998. The Skytamer.com site has continued to expand and will always grow and will never be completed. It's sort of analogous to a snowball rolling down a hill without any trees to stop it. In approximately 2002, John remembered that he had collected Topps "Wings" (ACC# R707-4) airplane trading cards while in High School. Somehow the cards had disappeared over the years. So at this point, he started to re-collect airplane trading cards via eBay and become an airplane card "Image Collector" rather than a "Card Collector" per se. After John scans an airplane card for the website, he has no further use for it and he puts it back into circulation via eBay. John's mission statement for the Skytamer.com is basically to restore and preserve high-quality card images/artwork associated with the various airplane card sets from the early 1900s to the present. These cards are wonderful historical "snapshots" into aviation history showing which aviation events and aircraft were important at that point in time. For the Skytamer.com website, basically if it is a trading card collection that features things that fly, but doesn't have feathers, it's eligible for the consideration on the Skytamer.com website. John always welcome inputs and high resolution scans (600-dpi) that can be used on this website. John can be reached via the "Contact Us" navigation button on the left.
★ ★ ★ ★ ★
Albert "Al" B. Kramer — A very special thanks to Albert B. Kramer, President of Roll-EZ Wheels, for loaning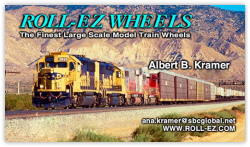 us his entire collection of over 200 Non-Sports aviation trading card sets to scan for our Skytamer.com website. Without Al's generous help, the scope of the airplane trading cards on this website would be significantly less.
Al is a retired Air Racing pilot who raced during the 1980's in his famous "Cobra #22" Biplane Air Racer (N12FE). After his Air Racing career, Al went on to become Owner and President of San-Val Aviation located at the Van Nuys Airport. Al recently "retired" and turned his hobby of large scale model trains into "Roll-EZ Wheels". Roll-EZ Wheels specializes in the finest large scale model train wheels, and other exclusive products strictly for large scale model trains! Be sure to visit Al's Roll-EZ Wheels website.
Al's Non-Sports card collection consists of War Cards, Presidents, Indians, Cars, Boats, Ships, Planes, Rockets, Movie Stars, Dogs, Licence Plates, Flags of the World, Headlines, Cigarette, and Cereal cards. Al's collection includes the only-known example of the Carnation "Aircraft Recognition Cards" (F270-1a) Douglas D558-2 "Red Skyrocket". Al obtained the Carnation "Red Skyrocket" card in a group of 12 different cards that he bought on eBay. He originally thought that the cards were a batch of Nabisco cards until he turned over the "Red Skyrocket" card and it instantly became Al's most prized Non-Sports card. Al believes that the "Red Skyrocket" was made as a sample for Carnation and somehow got into circulation. The Carnation "Red Skyrocket" (Douglas D-558-2) was an artist drawing, while the Douglas D-558-2 "Skyrocket" included in both the Carnation F270-1a (single line) and the F270-1b (two-line) normal circulation sets were color photos, rather than drawings. As a sidenote, the Douglas D-558-1 "Red Skystreak" was also an artist drawing, but went into general circulation and was included in both the F270-1a and F270-1b Carnation sets. All of the other cards in both of the Carnation sets appear to be photographs.
★ ★ ★ ★ ★
Richard "Dick" R. Dahlquist (1 September 1939 - 11 August 2007) was a lifelong resident of Holden, Massachusetts, and a United States Air Force veteran of the Vietnam War. Dick graduated from Wachusett Regional High School and the New England School of Accounting. He was an accountant for many years and also did private accounting work from his home. He was an avid sportsman and was
active in the Nimrod League of Holden.
One of Dick's favorite hobbies was collecting Non-Sports Airplane Trading Cards. Dick wrote numerous articles concerning Non-Sports Airplane Trading Cards for "The Wrapper" non-sports cards periodical, and was a contributor to the NSB (Non-Sports Bible) by Dr. Chris Watson. Dick possessed one of the best and well known Airplane Trading Cards collections. In the Non-Sports "Airplane Trading Card World", Dick was considered to be "The" Premier Airplane Trading Card collector. Dick used to quip with his fellow collectors that he was from the most religious city in the USA since the city was always "Holden Mass".
Skytamer Images' John Shupek had the pleasure of working with Dick from 2002 through his passing in 2007. Dick was an avid supporter and mentor of Skytamer Images by supplying numerous airplane trading card images and insight for the Skytamer.com website. Skytamer's first contact with Dick was in 2002 when Dick and John were constantly bidding against each other on eBay. Dick and John soon realized that Skytamer needed card images, while Dick needed the cards, so they decided to join forces to solve the eBay "bidding war" mutual problem. Whenever Dick or John were about to bid on an airplane card, they would check with each other to confirm their intentions. If Dick needed the card(s), John would "snipe" the card(s), scan them for the Skytamer.com website, and then forward them on to Dick. During this five-year timeframe, Dick and John acquired several hundred airplane trading cards/collections in this manner which benefited both Skytamer's image collection and Dick's card collections. During this period, Dick and John talked with each other several times a month and exchanged hundreds of emails before Dick passed. The passing of Richard Dahlquist, has left a void in the Non-Sports "Airplane Trading Card World". Dick was our mentor, technical consultant, and friend. R.I.P. Dick.
★ ★ ★ ★ ★
Bob Dros — Bob was born on a Dutch island that had a small airfield and a gunnery range for naval aircraft. Bob experienced his first signs of aviation addiction at age of 7, when he was seeing and hearing "Spitfires" that flew overhead from the nearby airstrip as target tugs. Bob's childhood memories include seeing and hearing the low flying Dutch naval "Avengers", "Harpoons", "Neptunes" and "Sea Furies" target practicing just five miles from his island village. Bob started off his airplane
trading card collection by collecting the wonderful five series of Croydon aircraft cigarette cards, and the Van Dijk's Gouda's Roem albums "History of Aviation" and "World Aviation" and
Dutch aircraft gum cards. Much later, Bob started to include other Dutch sets, and airplane card sets from nearby Germany, England, and France. During 2000, Bob started collecting as many airplane sets as he could in order to create an "Encyclopedia of the World's Aviation Trade Cards" which is scheduled for publication in 2015.
Bob's interests also include music. His first group in 1962 was "The Typhoons". Starting in 1974, Bob played drums in one of Holland's best known blues bands "Barrelhouse". During 1978 "Barrelhouse" invited the American blues guitarist Albert Collins to Holland and toured and recorded with him. "Barrelhouse" also worked with B.B. King on his European tours. During 2014, "Barrelhouse" did a 40th Anniversary Tour in Europe.
Bob studied psychology from 1968-1975, got his degree and worked for two years, but his love of music pulled him back into the music world.
During 1986, Bob started his own business … Bel Air Models. At first, Bel-Air Models specialized in miniature musical instruments, like electric guitars, drums and classical instruments. However, Bob's lifelong love affair with aviation later changed the focus of Bel-Air Models completely to model aircraft types. Bel-Air Models specializes in odd types of model aircraft, which are not available on the regular model aircraft market, such as the wonderful airliner designs from the Inter-War years. Bel-Air Models mostly takes commissions from specialist collectors and constructs the models by hand from solid Perspex or Plexiglas. So far, Bel-Air Models has done more than 150 aircraft types, many of them twice, three times and even 25 times, dependent on their popularity.
In Bob's spare time, he writes short articles about model history for a periodic of a group of enthusiast flying model airplane owners.
★ ★ ★ ★ ★
Pieter van der Zwaart was born in Amstelveen, a village near by Amsterdam, about 1 mile from Schiphol, now known as the Amsterdam Airport. At that time, aviation in the Netherlands was still recovering from the devastation of World War II. As a very young boy, Pieter's family collected airplane cards for two albums "Vliegende Vleugels" (Flying Wings) written by the famous Dutch aviation author C. van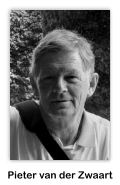 Steenderen and issued by Theodorus Niemeyer, producer of coffee and tea.
Pieter's father was a great admirer of Dr. Albert Plesman, a Dutch aviation pioneer and founder of KLM, the oldest airline in the world still operating under its original name. Together they made several visits to Schiphol and as a young boy he saw the KLM-fleet developing from Douglas DC-4s to DC-6s to DC-7s to Lockheed "Constellations" and later on to the beginning of the jet-age with Douglas DC-8s and DC-9s. As a working student, with Avis® Rent A Car at Schiphol, he even witnessed the first arrival of the Boeing 747 at Schiphol.
During his working career and growing a family, for many years there was no time for his aviation interests. But during the last two decades, he revived his interest in Aviation, especially by collecting card albums in that theme from all over the world. On the same terms he also collects card albums on cars. At that time, Pieter also revived his musical interests. After playing trumpet in his youth, he started studying the bass tuba and now plays in several orchestras and occasional groups at the top amateur level in the Netherlands. Pieter has a collection of about 400 card albums from all over the world, evenly distributed about cars and planes. From all the continents only Asian albums are still missing. And after a few decades of collecting he still isn't sure whether the albums are the best things in collecting or the contacts one makes during trading and exchanging information.
Some of his interests in aviation are shared with his son, and together they visit aviation museums in and around the Netherlands. His son is a very enthusiastic advanced flight simulator player on his PC and Pieter hopes to be tutored in flying by him soon.
After receiving his degree in Mechanical Engineering and Mathematics, Pieter had a career in Math Education and Curriculum Development. After his retirement, Pieter is still involved in the development of math tests for secondary education.
★ ★ ★ ★ ★
William "Bill" Smart is a resident of Ontario, Canada. Bill is an avid hockey fan who played hockey for 35 years and coached hockey for 18 years. Bill has been collecting hockey and baseball cards plus sports memorabilia for 47 years; non-Sport cards for 3 years, and Militaria (ephemera only) for ten years. Bill started collecting hockey and baseball cards as a child. He would ride his bike around the neighborhood looking for pop bottles to return for the 2¢ redemption and would use his "earnings" to buy hockey cards. As kids, Bill and his brother would also ride to the local dump to scavenge for Bee Hive redemption collars to mail away for hockey photos. With his brother's help, Bill's large Bee Hive collection of hockey cards and Bee Hive photos currently includes over 700 of the 1,023 known hockey photos and 77 of the 200+ airplane photos. Bill's current hockey collection totals over 50,000 different items spanning almost the entire history of hockey. His Militaria collection is from World War II and his non-sport collection is mostly Canadian issues. Bill is always willing to help novice collectors or chat to and learn from senior collectors. Bill is also always looking to add to his collections listed above via trade or purchase. Don't hesitate to write to him for help, chat about collections, or with offers of trade or sale. Bill can always be reached at punchbug@sympatico.ca. Bill is a collector, not a dealer, so he never sells his cards, but he does do some trading.
★ ★ ★ ★ ★
Don Pillar is a retired elementary school teacher who resides in Ontario, Canada. One of Don's many hobbies is collecting "Bee Hive" hockey photos and literally "anything and everything" related to the St. Lawrence Starch Company. Hence, his interest in the Bee Hive "Aeroplane" photos. Don takes great pleasure in researching the background of the St. Lawrence Starch Company "Bee Hive" photos and is currently co-authoring a book that will chronicle the history of this venerable promotion. Don would welcome the opportunity of "talking Bee Hives" with anyone who shares his interest. He can be contacted at: donpillar@gmail.com.
★ ★ ★ ★ ★
Pete D'Luhosch — Pete is a retired IBM programmer/manager who lives in upstate New York. He graduated from Union College (Schenectady, New York) in 1963, with a degree in English Literature. Pete's 38-year IBM career, at their semiconductor development and manufacturing facility in East Fishkill, New York, spanned the time from punched cards and hard wired "unit record" machines being the norm, up to the time when computers were populated with chips containing millions of transistors that were "printed" on 12-inch silicon wafers.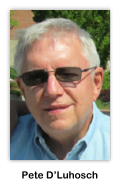 Pete's introduction to computers came on an IBM 1401 computer that was as big as a refrigerator and had an astonishing 4k of memory. Pete then learned IBM 360 programming and for many years worked on application programming at IBM East Fishkill. He eventually moved on to systems analysis and then held various management positions in support of chip manufacturing and statistical analysis. When he retired, Pete was a programer/analyst in a staff department supporting the Director of the East Fishkill Semiconductor Laboratory.
Pete's interest in card collecting came, as many did, with baseball cards in the early '50s. The 1951 Bowman baseball card set is still his favorite. Sad to say, all Pete's cards disappeared while he was in college. He rekindled his love of cards in the late '70s, working on Topps baseball card sets with his kids, and attempting to re-create some of his sets from the '50s. When baseball cards became too expensive, Pete remembered another set he once collected: the 1952 Topps Wings set. On a whim, he bought a couple of them on eBay, just to see if they were still as cool as he remembered. Naturally, that led to years of trying to complete the set in the best condition he could find. Today, Pete's collecting interest lies almost exclusively with airplane cards from the World War II and Korean War periods. Some of Pete's card sets can be found on the SGC Registry.
Pete has written articles on the 1951 Bowman baseball card set for Sports Collectors Digest and articles on Topps Wings and Card-O Aeroplanes for The Wrapper. He has developed his own website that contains a lot of airplane and baseball card reference material. The website can be found at https://www.pjdenterprises.com.
★ ★ ★ ★ ★
Jean F. Aker — Jean was a Cyber Security Officer and retired after 32 years in Federal and military Service. After high school he enlisted in the U.S. Army and trained as an Air Traffic Controller at Keesler AFB, MS. After graduation and ATC certification from the FAA, he received specialized training at Ft Rucker, AL. He completed a tour of duty in Viet Nam in 1968 and went into the Army Reserves until
1973. While attending college he was selected for a position as a Physical Sciences Technician with the National Oceanic and Atmospheric Administration (NOAA), Center for Experiment Design and Analysis (CEDDA) in Washington, DC. He worked on several environmental and earth sciences experiments. One of which discovered the primary source for hurricanes. In 1975, he took a position with NOAA's National Ocean Survey and spent several years converting the original hand drawn nautical maps into digital format and helping to develop the computer system to process them. In 1976, he joined the D.C. Air National Guard and renewed his FAA ATC certification. In 1981, he took a position as a Meteorology Technician at the U.S. Weather Service station in Cape Hatteras, NC and left the DCANG. After several years in Hatteras he was offered a position working for a private company that was trying to improve the computer systems employed by the Weather Service. During this period the company was approached by John McAfee for help in developing the documentation for his first anti-virus software. Jean was the lead writer for this effort and worked directly with McAfee.
After a couple of years he then joined the company that invented satellite distribution of weather data, Satellite Information and Services Corp. (SISCORP). During this time he collected and wrote the first comprehensive catalog of all weather data available, worldwide. This caught the attention of designer/pilot Dick Rutan, and SISCORP was asked to provide real-time weather data for his flight around the world with Jeanne Yeager in the Voyager aircraft in 1986. Shortly afterwards SISCORP was absorbed by Contel ASC. Jean was offered a position with the Department of Veterans Affairs in their IT department. He remained there for 22 years. During his tenure at VA he finished his BS degree at the University of Maryland University College, and in 2000, he was sworn in as a Cyber Security Officer after completing a rigorous training program.
Jean is a life-long modeler and has spent many years working in the retail hobby business. He was one of the early members of the International Plastic Modelers Society (IPMS).
Jean is currently one of the website managers for The Boxart Den website. This group prides itself in having the largest collection of restored model kit boxart ever assembled. A self trained computer graphics artist, he does restorations and enjoys producing model related images of what the manufacturers missed!
In retirement, Jean is very active with several computer projects and the Izaak Walton League of America. He enjoys building computers, riding motorcycles and training new shooters in firearms safety and use.
★ ★ ★ ★ ★
Allison Piearce — Allison is the owner of the "Little Red Dog" website based in England. "Little Red Dog" sells a wide variety of vintage clothing and collectibles.
When one of Allison's elderly relatives sadly passed away, she discovered her amazing array of vintage clothes and collectibles tucked away in various cupboards and attic rooms in her house. Some of the bedrooms were like time capsules; the wardrobes filled with vintage clothes (some of which dated from as far back as the 1930s) and dressers adorned with vintage bottles, old books and ephemera from the past six decades.
As Allison explored deeper into the attic rooms she discovered an Aladdin's cave of fantastic collectable ephemera … items that many people would have thrown away over the years … including food packaging, brochures, newspapers and magazines; all neatly folded and stacked into bundles.
After Allison listed a few items on an online auction site, she quickly realized there were thousands of collectors out there looking for all different types of items. So she decided to launch her own website, the … "Little Red Dog" to list all of her discoveries on, and in one central place.
Allison only lists items that have been in her own families' homes, she can vouch for their provenance; she has found this to be very important to collectors. She has had great fun researching all of the items before they get uploaded to the "Little Red Dog" and notes that it's very easy to get side-tracked when reading through all of the old newspapers & magazines from a by-gone era.
Allison and the "Little Red Dog" have met some lovely people along the way; from individual people simply looking for a vintage fancy dress costume, to serious collectors of vintage ephemera. She has also helped theaters and TV production companies with clothes and props for their shows & films. Most of "Little Red Dog's" vintage clothing and collectibles have found new homes in the UK; but the "Little Red Dog" is very happy to ship overseas and has had customers from all over Europe, the USA, Australia and Asia.
Allison still has many more items to list on the "Little Red Dog" website, and hopes to continue building her community of followers who are interested in all things vintage. be sure to check out the "Little Red Dog" by clicking on their logo below.
★ ★ ★ ★ ★
Lee Kalk — Lee Kalk is a native Oregonian, College graduate, High School Physical Science teacher (ret.) and a small business owner (ret.). He enjoys all sports … Blazers, Mariners, Titans, football (now that Mariota is QB), hockey, golf, bowling, and down time just to take it easy and enjoy life. Lee has been married for 50 years, has two daughters and one grandson.
.
Lee's grandparents promoted an interest in stamp and coin collecting when Lee was nine years old. So when he got involved with cards he was very condition conscious, especially regarding centering.
Lee started with baseball cards in 1954 & 1955, and seemed to like or at least end up with mostly Bowman cards. His Little League Team was the "White Sox&rdquo so he started following the Sox … which of course makes him a lifelong "Yankee" hater. At one point Lee is sure that he traded a "Minnie Minoso" or "Nellie Fox" for a "Mantle&rdquo or "Ford" etc. Over the years, Lee's cards survived in the proverbial shoe box, and he got back into the hobby in the 1970s, when he and his wife owned a "KarmelKorn" franchise. Lee got back into collecting when he purchased two cases of 1975 Topps Mini Baseball Cards from his candy salesman. Lee sold one in the store (retail) and he gave the other case to friends who collated the cards into several sets, keeping one for their "trouble". Lee then began to buy collections, attend shows; Portland, Seattle, once in Hawaii, and eventually several "non-sports" shows in San Jose.
Ultimately Lee had complete sets of Topps, Bowman, Goudey, and Playball baseball cards plus many others. Lee then expanded into football, basketball, and finally hockey cards. Lee sold most of his sports cards years ago, right before "slabbing" became popular and prices increased. Finally, he started focusing on non-sports cards. Like most of us "veteran" collectors, due to age and space, Lee is selling his collectibles. The Carnation cards and those like them have always been a favorite ever since he was groping around in a box of corn flakes to try to find the card.
Lee has always collected for pure enjoyment and still enjoys going to estate and garage sales looking for undiscovered treasures.
★ ★ ★ ★ ★
PFC Carl William Kimpel — A very special thanks to Lisa Kimpel for sending us her father's UO33 album to scan "In loving memory of PFC Carl William Kimpel: Loving husband, father and soldier … The nicest man you would ever meet. Thank you for you service!"
★ ★ ★ ★ ★
Lonnie Cummins — A collector of Non-sport trading cards since the late 1960's. Lonnie concentrates his collecting and research on Topps' issues from 1948 through 1992, their "wax pack" era, and specializes in their test and limited issues. He has written a few articles for "The Wrapper" magazine, which is devoted to non-sports trading cards. Lonnie does more research than collecting these days and enjoys trying to solve the many mysteries of Topps trading cards.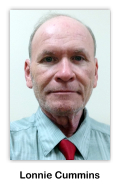 ★ ★ ★ ★ ★
---