Topps "Wings" (R707-4)
Topps Chewing Gum, United States
---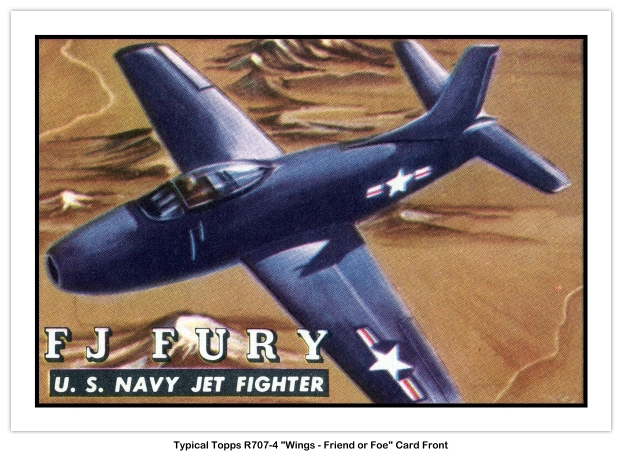 Series Title: Wings
ACC No.: R707-4
Manufactured by: Topps Chewing Gum
Number of Cards: 200 (numbered from 1 to 200)
Card Dimensions: 2⅝ × 3¾ inches
Circa: 1952
Checklist: Download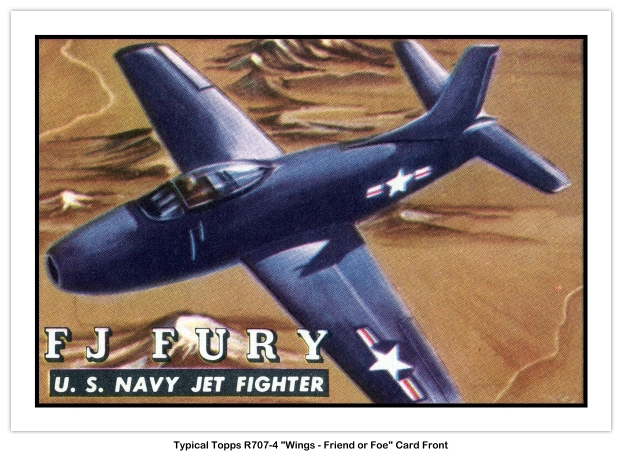 Overview [2]
---
The following overview article is from The Modern Hobby Guide to Topps Chewing Gum: 1938 to 1956 by David Hornish. [2]
"Wings" was the second Giant Size set issued by Topps, right in the midst of the 1952 Baseball cards retail blitz. Hugely popular, the set's 200 cards feature a sweeping array of aircraft, mostly planes, displayed in colorful, if slightly muted tones. The fronts feature the aircraft's name in a large font together with some military affiliation information in a black text box below. Reverses feature a large card number, a block of text, some statistics about the craft presented in a fashion similar to the stats on the 1952 baseball cards and a feature called "Friend or Foe", which displayed silhouettes of planes and played on the fact the nation was still at war. The backs also have the usual T.C.G. copyright, a 1952 date and a "Courtesy Herald Tribune, Inc." credit line, presumably for the text.

Dating of the set has been the subject of much debate in the hobby over the years but the boxes bear a 1952 copyright. However, a period photo exists showing a single box of "Wings" cards bearing a sticker stating "New Series" being sold alongside 3rd series packs of 1953 Topps baseball cards, which dates around the spring of 1953; indeed the 1953 American Card Catalog, published in February of that year, lists the set at 200 cards. It seems clear then that all 200 cards of Wings came out in 1952. The last 100 cards were seemingly sold in groups of 50, with some first series cards seeded into the nickel and dime packs.

Topps though, was playing games at this time with some of their multi-series sets and skip numbered a couple of cards in series two. These gaps would, in theory, keep the kids buying the cards looking for numbers in series 2 that did not yet exist. This "skip number" marketing was first identified in an article by Pete D'Luhosch at his PJD Enterprises site which details how the quiz on the first series backs always refer to the next card numerically in the set.

Furthermore, the article describes how the first 100 cards have the quiz sequentially referring to the next card in all 100 instances (#100 refers to #1), with the cards from #101-150 have answers scattered over the fifty possible numbers in series two, with the exception of two cards: #118 refers to an answer on #180, while #149 lists #173 as having the answer. In addition, the author has observed that #128 refers to #151 for its quiz answer. Then, within the run from #151-200: #151 lists #110 as its answer while #152 refers to an answer on #125. No corresponding third card in series three referring back to an answer in series two exists so one of the duplicate answers must have taken its place.

D'Luhosch later writes in an article in The Wrapper, that examination of partial uncut sheets shows the 3rd series runs from #101-152, with nos. 118 and 149 held out and replaced by nos. 151 and 152. The 4th series then runs from #153-200 with nos. 118 and 149 added. Furthermore, the switching of #149 and #151 is confirmed by these partial sheets and it is assumed the switching of #118 and #152 matches up as well as they do not show on the partials.

Some repetition of numbers for the answers also starts popping up in these last two series and the thinking is this all demonstrates how the cards from series two were held back and replaced with series three cards and vice-versa. In addition, this illustrates that two higher series of 50 cards each were printed and distributed. Unopened pack finds have shown too that first series cards were seeded into packs as Topps sold off older cards along with the newer ones.

Things don't get any simpler when the packaging is examined. In addition to the standard one and five cent gum packs, there are one and two card cello packs plus dime cello packs that held 12 cards. The Non-Sports Bible also states that packs were inserted with Thomas Bon Ton Wieners [9] in 1956 but which packs this refers to is unclear. The cards were also reprinted for a Doeskin Tissues promotion but these have wider side borders and Doeskin copyright information on the backs and are not considered part of the original set. A couple of the subjects were re-purposed later in "Jets" and the 1955 "Hocus Focus" Airplanes subset.

If all of that wasn't enough, Wings was also fully printed with backs in Spanish, presumably for distribution in Mexico and parts of South America. Argentina seems a likely destination for shipments of "Wings" as there are planes from that country in the set, the only South American country so depicted. These were once hard to find but some quantities have popped up in recent years. The last 100 cards in the Spanish series can also be found without printed fronts; an oddity as there are far too many of these around to merely be proofs. The method of distribution of the Spanish cards is certainly conjectural as well. While these cards may seem odd to the casual observer, the Shorin family was quite comfortable doing business in locations south of the U.S. from their days in the tobacco trade. It would seem though that sales of Spanish "Wings" were poor as Topps did not issue another set in the language until the late 1950's.

Still not done with Wings, a portion of the set was reissued in 1955 as in-store premiums in wrappers that state "Red Ball Jets". The manufacturer on these is "Makers of World Famous 'Bazooka' Gum" and a premium offer on the wrapper promised an additional 15 cards could be had for a mere dime.
1952 Topps "Wings" Image-Guide [1,3]
---
The 1952 "Wings" (R707-4) Image-Guide contains 600-dpi computer enhanced images the fronts and backs of all 200 cards in the set. The "enhanced" computer images have had the blemishes removed, border lines reinforced, border margins whitened and the images re-centered. Beneath the image guide, we have also included, in tabular form, the original 600-dpi scans of the fronts and backs of the cards that were used to generate the "computer enhanced" images used in the R707-4 "Wings" image guide shown below. Click on the individual thumbnail images to expand the images to full-size.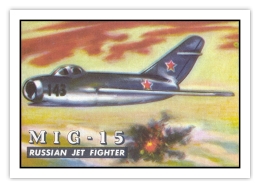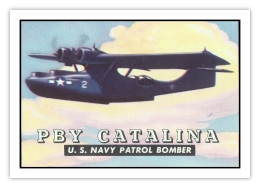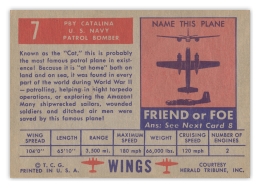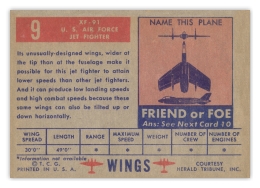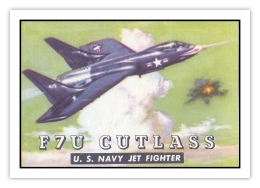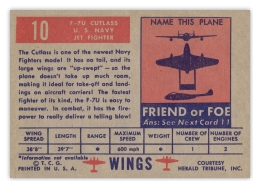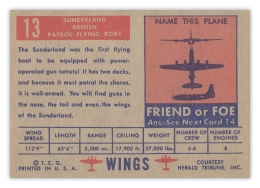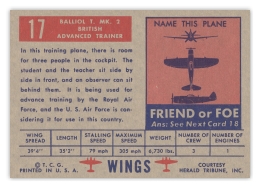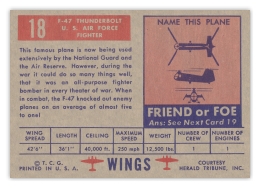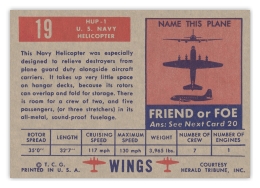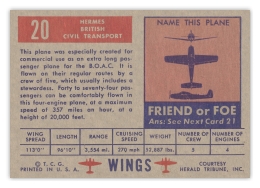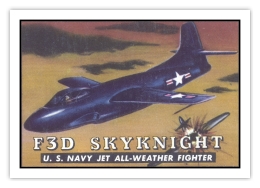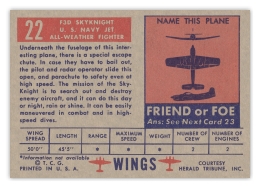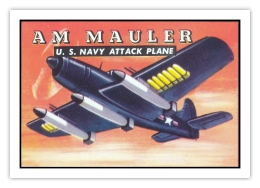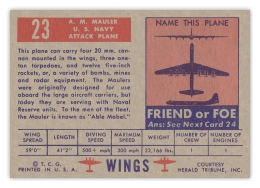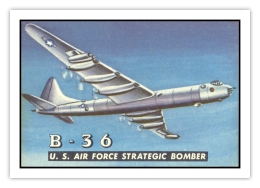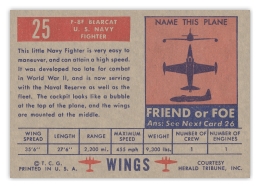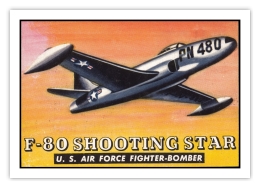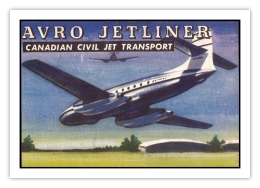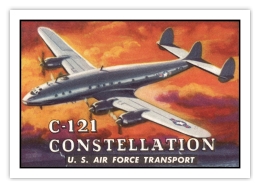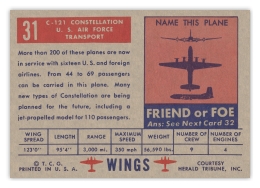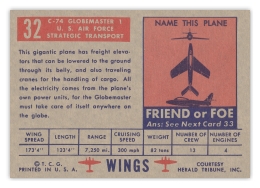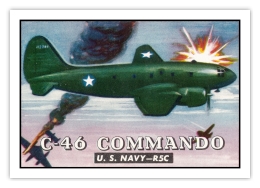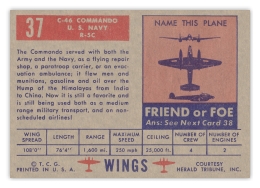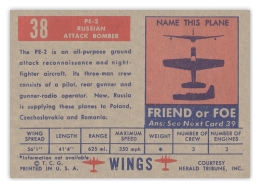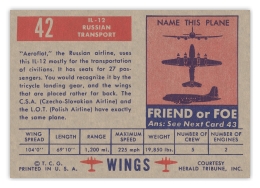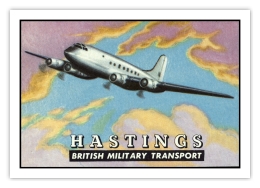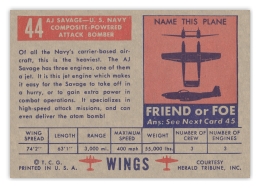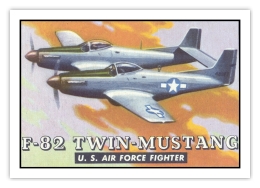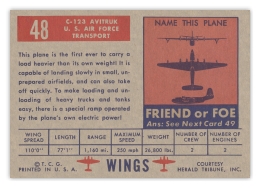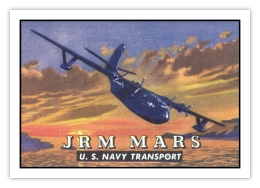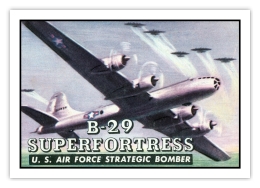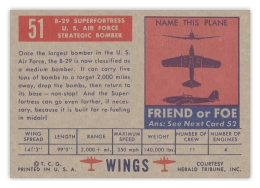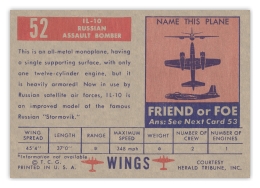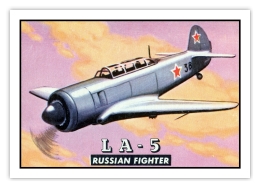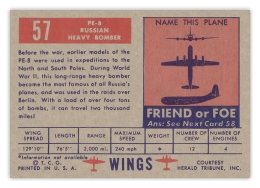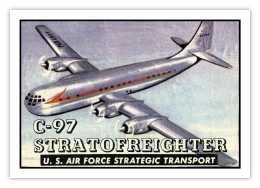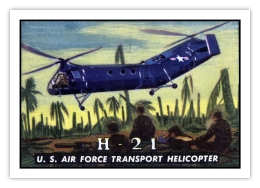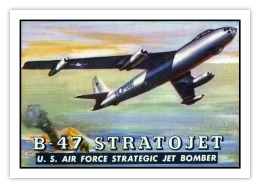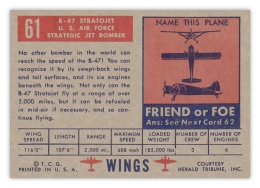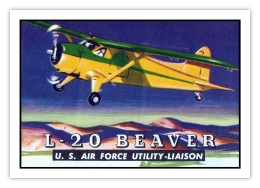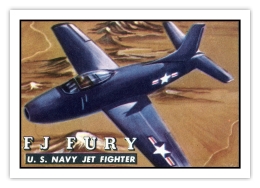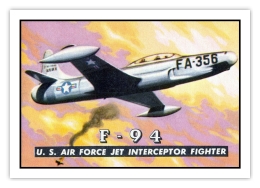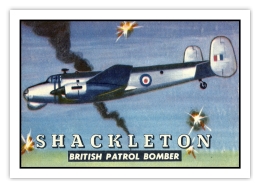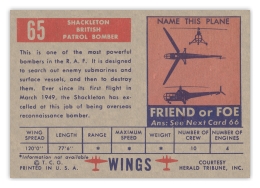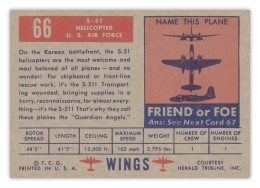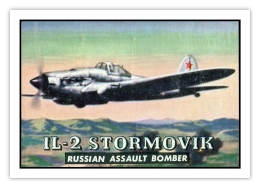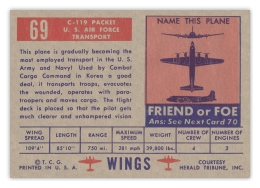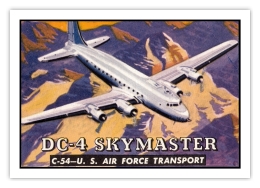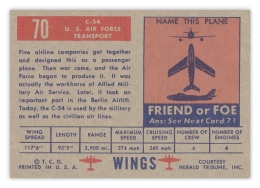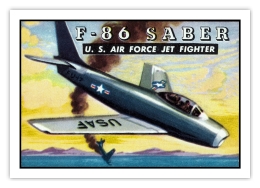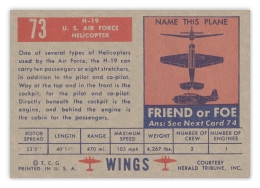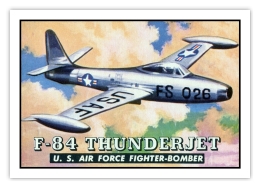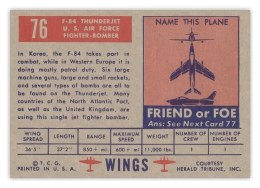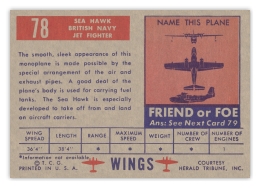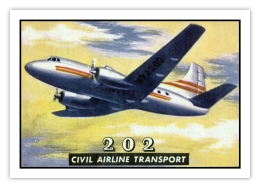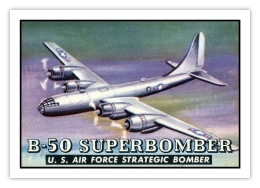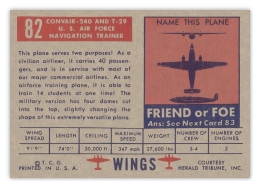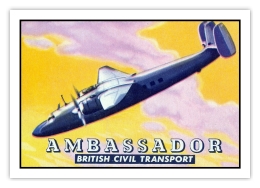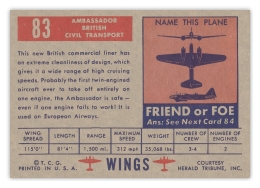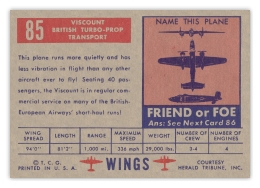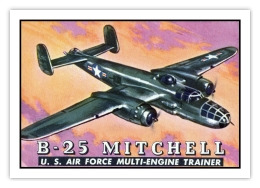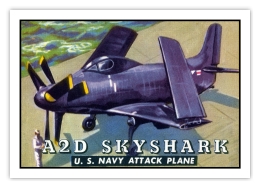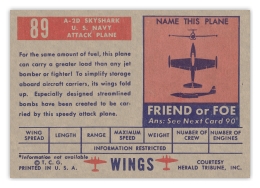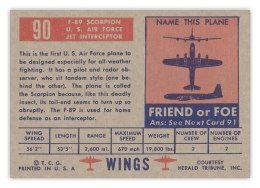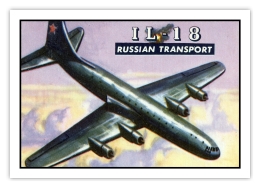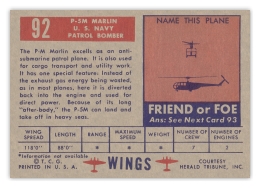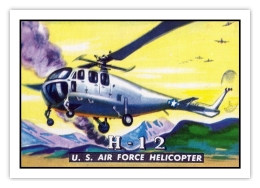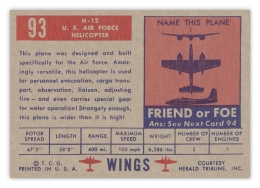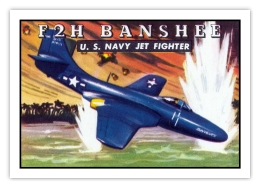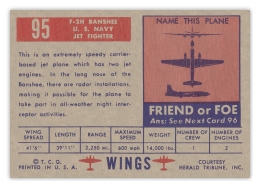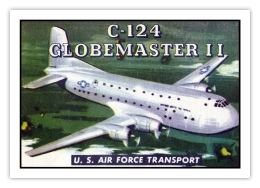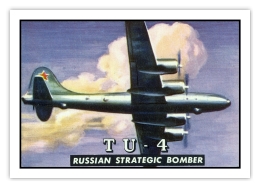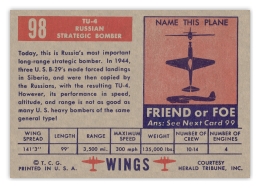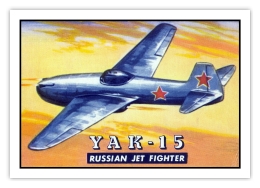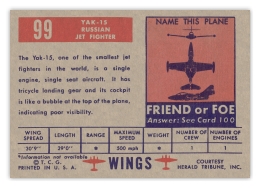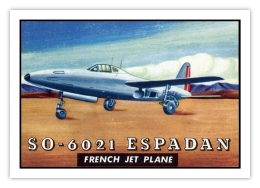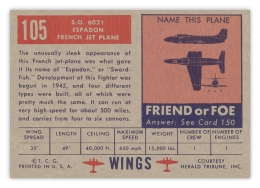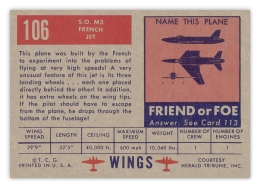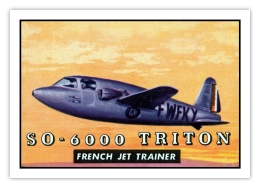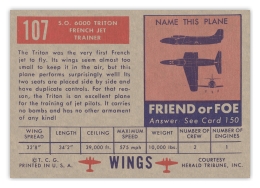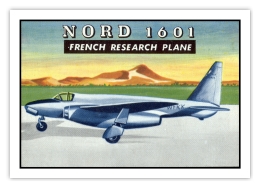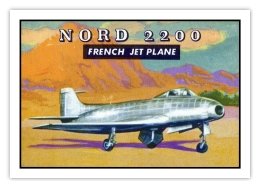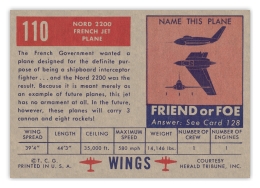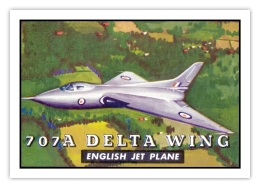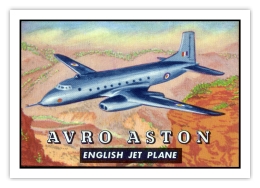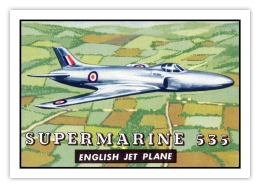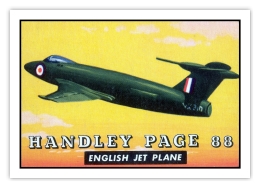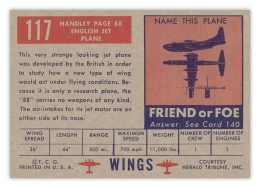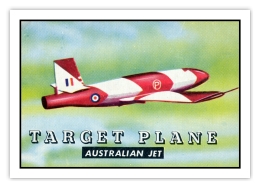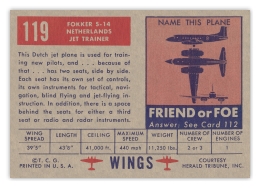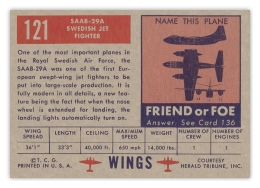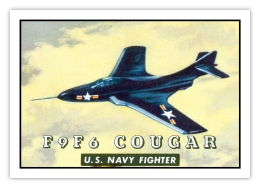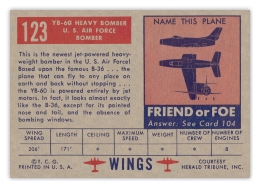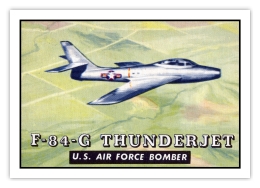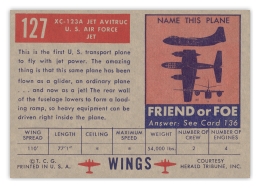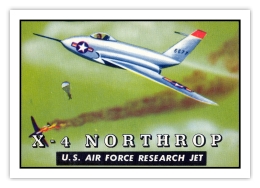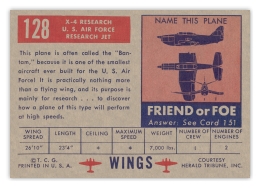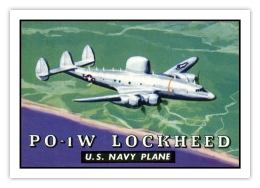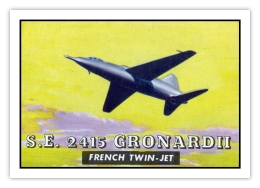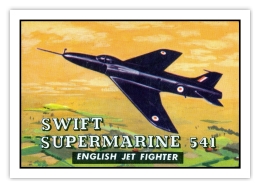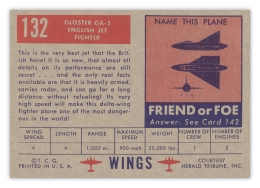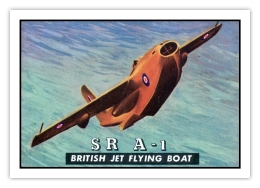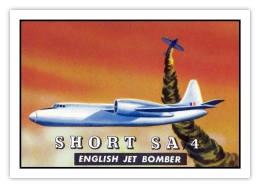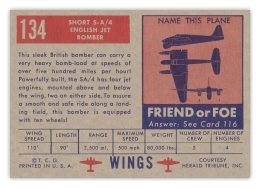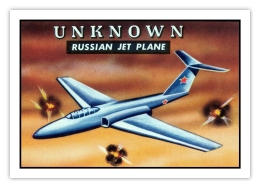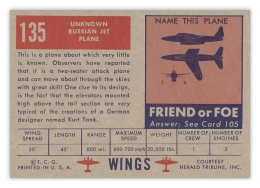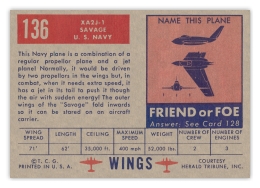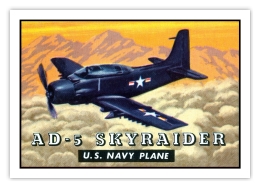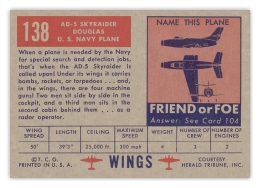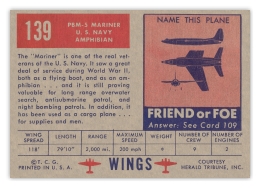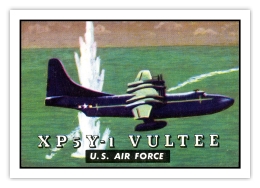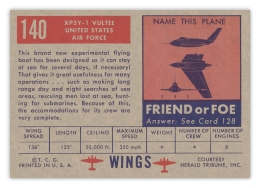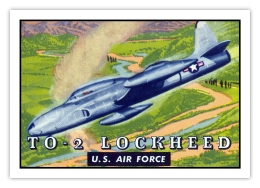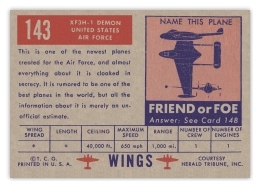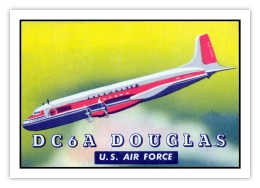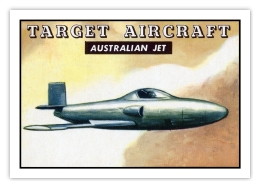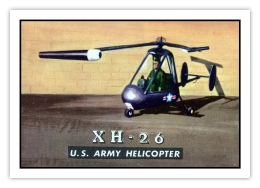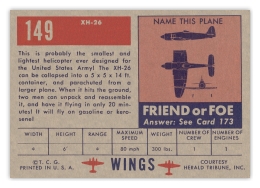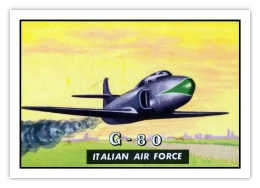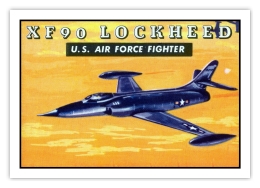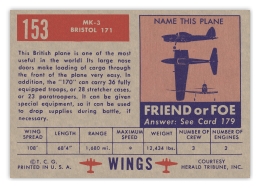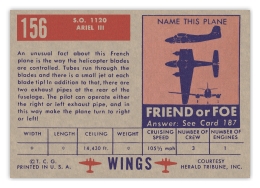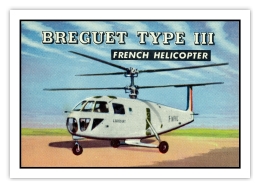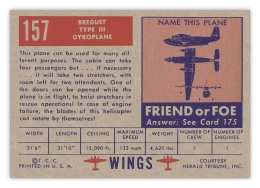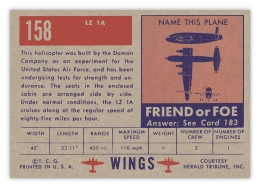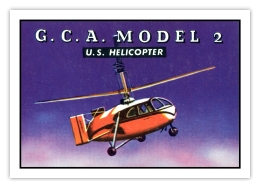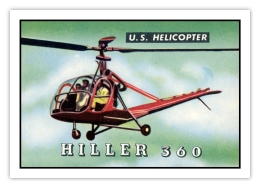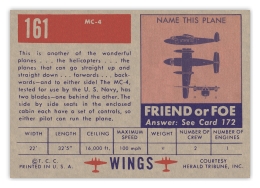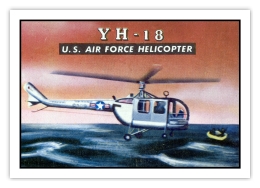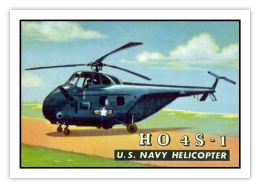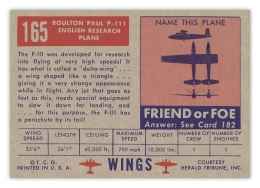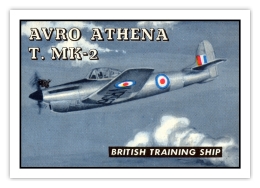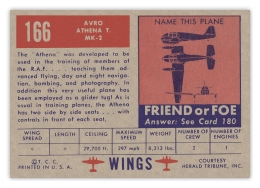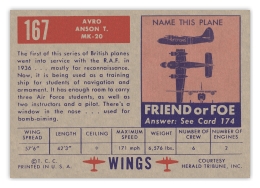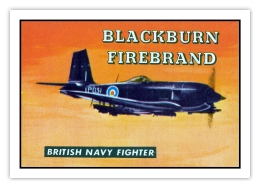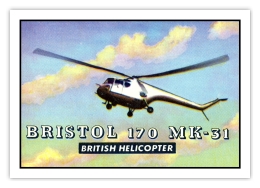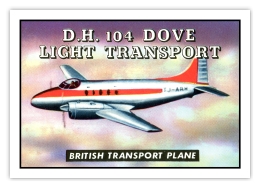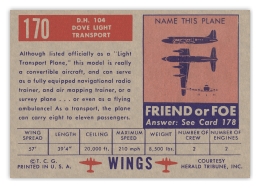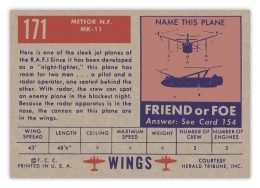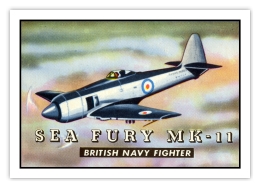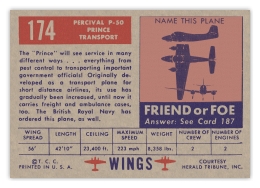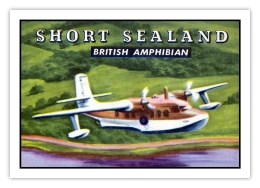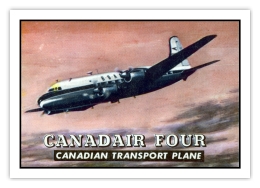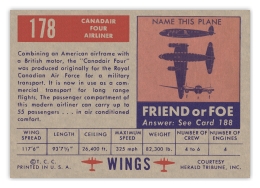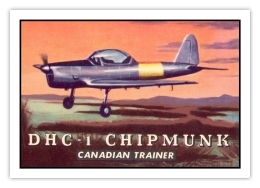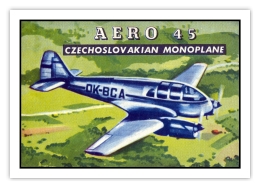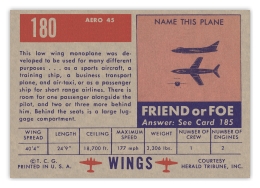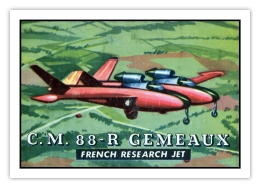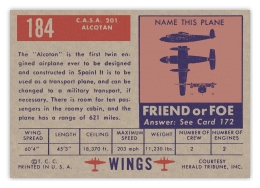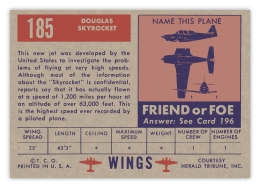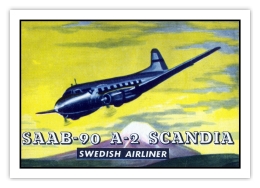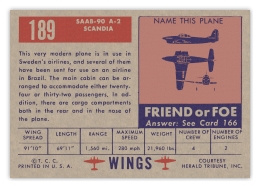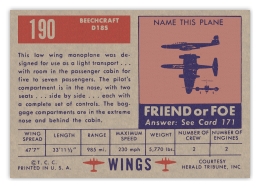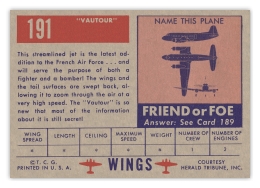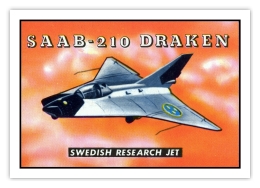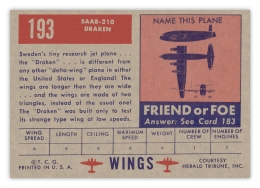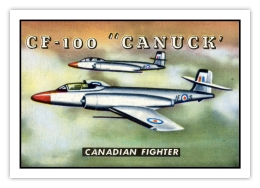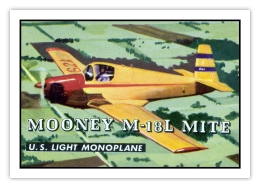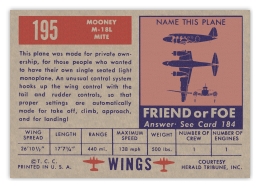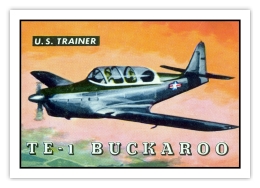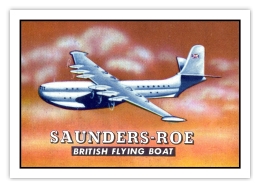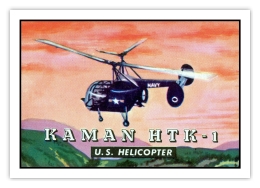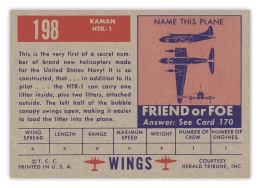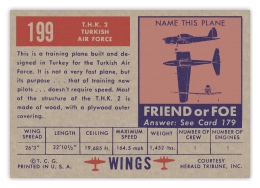 Wrappers and Display Boxes [2,4,5]
---
David Hornish reports in his book "The Modern Hobby Guide to Topps Chewing Gum: 1938 to 1956" [2]that the following seven Wrapper/Pack and three boxes were associated with the Topps R707-4 "Wings" series: (1) 1¢ Wrapper (Glassine); (2) 1¢ Pack (Glassine); (3) 1¢ Pack (1 Card Cello); (4) 1¢ Pack (2 Card Cello); (5) 5¢ Wrapper; (6) 5¢ Pack; (7) 10¢ Pack; (8) 1¢ Box; (9) 5¢ Box; and (10) 10¢ Box. Unfortunately, at this point we do not have images for all of the wrapper/pack/box combinations.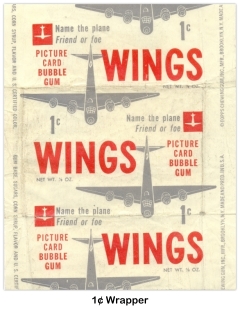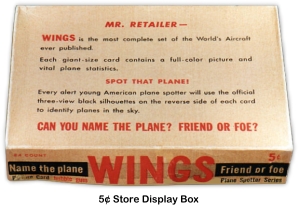 Checklist
---
We have included two versions of the Topps "Wings - Friend or Foe" R707-4 checklist: (1) The web version shown below, and (2) an Adobe® Acrobat® PDF 8½ × 11 inch format version. "Click" on the PDF icon below the checklist table.
1952 "Wings" (R707-4)
Topps Chewing Gum Company
CHECKLIST
№
x
Card Title
№
x
Card Title
№
x
Card Title
№
x
Card Title
1
T-33
51
B-29 Superfortress
101
AE-27 Pulqui
151
YB-1 Blackburn
2
MiG-15
52
IL-10
102
AE-33 Pulqui II
152
XF90 Lockheed
3
XC-120 Pack Plane
53
B-45 Tornado
103
O-10 Leduc
153
Bristol 171 Mk-3
4
Lincoln
54
LA-5
104
MD-450 Ouragan
154
Saro-Cierva Airhorse
5
F-51 Mustang
55
Comet
105
SO-6021 Espadon
155
Sikorsky H.C. Mk-2 Dragonfly
6
AT-7 Navigator
56
H-13D
106
SO-M2
156
S.O.1120 Ariel III
7
PBY Catalina
57
PE-8
107
SO-600 Triton
157
Brequet Type III
8
B-26 Invader
58
C-97 Stratofreighter
108
VG-90
158
LZ 1A
9
XF-91
59
H-21
109
Nord 1601
159
G.C.A. Model 2
10
F7U Cutlass
60
FH-1 Phantom
110
Nord 2200
160
Hiller 360
11
Vampire
61
B-47 Stratojet
111
707A Delta Wing
161
MC-4
12
B-57 Canberra
62
L-20 Beaver
112
Avro Aston
162
M-14
13
Sunderland
63
FJ Fury
113
Supermarine 535
163
YH-18
14
PB4Y-2 Privateer
64
F-94
114
Vickers 660
164
HO4S-1
15
T-28
65
Shackleton
15
Hawker P-1081
165
Boulton Paul P-111
16
Wyverne Mk.2
66
S-51 Helicopter
116
Short SB-3
166
Avro Athena T.Mk-2
17
Balliol T.Mk.2
67
A-20 Havoc
117
Handley Page 88
167
T.Mk-20 Avro Anson
18
F-47 Thunderbolt
68
IL-2 Stormovik
118
Target Plane
168
Blackburn Firebrand
19
HUP-1
69
C-119 Packet
119
Fokker S14
169
Bristol 170 Mk-31
20
Hermes
70
DC-4 Skymaster
120
MiG-19
170
D.H.104 Dove Light Transport
21
L-17 Navion
71
F-86 Saber
121
SAAB 29A
171
Meteor N.F.Mk-11
22
F3D Skynight
72
Venom
122
F9F6 Cougar
172
Handley Page Marathon
23
AM Mauler
73
H-19
123
YB60 Heavy Bomber
173
Sea Fury Mk-11
24
B-36
74
TBM Avenger
124
XF 88A Voodoo
174
Percival P.50 Prince Transport
25
F8F Bearcat
75
CF-100 Canuck
125
F-84-G Thunderjet
175
Short Sealand
26
F-80 Shooting Star
76
F-84 Thunderjet
126
XC-99 Cargo Transport
176
Sea Gull
27
Sea Attacker
77
F-86D
127
XC-123A Jet Avitruk
177
Varsity Aircrew
28
F6F Hellcat
78
Sea Hawk
128
X-4 Northrop
178
Canadair Four
29
P2V Neptune
79
SA-16 Albatross
129
PO-1W Lockheed
179
DHC1 Chipmunk
30
Avro Jetliner
80
202
130
S.E. 2145 Gronard II
180
Aero 45
31
C121 Constellation
81
B-50 Superbomber
131
Swift Supermarine 541
181
Hiller Hornet
32
C-74 Globemaster 1
82
Convair 240
132
Gloster GA5
182
C.M.88-R Gemeaux
33
F-84F
83
Ambassador
133
SR A-1
183
Breguet 76-1 Provence
34
F4U Corsair
84
IL-4
134
Short SA/4
184
C.A.S.A. 201 Alcotan
35
Firefly
85
Viscount
135
Unknown
185
Douglas Skyrocket
36
C-125 Raider
86
B-25 Mitchell
136
XA2J1 Savage
186
Fouga C.m.8-R.13 Sylphe
37
C-46 Commando
87
YAK-3
137
FJ2 North American
187
Morane-Saulnier M.S. 703
38
PE-2
88
C-47 Skytrain
138
AD-5 Skyraider
188
S.O. 30-P Bretagne
39
AF Guardian
89
A2D Skyshark
139
PBM-5 Mariner
189
SAAB-90 A-2 Scandia
40
C-82 Packet
90
F-89 Scorpion
140
XP5Y-1 Vultee
190
Beechcraft D18S
41
R60 Constitution
91
IL-18
141
TO-2 Lockheed
191
"Vautour"
42
IL-2
92
P5M Marlin
142
XF-92A Vultee
192
C-1 Skimmer
43
Hastings
93
H-12
143
XF3H-1 Demon
193
SAAB-210 Draken
44
AJ Savage
94
F7F Tigercat
144
DC6A Douglas
194
CF-100 "Canuck"
45
F-82 Twin-Mustang
95
F2H Banshee
145
YRB-49A Flying Wing
195
Mooney M-18L Mite
46
XF4D Skyray
96
P4M Mercator
146
Target Aircraft
196
TE-1 Buckaroo
47
T-6 Texan
97
C-124 Globemaster II
147
D.H. Sea Hornet
197
Saunders-Roe
48
C-123 Avitruk
98
TU-4
148
DH112 Venom
198
Kaman HTK-1
49
JRM Mars
99
YAK-15
149
XH-26
199
T.H.K2
50
Meteor
100
F9F Panther
150
G-80
200
Fairey "Gyrodene"
Wrappers and Boxes
1¢ Wrapper (Glassine)
1¢ Pack (Glassine)
1¢ Pack (1 Card Cello)
1¢ Pack (2 Card Cello)
5¢ Wrapper
5¢ Pack
10¢ Pack
1¢ Box
5¢ Box
10¢ Box
Topps "Wings" Associated Sets
---
As mentioned earlier, the Topps R707-4 "Wings" was used in at least four additional marketing schemes: (1) 1956 Bon Ton Wieners "Wings"; (2) Doeskin Tissues "Wings"; (3) Red Ball "Jets"; and (4) the Spanish "Wings" 200 card set. There was also a 50-card smaller sized cards titled "Spot the Plane" that was issued in the UK with "Strato Gum " from Myers & Metreveli in 1953.
1956 Bon Ton Wieners "Wings" 6

---

Watson's NSB [6] provides reference to this set with the following statement: "As late as 1956 in food products such as Thomas Bon Ton Wieners (1 pack/package of wieners; cards and wrapper identical to the original issue)". As of 1/27/2015, that's all the information that we have about this set. Any help you can provide would certainly be appreciated. Use the "Contact Us " navigation link on the left to contact us if you have any information to contribute.

Doeskin "Wings" (F381) [7,8]

---

The following overview article is from The Modern Hobby Guide to Topps Chewing Gum: 1938 to 1956 by David Hornish. [2,8]

"Topps struck a deal with Doeskin Tissues in 1955 as that brand made a major relaunch of their product. Cards from Topps R707-4 "Wings" and Topps R714-17 "Rails & Sails" were reprinted on the cardboard that served to stiffen small, personal sized tissue packs. These have elongated side borders as the cards as originally issued were smaller than the stiffeners, so Doeskin cards measure 4⅜ × 2⅝ (67 × 111 mm), although the illustration area is unchanged from the originals." (5)

"The backs are identical to the Topps issues except the "TCG" indicia has been replaced by Doeskin's. These cards look quite odd when fist encountered and the lack of Topps manufacturing information is curious; perhaps Topps just realized the artwork still had value even if there was abundant overstock of Wings cards still available. The cards included in the Doeskin set cover cards 1-100 1-80 [6] of R707-4 "Wings" and the tougher series of Topps R714-17 "Rails & Sails" i.e. cards 81-130 and cards 151-200 for a 200 card set, although there does not seem to be a true confirmed count anywhere." (5) The 1955 Doeskin "Wings" 100-card 80-card [6] set has the ACC Number of F381. The Doeskin "Sails & Rails" has the ACC designation of F378.

Red Ball Jets [9]

---

The following overview article is from The Modern Hobby Guide to Topps Chewing Gum: 1938 to 1956 by David Hornish. [9]

These were a third party sneaker premium that featured 1952 "Wings " cards. A "penny" pack contained a card and a stick of bubble gum. It is not known if all 200 "Wings" cards were distributed this way. These date to 1955 and Topps clearly sold overstock to Red Ball, as the premium offer of 15 cards for ten cents shows an Indiana mailing address. Red Ball was a major sneaker manufacturer at the time and Topps must have unloaded a large number of "Wings" cards on them. It's not clear if vending boxes of the cards were used for this promotion or Trading Card Guild cellos that had been wrapped in 1952-53. The use of cards previously packed with gum seems unlikely as a supply for the mail-in promotion. Red Ball Jets pack contained one "Wings" card (source unknown)

One of the promotions Topps came up with in the early 1950's to get rid of some excess card inventory involved sticking a leftover 1952 Wings card — and what I have to hope was a fresh stick of gum — into a sneaker giveaway pack in 1955. Red Ball Jets were a popular brand of sneaker sold from 1951 until 1971 and Topps took advantage with this promotion. They also stuck a premium offer on the wrapper offering 15 additional cards for a dime.

Interestingly, the mail away address seems to match that of Red Ball's parent company's HQ so I suspect Topps managed to offload a truckload of cards on the unsuspecting sneaker manufacturer!

While Topps Chewing Gum is not identified per se the indicia does trumpet the pink stuff was manufactured by the "Makers of World Famous 'Bazooka' Bubble Gum". These packs are often thought to contain the smaller, black & white 1956 Photo Album Jets (to use their full title) cards, but they do not and you can clearly see the Red Ball packs came out a year before Jets.

Spanish Version [2]

---

Wings indeed featured cards from all countries of the world. Here's a French plane to cite just one example:

One of the reasons Topps became such a dominant company was their international marketing plan. The strategy was a smart one and is most often associated with their operations in Canada where they started pushing their gum products as early as 1947. Another outpost was England, where they purchase an interest in A&BC in 1958 and of course there was Venezuela, where baseball cards, usually the first couple of US series, were sold with Spanish backs printed especially for (and in) that country. But their first specific Spanish language set was issued in 1952 and took direct aim at the Mexican market.

Wings was a highly successful, multi-series issue that followed the landmark 1952 Baseball cards in both size (Giant) and appeal (massive). The series was marketed well into 1953 and consists of 200 brightly colored cards of various aircraft. The Shorin's, used to doing business in Central and South America for many years while in the tobacco trade, turned to Argentina during World War 2 to import raw materials to continue manufacturing Topps Gum. It seems likely their familiarity with the area led to a full release of all 200 Wings cards Spanish backs.

As noted earlier, Wings was also fully printed with backs in Spanish, presumably for distribution in Mexico and parts of South America. Argentina seems a likely destination for shipments of "Wings" as there are planes from that country in the set, the only South American country so depicted. These were once hard to find but some quantities have popped up in recent years. The last 100 cards in the Spanish series can also be found without printed fronts; an oddity as there are far too many of these around to merely be proofs. The method of distribution of the Spanish cards is certainly conjectural as well. While these cards may seem odd to the casual observer, the Shorin family was quite comfortable doing business in locations south of the U.S. from their days in the tobacco trade. It would seem though that sales of Spanish "Wings" were poor as Topps did not issue another set in the language until the late 1950's. Examples of the Spanish "Wings" cards are shown below.

Contributors

---

A very special thanks to Albert B. Kramer, President of Roll-EZ Wheels, for loaning us his R707-4 Topps "Wings" collection to scan. "Click" on Al's card below to visit their website and store. We also send our thanks to Howie Levitt for providing us scans of the 5-cent wrapper, and to Peter D'Luhosch for sending us a scans of the 1-cent & 5-cent wrappers.

John Shupek — John is retired Aeronautical/Aerospace Engineer that lives in Southern California. John's 36 year aerospace career/adventure started in the mid-1960s when he worked for Pratt & Whitney at their "FRDC" … Florida Research and Development Center, West Palm Beach, Florida. John was part of the P&W jet engine design team for the CIA/USAF's Lockheed A-12/SR-71A "Oxcart/Blackbird" engines (J58/JT11D-20). He also worked on the RL-10 rocket engine and the JTF-17A which was P&W's entry into the United States' SST competition between Boeing and Lockheed. Several years later, John moved back to California and worked at the AiResearch Mfg. Company at LAX and Torrance. He originally worked on the thermal design of the HRE (Hypersonic Ramjet Engine) which was a supersonic combustion Mach 7 ramjet engine that was to be tested on the North American X-15. John did about three more years of jet engine design work before he disappeared for 13 years into the classified DOE "GCEP" (Gas Centrifuge Enrichment Plant) Atomic Energy program for the enrichment of U235. After the GCEP program was cancelled by the DOE in 1985, John was hired by Northrop Aircraft to do the thermal design for Northrop's entry into the ATF (Advanced Tactical Fighter) competition, the Northrop YF-23A "Black Widow II" stealth supercruise fighter. He also worked on the Northrop Grumman B-2A "Spirit" stealth bomber. After several years on a classified stealth missile program, John worked the remainder of his Aerospace career as one of Northrop Grumman's Program Directors on the United States Navy's F/A-18E/F "Super Hornet" jet fighter program.

During John's career at Northrop Grumman he served for five years as Northrop's "Vintage Aircraft Club" Commissioner and the Curator and Webmaster for the Western Museum of Flight in Hawthorne, California. Several years later, John was the volunteer webmaster (for about 3 years) for the Yanks Air Museum, Chino, California. He also served as President and webmaster for two different NPO's after his retirement. The Whittier Historical Society & Museum and Whittier Meals on Wheels.

John's love of aviation history and aviation photography lead to the establishment of this Skytamer.com website in 1998. The Skytamer.com site has continued to expand and will always grow and will never be completed. It's sort of analogous to a snowball rolling down a hill without any trees to stop it. In approximately 2002, John remembered that he had collected Topps "Wings" (ACC# R707-4) airplane trading cards while in High School. Somehow the cards had disappeared over the years. So at this point, he started to re-collect airplane trading cards via eBay and become an airplane card "Image Collector" rather than a "Card Collector" per se. After John scans an airplane card for the website, he has no further use for it and he puts it back into circulation via eBay. John's mission statement for the Skytamer.com is basically to restore and preserve high-quality card images/artwork associated with the various airplane card sets from the early 1900s to the present. These cards are wonderful historical "snapshots" into aviation history showing which aviation events and aircraft were important at that point in time. For the Skytamer.com website, basically if it is a trading card collection that features things that fly, but doesn't have feathers, it is eligible for consideration on the Skytamer.com website. John always welcomes inputs and high resolution scans (600-dpi) that can be used on this website. John can be reached via the "Contact Us" navigation button on the left.

★ ★ ★ ★ ★

Albert "Al" B. Kramer — A very special thanks to Albert B. Kramer, President of Roll-EZ Wheels, for loaning us his entire collection of over 200 Non-Sports aviation trading card sets to scan for our Skytamer.com website. Without Al's generous help, the scope of the airplane trading cards on this website would be significantly less. Al is a retired Air Racing pilot who raced during the 1980's in his famous "Cobra #22" Biplane Air Racer (N12FE). After his Air Racing career, Al went on to become Owner and President of San-Val Aviation located at the Van Nuys Airport. Al recently "retired" and turned his hobby of large scale model trains into "Roll-EZ Wheels". Roll-EZ Wheels specializes in the finest large scale model train wheels, and other exclusive products strictly for large scale model trains! Be sure to visit Al's Roll-EZ Wheels website.

Al's Non-Sports card collection consists of War Cards, Presidents, Indians, Cars, Boats, Ships, Planes, Rockets, Movie Stars, Dogs, Licence Plates, Flags of the World, Headlines, Cigarette, and Cereal cards. Al's collection includes the only-known example of the Carnation "Aircraft Recognition Cards" (F270-1a) Douglas D558-2 "Red Skyrocket". Al obtained the Carnation "Red Skyrocket" card in a group of 12 different cards that he bought on eBay. He originally thought that the cards were a batch of Nabisco cards until he turned over the "Red Skyrocket" card and it instantly became Al's most prized Non-Sports card. Al believes that the "Red Skyrocket" was made as a sample for Carnation and somehow got into circulation. The Carnation "Red Skyrocket" (Douglas D-558-2) was an artist drawing, while the Douglas D-558-2 "Skyrocket" included in both the Carnation F270-1a (single line) and the F270-1b (two-line) normal circulation sets were color photos, rather than drawings. As a sidenote, the Douglas D-558-1 "Red Skystreak" was also an artist drawing, but went into general circulation and was included in both the F270-1a and F270-1b Carnation sets. All of the other cards in both of the Carnation sets appear to be photographs.

★ ★ ★ ★ ★

Pete D'Luhosch — Pete is a retired IBM program/manager who lives in upstate New York. He graduated from Union College (Schenectady, New York) in 1963, with a degree in English Literature. Pete's 38-year IBM career, at their semiconductor development and manufacturing facility in East Fishkill, New York, spanned the time from punched cards and hard wired "unit record" machines being the norm, up to the time when computers were populated with chips containing millions of transistors that were "printed" on 12-inch silicon wafers. Pete's introduction to computers came on an IBM 1401 computer that was as big as a refrigerator and had an astonishing 4k of memory. Pete then learned IBM 360 programming and for many years worked on application programming at IBM East Fishkill. He eventually moved on to systems analysis and then held various management positions in support of chip manufacturing and statistical analysis. When he retired, Pete was a program/analyst in a staff department supporting the Director of the East Fishkill Semiconductor Laboratory.

Pete's interest in card collecting came, as many did, with baseball cards in the early '50s. The 1951 Bowman baseball card set is still his favorite. Sad to say, all Pete's cards disappeared while he was in college. He rekindled his love of cards in the late '70s, working on Topps baseball card sets with his kids, and attempting to re-create some of his sets from the '50s. When baseball cards became too expensive, Pete remembered another set he once collected: the 1952 Topps Wings set. On a whim, he bought a couple of them on eBay, just to see if they were still as cool as he remembered. Naturally, that led to years of trying to complete the set in the best condition he could find. Today, Pete's collecting interest lies almost exclusively with airplane cards from the World War II and Korean War periods. Some of Pete's card sets can be found on the SGC Registry.

Pete has written articles on the 1951 Bowman baseball card set for Sports Collectors Digest and articles on Topps Wings and Card-O Aeroplanes for The Wrapper. He has developed his own website that contains a lot of airplane and baseball card reference material. The website can be found at https://www.pjdenterprises.com.

References

---

Shupek, John. "Wings (R707-4)," The Skytamer Archive, Copyright © 2002 Skytamer Images. ALL RIGHTS RESERVED
Hornish, David. "Wings": The Modern Hobby Guide To Topps Chewing Gum: 1938-1956, PDF Copyright © 2013 David Hornish, pgs. 241-246.
Kramer, Albert B. "Wings (R707-4)," The Kramer Collection, (Loan of R707-4 "Wings" set for scanning 600-dpi images)
Levitt, Howie. Scans of "Wings" wrappers
D'Luhosch, Peter. Scans of "Wings" Wrappers and Display Boxes
Watson, James C., M.D. "Wings." Non-Sports Bible (NSB). Vol. I. Chelsea, MI: Sheridan, 2007. pg. 887. Print.
Hornish, David. "Doeskin Checklist, Update 2" The Modern Hobby Guide To Topps Chewing Gum: 1938-1956, website, 27 March 2014.
Hornish, David. "Doeskin Wings": The Modern Hobby Guide To Topps Chewing Gum: 1938-1956, PDF Copyright © 2013 David Hornish, pg. 294.
Hornish, David. "Red Ball Jets": The Modern Hobby Guide To Topps Chewing Gum: 1938-1956, PDF Copyright © 2013 David Hornish, pg. 294.

---

Copyright © 1998-2020 (Our 22nd Year) Skytamer Images, Whittier, California
ALL RIGHTS RESERVED