Zlin Z-526 "Trener-Master"
Single-engine, two-seat basic trainer
---
Archive Photos
---
1966 ZLIN Z-526 (N526MG, s/n 1012) c.2009 on display at the 2009 Cable Air Show, Cable Airport, Oakland, California (John Shupek photos)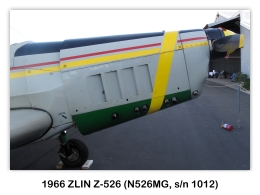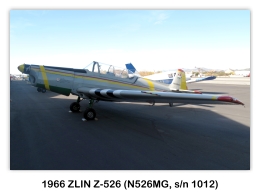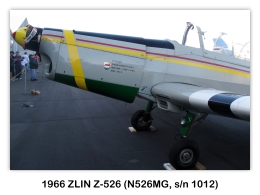 Overview 2
---
Role: Sports plane
Manufacturer: Zlin Aircraft
First flight: 1959
Number built: 1,400+
History 2
---
The Z-526 was originally designed by Zlin Aircraft in 1959. Its two seat version is called the Trener-Master. The Zlin Z-526's layout was organized with pilot in the rear, and student in front. The aircraft could also be equipped with tip tanks and a constant speed propeller. The Zlin Z-526F was introduced in 1968 and was equipped with a 135 kW (180-hp) Avia M 137A engine, the export version Zlin Z-526L differed in being equipped with a 150 kW (200-hp) Lycoming AEIO-360 flat four. Single seat versions included the Zlin Z-526A, Zlin Z-526AS, and the Zlin Z-526AFS.
The Zlin Z-526 AFM was built between 1981 and 1984 and was powered by a 155 kW (210-hp) Avia M337 engine, had tip tanks and a lengthened fuselage. The aircraft was later developed into the Zlin Z-726. More than 1,400 Zlin Z-526s were manufactured, many for military and private flying schools.

Variants 2
---
Zlin Z-526 Twin seat version
Zlin Z-526A Single seat version
Zlin Z-526AF Single seat version
Zlin Z-526AFS Single seat version
Specifications and Performance Data (Zlin Z-526 Trener-Master) 3
---
Built in the Moravan works at Otrokovice, the Zlin Z-526 is a modification of the Zlin Z-326. Major items in the modification were the fitting of a V 503 constant-speed propeller and transfer of the main pilot's position to the rear of the cockpit. The first prototype Zlin Z-526 flew in 1966 and production deliveries began shortly afterwards. Use of the V 503 propeller permitted full use of the available engine power, particularly during vertical climb, to decrease the entry speed for individual maneuvers and to increase the overall maneuverability of the aircraft. As of 1968, a total of more than 1,400 aircraft of the Zlin Z-26, Zlin Z-126, Zlin Z-226, Zlin Z-326, and Zlin Z-526 series had been built at Otrokovice since 1947 and were operating in 34 countries. Sporting successes of the Zlin included first place in the First, Second and Third World Aerobatic Championships in 1960, 1962 and 1964, and first place in the Lockheed Trophy aerobatic competition in Britain in 1957, 1958, 1961, 1963, 1964 and 1965.
Type
Two-seat basic trainer.
Fully-aerobatic at normal T-O weight.
Wings
Cantilever low-wing monoplane.
All metal two-spar structure with flush-riveted light alloy stressed skin.
Manually-actuated flaps inboard of ailerons.
\
Fuselage
Welded steel-tube structure.
Upper and lower surfaces covered with easily-removable metal panels and remainder with fabric.
Tail Unit
Cantilever type.
Removable tailplane and fin of all-metal stressed-skin construction.
Elevator and rudder have metal frames with fabric covering.
Trim-tabs in rudder and elevator.
Landing Gear
Retractable tail-wheel type.
Electrical retraction.
Oleo-pneumatic shock-absorbers.
Main wheels retract Backward into wings.
Tires protrude in retracted position to reduce damage in event of wheels-up landing.
Hydraulic brakes actuated from both cockpits.
Fully-castoring self-centering tail-wheel, steerable 30° to either side of center-line.
Power Plant
One 160-hp Walter Minor 6-III six-cylinder in-line inverted air-cooled engine driving a V 503 self-contained two-blade constant-speed propeller, diameter 6 ft 23 in (1.9 m).
One fuel tank of 9.9 Imp gallons (45 L) capacity in each wing root.
Gravity tank of 1.5 Imp gallons (7 L) capacity interconnected with main tanks and replenished automatically in flight.
Fuel and oil installation, designed for aerobatics, permits inverted flying for 4 minutes.
Can be fitted with wingtip fuel tanks, with total capacity of 15 Imp gallons (68 L).
Accommodation
Tandem seats under continuous sliding canopy which is jettisonable in an emergency.
Windscreen frame reinforced as crash pylon.
Complete dual controls and instrumentation.
Radio and inter-comm.
Adjustable seats and rudder pedals in both cockpits.
Seat cushions may be replaced by seat-type parachutes.
Dimensions (external)
Wing span 34 ft 9 in (10.60 m)
Length overall 25 ft 7 in (7.80 m)
Height overall 6 ft 9 in (2.06 m)
Areas
Wings, gross 166.3 ft2 (15.45 m2)
Fin 11.52 ft2 (1.07 m2)
Rudder 068 ft2 (0.063 m2)
Tailplane 26.80 ft2 (2.49 m2)
Elevators 15.28 ft2 (1.42 m2)
Weights
Weight empty 1,499 lb (680 kg)
Max T-O weight aerobatic 2,072 lb (940 kg); normal 2,150 lb (975 kg)
Performance (at max normal T-O weight)
Max level speed at S/L 151 mph (243 km/h)
Max permissible speed in dive 199 mph (320 km/h)
Cruising speed (70% power) 129 mph (208 km/h)
Landing speed 49 mph (78 km/h)
Rate of climb at S/L 985 ft/min (300 m/min)
Service ceiling 16,350 ft (5,000 m)
T-O run 720 ft (220 m)
Landing run 440 ft (135 m)
Normal range 360 miles (580 km)
Range with wingtip tanks 610 miles (980 km)
Zlin Z-526 "Akrobat" 3
---
This is a single-seat version of the Zlin Z-526 for specialized aerobatic use. The general description and specification data of the two versions are similar, except for the following weight data:
Weights
Weight empty 1,433 lb (650 kg)
Max T-O weight aerobatic 1,830 lb (830 kg); normal 2,150 lb (975 kg)
References
---
Photos: John Shupek
Wikepedia. "Zlin Z-526." [Online] Available https://en.wikipedia.org/wiki/Zlin_Z-526, 05 October 2009
Taylor, John W.R. (ed.) Jane's All The WorlD's Aircraft 1967-68. New York, The MacMillan Company, 1967, pp 27.
---