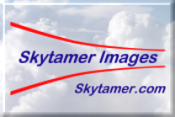 Stinson L-5E Sentinel
Single-engine High-wing Monoplane
---
Archive Photos 1,4
---
Stinson L-5E Sentinel (N9658H, s/n 4297, 1944) on display (9/12/2003) at the EAA AirVenture Museum, Oshkosh, Wisconsin (John Shupek photo copyright © 2003 Skytamer Images)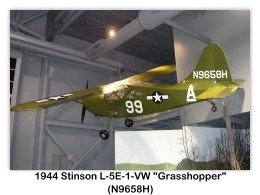 Stinson L-5E Sentinel (N9158B, s/n 76-3410, marked as AF 44-18021) on display (10/10/2012) at the CAF Museum, Falcon Field Airport, Mesa, Arizona (Photo by Lt. Col. Marc Matthews, M.D.)
Overview ²
---
Role: Liaison/Observation/Light plane
Manufacturer: Stinson
Produced: 1942-1945
Number built: over 3,896
The Stinson L-5 "Sentinel" began life as the pre-war Stinson model 105. The model 105 was nicknamed "Voyager" and was built by the Stinson Division of Consolidated Vultee. When World War II broke out, the Voyager was redesigned and then entered into service as a liaison aircraft. It also flew in the artillery spotter role and as an air ambulance. The later model Stinson L-5 "Sentinels" had their fuselages modified to accommodate one stretcher patient. The Stinson L-5 "Sentinels" were manufactured between October 1942 and September 1945. During this time a total of over 3,896 of these unarmed, two-seat aircraft were built for the United States armed forces, making it the second most widely used light observation aircraft of the war. Personnel in all service branches commonly referred to it as the "Flying Jeep".
The Stinson L-5 "Sentinel" was primarily constructed from steel tubing and plywood and was covered with doped cotton fabric. Capable of operating from forward unimproved airstrips, the Stinson L-5 "Sentinel" delivered information and needed supplies to the front line troops. On the return trip, it would evacuate the badly wounded soldiers to rear area field hospitals for medical attention.
Variants ²
---
Five versions were produced for the U.S. Army Air Force (USAAF); the L-5, L-5B, L-5C, L-5E and L-5G. There was no L-5A variant as is often reported, as the designation was intended for conversions of some L-5s modified with 24V electrical systems. The conversions were canceled when the modification became standard on all subsequent models. The Stinson L-5 "Sentinel" carried a pilot and observer in a tandem seating configuration. The Stinson L-5B through L-5G "Sentinels" models were modified to carry a litter patient or light cargo, or a rear seat passenger sitting in the normal position. The Navy and Marine versions of the airplane were the Stinson OY-1 and OY-2. The latter differed from all others in that it had a 24 volt electrical system instead of the previously standard 12 volts. The British procured 40 Stinson L-5s, known as "Sentinel I's", and 60 Stinson L-5B's known as "Sentinel II's".
Stinson O-62: Observation, artillery spotting and liaison aircraft, powered by a Lycoming 0-431-5-1 piston engine. 275 built.
Stinson L-5: Observation, artillery spotting and liaison aircraft. 1,538 built, 79 transferred to USN/USMC as OY-1.
Stinson L-5A: Canceled conversions of L-5 with 24V electrical systems.
Stinson L-5B: 729 aircraft with rear fuselage hatch to permit loading of a stretcher or cargo; twin-float capability. 60 transferred to RAF as Sentinel Mk II, 40 transferred to USN/USMC as OY-1.
Stinson L-5C: 200 L5-B were equipped K-20 reconnaissance cameras.
Stinson L-5D: L-5s modified in 1943 to L-5C standard.
Stinson L-5E: 750 STOL variants with larger brakes and ailerons drooped 15° as flap extensions; 152 transferred to USN/USMC as OY-2.
Stinson L-5G: L-5E airframe powered by 142-kW (190-hp) Lycoming O-431-11 piston engines with controllable pitch propellers. 115 built, 785 canceled by end of the war. Final production model redesignated U-19B.
Stinson XL-5: One test and evaluation aircraft, powered by a Lycoming O-436-2 piston engine.
Stinson U-19A: L-5 variants still in service redesignated U-19A by the USAF in 1962.
Stinson U-19B: One L-5E used as a glider tug at the United States Air Force Academy in 1962.
Stinson OY-1: 306 L-5 and L-5B's transferred to the United States Marine Corps and United States Navy.
Stinson OY-2: 152 transfers of L-5E to USN/USMC; 30 OY-1 conversions to 24V electrical system.
Stinson Sentinel Mk I: 40 L-5s supplied to the RAF under Lend-Lease.
Stinson Sentinel Mk II: 60 L-5B's supplied to the RAF under Lend-Lease.
Aircraft Markings ²
---
Standard camouflage as delivered from the factory was non-specular medium gray undersides with olive drab above, broken around the edges of the wing and tail surfaces with medium green. Stars, or "stars and bars" were applied to both sides of the fuselage and on the upper left and lower right wingtips. The USAAF number appeared on both sides of the fuselage in either yellow or black. Most aircraft were repainted silver during the post-WWII period. A variety of unit identification markings including nose art were applied in the field. Interior surfaces were generally finished in chromate green or a slightly darker "interior green".
Units Using this Aircraft ²
---
The USAAF, US Marines, and US Navy used this aircraft in the European, Pacific, and Far East theaters during World War II, and in Korea during the Korean War. The British RAF operated 100 "Sentinels" in India and Burma. After WWII, the Philippine Army Air Corps used this aircraft from 1945 to 1947. This aircraft remained in service after 1 July 1947 when the PAAC was renamed the Philippine Air Force. The Italian Air Force operated approximately 100 L-5's from 1946 into the 1950's. Many other countries also received L-5's after the war, particularly India.
Postwar Use and Current Status ²
---
After World War II, the L-5 was widely used by the Civil Air Patrol for search and rescue work. Today there are about 300 known examples left world wide and less than half are in flying condition. A group called the Sentinel Owners and Pilots Association is dedicated to the preservation and enjoyment of this aircraft type.
Operators ²
---
Australia: Royal Australian Air Force - The RAAF operated one L-5 Sentinel, on loan from the USAAF. The aircraft was in service with the RAAF from 1944 to 1946.
Italy: Italian Air Force
Philippines: Philippine Army Air Corps; Philippine Air Force
United Kingdom: Royal Air Force
United States: Civil Air Patrol; United States Army Air Force; United States Air Force; United States Marine Corps; United States Navy
Specification and Performance Data (L-5) ³
---
Type:

Two-seat Liaison/Observation or Ambulance monoplane.

Wings:

High-wing braced monoplane.
Structure consists of spruce spars and ribs, steel tube compression struts and wire bracing, and fabric covering.
Vee type steel or duralumin tube bracing struts.
Manually-operated trailing-edge flaps between ailerons and fuselage.
Flaps have light metal frames and fabric covering.

Fuselage:

Welded steel tube structure covered with fabric.

Tail Unit:

Cantilever monoplane type.
All wood framework with fabric covering.
Fin built integral with, the fuselage.
Fixed tailplane.
Horn-balanced control surfaces.

Landing Gear:

Single-leg cantilever fixed type.
Long-stroke oleo-spring shock absorber units.
Hydraulically operated wheel brakes.
Steerable tail-wheel with leaf-spring shock-absorber.

Power Plant:

190-hp Lycoming O-435-1 six-cylinder horizontally opposed air-cooled engine.
Two fuel tanks, one in root of each wing.
Gravity feed.
Total maximum fuel capacity: 36 U.S. gallons (30 Imp. gallons).
Sesenich fixed-pitch wood airscrew: 7 ft 1 in (2.16 m) diameter.

Accommodation:

Enclosed cockpit seating two in tandem with dual controls.
Entire roof of cabin glazed.
Side windows inclined slightly outwards to improve downward vision.
Doors on starboard side of cabin, pilot's door hinging forward and observers' door downward.
In L-5B further stretcher-loading door swings downwards.
Normal equipment includes radio, night-flying equipment, fire extinguisher, first-aid kit, etc.

Dimensions:

Span: 34 ft (10.37 m)
Length: 24 ft 1.25 in (7.33 m)
Height: 7 ft 1 in (2.13 m)

Weights:

Weight empty: 1,472 lbs (668 kg)
Weight loaded: 2,158 lbs (980 kg)

Performance:

Maximum speed: 129 mph (206.4 km/h)
Service ceiling: 15,800 ft (4,820 m)
References
---
Photos: John Shupek copyright © 2003 Skytamer Images. ALL RIGHTS RESERVED
Wikipedia, the free encyclopedia, Stinson_L-5 Sentinel
Bridgman, Leonard (editor.) "Jane's All The World's Aircraft 1945-46". London, Sampson Low, Marston & Company, Ltd., 1946, pages 308c-309c.
Photos by Lt. Col. Marc Matthews, M.D. (USAF Ret.), 10/10/2012
---
Copyright © 1998-2018 (Our 20th Year) Skytamer Images, Whittier, California
ALL RIGHTS RESERVED