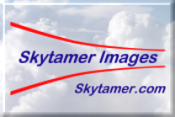 Porterfield CP-65 "Collegiate"
Two-seat light training high-wing monoplane
---
Archive Photos ¹
---
1941 Porterfield CP-65 Collegiate (NC37895, s/n 1025, 1941) on display at the 2009 Cable Air Show, Cable Airport, Upland, California (John Shupek photo copyright © 2009 Skytamer Images)
Overview ²
---
Role: two-seat monoplane trainer
Manufacturer: Porterfield Aircraft Corporation
First flight: 1936
Introduced: 1936
Produced: 1936-1941
Number built: 400
The Porterfield Collegiate was an American two-seat training monoplane built by the Porterfield Aircraft Corporation of Kansas City.
Development ²
---
Developed originally as the Porterfield "Zephyr" a light-weight version of the earlier Model 35 "Flyabout" for use a pilot trainer. Powered by a 40-hp (30 kW) Continental A-40 engine it was later re-designated the Porterfield CP-40. To improve performance the engine was replaced with a 50-hp (47 kW) Continental A50-4 engine and re-designated the CP-50 "Collegiate". It was a braced high-wing monoplane with a tailskid fixed landing gear. Total production was about 400 when production stopped in 1941 at the start of American involvement in the Second World War. A number of variants were produced with different engine installations.
Variants ²
---
Porterfield CP-40 Zephyr: Original 40-hp version
Porterfield CP-50: Improved production variant with a 1935 production variant with a 50-hp (47kW) Continental A50-4 engine
Porterfield CP-55: Revised engine cowling
Porterfield CP-65: Powered by a 65-hp (48 kW) Continental A65-8/9 engine.
Porterfield FP-60: Powered by a 60-hp (45 kW) Franklin 4AC-171-A1 engine.
Porterfield FP-65: Powered by a 65-hp (48 kW) Franklin 4AC-176-B29 engine.
Porterfield LP-50: Powered by a 50-hp (37 kW) Avco Lycoming O-145-A1 engine.
Porterfield LP-55: Powered by a 55-hp (41 kW) Avco Lycoming O-145-A3 engine.
Porterfield LP-65: Powered by a 65-hp (48 kW) Avco Lycoming O-145-B1/B2 engine.
Specifications and Performance Data (CP-65) ³
---
Type:

Two-seat light training monoplane.

Wings:

High-wing braced monoplane.
Rigidly-strutted center section, with outer wings braced to bottom longerons of the fuselage section by parallel streamline steel-tube struts.
Wing structure consists of two spruce spars and build-up ribs, the hole covered with fabric.

Fuselage:

Welded steel-tube structure, covered with fabric.

Tail Unit:

Wire-braced monoplane type.
Welded steel-tube framework, covered with fabric.
Adjustable tail-plane.

Undercarriage:

Split type.
Consists of two faired-in side Vees and two half-axles hinged to a Vee cabane below the fuselage through Goodyear rubber-disc shock-absorbers.
Low-pressure wheels.
Steerable tail-wheel.

Power Plant:

One 65-hp Continental A-65-8 or A-65-9 four-cylinder opposed air-cooled engine on welded steel-tube mounting.
Fuel tank (13.5 US Gallons) in fuselage.

Accommodation:

Enclosed cabin seating two in tandem with dual controls.

Dimensions:

Span: 34 ft 9 in (10.6 m)
Length: 22 ft 8 in (6.9 m)
Height: 7 ft 0 in (2.1 m)

Areas:

Wing area: 169 ft² (15.7 m²)

Weights:

Weight empty: 700 lb (317.5 kg)
Weight loaded: 1,200 lb (544 kg)

Loadings:

Wing loading: 7.1 lb/ft² (34.67 kg/m²)
Power loading: 18.5 lbs/hp (8.39 kg/hp)

Performance

Maximum speed: 108 mph (174 kmh)
Cruising speed: 103 mph (166 kmh)
Landing speed: 40 mph (64 kmh)
Initial rate of climb: 1,030 ft/min (314 m/min)
Service ceiling: 18,000 ft (5,486 m)
Cruising range: 300 miles (480 km)
References
---
Photos, John Shupek, Copyright © 2009 Skytamer Images. ALL RIGHTS RESERVED
Wikipedia. Porterfield Collegiate
Bridgman, Leonard (editor). "The Porterfield "Collegiate" Trainer", Jane's All The World's Aircraft 1941, The MacMillan Company, New York, 1942, pages 204c-205c.
---
Copyright © 1998-2018 (Our 20th Year) Skytamer Images, Whittier, California
ALL RIGHTS RESERVED