Poberenzy P-9 "Pober Pixie"
single-seat light aircraft
---
Archive Photos ¹
---
Poberenzy P-9 Pober "Pixie" (N9PH, c/n 109, 1974) on display at the EAA AirVenture Museum, Oshkosh, Wisconsin (John Shupek photo copyright © 2003 Skytamer Images)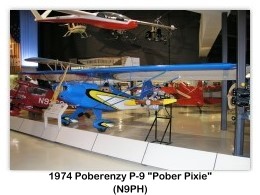 Overview ²
---
P-9 Pober Pixie
Role: Recreational aircraft
Manufacturer: Acro Sport (plans)
Designer: Paul Poberezny
First flight: July 1974
The "Pober Pixie" is a single-seat light aircraft that was designed in the United States in 1974 and marketed as plans for homebuilding. It is a conventional parasol-wing monoplane with fixed tailwheel undercarriage and a single open cockpit. The design was inspired by the Heath "Parasol".
Development ²
---
In response to the 1973 oil crisis, the EAA launched Project "Econoplane" to develop an aircraft with high fuel economy that would therefore be affordable for its members to operate. The "Pober Pixie" was the result, with fuel consumption of 3 to 3.5 US Gal (11 to 13 liters) per hour. Plans were completed in January 1974 and the prototype flew in late July, in time for the EAA Annual Convention that year.
After the convention, the prototype was returned to the shop for minor improvement work, including installation of a Limbach SL 1700 EA engine (60 hp at 3,550 rpm) and Rehm 5330 two-blade fixed-pitch propeller. The improvements were incorporated into the plans.
Design ²
---
The Pixie fuselage is fabricated from welded 4130 steel tube, while the wings are made from spruce covered with poly-fiber fabric. Recommended engines include Volkswagen or the Continental A-65.
The design includes full-span ailerons that give it a high roll rate with minimal adverse yaw. "Aircraft Spruce and Specialty" says of the design: "Similar in many respects to the Heath "Parasol", the "Pixie" is a modernization of the helmet and goggle days of the 1930s. The large wing and full span ailerons make for easy flying. With minimal taildragger experience, the "Pixie" is a breeze to handle on the ground. Landings are gentle affairs, visibility in cruise is outstanding and using it with skis adds another dimension of fun.&rdqup;
Variants ²
---
Pober Pixie II: Paul Poberezney had some drawings and started some welding of a fuselage for a two seat model. Micheal Hoye bought the project, and completed a single scratch-built example of a two seat Pixie in 1999.
Specifications (typical) ²
---
General Characteristics

Crew: One pilot
Length: 17 ft 3 in (5.26 m)
Wingspan: 29 ft 10 in (9.09 m)
Height: 6 ft 2 in (1.88 m)
Wing area: 134 ft² (12.45 m²)
Empty weight: 543 lb (246 kg)
Gross weight: 900 lb (408 kg)
Powerplant: 1 × converted Volkswagen air cooled engine or Limbach SL 1700 EA, 60 hp (45 kW)

Performance

Maximum speed: 130 mph (209 km/h)
Cruise speed: 83 mph (134 km/h)
Range: 290 miles (467 km)
Service ceiling: 12,500 ft (3,810 m)
Rate of climb: 500 ft/min (2.54 m/s)
References
---
Photos: Shupek, John A., copyright © 2003 Skytamer Images
Wikipedia, Pober Pixie
---
Copyright © 1998-2018 (Our 20th Year) Skytamer Images, Whittier, California
ALL RIGHTS RESERVED