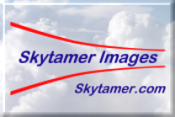 Piper PA-28-161 "Warrior II"
Single-engine four-seat low-wing cabin monoplane
---
Archive Photos ¹
---
Piper PA-28-161 "Warrior II" (N47508, s/n 28-7816086, 1977) c.1990s on display at the Hawthorne Air Faire, Hawthorne, California (John Shupek photo copyright © 2000 Skytamer Images)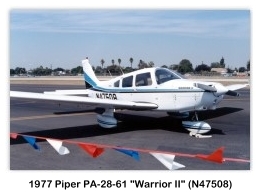 Piper PA-28-161 "Warrior II" (N8102S, s/n 28-8016104, 1979) on display at the 1990 El Toro Airshow, MCAS El Toro, California (John Shupek photo copyright © 2001 Skytamer Images)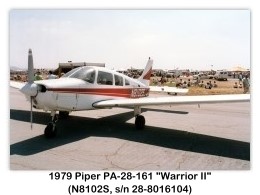 Piper PA-28-161 "Warrior II" (N4344C, s/n 28-8416054, 1987) on display at the 1987 El Toro Airshow, MCAS El Toro, California (John Shupek photo copyright © 2001 Skytamer Images)
Overview ²
---
Design of the "Warrior" began in June 1972, an important feature being the replacement of the earlier constant chord wings of the "Cherokee" series by a longer span wing with tapered outer panels. As a result of its introduction, the "Warrior", which at that time had essentially the same 150 hp (112 kW) engine as the discontinued "Cherokee Cruiser", was certificated at a maximum T-O weight 175 lb (79 kg) greater. First flight of a prototype was made on 17 October 1972, and FAA certification of the original model, PA-28-151 was granted on 9 August 1973.
The 1986 PA-28-161 "Warrior II" version, first flown on 27 of August 1976, has a 160 hp (119 kW) engine which operates on 100 octane low-lead fuel. The 1986 version offers a basic optional equipment package, Executive, comprising: blind-flying instrumentation with 3 in inch gyros; clock; outside air temperature gauge; exhaust gas temperature gauge; rate of climb and true airspeed indicators; instrument panel lights, white Backlighting; overhead red spotlight; cabin dome, avionics dimming, navigation, landing and taxi lights; rotating beacon; assist strap at door; aircraft step; engine primer system; engine driven an electric vacuum pump with vacuum gauge; quick oil drain; wheel fairings; towbar; pilot's vertically adjustable seat, sun visors, alternate static source, heated pitot, emergency locator transmitter, strobe lights, external power socket, and 35Ah battery.
In addition, five optional avionics groups were available for factory installation in the "Warrior II".
A total of 2,905 "Warriors" had been sold by one January 1987. Later sales included 12 for the Royal Jordanian Air Academy and 19 for the British Aerospace Flying College at Prestwick Airport, Scotland. These aircraft were used for training commercial and military pilot cadets, commencing in January 1988 with trainees sponsored by British Airways.
Specifications and Performance Data (1987 Piper PA-28-161 "Warrior II") ²
---
Type

Four-seat cabin monoplane.

Wings

Cantilever low-wing monoplane.
Wing section NACA 65²-415 on inboard panels, outboard leading-edge incorporates modification No. 5 of NACA TN 2228.
Dihedral 7°
Incidence 2° at root, -1° at tip
SweepBack at quarter-chord 5°.
Light alloy single-spar structure with glassfiber wingtips.
Plain ailerons of light alloy construction.
Four-position manually actuated trailing-edge flaps of light alloy with ribbed skins.

Fuselage

Light alloy semi-monocoque structure glassfiber nose cowl and tailcone.

Tail Unit

Cantilever structure of light alloy, except for glass fiber tips on Finland and tailplane.
Fin and rudder have ribbed light alloy skins.
One-piece all-moving tailplane, with combined anti-servo and trim tab.
Rudder trimmable, but no trim tab in rudder.

Landing Gear

Non-retractable tricycle type.
Steerable nose-wheel.
Piper oleo-pneumatic shock-absorbers; single wheel on each unit.
Cleveland wheels with 4-ply tires size 6.00-6 on main units, pressure 24 psi (1.65 bars).
Cleveland nosewheel and 4-ply tire size 5.00-5, pressure 24 psi (1.65 bars).
Cleveland disk brakes.
Parking brake.
Glassfiber wheel fairings optional.

Power Plant

One 160-hp (119 kW) Avco Lycoming O-320-D3G flat-four engine, driving a Sensenich two-blade fixed-pitch metal propeller type 74DM6-0-60 with spinner
Fuel in two wing tanks, with total capacity of 50 U.S. gallons (189 liters; 41.6 Imp gallons), of which 48 U.S. gallons (181.5 liters; 40 Imp gallons) are usable.
Refueling point on upper surface of each wing.
Oil capacity 2 U.S. gallons (7.5 liters; 1.7 Imp gallons).

Accommodation

Four persons in pairs in enclosed cabin.
Individual adjustable front seats with seat belts and shoulder harnesses
Bench type rear seat with seat belts.
Dual controls and brakes standard.
Large door on starboard side.
Baggage compartment at rear of cabin, with capacity of 24 ft³ (0.68 m³) and capacity of 200 lb (91 kg).
External baggage door on starboard side.
Heating, ventilation and windscreen defrosting standard.

Systems

Hydraulic system for brakes only.
Electrical system powered by 14V 60A engine driven alternator.
12V 25Ah battery standard, 12V 35Ah battery optional (standard with Executive equipment package).
Dual vacuum system for optional blind-flying instrumentation is available, complete with vacuum gauge, regulator, filter, and annunciator light.
Piper Aire air-conditioning system optional.

Avionics and Equipment

Nav/coms, ADF, autopilot, glidescope and marker beacon receivers, and transponders, by Century Flight Systems, Collins, King and Narco are available in five optional groups, together with an extensive range of other optional avionics.
Standard equipment includes recording tachometer, sensitive altimeter, inertial reel shoulder harnesses for all seats, armrests, map pockets, pilot's storm window, stall warning device, carpeted floor, soundproofing, automatic emergency locator transmitter, provisions for air-conditioning, full flow oil filter, tiedown rings and fuel tank quick drains.
Optional equipment, in addition to that listed under Executive package, includes encoding altimeter, digital clock, approach plate holder, engine hour recorder, pilot and co-pilot's vertically adjustable seats, pilot and copilot headrests, cabin fire extinguisher, improved soundproofing, cup holders, floor and/or overhead ventilation with booster fan, stainless steel control cables, tinted windows, carburetor ice detection system, lockable fuel tank caps, external power receptacle, zinc chromate paint for aluminum parts and polyurethane paint for exterior finish.

Dimensions, external

Wing span: 35 ft 0 in (10.67 m)
Wing chord at root: 5 ft 3 in (1.60 m)
Wing chord at tip: 3 ft 6¼ in(1.07 m)
Wing aspect ratio: 7.24
Length, overall: 23 ft 9½ in (7.25 m)
Height, overall: 7 ft 3½ in (2.22 m)
Tailplane span: 12 ft 11¾ in (3.96 m)
Wheel track: 10 ft 0 in (3.05 m)
Wheelbase: 6 ft 8 in (2.03 m)
Propeller diameter: 6 ft 2 in (1.88 m)
Propeller ground clearance: 0 ft 8¼ in (0.21 m)
Cabin door height: 2 ft 11 in (0.89 m)
Cabin door width: 3 ft 0 in (0.91 m)
Baggage door height: 1 ft 8 in (0.51 m)
Baggage door max width: 1 ft 10 in (0.56 m)
Baggage door height to sill: 2 ft 4 in (0.71 m)

Dimensions, cabin internal

Length (instrument panel to rear bulkhead): 8 ft 1 in (2.46 m)
Max width: 3 ft 5½ in (1.05 m)
Max height: 4 ft 1 in (1.24 m)
Floor area: 24.5 ft² (2.28 m²)
Volume (including baggage area): 106.0 ft³ (3.00 m³)

Areas

Wings, gross: 170 ft² (15.8 m²)
Ailerons (total): 13.2 ft² (1.23 m²)
Trailing-edge flaps: 14.6 ft² (1.36 m²)
Fin: 7.4 ft² (0.69 m²)
Rudder: 4.1 ft² (0.38 m²)
Tailplane, including tab: 26.5 ft² (2.46 m²)

Weights:

Weight empty, standard: 1,352 lb (613 kg)
Max T-O and landing weight: 2,440 lb (1,106 kg)
Max ramp weight: 2,447 lb (1,110 kg)

Loadings:

Max wing loading: 14.35 lb/ft² (70.06 kg/m²)
Max power loading: 15.25 lb/hp (9.33 kg/kW)

Performance at Maximum T-O Weight (* with optional wheel fairings):

Never-exceed speed: 176 mph (153 knots; 282 km/h)
* Max level speed at S/L: 146 mph (127 knots; 235 km/h)
* Best power cruising speed, 75% power at 9,000 ft (2,745 m): 145 mph (126 knots; 233 km/h)
* Best power cruising speed, 65% power at 12,500 ft (3,810 m): 136 mph (118 knots; 219 km/h)
* Best power cruising speed, 55% power at 12,500 ft (3,810 m): 123 mph (107 knots; 198 km/h)
* Best econ cruising speed, 75% power at 9,000 ft (2,745 m): 140 mph (122 knots; 225 km/h)
* Best econ cruising speed, 65% power at 12,500 ft (3,810 m): 134 mph (116 knots; 215 km/h)
* Best econ cruising speed, 55% power at 12,500 ft (3,810 m): 121 mph (105 knots; 195 km/h)
Stalling speed with flaps up: 65 mph (56 knots; 104 km/h) CAS
Stalling speed with flaps down: 58 mph (50 knots; 93 km/h) CAS
Maximum rate of climb at S/L: 644 ft/min (196 m/min)
Service ceiling: 11,000 ft (3,355 m)
T-O run: 1,050 ft (320 m)
T-O to 50 ft (15 m): 1,650 ft (503 m)
Landing from 50 ft (15 m): 1,160 ft (354 m)
Landing run: 625 ft (191 m)

* Range with maximum fuel and allowances for taxi; T-O, climb, and descent, and 45 min reserves at maximum range power:

Range at best power settings, 75% power at 9,000 ft (2,745 m): 604 miles (525 nm; 972 km)
Range at best power settings, 65% power at 12,500 ft (3,810 m): 637 miles (553 nm; 1,025 km)
Range at best power settings, 55% power at 12,500 ft (3,810 m): 651 miles (565 nm; 1,047 km)
Range at best econ settings, 75% power at 9,000 ft (2,745 m): 679 miles (590 nm; 1,092 km)
Range a best econ settings, 65% power at 12,500 ft (3,810 m): 729 miles (633 nm; 1,173 km)
Range a best econ settings, 55% power at 12,500 ft (3,810 m): 737 miles (640 nm; 1,186 km)
References
---
Photos, John Shupek, Copyright © 2000-2001 Skytamer Images. ALL RIGHTS RESERVED
Taylor, John W. R. (editor). Jane's All The World's Aircraft 1987-88. Jane's Yearbooks, London, 1987, ISBN 0 7106-0850-0, p 483.
---
Copyright © 1998-2018 (Our 20th Year) Skytamer Images, Whittier, California
ALL RIGHTS RESERVED