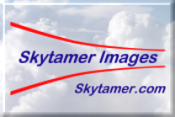 Piper PA-24-250 "Comanche"
Single-engine four-seat low-wing cabin monoplane
---
Archive Photos ¹
---
Piper PA-24-250 "Comanche" (N6240P, s/n 24-1345, 1959) c.1994 at the MCAS El Toro Airshow, MCAS El Toro, California (John Shupek photo copyright © 2001 Skytamer Images)
Overview ²
---
Piper PA-24 "Comanche"
Role: Civil utility aircraft
Manufacturer: Piper Aircraft
Designer: Howard "Pug" Piper
First flight: May 1956
Introduction: 1957
Status: production ceased
Primary users: Private aviators and Flight schools
Produced: 1957-1972
Number built: 4,857
Unit cost: $17,850-$36,890
Variants: Piper PA-30 "Twin Comanche", Piper PA-39 "Twin Comanche"
The Piper PA-24 "Comanche" is a four-seat, low-wing, all-metal, light aircraft of monocoque construction with retractable landing gear that was first flown in May 1956 according to a Piper Aircraft Company press release. Together with the "Twin Comanche", it made up the core of the Piper Aircraft line-up until 1972, when the production lines for both aircraft were wiped out in a flood.
Development ²
---
"Comanche" production began in 1957 with the PA-24-180 model. The PA-24-250 model was added in 1958, powered by a Lycoming O-540-A1A5 engine. In 1963 the 400 hp (298 kW) PA-24-400 was introduced. The following year, the PA-24-250 was superseded by the PA-24-260, featuring the Lycoming IO-540D or E engine of 260 hp (194 kW). The 260 was also available as the "Turbo Comanche C" with a Rajay turbocharger and was introduced in 1970.
Production of the "Comanche" ended in 1972 when torrential rains from Hurricane Agnes caused the great Susquehanna River flood of 1972, flooding the manufacturing plant and destroying airframes, parts, and much of the tooling necessary for production. Rather than re-build the tooling, Piper chose to abandon production of the "Comanche" and "Twin Comanche", and continue with two newer designs already in production at Piper's other plant in Vero Beach, Florida: the twin engine PA-34 "Seneca" and the PA-28R-200 "Arrow".
At that time Piper had already begun to concentrate on its successful Piper PA-28 "Cherokee" line, which had originally been conceived as a cheaper alternative to the "Comanche". The "Arrow" was a retractable gear version of the popular "Cherokee" trainer; its smaller 200 horsepower (150 kW) engine was less expensive and easier to fly than the "Comanche"; sales of the single engine "Comanche" had faltered after the introduction of the "Arrow" in 1967.
The "Comanche" production run ended with the disposal of all of the tooling, and completion of the last seven airframes. After the Susquehanna River receded, Piper moved the last aircraft to Vero Beach and completed construction there. The self-described junior member of the completion team was Chuck Suma, who 30 years later would become the CEO of The New Piper Aircraft, Inc.
Variants ²
---
PA-24-180 "Comanche 180": The original version of the "Comanche" was the PA-24, which featured a carbureted 180 hp (134 kW) Lycoming O-360-A1A engine, swept tail, laminar flow airfoil, and all-flying stabilator. Designed by Howard "Pug" Piper, the new "Comanche" was intended to compete in the market with the very successful Beechcraft "Bonanza". The initial production run of the 180 hp (130 kW) "Comanche" singles were given the PA-24 type designation. The remainder of this production run were given the PA-24-180 designation. The standard fuel capacity of the PA-24-180 was 60 US gallons (230 L). The flaps were manually actuated, controlled by the same Johnson bar actuator as the Piper "Cherokee". The aircraft specifications were for cruise speeds of 116 to 139 knots (257 km/h) and fuel burns between 7.5 and 10.5 gph at 55-percent and 75-percent power settings. Full-fuel payload with standard fuel was 715 pounds, with a gross weight of 2,550 lb (1,160 kg) and range with 45-minute reserve of 700 nautical miles. When new, standard, average-equipped PA-24-180 "Comanches" sold between $17,850 (1958) and $21,580 (1964). A total of 1,143 were built.
PA-24-250 "Comanche 250": In 1958 Piper introduced a 250 horsepower (186 kW) version using a Lycoming O-540 engine, giving the PA-24-250 "Comanche" a top cruise speed of 160 kts (185 mph; 298 km/h). Most Piper PA-24-250 "Comanches" had carbureted Lycoming O-540-AIA5 engines, but a small number were fitted out with fuel-injected versions of the same engine. Early PA-24-250 "Comanches" had manually operated flaps and carried 60 US gallons (230 L) of fuel. Auxiliary fuel tanks (90 US gallons (340 L) total) became available in 1961. Electrically actuated flaps were made standard with the 1962 model year. The aircraft's gross weight was increased from 2,800 pounds to 2,900 pounds in 1961, making the useful load 1,270 pounds. The PA-24-250 "Comanche" advertised cruise speeds of 140-157 knots and fuel burns of 10-14 gph (55% and 75% power). Prices of new PA-24-250 "Comanches" ranged from $21,250 (1958) to $26,900, which was only $3,000 to $5,000 more expensive than the PA-24-180 "Comanche". Some 2,537 were sold.
PA-24-260 "Comanche 260": In 1965 the first of four 260 horsepower (194 kW) versions of the "PA-24-260" was introduced. They were:
PA-24-260 (1965)
PA-24-260B (1966 to 1968)
PA-24-260C (1969 to 1972)
PA-24-260TC
A total of 1,029 airplanes were sold from the PA-24-260 "Comanche 260" line, including the 260TC. 38 PA-24-260 Comanches were delivered with carbureted engines; the rest used the fuel-injected Lycoming IO-540 engine.
The PA-24-260 had an empty weight of approximately 1,700 pounds and a max gross weight of 2,900 pounds. It had four seats and a 90-US-gallon (340 L)-capacity auxiliary fuel system was available as an option. Cruise speed was advertised as 142-161 knots with fuel burn of 10-14 US gallons (53 L) per hour. New, they sold for approximately $30,740.
The PA-24-260B had an overall length six inches (152 mm) more than the previous models. This was due to a longer prop spinner, not a longer fuselage. The PA-24-260B had a third side window and a provision for six seats. The fifth and sixth seats are suitable only for children and take up the entire baggage compartment. Typical empty weight was 1728 pounds and gross weight was 3,100 pounds. Fuel burn was 11-14 US gallons (53 L) per hour and advertised speed was 140-160 knots. New, they sold for $32,820 to $33,820.
The PA-24-260C introduced a new "Tiger Shark" cowling, max gross weight of 3200 pounds, cowl flaps, and an aileron-rudder interconnect. Cruise speed was advertised as 150-161 knots with fuel flow of 12.5-14.1 US gallons (53 L) per hour. To prevent possible aft center of gravity problems due to the increased gross weight and its fifth and sixth seats, the propeller shaft was extended. This moved the center of gravity slightly forward. With a useful load of 1427 pounds it has the largest payload of all of the "Comanches" except the 400. Often mistaken on the ramp for the 400 model, the slightly longer cowling includes a distinctively longer nose gear door, as compared to the B models and older versions. New, they sold for $36,550 to $45,990.
The PA-24-260-TC (1970 to 1972) had a turbo normalizing system of dual manually controlled Rajay turbochargers. These were controlled by what Piper called a "second throttle" on the power quadrant. This manually controlled turbocharger was used by first using throttle to bring manifold pressure up to the desired level. If conditions are such that insufficient manifold pressure is developed for the task at hand, then the pilot would begin closing the turbo's wastegate by moving the turbocharger lever forward.
PA-24-400 "Comanche 400": The PA-24-400 "Comanche 400", while identical in planform to other single-engine "Comanches", is structurally strengthened, primarily in the tail. The aircraft has an extra nose rib in the stabilator and in the vertical fin. The stabilator, vertical fin, and rudder of the PA-24-400 share virtually no common parts with the 180, 250, and 260 hp (190 kW) "Comanches". In addition, the PA-24-400's rudder is aerodynamically balanced in a manner similar to that of the Piper PA-30 "Twin Comanche" and does not have the lead external balance weights of the lower-powered single-engine "Comanches".
The PA-24-400 "Comanche 400" is powered by the 400 horsepower 8-cylinder Lycoming IO-720 engine, an engine developed specifically for the "Comanche".
Only 148 PA-24-400 "Comanches" were built. The aircraft's high fuel burn means that it is expensive to operate and there have been cooling problems with the rear cylinders of the horizontally opposed eight cylinder engine. Even with the huge engine the PA-24-400 only manages a top speed of 194 knots (360 km/h) and cruising speed of 185 knots (343 km/h), considerably slower than more modern light aircraft, like the Cessna 400, operating with much less horsepower.
The PA-24-400 "Comanche 400" has a three-blade propeller and carries 100 US gallons (380 L) of fuel, or 130 US gallons (490 L) with optional extended tanks. Fuel burn was advertised as 16-23 US gallons (87 L) per hour, at 55%-75% power. The PA-24-400 had a typical empty weight of 2,110 pounds and a max gross weight of 3,600 pounds. New base price for 1964 was $28,750 according to PIPER AIRCRAFT by Roger W. Peperell.
World records ²
---
Max Conrad: In June 1959 Max Conrad flew a PA-24-250 "Comanche 250" on a record-breaking distance flight in Fédération Aéronautique Internationale C1-D Class, for aircraft between 3,858 lb (1,750 kg) to less than 6,614 lb (3,000 kg). Having removed the interior seats and replaced them with fuel tanks, Conrad flew non-stop from Casablanca, Morocco to Los Angeles, a distance of 7,668 mi (12,340 km). When the aircraft took off from Casablanca, it was heavily overloaded and just cleared the airport fence. The PA-24-250 "Comanche 250" which Max Conrad flew for this flight is now located in the museum at the Liberal, Kansas airport.
On November 24, 1959 Conrad flew a PA-24-180 "Comanche 180" on a record flight in FAI C1-C Class for aircraft taking off at weights between 2,204 lb (1,000 kg) to less than 3,858 lb (1,750 kg)), that still stands: Casablanca to El Paso, Texas 6,966 mi (11,211 km) non-stop.
Myth Too: A Comanche named "Myth Too" and registered G-ATOY was owned by the English aviatrix Sheila Scott. The aircraft holds ninety world class light aviation records. It is on public display at the National Museum of Flight, Scotland.
PA-24-250 Model Options ³
---
Standard Comanche: Basic model, as described below.
Custom Comanche: As is Standard model, with the addition of AutoNav radio direction finder, blind-flying instrumentation, vacuum pump, LF radio and Narco Superhomer.
Super Custom Comanche: As Custom model with the addition of Narco Mk. V, VOA-3A Omni Converter and CS-3A for VHF communications VOR/ILS navigation instead of Superhomer and LF radio.
AutoFlite Comanche: As Super Custom, with the addition of AutoControl two-axis automatic flight system.
Available as an optional extra on all models was the new Piper AltiMatic Pilot, a full three-dimensional automatic flight control system.
Specifications (PA-24-250) ³
---
Type:

Four-seat cabin monoplane.

Wings:

Low-wing cantilever monoplane.
NACA 64² A215 laminar-flow wing section.
Aspect ratio: 7.20
Mean chord: 5 ft (1.52 m)
Dihedral: 5°
Incidence: 2°
Single-spar all-metal structure.
Plastic wing-tips.
Differentially-operated metal-covered ailerons.
Plain all-metal flaps.

Fuselage:

All-metal semi-monocoque structure.

Tail Unit:

Cantilever monoplane.
All-metal structure.
All-moving one-piece tailplane or stabilator with anti-servo tab.
SweptBack fin and rudder.

Landing Gear:

Retractable nose-wheel type.
Electric with emergency manual retraction.
Piper oleo-pneumatic shock absorbers.
Cleveland wheels, size 600 × 6.
Cleveland disc brakes.
Parking brake.
Edo type 289-2700 amphibious floats can be fitted.

Power Plant:

One 250 Lycoming O-540 A1A six-cylinder horizontally-opposed air cooled engine.
Hartzell constant-speed airscrew.
Two internal wing tanks with standard capacity of 50 US gallons (189 liters).
Maximum capacity 60 US gallons (227 liters), with optional extra capacity of 30 US gallons (114 liters).

Accommodation:

Enclosed cabin seating four in two pairs.
Dual controls.
Baggage compartment, capacity 100 lb (45 kg).
Standard equipment includes heater and defroster, ventilators, navigation and landing lights.
Optional equipment as detailed above, under individual models.

Dimensions:

Wingspan: 36 ft (11 m)
Length: 24 ft 11 in (7.59 m)
Height: 7 ft 3½ in (2.23 m)
Tail span: 12 ft 6 in (3.81 m)
Wheel-base: 6 ft 63/8 in (1.98 m)
Wheel-track: 9 ft 9 in (2.97 m)

Areas:

Wings, gross: 178 ft² (16.53 m²)
Ailerons (total): 14.1 ft² (1.31 m²)
Flaps (total): 22.2 ft² (1.87 m²)
Fin: 8 ft² (0.74 m²)
Rudder: 5.4 ft² (0.52 m²)
Stabilators: 32.5 ft² (3.04 m²)

Weights:

Weight empty: 1,630 lb (740 kg)
Baggage capacity: 200 lb (90 kg)
Weight loaded: 2,900 lbs (1,315 kg)

Loadings:

Wing loading: 15.7 lb/ft² (76.6 kg/m²)
Power loading: 11.2 lb/hp (5.09 kg/hp)

Performance:

Maximum speed: 190 mph (304 km/h)
Maximum cruising speed at 75% power: 181 mph (291 km/h)
Stalling speed with flaps down: 65 mph (105 km/h)
Rate of climb at sea level: 1,350 ft/m (412 m/m)
Service ceiling: 20,000 ft (6,100 m)
Take-off run: 1,000 ft (305 m)
Landing run: 650 ft (198 m)
Range at maximum cruising speed with 60 US gallons (227 liters) fuel: 740 miles (1,190 km)
Range at economical cruising speed with 60 US gallons (227 liters) fuel: 1,100 miles (1,770 km)
References
---
Photos, John Shupek, Copyright © 2001-2006 Skytamer Images. ALL RIGHTS RESERVED
Wikipedia. Piper PA-24
Taylor, John W. R. (editor). "The Piper PA-24 Comanche 250", Jane's All The World's Aircraft 1960-61, Sampson Low, Marston & Company, Ltd., London, 1960, pages 375-76
---
Copyright © 1998-2018 (Our 20th Year) Skytamer Images, Whittier, California
ALL RIGHTS RESERVED