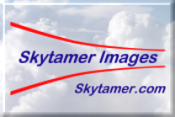 Piper PA-12 "Super Cruiser"
Single-engine three-seat high-wing monoplane
---
Archive Photos ¹
---
Piper PA-12 "Super Cruiser" (N92547, c/n 12-76, 1946) on display c.1990 at the MCAS El Toro Airshow, MCAS El Toro, California (John Shupek photo copyright © 2001 Skytamer Images)
Piper PA-12 "Super Cruiser" (NC3517M, c/n 12-2384, 1947) on display c.2006 at the Camarillo Air Show, Camarillo, California (John Shupek photo copyright © 2006 Skytamer Images)
Overview ²
---
Piper PA-12 "Super Cruiser"
Role: Personal use aircraft
National origin: United States
Manufacturer: Piper Aircraft
Primary user: private owners
Unit cost: US$2,995
Developed from: Piper J-5
Variants: Piper PA-14
The Piper PA-12 "Super Cruiser" is an American three-seat, high wing, single engine conventional landing gear-equipped light aircraft that was produced by Piper Aircraft between 1946-48. The PA-12 was an upgraded and redesignated Piper J-5.
Development ²
---
When Piper dropped the J- designation system in exchange for the PA- system, the J-5C became the PA-12 "Super Cruiser". The earlier J-5s had been powered by either a 100 hp (75 kW) Lycoming O-235 or a 75 hp (56 kW) Lycoming O-145. The newer PA-12 model was initially powered by a 108 hp (81 kW) Lycoming O-235-C engine, was fully cowled, and had a metal spar wing with two 19 gallon fuel tanks. A Lycoming O-235-C1 engine rated at 115 hp (86 kW) for take-off was optional.
The PA-12 is approved for wheels, skis, floats and also for crop spraying. The PA-12 cockpit accommodation is provided for the pilot in the front seat and two passengers in the rear seat, side-by-side. Unlike the J-3 "Cub" the PA-12 is flown solo from the front seat.
Operational Use²
---
Many Piper PA-12 "Super Cruisers" have been modified with larger engines. Wing flaps and a metal-skin fuselage can be added as modifications.
In 1947, two Piper PA-12 "Super Cruisers" named "City of Washington" and "City of Angels" flew around the world, and the worst mechanical failure they suffered was a cracked tailwheel. The "City of Washington" currently resides at the Boeing Aviation Hangar, part of the Steven F. Udvar-Hazy Center in Chantilly, VA. The "City of Angels" is on display at the Piper Aviation Museum in Lock Haven, PA.
Many Piper PA-12 "Super Cruisers" are still flown and the type is commonly seen in North America. In November 2009 there were still 1688 registered in the USA and 229 in Canada.
Variants²
---
PA-12: Original model type certified 24 March 1947, with a gross weight of 1,750 lb (794 kg) in the Normal Category and 1,500 lb (680 kg) in the Utility Category.
PA-12S: Second model type certified 11 August 1948, with 1,838 lb (834 kg) gross weight, Normal Category only.
Specifications (PA-12 Super Cruiser) ³
---
Type:

Three-seat light cabin monoplane.

Wings:

High-wing braced monoplane
Wings attached direct to build-in center-section on top of the fuselage and braced to the lower longerons by steel-tube Vee struts.
Wing structure consists of Spruce spars and aluminum-alloy ribs, the whole being covered with fabric Frise-type ailerons operated by cables.
No flaps.

Fuselage:

Rectangular structure of welded steel tubes, with fabric covering.

Tail Unit:

Braced monoplane type.
Welded steel-tube framework covered with fabric.
Self-aligning streamline wire bracing.
Elevator Adjustable in-flight.

Landing Gear:

Fixed a divided type.
Two-side vees and has-axles hinged to "cabane" within fuselage.
Rubber cord shock-absorption.
Hayes wheels 841 (8.00 × 4 tires).
Hydraulic expander tube brakes.
Three leaf-spring full-swiveling tailwheel.
Alternatively, twin-float or ski undercarriage.

Power Plant:

One Lycoming O-235-C four-cylinder horizontally-opposed air-cooled engine enclosed in hinged pressure cowling, and developing 104 hp at 2,600 rpm.
Sensenich two-blade fixed-pitch wooden airscrew.
Fuel capacity 38 US gallons (143 liters)
Oil capacity to US gallons (7.5 liters)

Accommodation:

Enclosed cabin seating pilot forward and two passengers side-by-side in rear seat.
Dual controls, rear set removable.
Access door on starboard.
Baggage compartment aft of rear seat.

Dimensions:

Wing span: 35 ft 5½ in (10.80 m)
Wing chord: 5 ft 3 in (1.6 m)
Length: 22 ft 10 in (6.96 m)
Height: 6 ft 10 in (2.08 m)
Wheel track: 6 ft 2½ in (1.89 m)
Propeller diameter: 6 ft 2 in (1.88 m)
Baggage compartment: 13 × 12 × 30 in (33 × 30.5 × 76 cm)

Areas:

Wing area, gross: 179.3 ft² (16.65 m²)
Fin area: 4.7 ft² (0.43 m²)
Rudder area: 6.8 ft² (0.63 m²)
Tailplane area: 15.10 ft² (1.4 m²)
Elevator area (total): 11.7 ft² (1.08 m²)

Weights:

Weight empty: 950 lb (431 kg)
Useful load: 800 lb (363 kg)
Weight loaded: 1,750 lb (793 kg)
Baggage allowance: 41 lb (18.6 kg)

Loadings:

Wing loading (fully loaded): 9.76 lb/ft² (47.65 kg/m²)
Power loading: 16.82 lb/hp (7.63 kg/hp)

Performance:

Maximum speed at sea level: 115 mph (185 km/h)
Cruising speed: 105 mph (168 km/h)
Landing speed: 49 mph (78.4 km/h)
Climb: 510 ft/m (155 m/m)
Absolute ceiling: 15,500 ft (4,725 m)
Absolute ceiling at 1,500 lb: 18,000 ft (5,490 m)
Cruising range: 600 miles (965 km).
Take-off run: 640 ft (195 m)
Take-off run at 1,550 lb (703 kg): 480 ft (146 m)
Landing run: 410 ft (125 m)
Landing run at 1,550 lb (703 kg): 360 ft (110 m)
References
---
Photos, John Shupek, Copyright © 2001-2006 Skytamer Images. ALL RIGHTS RESERVED
Wikipedia. Piper PA-12
Bridgman, Leonard. (editor). Jane's All The World's Aircraft 1948, Sampson Low, Marston & Company, Ltd., London, 1948, page 310c-311c
---
Copyright © 1998-2018 (Our 20th Year) Skytamer Images, Whittier, California
ALL RIGHTS RESERVED