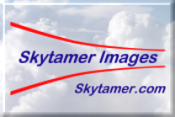 Piper L-4H "Grasshopper"
Single-engine two-seat high-wing liaison/observation/trainer monoplane
---
Archive Photos ¹
---
1944 Piper L-4H (J3C-65) Grasshopper (N9245H, c/n 12113) c.2004 on display at the Kalamazoo Aviation History Museum, Portage, Michigan (John Shupek photos copyright © 2004 Skytamer Images)
Overview ²
---
The Piper "Grasshopper" is a light observation and liaison monoplane which was developed from the "Cub Trainer". The U.S. Air Forces designation was L-4, the U.S. Navy designation was NE-1, and the British name for the aircraft was Piper Cub. It is basically similar to the civil model except that the rear of the cabin has been provided with greater window area. This aircraft was originally given the Army designation O-59 but was subsequently transferred to the liaison category and re-designated L-4.
The Piper L-4A, L-4B and L-4H were all manufactured under Army contracts and differ from each other only in minor details. Other models in the Piper L-4 series were civil models which were bought secondhand for pre-glider training and other miscellaneous duties. These civil models were identified as follows:
L-4C: J3L-65 "Cub Trainer". Lycoming O-145-B1 engine.
L-4D: J3F-65 "Cub Trainer". Franklin 4AC-176-B2 engine.
L-4E: J4 "Coupé". Continental A75-9 engine.
L-4F: Originally UC-83. J5A Cruiser. Continental A75-8 engine.
L-4G: J5B "Cruiser". Lycoming GO-145-C2 engine.
Specifications (L-4H) ²
---
Type:

Two-seat light liaison and reconnaissance monoplane.

Wings:

High-wing braced monoplane.
Wings attached direct to built-in center-section on top of the fuselage and braced to the lower longerons by steel-tube vee struts.
Wing structure consists of spruce spars and aluminum-alloy ribs, the whole being covered with fabric Frise-type ailerons operated by cables.

Fuselage:

Rectangular structure of welded steel tubes, with fabric covering.

Tail Unit:

Normal monoplane type.
Welded steel-tube framework, covered with fabric.

Landing Gear:

Divided type.
Consists of two side Vees and two half-axles hinged to cabane below fuselage.
Rubber-cord springing at top anchorages of axles.
Twin landing-gear may be replaced by twin Edo all-metal floats.

Power Plant:

One 65 hp Continental O-170-3 four-cylinder horizontally-opposed air-cooled engine.
Fixed-pitch propeller
Fuel tank (12 US gallons) in fuselage behind fireproof bulkhead.

Accommodation:

Enclosed cabin seating two in tandem with dual controls.
Observer's seat may face forward or aft and when in latter position a small table for maps, etc. is provided.
Two-way radio is standard equipment.

Dimensions:

Wingspan: 35 ft 2½ in (10.7 m)
Length: 22 ft 4½ in (6.83 m)
Height 6 ft 8 in (1.9 m)
Wing area: 178.5 ft² (16.5 m²)

Weights:

Weight empty: 740 lb (336 kg)
Weight loaded: 1,220 lb (554 kg)

Performance:

Maximum speed: 87 mph (139 km/h)
Cruising speed: 75 mph (120 km/h)
Stalling speed: 39 mph (60.8 km/h)
Initial rate of climb: 450 ft/m (140 m/m)
Service ceiling: 11,500 ft (3,510 m)
Range: 260 miles (416 km)
References
---
Photos, John Shupek, Copyright © 2004 Skytamer Images. ALL RIGHTS RESERVED
Bridgman, Leonard. (editor). Jane's All The World's Aircraft 1945/46, Sampson Low, Marston & Company, Ltd., London, 1946, page 297c-298c
---
Copyright © 1998-2018 (Our 20th Year) Skytamer Images, Whittier, California
ALL RIGHTS RESERVED