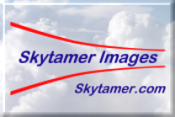 Packard LePère "LUSAC 11"
Single-engine two-seat WWI biplane fighter
---
Archive Photos ¹
---
Packard LePère "LUSAC 11" (LePèere United States Air Corps) on display at the National Museum of the United States Air Force, Wright Patterson AFB, Dayton, Ohio (Photo copyright © 2001 Skytamer Images by John Shupek)
The Le Père Fighter ²
---
Role: Fighter aircraft
National origin: United States of America
Manufacturer: Engineering Division/Packard
Designer: Georges LePère
First flight: 15 May 1918
Primary user: United States Army Air Service
Number built: 30
Developed into: Waterman 3-L-400
Captain G. LePère, an aeronautical engineer in the French Air Service, designed the LePère "Fighter" with a Liberty engine for production in the United States. The aircraft was intended for use as a fighter or reconnaissance machine, and carried two fixed guns firing forward, synchronized with the engine, and two Lewis guns attached to a movable Scarff ring surrounding the rear cockpit.
Specifications and Performance ²
---
General Dimensions

Span, upper plane: 39 feet 01/4 inches
Span, lower plane: 39 feet 01/4 inches
Chord, both planes: 5 feet 6 inches
Gap between planes: 5 feet 05/8 inches
Stagger: 2 feet 015/16 inches
Length over all: 25 feet 45/8 inches
Height over all: 9 feet 107/8 inches

Weights

Machine empty: 2,468 lbs
Pilot and gunner: 360 lbs
Fuel and oil: 475 lbs
Armament: 352 lbs
Total: 3.655 lbs

Performances

Maximum speed at sea level: 136 mph
Maximum speed at 6000 feet: 132 mph
Maximum speed at 10,000 feet: 127 mph
Maximum speed at 15,000 feet: 118 mph
Maximum speed at 20,000 feet: 102 mph
Climb to 6000 feet: 5 minutes 35 seconds
Climb to 10,000 feet: 10 minutes 35 seconds
Climb to 15,000 feet: 19 minutes 15 seconds
Climb to 20,000 feet: 41 minutes 0 seconds
Service ceiling, or height beyond which the machine will not climb 100 feet per minute: 20,800 feet

Main Planes

Planes are flat in span and have no sweepBack.
Top plane is in three sections — a center section over the body and two outer panels.
Lower plane in two sections attached at lower sides of the fuselage in the usual manner.
Upper and lower planes are similar in shape, and with ailerons 213/4 inches wide by 941/4 inches long attached to both.
An interconnecting streamlined rod is used between each pair of ailerons, located between the outer wing struts.
Leading edge of outer plane is located 49/16 inches from front of propeller hub.
Middle struts located 945/8 inches from center of machine; outer struts 981/2 inches from middle struts; overhang, 41 inches.
Interplane strut design is unique, in as much as it eliminates the usual incidence wires.

Fuselage

Veneer is used for exterior finish.
Overall length of fuselage, 22 feet 01/8 inches.
Maximum section at the gunner's cockpit, 321/2 inches wide, 451/2 inches deep.
Center of gravity occurs at a point 6 feet 3 inches from nose of fuselage.
Axel of landing gear 223/8 inches forward of center of gravity.
The landing gear wheels had a 659/16 inch track and are 28 inches in diameter.

Tail Group

Overall plan of stabilizer: 983/4 inches.
Chord: 351/2 inches. It is fixed at a non-lift angle, and attached to upper fuselage longerons.
Tail flaps or elevators, measure 1581/2 inches from tip to tip.
Their chord is 313/8 inches, and in addition to this there are small balancing portions extending beyond the tailplane.
Rudder is 30 inches wide and has a balancing portion above the fin, 25 inches wide.

Engine Group

A Liberty "12" 400-hp engine is used.
It develops 400-hp at 1,750 rpm.
Bore, 5 inches.
Stroke, 7 inches.
Weight, without propeller and water, 858 lbs.
Two Zenith Duplex carburetors are used.
The radiator is located in the upper Plains Center section, and his location has necessitated some slight modifications in the engine to increase the water circulation.
Propeller, 9 feet 4 inches in diameter.
Front propeller plate projects 113/4 inches forward of fuselage nose.
Propeller axis 157/16 inches below top of upper longerons.
In flying position the propeller hub is 5 feet 27/8 inches above the ground line.
When at rest on the ground the propeller hub is 6 feet 15/8 inches above ground.
References
---
Shupek, John, Photos & 3-view, "The Skytamer Archive"
Jane, Fred T., "Jane's All The World's Aircraft 1919", Sampson Low, Marston & Company, Ltd., London, 1919 (Arco reprint), pp. 473a-475a
---
Copyright © 1998-2018 (Our 20th Year) Skytamer Images, Whittier, California
ALL RIGHTS RESERVED