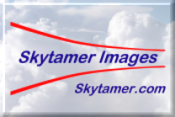 Extra EA-300
Single-engine two-seat aerobatic midwing monoplane, Germany
---
Archive Photos [1]
---
[Extra EA-300 (N54LR, s/n 054) on display (7/16/2000) at the 2000 Torrance Airshow, Zamperini Field, Torrance, California (Photo by John Shupek copyright © 2000 Skytamer Images)]
Overview [2]
---
Extra EA-300
Role: Aerobatic monoplane
National origin: Germany
Manufacturer: Extra Flugzeugbau
Designer: Walter Extra
First flight: May 1988
The Extra Flugzeugbau EA-300 is a two-seat aerobatic monoplane capable of Unlimited category competition. It was designed in 1987 by Walter Extra, an award-winning German aerobatic pilot and built by Extra Flugzeugbau.
Design and Development [2]
---
Design of the Extra EA-300 was based on the Extra EA-230, an early 1980's monoplane having a wing made of wood. The Extra EA-300 has a welded steel tube fuselage covered in aluminum and fabric. The mid-set wing has a carbon fiber composite spar and carbon composite skins. A symmetrical airfoil, mounted with a zero angle of incidence, provides equal performance in both upright and inverted flight. The landing gear is fixed taildragger style with composite main legs and fiberglass wheel pants. The powerplant is a fuel-injected Lycoming AEIO-540 which produces 300 hp (224 kW).
The first two-seat Extra EA-300 made its maiden flight on 6 May 1988, with German type certification following on 16 May 1990. The single seat Extra EA-300S flew on 4 March 1992.
The Extra EA-300 is stressed for ±10"g" with one person on board and ±8Ig with two. Some Extra EA-300's are certificated in the Experimental Category in the U.S., while others are certificated in the Aerobatic category.
Variants [2]
---
Extra EA-300: Original two-seat version.

Extra EA-300S: The EA-300S is a single-seat version, with a wingspan reduced by 50 cm (19½ in), and fitted with larger ailerons.

Extra EA-330SX: The Extra EA-330SX was a custom development of the EA-300S with a wider-chord rudder, a larger elevator, and a more powerful Lycoming AEIO-580 powerplant producing 330 hp (246 kW). Some EA-300S's were sold with the "bigger tail" of the EA-330SX.

Extra EA-300L: Two seat version with low mounted wing and shorter fuselage. More Extra EA-300L ("L" is a 2 seater version) aircraft have been produced than any other model. Its wing is mounted at the bottom of the fuselage, with its span reduced from 26 ft 3 in (8.00 m) to 24 ft 3 in (7.39 m). Improved ailerons boost the EA-300L's roll rate to 400 degrees per second. All EA-300L's are fully certified under FAA and European Joint Aviation Authorities regulations.

Extra EA-300LP: The EA-300LP ("P" for performance) is a reduced weight version of the EA-300L, re-designed for better performance in competitions and airshows.

Extra EA-300SP: The EA-300SP is a performance version of the EA-300S single-seater. Weight was reduced, and the tail of the EA-330SX installed.

Extra EA-300SHP: The EA-300SHP (HP=High performance) is a yet-uncertified version of the EA-300SP with an AEIO-580 engine.

Extra EA-300SR: The Extra EA-300SR is a modified aircraft using a specially designed high-lift wing for the Red Bull Air Race World Series. It made promising debuts in July 2007, but has yet to challenge the dominance of the Zivko "Edge 540".

Extra EA-330SC: The Extra EA-330SC is a Lycoming AEIO-580 powered single place aircraft with improved roll rate and easier roll stops, designed specifically for Unlimited category competition.
Operators [2]
---
Civilian
The Blades private aerobatic team display at air shows in Britain using a team of four Extra EA-300LP's. They offer passenger flights to members of the public and aerobatic training for pilots.

An Extra EA-300 owned and flown by Chuck Coleman was one of the official chase planes of Burt Rutan's "SpaceShipOne" and Virgin Atlantic "GlobalFlyer" (during flight test).

Patty Wagstaff has flown the Extra EA-230, EA-260 and various models of the EA-300 in aerobatic competitions and airshows since the mid-1980's.

Northern Lights Aerobatics Team (later as Northern Lights Combat Air Support and now Lortie Aviation Inc.) from Canada flew 5 Extra EA-300's from 1994 to 2000.
Military Operators
Chile: Chilean Air Force - The Escuadrilla de Alta Acrobacia Halcones "(Chilean Air force High Aerobatics Squadron, called "Falcons")" uses the EA-300L variant since 2003.

France: French Air Force

Jordan: Royal Jordanian Air Force The Royal Jordanian Falcons, the aerobatic demonstration team of Royal Jordanian Airlines and the official national aerobatic team of Jordan, perform in a formation of four Extra EA-300's.

Malaysia: The newly announced Kris Sakti,the Royal Malaysian Air Force aerobatic demonstration team,will perform in a formation of Extra EA-300's, and will make its first debut in 2011 Langkawi International Maritime and Air Show.
Specifications (EA-300L) [2]
---
General Characteristics
Crew: one pilot
Capacity: two
Length: 6.95 m (22 ft 9½ in)
Wingspan: 7.39 m (24 ft 3 in)
Height: 2.62 m (8 ft 7¼ in)
Wing area: 10.44 m² (112.4 ft²)
Airfoil: symmetrical (no camber), zero incidence, zero dihedral/anhedral
Empty weight: ≈ 682 kg (≈1,500 lb)
Loaded weight: 952 kg (2095 lb)
Useful load: 270 kg (595 lb)
Max. takeoff weight: 952 kg (2095 lb)
Powerplant: 1 × Lycoming AEIO-540-L1B5 MT Propeller composite propeller (3-blade or 4-blade), 224 kW (300 hp)
Fuel capacity: 52.7 U.S. gal (199.5 l)
Performance
Never exceed speed: 408 km/h (220 knot, 253 mph)
Cruise speed: 317 km/h (170 knot, 196 mph)
Stall speed: 102 km/h (55 knot, 63 mph)
Range: 944 km with auxiliary fuel (510 nm, 586 statute mi)
Service ceiling: 4875 m (16,000 ft)
Rate of climb: 16 meters/s (3200 ft/min)
Roll Rate : 400 degrees per second
References
---
Photos: John Shupek, Copyright © 2000 Skytamer Images. All Rights Reserved
Wikipedia, the free encyclopedia, Extra EA-300
---
Copyright © 1998-2019 (Our 21st Year) Skytamer Images, Whittier, California
ALL RIGHTS RESERVED