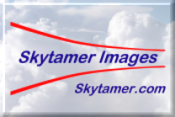 Europa Mono-Wheel
Single-engine two-seat light cabin monoplane, U.K.
---
Archive Photos [1]
---
[Europa Mono Wheel (N111EU, s/n 111, 1996) on display (7/16/2000) at the 2000 Torrance Airshow, Zamperini Field, Torrance, California (Photo by John Shupek copyright © 2000 Skytamer Images)]
[Europa Mono-Wheel (Ragle. L. Lincoln) (N27EU, s/n A027) on display (1/7/2006) at the 2006 Cable Airshow, Cable Airport, Upland, California (Photo by John Shupek copyright © 2006 Skytamer Images)]
Specifications [2]
---
Type:
Two-seat light cabin monoplane.
Program:
Design started in January 1990.
Prototype made first flight 12 September 1992 (G-YURO).
PFA certification achieved May 1993.
Produced mainly in kit form under PFA hospices, but two assembled by Europa Aviation in 1994.
First customer built aircraft (G-OPJK) flown 14 October 1995.
Total of 11 customer built aircraft flying by April 1996.
Current Versions:
Options of Rotax 912 or 914 Turbo engines.
Choice of nosewheel or tricycle landing gear.
Customers:
Total of 294 kits sold by December 1995.
Customer countries (with sales by spring 1996) include Austria (11), Germany (20), Switzerland (10) and USA (over 50).
1996 Costs:
Airframe: £12,475 + VAT
Rotax 912 kit: £8,347 + VAT
Total: £20,822 + VAT
Design Features:
Objectives included low-cost.
Economical cruise at IAS up to 120 kn (222 km/h; 138 mph) over 500 nm (926 km; 575 miles).
Grass field capability.
Ability to rig and de-rig quickly for storage in a trailer similar to a shorter version of glider trailer.
Rig/de-rig by six pip-pins, two for tail, two for each wing.
Kit building time claimed to be 700 man-hours.
Designed to JAR-VLA.
Stressed for maximum in-flight normal "g" of 4.3.
Proof factor of 2 used in design instead of the more usual 1.5, because of extensive use of composite materials in primary structure.
Aerofoil: laminar float Dykins design with 12% thickness/chord ratio and 1.5° washout at tips.
Wing dihedral 3°
No tail dihedral.
Flying Controls:
Conventional ailerons and rudder, all moving tailplane for pitch control with tab geared for balance, under pilot control for trim.
Ground adjustable tabs on ailerons and rudder.
Two control columns, one centrally mounted at each seat; two pairs of rudder pedals.
Central console between seats as throttle, combined flap and landing gear levers.
Pitch trim switch next to throttle.
Slotted flaps with setting of 0° and 25°, electrically actuated on tricycle landing gear version.
Structure:
General constructions of GFRP
Landing Gear:
Large single semi-retractable main-wheel and steerable tail-wheel; outriggers at about half-span mounted on nylon stalks which retract with flaps.
Main-wheel uses standard 6 in hub has in many light aircraft; and an 8.00-6 Tundra tire.
Tricycle landing gear version has spring steel legs, castoring nosewheel, 4.00-5 tires and toe brakes on port side rudder pedals.
Power Plant:
One 59.7 kW (80 hp) Rotax 912 flat-four engine, directly driving a three-blade fixed-pitch propeller.
Propeller pitch is adjustable on ground to match operating environment (fine pitch for good take-off distances and rate of climb but higher noise and lower cruising speeds; reverse for coarse pitch)
Alternative Subaru/NSI EA81 installation in 93 kW (90 hp) and 88 kW (118 hp) form first flown (G-NDOL) 18 November 1995.
MWAE rotary 73 kW (98 hp) and BMW 100RS engine installations under development in Spring 1996, the former to be installed in UK prototype (G-YURO) and US-built tricycle gear demonstrator.
Normal fuel capacity 73 liters (19.2 US gallons; 16 Imperial gallons).
Accommodation:
Enclosed cabin seating two side-by-side under individual upward-opening canopies, hinged on centerline.
Baggage compartment at rear of cabin with maximum 36 kg (80 lb) capacity.
Systems:
Hydraulics: Main wheel brake.
Electrical: 12V 30 Ah battery; alternator fit appropriate to engine.
Avionics:
Dimensions, External:
Wing span: 7.92 m (26 ft 0 in)
Width, wings removed: 1.17 m (3 ft 10 in)
Wing aspect ratio: 7:1
Length overall: 5.85 m (19 ft 2½ in)
Height overall: 1.32 m (4 ft 4 in)
Tailplane span: 2.44 m (8 ft 0 in)
Propeller diameter 1.57 m (5 ft 2 in)
Propeller ground clearance: 0.36 m (1 ft 2 in)
Dimensions, Internal:
Cabin length: 1.42 m (4 ft 8 in)
Cabin maximum width: 1.12 m (3 ft 8 in)
Cabin maximum height: 0.97 m (3 ft 2 in)
Areas:
Wing, gross: 8.83 m² (95.0 ft²)
Aileron (total): 0.57 m² (6.10 ft²)
Trailing-edge flaps (total): 11.37 m² (14.7 ft²)
Fin: 1.03 m² (11.10 ft²)
Rudder: 0.48 square meters (5.20 ft²)
Weights and Loadings:
Weight empty, equipped: 340 kg (750 lb)
Maximum T/O and landing weight: 540 kg (1,300 lb)
Payload with full fuel: 197 kg (435 lb)
Maximum wing loading: 66.8 kg/m² (13.68 lb/ft²)
Maximum power loading: 9.89 kg/kW (16.25 lb/hp)
Performance (at Maximum T/O Weight, ISA):
Never-exceed speed (DNE): 160 kts (296 km/h; 184 mph)
Maximum level speed: 135 kts (250 km/h; 155 mph)
Maximum cruising speed: 130 kts (241 km/h; 150 mph)
Econ cruising speed, 75% power at 2,440 m (8,000 ft): 125 kts (232 km/h; 144 mph)
Stalling speed, power off, flaps up: 48 kts (89 km/h; 55 mph)
Stalling speed, power off, flaps down: 42 kn (78 km/h; 48 mph).
Rate of climb at S/L: 244 m/min (800 ft/min)
T-O and landing run: 183 m (600 ft)
T-O to 15 m (50 ft) 174 m (900 ft)
Range, normal fuel, 120 kts (222 km/h; 138 mph): 600 nm (1,111 km; 691 miles)
References
---
Photos: John Shupek, Copyright © 2000, 2006 Skytamer Images. All Rights Reserved
Paul Jackson, MRAeS (editor). "Europa Aviation Europa", Jane's All The World's Aircraft 1996-97", Jane's Information Group Limited, Sentinel House, 163 Brighton Road, Coulsdon, Surrey CR5 2NH, UK, 1996, ISBN 0-7106-1377-6, pages 521-522.
---
Copyright © 1998-2019 (Our 21st Year) Skytamer Images, Whittier, California
ALL RIGHTS RESERVED