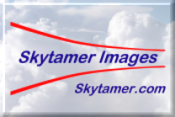 Enstrom 280C Shark
Single-engine three-seat light helicopter, U.S.A.
---
Archive Photos [1]
---
[Enstrom Model 280C (N170Q, 1978) on display at the Marine Corps Air Station El Toro Airshow, MCAS El Toro, California (Photo by John Shupek copyright © 2000 Skytamer Images)]
Overview ²
---
Enstrom 280FX Shark
Role: Light helicopter
Manufacturer: Enstrom Helicopter
Introduction: 1965
Produced: 1965-present
Variants: Enstrom 480
The Enstrom F-28 and 280 are a family of small, light piston-engined helicopters produced by the Enstrom Helicopter Corporation.
Design and Development ²
---
Since delivering their first helicopter shortly after Federal Aviation Administration type certification of the F-28 model in April 1965, Enstrom helicopter has produced (as of 2007) approx 1,200 aircraft.
The company produces three models, the F-28, the more aerodynamic 280 and the turbine-engined 480, each with their own variants. The F-28 and 280 both use Lycoming piston engines virtually identical to those found in general aviation fixed-wing aircraft.
The 280 was a huge design success, with a Boston-based design firm concluding a brief to make the F-28 more commercially appealing. This resulted in the 280 later being named by "Fortune" (magazine) as one of the 25 best factory-made products in the United States.
Variants ²
---
F-28
F-28: Certified April 1965.

F-28A: Initial production version. Certified May 1968.

T-28: Turbine powered.

F-28B: Turbocharged version.

F-28C: Fitted with an upgraded engine with turbocharger, and a two piece windscreen. Certified 1975.

F-28C-2: Fitted with a more rounded cabin, a single piece windsrceen and new console.

F-28F Falcon: Similar to F-28C with more powerful engine, improved turbocharger and addition of a throttle corellator. Certified December 1980.

F-27F-P: Police patrol version developed for the Pasadena Police Department. It is equipped with searchlights, FLIR and a PA system.
280
280 Shark: Certified September 1975.

280C Shark: Aerodynamically refined version of the F-28C-2, equipped with an upgraded engine, fitted with a turbocharger. Certified 1975.

280L Hawk: Stretched cabin four-seat version, first flying in December 1968. Development halted due to lack of funds.

280F: Similar to 280C with more powerful engine, improved turbocharger and addition of a throttle correlator. Certified December 1980.

280FX: Based on the 280F with landing gear fairings, redesigned air intakes on top of the cabin and a redesigned a relocated horizontal stabilizer with vertical end plates. Certified in January 1985.
Operators ²
---
Military Operators
Chile: Chilean Air Force
Colombia: Colombian National Army
Peru: Peruvian Army - 5 units; Peruvian Navy - 6 F-28F's ordered in January, 2008.
Venezuela: Venezuelan Air Force
Law Enforcement Operators
Indonesia: Indonesian National Police
Thailand: Ministry of Agriculture and Cooperatives
United States: Pasadena Police Department (1960's to date)
Specifications (F-28F) ²
---
General Characteristics
Crew: One
Capacity: Two passengers
Length: 29 ft 3 in (8.91 m)
Rotor diameter: 32 ft (9.75 m)
Height: 9 ft (2.74 m)
Disc area: 804 ft² (74.7 m²)
Empty weight: 1,570 lb (712 kg)
Loaded weight: 2,600 lb (1,179 kg)
Useful load: 1,030 lb (467 kg)
Max. takeoff weight: 2,600 lb (1,179 kg)
Powerplant: 1 × Lycoming HIO-360-F1AD piston engine, 225 hp (168 kW)
Performance
Maximum speed: 97 knots (112 mph, 180 km/h) (max cruise)
Cruise speed: 89 knots (102 mph, 164 km/h)
Range: 241 nm (277 mi, 446 km)
Service ceiling: 12,000 ft (3,660 m)
Rate of climb: 1,450 ft/min (7.37 m/s)
Disc loading: lb/ft² (kg/m²)
Power/mass: hp/lb (W/kg)
References
---
Photos: John Shupek, Copyright © 2000 Skytamer Images. All Rights Reserved
Wikipedia, Enstrom F-28
---
Copyright © 1998-2019 (Our 21st Year) Skytamer Images, Whittier, California
ALL RIGHTS RESERVED