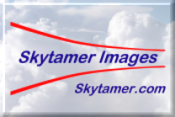 Embraer EMB-120ER Brasilia
Twin-turboprop low-wing commuter airliner, Brazil
---
Archive Photos [1]
---
[United Express (SkyWest Airlines), Embraer EMB-120ER (N580SW, c/n 120348, 1999) taking off (10/8/2011) from Los Angeles International Airport (LAX), (Photo by John Shupek copyright © 2011 Skytamer Images)]
Overview [2]
---
Embraer EMB 120 "Brasilia"
Role: Regional airliner
Manufacturer: Embraer
First flight: July 27, 1983
Introduction: October, 1985
Status: Active
Primary users: SkyWest Airlines; Brazilian Air Force
Produced: 1983-2001; built individually as of 2007
Number built: 354
The Embraer EMB 120 "Brasilia" is a twin-turboprop commuter airliner, produced by Embraer of Brazil.
Design and Development [2]
---
After the success of the EMB-110 "Bandeirante", Embraer began the development of their first transport category airliner in 1974. The so-called Family 12X was comprised by three models with modular concept designs: EMB-120 "Araguaia", EMB-123-Tapajós and EMB-121 "Xingu". EMB-121 was the sole 12X model effectively produced. "Araguaia" name was changed to "Brasilia" in 1979 at the official launching of the project, when at a CAAA (Commuter Airline Association of America) convention at USA several suggestions from prospective operators were collected and incorporated to EMB-120 design. Thus, a completely new aircraft - no more related to 12X family - was launched, and no common parts from EMB 121 Xingu was used, and the capacity was revised from 24 to 30 seats. Originally designed to utilize the new 1500 SHP Pratt & Whitney Canada PW115 Turboprop, this was later upgraded to the 1892 ESHP PW118.
Probably the closest to a modern replacement for the DC-3 (with double the speed), the "Brasilia" attracted immediate interest from many regional airlines, particularly in the USA. The size, speed and ceiling allowed faster and more direct services around the US and Europe, compared to similar aircraft. The first aircraft entered service with Atlantic Southeast Airlines in October 1985. The basic EMB-120RT was upgraded to the extended range (1,575 km) EMB-120ER, with older aircraft retrofitted via a Service Bulletin.
Operational History [2]
---
Most of the EMB 120's were sold in the United States and other destinations in the Western Hemisphere. Some European airlines such as Régional in France, Atlant-Soyuz Airlines in Russia, DAT in Belgium, and DLT in Germany also purchased EMB-120's. Serial production ended in 2001. As of 2007, it is still available for one-off orders, as it shares much of the production equipment with the ERJ-145 family, which is still produced. The Angolan Air Force, for example, received a new EMB 120 in 2007.
SkyWest Airlines operates the largest fleet of EMB 120's under the United Express and Delta Connection brand. Great Lakes Airlines operates six EMB 120's in its fleet, and Ameriflight flies eight as freighters.
Variants [2]
---
EMB 120: Basic production version.
EMB 120ER: Extended range and increased capacity version. All EMB-120ER s/n's may be converted into the model EMB-120FC or into the model EMB-120QC.
EMB 120FC: Full cargo version.
EMB 120QC: Quick change cargo version.
EMB 120RT: Transport version. All EMB-120RT s/n's may be converted into the model EMB-120ER.
VC-97: VIP transport version for the Brazilian Air Force.
Operators [2]
---
Civil Operators
As of August 2010, 195 EMB 120 aircraft are in airline service around the world. Current operators include:
Angola: Air 26 (8); Diexim Expresso (4)
Australia: Airnorth (4); Network Aviation (7); Skippers Aviation (6)
Brazil: Meta Linhas Aéreas (2)
Ecuador: SAEREO. (2); Passaredo Transportes Aéreos (5); Sete Linhas Aéreas (2)
Hungary: Budapest Aircraft Service (3)
Italy: Skybridge AirOps (1)
Moldova: Air Moldova
Mozambique: LAM Mozambique Airlines
Nigeria: Associated Aviation (4)
South Africa: Naturelink Charter (11); African Airlines Investments (4)
Russia: RusLine (4)
Turks and Caicos Islands: Air Turks and Caicos (4)
Spain: Swiftair (10) (All cargo version)
Turkey: Orbit Express Airlines (1)
United States: Ameriflight (8); Charter Air Transport (6); Everts Air (3); Great Lakes Aviation (6); SkyWest Airlines (44); Streamline Airlines (1)
Zambia: Proflight Commuter Services (1)
Another 20 companies also operate the aircraft.
Military Operators
Angola: National Air Force of Angola
Brazil: Brazilian Air Force 15 in service.
Ecuador: Ecuadorian Air Force
Uruguay: Uruguayan Air Force
Specifications (EMB 120) [2]
---
General Characteristics
Crew: Two pilots and one flight attendant
Capacity: 30 passengers
Length: 20.00 m (65 ft 7½ in)
Wingspan: 19.78 m (64 ft 10¾ in)
Height: 6.35 m (20 ft 10 in)
Wing area: 39.4 m² (424 ft²)
Airfoil: NACA 23018 (modified) at root, NACA 23012 at tip
Aspect ratio: 9.9:1
Empty weight: 7,070 kg (15,586 lb)
Max. takeoff weight: 11,500 kg (25,353 lb)
Powerplant: 2 × Pratt & Whitney Canada PW118/118A/118B turboprops, 1,340 kW (1,800 shp) each
Maximum Landing Weight: 11,250 kg (24,802 lb)
Performance
Maximum speed: 608 km/h (328 knots, 378 mph) at 20,000 ft (6,100 m)
Cruise speed: 552 km/h (298 knots, 343 mph)
Stall speed: 162 km/h (87 knots, 100 mph) (CAS),(flaps down)
Range: 1,750 km (945 nm, 1,088 mi) (30 passengers, reserves for 100 nm divert and 45 min hold)
Service ceiling: 9,085 m (29,800 ft)
Take-off Run: 1,420 m (4,660 ft) minimum
Avionics
Collins 5-screen Electronic Flight Instrument System
Dual autopilots
References
---
Photos, John Shupek, Copyright © 2011 Skytamer Images. All Rights Reserved
Wikipedia, the free encyclopedia, Embraer EMB 120 "Brasilia"
---
Copyright © 1998-2019 (Our 21st Year) Skytamer Images, Whittier, California
ALL RIGHTS RESERVED