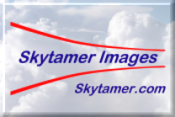 EAA Biplane A-1
Prototype single-engine single-seat aerobatic sports biplane, U.S.A.
---
Archive Photos [1]
---
[EAA Biplane A-1 (P-2) Prototype (N6077V, 1960) on display (9/12/2003) at the EAA AirVenture Museum, Oshkosh, Wisconsin (Photo by John Shupek copyright © 2003 Skytamer Images)]
Overview ²
---
EAA Biplane A-1(P-2) Prototype (N6077V)
The EAA "Biplane" was one the first original designs published by the Experimental Aircraft Association. A popular and successful design in its own right, the EAA Biplane was also the forerunner of EAA's popular Acro "Sport" series of aerobatic homebuilts.
In 1955, EAA founder Paul Poberezny was looking for a new design for a sporty-looking, open cockpit biplane for homebuilders. He turned to EAA member Jim D. Stewart to draw up plans for an easy-to-build biplane that would take advantage of up-to-date materials and methods. Stewart was at the time an aeronautical engineer at the Allison Engine Company in Indianapolis, Indiana. Allison built a wide variety of engines, including aircraft engines.
Stewart and three other Allison engineers agreed to design an airplane and draw a set of plans. Initially, they based their design on the Gere biplane, a popular 1930's-era homebuilt, but soon abandoned that route as impractical. Instead, they created an entirely new design. It used a welded-tube fuselage and wooden wing, with fabric covering, and was powered by a 65-horsepower Continental engine.
Robert Blacker, and his students at St. Rita's High School, in Chicago, Illinois, had just finished construction of a Corben "Baby Ace" homebuilt airplane as a class project. Blacker and his students agreed to build the EAA "Biplane" prototype as the focus of Blacker's high school course in aircraft construction. Work began in 1957 and continued at the school through 1960. The students added their own modifications to streamline the airframe, including an enclosed bubble canopy for the cockpit, a pressure cowling for the engine, and streamlined fairings on the wing and strut fittings.
In its first test flights, in June of 1960, the airplane did not perform well, and it was returned to the school for modifications. These included a redesigned horizontal stabilizer and the addition of two degrees of incidence in the upper wing. "Incidence" is the angle between the chord of a wing and the longitudinal axis of the fuselage. Further test flights in November were much more successful and with a modified cowling, to improve engine cooling, and a new metal propeller, the airplane performed pretty much as its designers intended.
The EAA Biplane was then moved to EAA headquarters, then at Hales Corners, Wisconsin, for more modifications and testing. The bubble canopy was removed and replaced with a turtle deck, headrest, and windscreen, as in the original drawings. Poberezny and other EAA members suggested other changes to improve the appearance of the airplane, including a larger 85-hp engine, new instrument panel, smaller cockpit opening, redesigned engine and fuselage cowlings, and the addition of a propeller hub spinner. Several EAA members completed these modifications in time to unveil the completed prototype at the 1961 EAA convention at Rockford, Illinois. The plans for the EAA Biplane were updated and offered for sale, for $20, with profits dedicated to the "EAA Air Education Museum Building Fund."
A Commitment to Young People
Based in part on the success of Blacker's aviation class projects, Poberezny chose the EAA Biplane for a new educational program to be called "Project Schoolflight." The goal of the program was to introduce young people to aviation through airplane building projects like those at St. Rita's High School. Such projects, Poberezny reasoned, would teach a variety of basic, practical skills in woodworking, metal shaping, welding, aircraft rigging, fabric covering, and painting, while introducing students to aviation hobbies and careers. Many schools and EAA members expressed interest in "Project Schoolflight", but only a few class projects were ever undertaken, and the program was discontinued in the late 1980's.
From the very beginning, Paul Poberezny and EAA have actively sought to encourage and involve young people in aviation, the next generation of sport pilots and aviation professionals. Today, that spirit lives on in EAA's highly successful and constantly expanding educational programs - the "EAA Air Academy", the "Young Eagles" program, summer aviation camps and many others.
Specifications ³
---
Dimensions
Wing Span: 20 ft
Length: 17 ft
Height: 6 ft
Seats: 1
Weights
Empty Weight: 695 lb
Gross Weight: 1,023 lb
Power Plant
Engine: Continental C-85, 85 hp
Performance
Top Speed: 105 mph
Cruise Speed: 90 mph
Landing Speed: 52 mph
Range: 200 mi
References
---
Photos: John Shupek, Copyright © 2003 Skytamer Images. All Rights Reserved
EAA AirVenture Museum, EAA Biplane A-1 (P-2)
EAA AirVenture Museum, EAA Biplane Specifications
---
Copyright © 1998-2019 (Our 21st Year) Skytamer Images, Whittier, California
ALL RIGHTS RESERVED