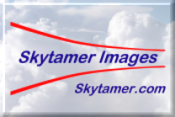 Custer CCW-5 Channel Wing
Twin-pusher-engine five-seat low-wing tricycle-gear STOL prototype cabin monoplane, U.S.A.
---
Archive Photos
---
[Custer CCW-5 "Channel Wing" (N5855V) at the Mid-Atlantic Air Museum, Reading, PA (35mm photo by John Shupek)]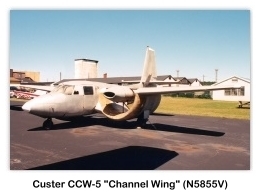 Custer CCW-5 Overview
---
Custer CCW-5
Role: 5-seat light transport
National origin: United States
Manufacturer: Custer Channel Wing Corporation, Hagerstown, Maryland
First flight: 13 July 1953
Number built: 2
Unit cost: $55,000 in 1955
The Custer CCW-5 was a twin-engined, 5-seat aircraft of pusher configuration, which used a channel wing claimed to enable low speed flight and short take-offs. Two CCW-5s flew, eleven years apart, but the type never entered production.
The aircraft was the third and last of a series of Custer Channel Wing designs.
Design and Development
---
In most situations an aircraft's lift comes chiefly from the low pressure generated on the upper surface by the locally enhanced higher air velocity. This latter may be the result of the movement of the aircraft through the air or, when lift at low air speeds is important for short take-off performance, produced by engine power. The channel wing, the brainchild of Willard Ray Custer, is an example of the latter, where the air velocity over the upper surface velocity in a U-shaped channel formed out of the wing was increased with a pusher propeller at the trailing edge. This near semi-circular channel laterally constrained the airflow produced by the propeller, even when the aircraft was at rest, producing higher flow velocities than over a conventional pusher wing. The need for wing mounted pusher engines made a pusher twin a natural configuration, and for his third channel wing design Custer chose to modify the existing Baumann Brigadier, a 5-seat mid wing pusher twin which itself did not reach production.
The CCW-5 retained the fuselage and empennage of the Brigadier, but replaced the whole centre section with a pair of channels, starting at roots in the lower part of the fuselage. Only beyond the channels did the conventional wings regain their mid-wing configuration. A 225 hp (168 kW) Continental O-470 flat six engine was mounted on slender vertical and horizontal struts at the centre of each the channels, on the mid-wing line. These drove constant speed pusher propellers. The main undercarriage was much shortened by mounting its legs on the outer part of the channel section; the Brigadier nosewheel was retained.
The first of two CCW-5s flew on 13 July 1953, piloted by Walker Davidson, at Oxnard, California and was reported to have completed its test flying by autumn 1956, when production was scheduled to begin. This did not happen, though a second aircraft flew in June 1964. The delay was partly the result of financial problems, though the CCW-5 performed well below the original estimates, with a maximum achieved speed of 220 mph (354 km/h) compared with an estimated 300 mph (480 km/h). It was claimed that the aircraft could fly under control at 11 mph (18 km/h) and that it could take off with a 1,500 lb (680 kg) load at 70% power in 90 ft (28 m).
The second CCW-5 was finished in 1964 with 260 hp (194 kW) Continental IO-470P engines; it survives and is under restoration at the Mid-Atlantic Air Museum, Reading, Pennsylvania.
Custer CCW-5 Specifications
---
Manufacturer
Custer Channel Wing Corporation
Type
Twin-engined STOL monoplane.
Wings
Cantilever mid-wing monoplane of channel-wing configuration.
NACA 4418 airfoil section in channel, which has a chord of 6 ft 0 in (1.83 m)
All-metal two-spar structure covered with metal and glass-fiber.
Compound-curved section of channel is of glass-fiber.
Large insert ailerons.
No slots or flaps.
Fuselage
Conventional light alloy semi-monocoque structure.
Tail Unit
Conventional cantilever all-metal structure.
Trim-tab in each control surface.
Landing Gear
Retractable tricycle type with single wheel on each unit.
Nose-wheel retracts forward, main wheels inward into bottom of channels.
Power Plant
Two 260 hp Continental O-470 six-cylinder horizontally-opposed air-cooled engines.
Hartzell fully-feathering metal propellers.
Propeller diameter of 7 ft 0 in (2.13 m).
Accommodation
Pilot and four passengers in enclosed cabin.
Dimensions, External
Wing span: 41 ft 2 in (12.55 m)
Length overall: 28 ft 8½ in (8.75 m)
Height overall: 10 ft 4 in (3.3 m)
Dimensions, Cabin Internal
Max height: 4 ft 5 in (1.35 m)
Max width: 4 ft 5 in (1.35 m)
Weights
Weight empty: 3,675 lbs (1,167 kg)
Max T-O weight: 5,400 lbs (2,450 kg)
Performance at Max T-O weight
Max level speed at S/L: 200 mph (322 km/hr)
Max cruising speed: 180 mph (290 km/hr)
Min sustained level flight speed: 35 mph (56 km/hr)
Service ceiling: 22,000 ft (6,700 m)
T-O run: 50-250 ft (15.76 m)
Range: 1,680 mi (1,460 nmi; 2,704 km) [2]
Landing run (approx.): 300 ft (91 m)
References
---
Shupek, John. The Skytamer Photo Archive, photos by John Shupek, copyright © 2000 Skytamer Images (Skytamer.com)
Wikipedia. Custer CCW-5
Taylor, John W. R. Jane's All the World's Aircraft 1964-65, Custer Channel Wing Corporation: Custer CCW-5, New York: The McGraw-Hill Company, 1965, pg 208
---
Copyright © 1998-2018 (Our 20th Year) Skytamer Images, Whittier, California
ALL RIGHTS RESERVED