Culver PQ-14 Cadet
Single-engine single-seat low-wing monoplane target drone, U.S.A.
---
Archive Photos 1
---
Culver PQ-14 "Cadet" (Nl15HM, s/n N-839) at the Planes of Fame Air Museum, Chino, CA (John Shupek photos)
Culver PQ-14B "Cadet" (N999ML) at the EAA AirVenture Museum, Oshkosh, WI (John Shupek photos)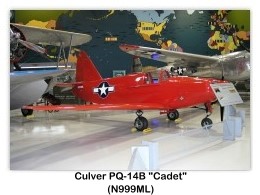 Overview 2
---
Culver PQ-14 Cadet
Role: Target drone
Manufacturer: Culver Aircraft Company
Designer: Albert Mooney
Introduction: 1942
Retired: 1950
Primary users: U.S. Army Air Corps; United States Navy; U.S. Army Air Force; United States Air Force
Number built: 2,043
Developed from: Culver PQ-8
The Culver PQ-14 Cadet is a modified version of the Culver LFA Cadet used as a target drone.
In 1940, the U.S. Army Air Corps drew up a requirement for a radio-controlled target drone for training anti-aircraft artillery gunners. The first aircraft in a series of target drones was a modification of the Culver LFA Cadet which eventually led to the PQ-14 series used throughout World War II and beyond.
Design and Development 2
---
Culver proposed a modification of its civilian Model LFA Cadet which the Army purchased as the PQ-8. The success of the PQ-8 led to the development of the "NRD"; a single PQ-8 was converted to the new configuration and tested by the USAAF as the XPQ-14. Larger and faster than the PQ-8, the PQ-14 also had retractable landing gear and fuselage, wings and tail components made of wood with stressed plywood skin.
This prototype was followed by YPQ-14A service test aircraft and 1,348 PQ-14A production models. Of the latter, 1,198 were transferred to the US Navy, which designated them as TD2C-1 with the decidedly unattractive name Turkey.
The YPQ-14B was a slightly heavier variant; a total of 25 were produced before production shifted to the PQ-14B. A total of 594 PQ-14Bs served as target drones for the USAAF. A single PQ-14B was converted to use an O-300-9 engine and designated XPQ-14C. After World War II, the Culver company developed the XPQ-15 from their Model V light aircraft. After only four were delivered the company went bankrupt in 1946.
Operational History 2
---
The XPQ-14 was first flown in 1942 and began to be received in training units shortly after. The aircraft was flown unmanned, controlled by radio, but was flown by a pilot for ferry flights, utilizing a rudimentary control panel installed for that purpose and using their parachutes as a seat. Docile and easy to fly, the aircraft was finished in a bright red target color scheme although operationally, a silver or red finish was applied. Without a pilot they were flown from a "mother ship" aircraft. The typical mother ship was a Beech C-45. Despite their short lifespan, the aircraft performed well and the Franklin engine was considered "trouble-free".
Most of the Culver target aircraft were "blasted out of the sky" by Army anti-aircraft gunners but a dozen or more survived and were surplused after 1950. Flown as a recreational aircraft, their new owners found that the aircraft had a sprightly performance. One is preserved as a flying example at the Planes of Fame in Chino, California, another is part of the collection at the National Museum of the United States Air Force and a third N5526A, that flew to airshows throughout the 1970s holding the last airworthiness certificate is displayed at the Airpower Museum at Blakesburg, Iowa.
Culver PQ-14A Specifications 2
---
General Characteristics
Crew: One
Length: 19 ft 6 in (5.94 m)
Wingspan: 30 ft (9.14 m)
Height: 8 ft 4.5 in (2.55 m)
Loaded weight: 1,830 lb (830 kg)
Powerplant: 1 × Franklin 6ACT-298-35 6-cyl. air-cooled horizontally-opposed piston engine, 150 hp (97 kW)
Performance
Maximum speed: 185 mph (300 km/h)
Cruise speed: 150 mph (241 km/h)
Range: 512 mi (823 km)
Service ceiling: 17,000 ft (5,184 m)
References
---
Shupek, John. The Skytamer Photo Archive, photos by John Shupek, (Skytamer.com)
Wikipedia, the free encyclopedia. Culver PQ-14 Cadet
---