Convair C-131D Samaritan
Twin-engine low-wing tricycle-gear military transport, U.S.A.
---
Archive Photos 1
---
1955 Convair C-131D "Samaritan" (AF 55-0301, c/n 329) at the USAF Museum, WPAFB, Dayton, OH (John Shupek photos)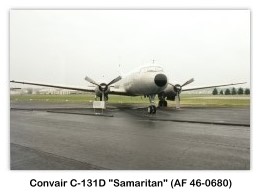 1954 Convair C-131D "Samaritan" (AF 54-2808) at the March Field Aviation Museum, Riverside, CA (John Shupek photos)
1955 Convair C-131D "Samaritan" (AF 55-0300) at the Hill Aerospace Museum, Hill AFB, Salt Lake City, UT (John Shupek photos)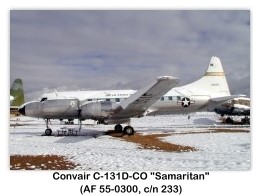 Overview 2
---
Convair C-131 Samaritan
Manufacturer: Convair
First flight: 22 September 1949
Introduction: 1950
Retired: 1990
Primary users: United States Air Force; United States Navy; Paraguayan Air Force
Number built: 512
Developed from: Convair CV-240
The Convair C-131 Samaritan was an American Twin-engine military transport produced from 1954 to 1956 by Convair. It was the military version of the Convair CV-240 family of airliners.
Design and Development 2
---
The design began life in a production requirement by American Airlines for a pressurized airliner to replace the classic Douglas DC-3. Convair's original design had two engines and 40 seats, and thus it was designated the CV-240. The first CV-240 flew on March 16, 1947, and production aircraft were first delivered to American on February 28, 1948. Seventy-five were delivered to American, with another fifty going to Western Airlines, Continental Airlines, Pan American Airways, KLM, Sabena, Swissair and Trans Australia Airlines.
Operational History 2
---
The CV-240/340/440 series was used by the United States Air Force (USAF) for medical evacuation and VIP transport and was designated as C-131 Samaritan. The first model Samaritan, the C-131A, was derived from the CV-240 model, and was delivered to the USAF in 1954.
The earlier trainer model, designated the T-29, was also based on the Convair 240 and was used to instruct USAF navigators for all USAF aircraft and those USN Naval Flight Officers (NFOs) selected to fly land-based naval aircraft. First deliveries to the USAF were made in 1950 followed by large production quantities until early 1955. The USAF and the USN operated T-29s in separate units at separate locations until 1976. In 1974, the USAF T-29s with the 323d Flying Training Wing (323 FTW) at Mather AFB, California began to be replaced by the Boeing 737-derived T-43. In 1975, the Navy retired all of its T-29s assigned to Training Squadron Twenty-Nine (VT-29) at NAS Corpus Christi, Texas, deactivated VT-29, and merged their advanced navigator training program for land-based NFOs with the Air Force's program at Mather AFB.
A planned bomber training version of the T-29 (designated T-32) was never built. The CV-340 model was used for most C-131Ds.
In addition to T-29 variants, the United States Navy used the Samaritan, initially designated as the R4Y until 1962, at which point the naval aircraft were also redesignated as C-131s.
Nearly all of the C-131s left the active USAF inventory in the late 1970s, but the U.S. Coast Guard operated the aircraft until 1983, while the Air National Guard and U.S. Navy units operated additional C-131 airframes, primarily as Operational Support Aircraft (OSA) for Air National Guard flying wings and as naval air station "station aircraft" until 1990. The C-131 was primarily replaced by the C-9 Nightingale in regular USAF service, with the Air National Guard replacing their OSA with C-130 Hercules aircraft and the Navy with C-12 Hurons.
In 1959, a C-131 was the first aircraft to be used as a reduced-gravity aircraft or 'vomit comet', for astronaut training as part of Project Mercury.
A Samaritan was the first aircraft used as a flying gunship testbed in mid-1963, in a program known as "Project Tailchaser". A C-131B (AF Ser. No. 53-7820) was given a gunsight for the side window, but instead of guns it had cameras in the cargo area. Eventually the C-131 was ferried to Eglin AFB in Florida and a General Electric SUU-11A/A 7.62 mm Gatling-style Minigun was installed. Live ammunition was used and both over-water and overland tests were successful.
Variants 2
---
C-131A: Transport for United States Air Force based on Convair 240, capable of carrying 39 passengers on rearward facing seats or 20 stretchers and 7 seats. 26 built.
HC-131A: Surplus C-131As transferred to the United States Coast Guard, 22 transferred.
MC-131A: Temporary designation used before 1962 when a C-131A was used for medivac duties with 27 stretchers.
VC-131A: Temporary designation used before 1962 when a C-131A was used as a staff transport.
C-131B: A hybrid Model 240/340 with seats for 48 passengers, 36 built.
JC-131B :C-131B converted for missile tracking, six conversions.
NC-131B: One C-131B used for permanent testing.
VC-131B: C-131B when used as a staff transport.
YC-131C: Two Model 340s flown with Alison 501D-13 engines.
C-131D: Military version of the Model 340 with seats for 44 passengers, 33 built.
VC-131D: C-131D when used as a staff transport.
C-131E: Electronic Countermeasures training version for Strategic Air Command (SAC), later designated TC-131E, 15 built and one conversion from C-131D, two transferred to United States Navy as R4Y-2.
TC-131E: C-131E redesignated.
C-131F: R4Y-1 redesignated.
RC-131F: Conversions for photo-mapping and survey, six conversions.
VC-131F: R4Y-1Z redesignated.
C-131G: R4Y-2 redesignated.
EC-131G: One C-131G modified as an electronics trainer.
RC-131G: One C-131G modified as an airways aid checking duties.
VC-131G: C-131G used as a staff transport.
C-131H: Other models converted to Model 580 turboprop standards.
NC-131H: One conversion with an extended nose incorporating a separate cockpit as a Total In-Flight Simulator. This aircraft was transferred to the National Museum of the United States Air Force at Wright-Patterson AFB, Ohio on November 7, 2008
R4Y-1 :United States Navy version of the Model 340 with 44 passenger seats, redesignated C-131F in 1962, 36 built.
R4Y-1Z: United States Navy staff transports, redesignated VC-131F in 1962, one built and conversions from R4Y-1.
R4Y-2: Two C-131Es transferred to the United States Navy, redesignated C-131G in 1962, an additional 13 cancelled.
R4Y-2Q: Projected radar countermeasures version of the R4Y-2, five cancelled
R4Y-2S: Projected United States Navy Anti-Submarine Warfare trainer version, 14 on order cancelled.
XT-29: Prototype military trainer version of the Model 240 for the United States Air Force, two built.
T-29A: Initial production version for navigator training, unpressurized cabin for 14 students, 46 built.
VT-29A: T-29As converted for staff transport.
T-29B: Pressurised version with room for 10 navigator and four radio operator students, 105 built.
NT-29B: One T-29B used for permanent testing.
VT-29B: T-29B converted for staff transport with seating for 29 or 32 passengers.
T-29C: T-29B with 2500 hp Pratt & Whitney R-2800-29W engines, 119 built.
AT-29C: T-29C modified for airways checking duties, redesignated ET-29C in 1962.
ET-29C :AT-29C redesignated.
VT-29C: T-29C converted for staff transport.
T-29D :Bombardier training version of the T-29C with room for six students, 93 built.
ET-29D: Airways checking conversion of the T-29D.
VT-29D :Staff transport conversion of the T-29D.
XT-29E: Proposed turboprop version of T-29B, none built.
YT-32: Proposed bomber training version with transparent nose, none built.
Operators 2
---
Paraguay: Paraguayan Air Force operated one former USAF Convair C-131D
United States: United States Air Force operated T-29 and C-131 aircraft; United States Navy operated R4Y/C-131 and T-29 aircraft; United States Coast Guard operated R4Y/C-131 aircraft; NASA.
Convair C-131B Specifications 2
---
General Characteristics
Crew: four
Capacity: 48 passengers
Length: 79 ft 2 in (24.14 m)
Wingspan: 105 ft 4 in (32.11 m)
Height: 28 ft 2 in (8.59 m)
Wing area: 920 ft2 (85.5 m2)
Empty weight: 29,248 lb (13,294 kg)
Max. takeoff weight: 47,000 lb (21,363 kg)
Powerplant: 2 × Pratt & Whitney R-2800-99 "Double Wasp" 18 cylinder air cooled radial engines, 2,500 hp (1,865 kW) each
Performance
Maximum speed: 293 mph (255 knots, 472 km/h)
Cruise speed: 254 mph (221 knots, 409 km/h)
Range: 450 mi (391 nmi, 725 km)
Service ceiling: 24,500 ft (7,470 m)
Rate of climb: 1,410 ft/min (7.2 m/s)
References
---
Shupek, John. The Skytamer Photo Archive, photos by John Shupek, copyright © 1998, 2001, 2002 Skytamer Images (Skytamer.com)
Wikipedia, the free encyclopedia. Convair C-131 Samaritan
---