Christen/Aviat Eagle II
Single-engine two-seat taildragger aerobatic biplane, U.S.A.
---
Archive Photos 1
---
Christen "Eagle II" (N83007) at the 1994 MCAS El Toro Airshow (John Shupek photos)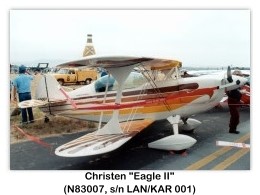 1985 Christian "Eagle II" (N23MS) at the 2000 Santa Paula Airshow, Santa Paula, CA (John Shupek photos)

























href="https://www.skytamer.com/1.2/2000/0215.jpg">
Overview 2
---
Aviat Eagle II
Role: Aerobatic aircraft
Manufacturer: Christen; Aviat
Designer: Frank Christensen
First flight: February 1977
The Christen Eagle II, which later became the Aviat Eagle II in the mid-1990s, is an aerobatic sporting biplane aircraft that has been produced in the United States since the late 1970s.
Design 2
---
Designed to compete with the Pitts Special by Frank Christensen originally of Salt Lake City, Utah, the Eagle II is marketed in kit form for homebuilding. It set a new standard for completely documented homebuilding kits that revolutionized the homebuilding industry. The Eagle II is a small aircraft of conventional configuration with single-bay, equal-span staggered biplane wings braced with streamlined flying and landing wires and an I-strut to form a box truss. The pilot and a single passenger sit in tandem underneath a large bubble canopy. The tailwheel undercarriage is fixed, with the mainwheels mounted on spring aluminum legs. The main wheels are housed in streamlined fairings. The fuselage and tail are constructed of chromoly steel welded tube, with the forward fuselage skinned in aluminum and the rear fuselage and tail covered in fabric. The wing structure is Sitka spruce wood and fabric covered. The engine cowling is fiberglass. By 2011 over 350 aircraft were flying.
Operational History 2
---
In 1979, the Eagles Aerobatic Team (Charlie Hillard, Tom Poberezny, and Gene Soucy) chose the Christen Eagle as a replacement for their Pitts Special airshow act "The Red Devils". The act continued until 1995. All three Christen Eagles hang from the lobby of the EAA Airventure Museum in Oshkosh, Wisconsin.
Variants 2
---
Christen Eagle I: Single Seat Variant. Lycoming AEIO-540 260 hp (190 kW). First design model, built at the San Carlos Airport. 4 Airframes built, one was White with Black Feathers now based in Dallas Texas, the other 3 are in the EAA Museum in Oshkosh WI.
Christen/Aviat Eagle II: Most common variant, two seat dual controls. Lycoming AEIO-360 200 hp (150 kW).
Christen Super Eagle I 540: Very rare, two built. Lycoming AEIO-540 300 hp (220 kW). Formerly flown by the IRON EAGLES AEROBATIC TEAM, now owned by Professional Pilots based in Texas and Alaska.
Christen Super Eagle II; Several examples built, two seats, limited fuel tanks.
Specifications 2
---
General Characteristics
Crew: Two
Length: 17 ft 11 in (5.46 m)
Wingspan: 19 ft 11 in (6.07 m)
Height: 6 ft 6 in (1.98 m)
Wing area: 125.0 ft2 (11.61 m2)
Empty weight: 1,025 lb (465 kg)
Max takeoff weight: 1,578 lb (716 kg)
Fuel capacity: 24 US gal (20 imp gal; 91 L) usable
Powerplant: 1 × Textron Lycoming AEIO-360-A1D air-cooled flat-four, 200 hp (150 kW)
Propellers: 2-bladed Hartzell HC-C2YK-4/C7666A-2 constant-speed propeller, 6 ft 4 in (1.93 m) diameter
Performance
Maximum speed: 184 mph (296 km/h, 160 kn)
Cruise speed: 165 mph (266 km/h, 143 kn)
Stall speed: 58 mph (93 km/h, 50 kn)
Never exceed speed: 210 mph (340 km/h, 180 kn)
Range: 437 mi (703 km, 380 nmi)
Service ceiling: 17,000 ft (5,200 m)
g limits: +9, -6
Roll rate: 187 degree per sec
Rate of climb: 2,100 ft/min (11 m/s)
References
---
Shupek, John. The Skytamer Photo Archive, photos by John Shupek, copyright © 1994, 2000 Skytamer Images (Skytamer.com)
Wikipedia, the free encyclopedia. Aviat Eagle II
---