Cessna 560 Citation V
Twin turbofan-powered small-to-medium-sized business jet, U.S.A.
---
Archive Photos 1
---
1998 Cessna 560 &"Citation V" (N555WL, c/n 560-0488) at the MCAS El Toro Airshow (John Shupek photos)
2001 Cessna 560 "Citation V" (N486SB, c/n 560-0580) at the 2006 Cable Airshow, Cable Airport, Upland, CA (John Shupek photos)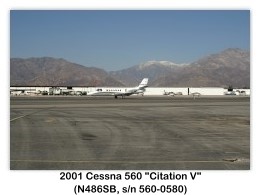 Cessna 560 Citation V Overview 2
---
Cessna 560 Citation V
Role: Corporate jet
National origin: United States
Manufacturer: Cessna
First flight: August 1987
Introduction: 1987 (Citation V), 1994 (Ultra), 1998 (Encore)
Primary users: United States Army; United States Marine Corps
Produced: 1989 (V)-2011 (Encore+)
Number built: 774 : 262 V, 279 Ultra, 168 Encore, 65 Encore+
Developed from: Cessna Citation II
Variants: Cessna Citation Excel
The Cessna Citation V (Model 560) is a business jet built by Cessna, stretched from the Citation II. A prototype flew in August 1987, it was certified on December 9, 1988 and delivered from April 1987, 774 were delivered until 2011. The upgraded Citation Ultra was announced in September 1993, the Citation Encore upgraded with PW535 turbofans was announced in 1998, before the improved Encore+. Its US Military designation is UC-35.
Design 2
---
The Citation V is a slightly stretched Citation II/SP, allowing a standard eight seats, with more powerful Pratt & Whitney Canada JT15D5A turbofans.
Development 2
---
A preproduction prototype flew in early 1986 and the first engineering prototype made its maiden flight in August 1987. The Citation V was announced at the NBAA convention later that year, U.S. certification was granted on December 9, 1988 and 262 were delivered between April 1987 and mid 1994.
Citation Ultra
The upgraded Citation V Ultra was announced in September 1993 and FAA certification was granted in June 1994. It features more powerful 13.6 kN (3045 lb) JT15D5D engines and Honeywell Primus 1000 EFIS avionics. Deliveries amounted to 279. In 1994, the Ultra was named Flying magazine's "Best Business Jet" and it was produced until 1999. Both the Citation V and Ultra hold 5814 pounds of fuel.
Citation Encore/Encore+
The Citation Ultra Encore was announced at the 1998 NBAA convention, upgraded with new PW535 engines, plus trailing link main undercarriage, more fuel capacity, updated interior and improved systems. Its maximum cruise altitude is FL 450.[2][3] Deliveries amounted to 168. The Encore was certified in April 2000 with first delivery in late September 2000.
The upgraded Citation Encore+ added FADEC-controlled PW535B engines and Rockwell Collins Pro Line 21 avionics. The Encore+ was dropped from Cessna website in May 2011. Deliveries amounted to 65. It was certified by the FAA in December 2006, with deliveries of production aircraft expected in the first quarter of 2007.
It was upgraded with a decrease in fuel capacity to 5,440 pounds, 360 pounds less than the Ultra's, but it has more range than the Ultra-1,700 nmi with NBAA IFR reserves. The reduction in fuel tank size allowed Cessna to fit the Encore with soft-landing, trailing link, main landing gear, a welcome change for pilots who griped about the notorious "kerplunk" touchdown characteristics of the stiff-legged earlier Citations aircraft. In addition, the wheel track has been narrowed 3.7 feet for better ground tracking and more mannerly crosswind landing behavior.
The Encore's standard equipment list have been increased and many systems have been upgraded. Bleed air is used to anti-ice the wing leading edge, and several boundary layer energizers, plus a stall fence, have been added to the wing to improve stall characteristics. A digital pressurization controller reduces pilot workload and an improved wheel brake system offers better modulation. Redesigned interior fittings and passenger seats provide more seated headroom. New passenger service units provide more even airflow and temperature control.
The Encore's MTOW is bumped 330 pounds to 16,630 pounds, enabling it to carry five passengers with full fuel. The additional weight increases takeoff field length to 3,561 feet, compared with 3,180 feet for the Ultra. The much improved high altitude thrust output of the PW535 engines, however, allow the Encore to climb faster and cruise higher.
Military Designations
The UC-35A is the United States Army designation and UC-35C is the United States Marine Corps designation for the Citation Ultra, which replaced older versions of the C-12 Huron.
Another version of the Model 560 is the OT-47B "Tracker", five of which were purchased by the Department of Defense for use in drug interdiction reconnaissance operations, based at Maxwell Air Force Base. The OT-47B utilizes the F-16's APG-66(V) fire control radar system and the WF-360TL imaging system. The OT-47Bs have been operated on loan to the Colombian Air Force and Peruvian Navy.
The UC-35B is the Army designation and UC-35D is the Marine Corps designation for the Citation Encore.
Variants 2
---
Citation V: (Model 560), growth variant of the Citation II/SP JT15D-5A.
Citation Ultra: (Model 560) upgraded Citation V with JT15D-5D, EFIS instruments.
Citation Encore: (Model 560) upgraded Citation Ultra with PW535A engines and improved trailing-link landing gear.
Citation Encore+: (Model 560) upgraded Encore includes FADEC and a redesigned avionics.
UC-35A: Army and Air Force transport version of the V Ultra.
UC-35B: Army transport version of the Encore.
UC-35C: Marine Corps version of the V Ultra.
UC-35D: Marine Corps version of the Encore.
OT-47B "Tracker": The DoD purchased five OT-47B models for drug interdiction reconnaissance.
Operators 2
---
Civilian Operators
The aircraft is operated by private individuals, companies, fractionals, charter operators and aircraft management companies.
Military Operators
Colombia: Colombian Air Force
Pakistan: Pakistan Army - 1 × Citation V
United States: United States Army; United States Marine Corps
Peru: Peruvian Army
Spain: Spanish Air Force 3 for aerophotography. Based in Getafe AFB
Specifications (Cessna Citation Ultra) 2
---
General Characteristics
Crew: 2
Capacity: 7 - 8 passengers
Length: 48 ft 11 in (14.91 m)
Wingspan: 52 ft 2 in (15.90 m)
Height: 15 ft 0 in (4.57 m)
Wing area: 342.6 ft2 (31.83 m2)
Empty weight: 9,395 lb (4,261 kg)
Max. takeoff weight: 16,300 lb (7,394 kg)
Powerplant: 2 × Pratt & Whitney Canada JT15D-5D turbofan, 3,045 lbf (13.55 kN) each
Performance
Never exceed speed: 292 KIAS (Knots Indicated Airspeed) (.755 Mach) 262 KIAS below 8,000 ft
Cruise speed: 430 knots (495 mph, 796 km/h) at 35,000 ft
Stall speed: 82 knots (95 mph, 152 km/h) 95 knots, 109 mph, 174 km/h Vmc (Minimum Control Speed)
Range: 1,960 nm (2,257 mi, 3,650 km) with 45 minutes reserve
Service ceiling: 45,000 ft (13,715 m)
Rate of climb: 4,230 ft/min (21.5 m/s)
Wing loading: lb/ft2 (kg/m2)
Thrust/weight: 0.374
References
---
Shupek, John. Photos, copyright © 1998 & 2001 Skytamer Images (Skytamer.com). All Rights Reserved
Wikipedia, the free encyclopedia. Cessna Citation V
---