Cessna 150H
Single-engine two-seat tricycle-gear high-wing cabin civil monoplane, USA
---
Archive Photos 1
---
1968 Cessna 150H (G-GAZG, c/n 15068295) c.2003 at the Canada Aviation Museum, Ottawa, Ontario, Canada (John Shupek photos)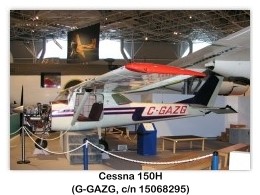 Overview 2
---
Cessna 150H
Role: Multipurpose civil aircraft
Manufacturer: Cessna
First flight: September 12, 1957
Produced: 1959-1977
Number built: 23,949
Unit cost: US$12,000-25,000 (2007)
Variants: Cessna 152
The Cessna 150 is a two-seat tricycle gear general aviation airplane, that was designed for flight training, touring and personal use. The Cessna 150 is the fourth most produced civilian plane ever, with 23,839 aircraft produced. The Cessna 150 was offered for sale in the 150 basic model, Commuter, Commuter II, Patroller and the aerobatic Aerobat models.
Development 2
---
Development of the Model 150 began in the mid 1950s with the decision by Cessna Aircraft to produce a successor to the popular Cessna 140 which finished production in 1951. The main change in the 150 design was the use of tricycle landing gear, which is easier to learn to use than the tailwheel landing gear of the Cessna 140.
The Cessna 150 prototype first flew on September 12, 1957, with production commencing in September 1958 at Cessna's Wichita, Kansas plant. 216 aircraft were also produced by Reims Aviation under license in France. These French manufactured 150s were designated Reims F-150, the "F" indicating they were built in France.
American-made 150s were produced with the Continental O-200-A 100-hp (75 kW) engine, but the Reims-built aircraft are powered by a Rolls Royce O-240-A piston engine of 130-hp (97 kW). All Cessna 150s have very effective flaps that extend 40°.
The best-performing airplanes in the 150 and 152 fleet are the 1962 Cessna 150B and the 1963 Cessna 150C. Thanks to their light 1,500 lbs (680 kg) gross weight and more aerodynamic rear fuselage, they climb the fastest, have the highest ceilings, and require the shortest runways. They have a 109-knot (202 km/h) cruise speed, faster than any other model year of either the Cessna 150 or Cessna 152.
All models from 1966 onwards have larger doors and increased baggage space. With the 1967 Model 150G the doors were bowed outward 1.5 inches (38 mm) on each side to provide more cabin elbow room.
Production 2
---
A total of 22,138 Cessna 150s were built in the United States, including 21,404 Commuters and 734 Aerobats. Reims Aviation completed 1,764 F-150s, of which 1,428 were Commuters and 336 were Aerobats. Forty-seven F-150s were also assembled by a Reims affiliate in Argentina, including 38 Commuters and 9 Aerobats.
Of all the Cessna 150-152 models, the 1966 model year is the most plentiful with 3,067 1966 Cessna 150s produced. This was the first year the aircraft featured a swept tail fin, increased baggage area and electrically operated flaps.
Design Succession 2
---
The 150 was succeeded in the summer of 1977 by the closely related Cessna 152. The 152 is more economical to operate due to the increased TBO (time between overhaul) of the Lycoming O-235 engine. The 152 had its flap travel limited to 30° from the 150's 40° deflection for better climb with full flaps and the maximum certified gross weight was increased from 1,600 lbs (726 kg) on the 150 to 1670 lbs (757 kg) on the 152. Production of the 152 ended in 1985 when manufacturing of all Cessna piston singles was suspended. In 2007 Cessna announced that they will build a two seat successor to the Model 150 and 152 designated the Model 162 Skycatcher.
Variants 2
---
Cessna 150: — The first model year of the Cessna 150 carried no suffix letter. It was available as the "150" or the upgraded "Commuter". The engine was a 100 horsepower (75 kW) Continental O-200, the gross weight was 1,500 lbs (680 kg) and flaps were actuated manually with a lever between the seats. Production commenced late in 1958 as the 1959 model year. The cost was USD $6,995 for the Standard Model 150, $7940 for the Trainer and $8,545 for the Commuter. The 1960 model introduced a 35-amp generator on the Commuter. The "Patroller" was also introduced in 1960. This was a standard 150 with acrylic glass windows on the lower doors, 35 US gallon long range fuel tanks and a message chute for dropping packages to the ground. Production was 122 in 1958, 648 in 1959 and 354 in 1960.
Cessna 150A — The 1961 model incorporated enough changes to justify a suffix letter and as was designated the "150A". The "A" had its main landing gear moved aft by two inches to eliminate the problem of the aircraft ending up on its tail while loading people and baggage and also to improve nose wheel steering authority. The "A" also had 15% larger rear side windows and new adjustable seats. 344 were constructed.
Cessna 150B — The Cessna 150B was the 1962 model . It had a new propeller that increased cruise speed by 2 knots (3.7 km/h) and the option of a two-passenger child seat for the baggage compartment. 331 "B" models were built. The "Commuter" version cost USD $8,995.
Cessna 150C — The 1963 model was the "C", which introduced the option of larger 6.00×6 inch tires to replace the standard 5.00X5 tires and fuel quick drains. 472 were completed.
Cessna 150D — The 1964 "D" model brought the first dramatic change to the Cessna 150 - the introduction of a rear window under the marketing name Omni-Vision. The rear window changed the look of the Cessna 150 and cost 3 mph (4.8 km/h) in cruise speed. It also resulted in a larger baggage compartment and a greater structural weight allowance for baggage from 80 to 120 lbs (54 kg). The square tail fin from previous years was retained for another two years. Elevator and rudder mass balances were increased to reduce flutter potential caused by the less aerodynamic rear fuselage. The gross weight of the aircraft was also increased in 1964 to 1,600 lbs (730 kg), where it would stay until the advent of the Cessna 152. A total of 804 Cessna 150Ds were built.
Cessna 150E — The 1965 Cessna 150E saw only the addition of new seats, although the standard empty weight went up 40 lbs (18 kg) that year to 1,010 lbs (460 kg). The Cessna 150E model saw production increase to 1,637 aircraft.
Cessna 150F — The 1966 model saw great changes to the Cessna 150 design. The fin was swept back 35° to match the styling of the Cessna 172 and other models. The cabin doors were made 23% wider, new brakes were brought in and the 6.00X6 tires were made standard. The previously manual flaps were now electrically actuated through a panel-mounted flap switch. The old electric stall warning system was replaced with a pneumatic-type. The baggage compartment was enlarged by 50%. A total of 3,087 of the newly styled Cessna 150F models were produced. 1966 was also the first production of French Reims-built F-150s, with 67 built as the F150F.
Cessna 150G — In the 1967 model the doors were "bowed" out to give three more inches of shoulder and hip room which was needed in the small cabin. The Cessna 150G model also saw a new short-stroke nose oleo introduced to reduce the drag created by the nose wheel assembly. The previously fitted generator was replaced by a 60 amp alternator, reflecting the increasing avionics that the planes were being fitted with. The Cessna 150G model was also the first Cessna 150 variant certified for floats. A total of 2,114 Cessna 150G models were built, plus 152 built by Reims as F150G.
Cessna 150H — The 1968 Cessna 150 model 150 was designated the "H." It introduced a new-style center console, designed to improve legroom. A new electric flap switch was also fitted that allowed "hands-off" retraction of the flaps, but not extension. A total of 2,007 Cessna 150H's were built in Wichita, with 170 built by Reims as the F150H.
Cessna 150I — There was no 150 "India" model as Cessna didn't want it to look like a Cessna 1,501. This didn't stop Cessna from designating an "India" model Cessna 172 however.
Cessna 150J — The Cessna 150J brought a new key-operated starter that replaced the old "pull-style" starter. The new starter was more "car-like" but not as reliable as the old one and more expensive to repair, too. An auxiliary power plug was made available as an option in 1969, too, along with "rocker" style electrical switches. A total of 1,714 Cessna 150J's were built, plus 140 built by Reims as the F150J.
Cessna 150K — 1970 was the year that Cessna introduced the Cessna A150K "Aerobat," a Cessna 150 with limited aerobatic capabilities. It retained the 100 horsepower (75 kW) Continental O-200 all Cessna 150's used, but the Aerobat had more structural strength. It was rated for +6/-3 "g" and sported four-point harnesses, skylights, and jettisonable doors, along with checkerboard paint schemes and removable seat cushions so parachutes could be worn. In 1970, an Aerobat cost $12,000 as opposed to the $11,450 for a standard Cessna 150. Both the new Aerobat and the non-aerobatic Cessna 150K also sported new conical cambered wingtips in 1970. A total of 832 Cessna 150K models were built, including Cessna A150K Aerobats. Reims built 129 as the F150K and 81 as the A150K.
Cessna 150L — The Cessna 150L had the longest production run of any Cessna 150 sub-model, being produced 1971-74. New in 1971 was tubular landing gear legs with a 16% greater width of 6 ft 6 in (1.98 m) to 7 ft 7 in (2.31 m) for better ground handling. These replaced the previous flat steel leaf spring gear. Also in 1971, the landing and taxi lights were moved from the wing leading edge to the nose bowl to better illuminate the ground. They were an improvement, but bulb life was reduced due to the heat and vibration of that location. They moved back to the wing on the 1984 model Cessna 152. The Cessna 150L also introduced a longer dorsal strake that reached to the rear window. This was done more for styling than for aerodynamics and the empty weight accordingly went up 10 lbs (4.5 kg) over the Cessna 150K. A total of 879 were built in 1971. In 1972 the Cessna 150L received new fuel filler caps to reduce moisture seepage, and better seats and seat tracks. 1,100 were built in 1972
. The 1973 Cessna 150L model brought in lower seats to provide more headroom for taller pilots. 1,460 of the 1973 models were built. The final Cessna 150L model was produced in 1974. The only changes this model year were the propeller on the Cessna A150L Aerobat, to a new Clark "Y" airfoil that increased cruise by 4 mph (6.4 km/h). 1,080 Cessna 150s were produced in 1974. Total Cessna 150 L production was 4,519, plus the 485 built by Reims as the F150La and 39 FA150L Aerobats.
Cessna 150M — The final Cessna 150 model was the 150M. It introduced the "Commuter II" upgrade package that included many optional avionics and trim items as standard. The Cessna 150M also brought an increased fin height, by 6 inches (150 mm). This increased the rudder and fin area by 15% to improve crosswind handling. The Cessna 150M was produced for three years: 1975-77. Inertia reel restraints became available as an option with the 1975 model year. A total of 1,269 1975 Cessna 150Ms were built. In 1976 the "M" gained a suite of electrical circuit breakers to replace the previous fuses used. It also was fitted with a fully-articulated pilot seat as standard equipment. 1,399 were constructed. The 1977 model year was the last for the Cessna 150. It added only "pre-select" flaps, allowing the pilot to set the flaps to any setting and then leave the aircraft to move the flaps to that position, without the pilot holding the switch. Only 427 1977 model 150Ms were built as production shifted to the improved Cessna 152 in the early part of 1977.
The many refinements incorporated into the Cessna 150 over the years had cost the aircraft a lot of useful load. The very first Cessna 150 weighed 962 lbs (436 kg) empty, whereas the last Cessna 150M "Commuter II" had an empty weight of 1,129 lbs (512 kg). This increase in empty weight of 167 lbs (76 kg) was offset only by a gross weight increase of 100 lbs (45 kg) in 1964. The Cessna 152 would bring a much-needed 70 lbs (32 kg) increase in gross weight to 1,670 lbs (760 kg).
A total of 3,097 Cessna 150M models were built during its three-year run. An additional 285 were built by Reims as the F150M and 141 FA150M Aerobats with the Rolls Royce Continental O-240-A engine. Reims also built 75 A150Ls with F150M modifications.
Flight Characteristics 2
---
The Cessna 150 is simple, robust and easy to fly. For these reasons it has become one of the world's most popular basic trainers.
Cockpit visibility is generally good other than directly above the aircraft, where the view is blocked by the wing. This obstruction is of particular concern when, as is the case with most high-wing aircraft, the inside-turn wing blocks vision in the direction of a turn. As a partial remedy to this some Cessna 150s, including all Aerobats, feature a pair of overhead skylights.
Due to its light weight and light wing loading of 10 lbs/sq ft, the aircraft is sensitive to turbulence.
Power-on and power-off stalls are easily controlled.
Normal spin recovery techniques are highly effective.
Modifications Available 2
---
There are hundreds of modifications available for the Cessna 150. Some of the most frequently installed include:
Vortex generators and STOL kits that reduce the stall speed of the plane.
Flap gap seals to reduce drag and increase rate of climb.
Different wing tips, some of which claim various cruise speed increases and stall speed reductions.
Auto fuel STCs, which permit the use of automobile fuel instead of the more expensive aviation fuel.
Larger engines, up to 180 horsepower (130 kW).
Taildragger landing gear.
Auxiliary fuel tanks for larger capacity.
Door catches to replace the factory ones that often fail in service.
Belly fuel drain valves to drain fuel from the lowest point in the fuel system.
Noteworthy Flights 2
---
In 1996 a Cessna 150 was flown from the United States to South Africa in several stages, crossing the Atlantic along the way. An extra 60 gallon fuel tank was installed (beyond the standard 22.5 gallons) and the plane took off 500 lbs (230 kg) over gross weight.
On September 12, 1994, Frank Eugene Corder intentionally crashed a Cessna 150L onto the South Lawn of the White House against the south wall of the Executive Mansion, in an apparent suicide attempt. Corder was killed, but no one else was injured and damage to property on the ground was minimal.
On August 8, 1964, a pair of commercial pilots flew a Cessna 150 into the Meteor Crater in Arizona. They were unable to leave the crater due to the downdrafts and the aircraft was forced to circle the interior of the structure until it ran out of fuel. The remains of the craft are still visible today.
Military Operators 2
---
Burundi: Burundi Air Force 3 × FRA150L
Democratic Republic of the Congo: Republic of Congo Air Force 15 × FRA150M
Ecuador: Ecuadorian Air Force 24 × A150
Côte d'Ivoire: Ivory Coast Air Force 3 × F150L
Liberia: Liberian Army 1 × 150K
Mexico: Mexican Naval Aviation 2 × 150J
Paraguay: Paraguayan Naval Aviation 2 × 150M
Somalia: Somali Air Force 2 × FRA150L
Sri Lanka: Sri Lanka Air Force 10 × 150
United States: United States Air Force - The United States Air Force Academy Flying Team uses three Cessna 150s designated T-51A (1 Model 150L, 2 Model 150M) for training and competition. For better performance at altitude, these aircraft have been equipped with 150 horsepower (110 kW) Lycoming O-320-E2D engines and propeller combinations. These aircraft are operated by the 557th Flying Training Squadron.
1968 Cessna 150 (Standard Model) Specifications and Performance Data 2
---
Type
Two-seat cabin monoplane.
Wings
Braced high-wing monoplane.
NACA 2412 wing section (wing tips symmetrical).
Aspect ratio 7.
Chord: 5 ft 4 in (1.63 m) at root, 3 ft 8½ in (1.12 m) at tip.
Dihedral: 1°.
Incidence 1° at root, 0° at tip.
All-metal structure, with formed Royalite tips.
Modified Frise all-metal ailerons.
Electrically-actuated NACA single-slotted all-metal flaps.
Fuselage
All-metal semi-monocoque structure.
Tail Unit
Cantilever all-metal structure, with sweptback vertical surfaces.
Trim tab in starboard elevator.
Landing Gear
Non-retractable tricycle type.
Cessna Land-O-Matic spring-steel cantilever main legs.
Steerable nose wheel on oleo-pneumatic shock-absorber strut.
Size 6.00 × 6 wheels, with nylon tube-type tires, on main wheels.
Size 5.00 × 5 nose wheel, with nylon tube-type tire.
Tire pressure, 30 psi (2.11 kg/cm2).
Toe-operated single-disk hydraulic brakes.
Optional wheel fairings for all three units (standard on commuter model).
Floats optional.
Power Plant
One 100-hp Continental O-200-A four-cylinder horizontally-opposed air-cooled engine.
McCauley two-blade metal fixed-pitch propeller, diameter 5 ft 9 in (1.75 m).
Two all-metal fuel tanks in wings.
Total standard fuel capacity 26 U.S. gallons (98 L).
Usable fuel 143.8 L (38 U.S. gallons).
Optional long-range tanks increase total capacity to 38 U.S. gallons (143.8 L).
Oil capacity 1.5 U.S. gallons (5.7 L).
Accommodation
Enclosed cabin seating to side-by-side.
Dual controls standard trainer and commuter models, optional in standard model.
Baggage compartment behind seats, backs of which hinge forward for access.
Baggage capacity 120 lbs (54 kg).
Alternatively, "family seat" can be fitted in baggage space, for two children not exceed 120 lbs (54 kg) total weight.
Door on each side of cabin.
Heating and ventilation standard.
Winterization kit optional.
Electronics and Equipment
Optional equipment includes Cessna 90-channel nav/com 300 installation (standard on trainer and commuter). Receiver and optional marker beacon.
Nav/Omni 300 with full VOR/LOC/glideslope receiver and optional marker beacon.
Blind-flying instrumentation (standard on commuter model).
Dual controls (standard in trainer and commuter).
Omni-flash beacon (standard on commuter).
Wing leveling stability augmentation system optional.
External Dimensions
Wing span: 32 ft 8½ in (9.97 m)
Length overall: 23 ft 0 in (7.01 m)
Height overall: 8 ft 7½ in (2.63 m)
Tailplane span: 10 ft 0 in (3.05 m)
Wheel track: 6 ft 6½ in (1.99 m)
Wheelbase: 4 ft 10 in (1.47 m)
Passenger doors width (each): 2 ft 10 in (0.86 m)
Areas
Gross wing area: 157 ft2 (14.59 m2)
Ailerons (total). 17.88 ft2 (1.66 m2)
Trailing-edge flaps (total): 18.56 ft2 (1.72 m2)
Fin: 7.55 ft2 (0.70 m2)
Rudder: 6.50 ft2 (0.60 m2)
Tailplane: 17.06 ft2 (1.58 m2)
Elevators including trim tab: 11.46 ft2 (1.06 m2)
Weights and Loadings
Weight empty equipped with standard tanks: 975 lbs (442 kg)
Max T-O weight: 1,600 lbs (726 kg)
Max wing loading: 10.2 lbs/ft2 foot (49.8 kg/m2)
Max power loading: 16.0 lbs/hp (7.26 kg/hp)
Performance at Max T-O Weight
Max at S/L: 122 mph (196 km/h)
Max permissible diving speed: 162 mph (261 km/h)
Max cruising speed at 75% power at 7,000 ft (2,133 m): 117 mph (188 km/h)
Econ cruising speed at 10,000 ft (3,050 m): 93 mph (149 km/h)
Stalling speed with flaps down: 40 mph (78 km/h)
Rate of climb at S/L: 670 ft/min (240 m/min)
Service ceiling: 12,650 ft (3,850 m)
T-O run: 735 ft (224 m)
T-O run to 50 ft (15 m): 1,385 ft (422 m)
Landing from 50 ft (15 m): 1075 ft (328 m)
Landing run: 445 ft (136 m)
Range at Econ cruising speed with normal tankage and no reserve: 565 miles (909 km)
Range at Econ cruising speed with long-arranged tanks and no reserve: 880 miles (1416 km)
Range at Max cruising speed with normal tankage and no reserve: 475 miles (767 km)
Range at Max cruising speed with long-arranged tanks and no reserve: 726 miles (1168 km)
References
---
Shupek, John. Photos by John Shupek, Copyright © 2009 Skytamer Images (Skytamer.com). All Rights Reserved
Wikipedia. Cessna 150
Taylor, John W. R. Jane's All The World's Aircraft 1968-69: Cessna Model 150H. New York: McGraw-Hill Book Company, 1969, p 248.
---