Cessna 120
Single-engine high-wing light cabin monoplane, USA
---
Archive Photos 1
---
1947 Cessna 120 (NC1611V) at the 2005 Camarillo Air Show, Camarillo, CA (John Shupek photos)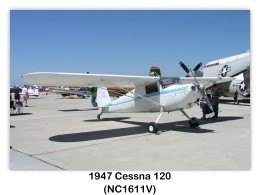 History 2
---
Cessna 120
Role: Light utility aircraft
Manufacturer: Cessna Aircraft Company
Introduced: 1946
Produced: 1946-1950
Number built: 7,664
Unit cost: USD $3495 (Cessna 140 in 1946)
The Cessna 120 and the Cessna 140 are single engine, two-seat, light general aviation aircraft that were first produced in 1946, immediately following the end of World War II. Production ended in 1950, and was succeeded by the Cessna 150, a similar two-seat trainer which introduced a tricycle gear. The Cessna 120 and the Cessna 140, together, sold 7,664 copies in the five years that the aircraft were produced.
Development 2
---
Cessna 140
The Cessna 140 was originally equipped with an 85 or 90 horsepower (63 or 67 kW) Continental horizontally-opposed, air cooled, four-cylinder piston engine. This model has a metal fuselage and fabric wings with metal control surfaces. The larger Cessna 170 was a four seat 140 with a more powerful engine.
Cessna 140A
The final variant of the Cessna 140 introduced in 1949 was the 140A which had a standard Continental C90 engine producing 90-hp (67 kW), aluminum covered wings and a single strut replacing the dual "V" struts and jury struts fitted on earlier models.
Cessna 120
The Cessna 120 was an economy version of the 140 produced at the same time. It had the same engine as the 140, but did not have wing flaps. The cabin "D" side windows and electrical system (radios, lights, battery and starter) were optional.
Modifications 2
---
Common modifications to the Cessna 120 and 140 include:
"Metalized" wings, where the fabric is replaced with sheet aluminum, eliminating the need to periodically replace the wing fabric.
The installation of landing gear extenders to reduce the tendency of the aircraft to nose-over on application of heavy braking. These were factory-optional equipment.
Installation of rear-cabin "D" side windows on 120s that were not originally so equipped; some pilots feel that the 120's visibility to the rear is inadequate without them.
Installation of electrical systems on 120s that were not originally so equipped, allowing owners to install an electric starter, more sophisticated avionics and/or lights for night flying.
Cessna 120 Specifications 2
---
Type
Two-seat Cabin monoplane.
Wings
Strut-braced high-wing monoplane.
Two-spar constant-chord structure of 24ST aluminum alloy in two main sections.
Detachable tips in two sections each side.
All-metal spars, ribs and leading-edge, with fabric covering.
Wing braced to fuselage by steel-tube V-struts each side.
All-metal ailerons with metal covering.
Fuselage
Monocoque structure of 24ST aluminum alloy.
Tail Unit
Cantilever monoplane type.
Metal structure with metal covering over all surfaces.
Trim-tab in starboard elevator.
Landing Gear
Fixed two-wheel type of Cessna patent consisting of two flexing steel cantilever legs carrying wheels.
Hydraulic friction-disc brakes.
Scott steerable tail-wheel.
Alternatively twin Edo Model 1650 floats may be fitted.
Power Plant
One 85-hp Continental C85-12 four-cylinder horizontally-opposed air-cooled engine driving Sensenich two-blade fixed-pitch wooden airscrew.
Fuel capacity 25 U.S. gallons (94 liters) in two tanks, one in each wing root.
Accommodation
Enclosed cabin seating two side-by-side with dual controls.
Entry doors on both sides.
Baggage compartment behind seats; allowance 80 lbs (36 kg).
Dimensions
Wing span: 32 ft 10 in (10 m)
Wing chord: 6 ft 0.5 in (1.84 m)
Mean aerodynamic chord: 4 ft 11.02 in (1.50 m)
Wing area, gross: 159.3 ft2 (14.80 m2
Aileron span: 6 ft 2 in (1.88 m)
Aileron chord: 1 ft 2 in (0.35 m)
Tailplane span: 8 ft 10 in (2.69 m)
Length (tail up): 20 ft 11⅞ in (6.40 m)
Height (tail down, over wing): 6 ft 3¼ in (1.91 m)
Wheel track: 6 ft 5 in (1.96 m)
Weights and Loadings
Weight empty: 770 lbs (349 kg)
Weight loaded: 1,450 lbs (658 kg)
Wing loading (fully loaded): 9.1 psf (44.43 kg/m2)
Power loading: 17.1 lbs/hp (7.75 kg/hp)
Performance
Maximum speed: over 120 mph (193 km/h)
Cruising speed: over 100 mph (161 km/h)
Landing speed: 41 mph (66 km/h)
Rate of climb at sea level: 680 fpm (207 mpm)
Service ceiling: 15,500 ft (4,724 m)
Cruising range: 450 miles (724 km)
References
---
Shupek, John. Photos by John Shupek, Copyright © 2009 Skytamer Images (Skytamer.com). All Rights Reserved
Bridgman, Leonard. Jane's All The World's Aircraft 1947. London, Sampson Low, Marston & Company, Ltd., 1947, p 196c.
---