Caudron G.4
World War I Bomber, France
---
Archive Photos 1,2
---
Caudron G.4 (C.1720) 9/27/2000 at the Musée de l'air et de l'espace, Paris, France. (Photo by John Shupek taken on 9/27/200, Copyright © 2000 Skytamer Images)] 1
Caudron G.4 c.2004 at the National Air and Space Museum Steven F. Udvar-Hazy Center, Chantilly, Virginia (Photo by Jim Hough)] 2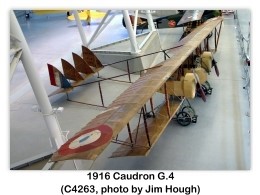 Overview 2
---
Caudron G.4
Role: Bomber
Manufacturer: Caudron
Designer: Caudron Frères
First flight: 1915
Primary users: French Air Force; Corpo Aeronautico Militare; RNAS; Finnish Air Force
Number built: 1,421
Developed from: Caudron G.3
The Caudron G.4 was a French biplane with twin engines, widely used during World War I as a bomber aircraft. It was designed by René and Gaston Caudron as an improvement over their single engined Caudron G.3. The aircraft employed wing warping for banking. The first G.4 was built in 1915, and it was manufactured in France, England and Italy.
The Caudron G.4 was used as a reconnaissance bomber into the heart of Germany. Later, when Germany developed a fighter force, the aircraft had to be used for night bombings.
The G.4 was in use in Belgium, France, Finland, Italy, the United Kingdom, and the United States.
Development 2
---
While the Caudron G.3 was a reliable reconnaissance aircraft, it could not carry a useful bombload, and owing to its design, was difficult to fit with useful defensive armament. In order to solve these problems, the Caudron G.4 was designed as a twin engined development of the G.3, first flying in March 1915. While the G.4 had a similar pod and boom layout to the G.3, it has two Le Rhône rotary or Anzani 10 radial engines mounted on struts between the wings instead of a single similar engine at the front of the crew nacelle, while wingspan was increased and the tailplane had four rudders instead of two. This allowed an observer/gunner position to be fitted in the nose of the nacelle, while the additional power allowed it to carry a bombload of 100 kg.
A total of 1358 G.4s were produced in France, while a further 51 examples produced by the A.E.R. company in Italy and 12 were built in Britain by the British Caudron company.
Operational History 2
---
World War I
The G.4 entered service with the French Aéronautique Militaire in November 1915. It was the first twin engined aircraft in service in any numbers with the French. The Caudron G.4 was used to carry out bombing raids deep behind the front line, being used to attack targets as far away as the Rhineland. Increasing losses led to its withdrawal from day bombing missions by the French in the autumn of 1916.
The British Royal Naval Air Service (RNAS) also used the G.4 as a bomber, receiving 55, of which twelve were licence built by the British Caudron company and the remainder supplied from France. Number 4 and 5 Wing RNAS using the G.4 for attacks against German seaplane and airship bases in Belgium. It was finally replaced in RNAS service by Handley Page O/100 aircraft in the autumn of 1917. Italian G.4s proved successful in operating in the mountainous Alpine fronts, where its good altitude capabilities proved useful. The G.4 was also used by the Imperial Russian Air Force for reconnaissance purposes.
Use in Finland
The Finnish Air Force purchased one G.4 as well as two G.3s aircraft with spares, from Flyg Aktiebolaget on April 26, 1923 for 100,000 Finnish markka. The G.4 was used by the FAF as an ambulance aircraft in 1923.
Variants 2
---
The first G.4 prototype flew in March 1915. The G.4 was manufactured in three main versions, A2 for reconnaissance, B2 for bombing and E2 for training. The A2 was equipped with a radio for fire spotting, B2 could carry 100 kg of bombs and the E2 was equipped with dual controls. G.4IB (French: Blindage) was an armored version. There were also other bomber and escort aircraft versions.
The Caudron G.5I was a further developed G.4, with a conventional fuselage and tail replacing the pod and boom arrangement of the G.3.
Operators 2
---
Belgium: Belgian Air Force
Colombia: Colombian Air Force
France: Aeronautique Militaire
Finland: Finnish Air Force
Kingdom of Italy: Corpo Aeronautico Militare
Portugal: Portuguese Air Force
Romania: Royal Romanian Air Force
Russia: Imperial Russian Air Service
Soviet Union: Soviet Air Force - Taken over from the Imperial Russian Air Force.
United Kingdom: Royal Naval Air Service
United States: American Expeditionary Force; United States Army Air Service
Venezuela: Venezuelan Air Force; Venezuelan Navy
Survivors 2
---
Caudron G.4s are displayed in several museums, including:
The Steven F. Udvar-Hazy Center, and
The Musée de l'Air et de l'Espace, Paris.
Specifications (G.4) 2
---
General Characteristics
Crew: Two, pilot and observer/gunner
Length: 7.27 m (23 ft 10 in)
Wingspan: 17.20 m (56 ft 5 in)
Height: 2.60 m (8 ft 6 in)
Wing area: 38.00 m2 (409 ft2)
Empty weight: 733 kg (1,612 lb)
Max takeoff weight: 1,180 kg (2,600 lb)
Powerplant: 2 × Le Rhône C radial, 60 kW (80 hp) each
Performance
Max speed: 124 km/h (67 knots, 77 mph)
Service ceiling: 4,000 m (13,100 ft)
Endurance: 3½ hours
Armament
Guns: 1 × machine gun
Bombs: 113 kg (250 lb) of bombs
References
---
Shupek, John. Photos via The Skytamer Archive, copyright (2000 photos by John Shupek copyright © 2000 Skytamer Images, Skytamer.com)
Hough, Jim. Jim Hough photos via The Skytamer Archive, copyright (2004 photos by Jim Hough copyright © 2004 Jim Hough)
Wikipedia, the free encyclopedia. Caudron G.4
---