Boeing B-29 Superfortress
United States — USAAF WW II four-engine long-range heavy bomber
---
Archive Photos 1,5
---
[Boeing B-29 Superfortress (AF 44-86408) on display (11/26/2001) at the Hill Aerospace Museum, Hill AFB, Roy, Utah (Photo by John Shupek copyright © 2001 Skytamer Images)]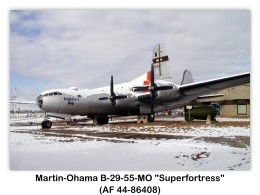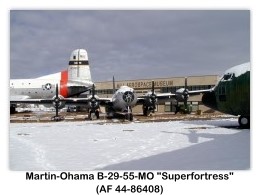 [Boeing B-29-35-MO Superfortress-Enola Gay (AF 44-86292) on 6 August 1945, this aircraft dropped the first A-Bomb on Hiroshima, Japan. On display (2/16/2004) at the National Air and Space Museum Steven F. Udvar-Hazy Center, Chantilly, Virginia (Photos by Jim Hough)]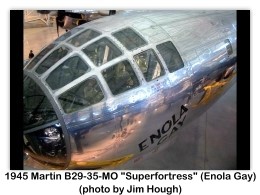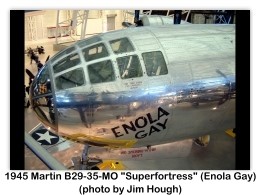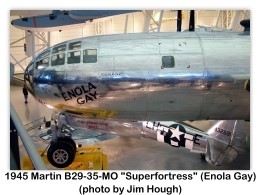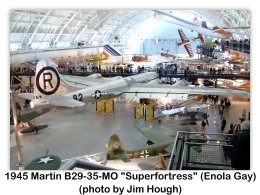 [Boeing B-29-35-MO Superfortress-Bockscar (AF 44-27297) on 9 August 1945, this aircraft dropped the second A-Bomb on Nagasaki, Japan. On (5/20/2001) display at the National Museum of the United States Air Force, WPAFB, Dayton, Ohio (Photo by John Shupek copyright © 2001 Skytamer Images)]
[Boeing B-29 "Superfortress" Propeller Display (10/10/2012) at the CAF Museum, Falcon Field Airport, Mesa, Arizona (Photo by Lt. Col. Marc Matthews, M.D.)]
Overview 2
---
Boeing B-29 Superfortress
Role: Strategic bomber
Manufacturer: Boeing
First flight: 21 September 1942
Introduced: 8 May 1944
Retired: 21 June 1960
Status: Scrapped except for those in museums
Primary users: United States Army Air Forces; United States Air Force; Royal Air Force
Produced: 1943-1946
Number built: 3,970
Unit cost: US$639,188
Variants: KB-29 Superfortress; B-50 Superfortress; Tupolev Tu-4
The Boeing B-29 Superfortress was a four-engine propeller-driven heavy bomber that was flown by the United States Military in World War II and the Korean War, and by other nations afterwards. The name Superfortress was derived from that of its well-known predecessor, the B-17 Flying Fortress, and carried on a series of names for Boeing-built bombers followed by the B-50, B-47 Stratojet and B-52 Stratofortress.
The B-29 was one of the largest aeroplanes to see service during World War II. A very advanced bomber for this time period, it included features such as a pressurized cabin, an electronic fire control system, and remote controlled machine-gun turrets. Though it was designed as a high-altitude daytime bomber, in practice it actually flew more low-altitude night-time incendiary bombing missions. It was the primary aircraft in the American fire bombing campaign against the Empire of Japan in the final months of World War II, and carried the atomic bombs that destroyed Hiroshima and Nagasaki. Unlike many other bombers, the B-29 remained in service long after the war ended, with a few even being employed as flying television transmitters for the Stratovision company. The type was finally retired in the early 1960s, with 3,960 aircraft in all built.
Subsequent improvements led to the USAF B-50 Superfortress.
Design and Development 2
---
Manufacturing the B-29 was a complex task. It involved four main-assembly factories: a pair of Boeing plants at Renton, Washington and Wichita, Kansas, a Bell plant at Marietta, Georgia (Bell-Atlanta), and a Martin plant at Omaha, Nebraska (Martin-Omaha). Thousands of subcontractors were involved in the project. Because of its highly advanced design, challenging requirements, and immense pressure for production, development was deeply troubled. On 18 February 1943 the first prototype crashed during testing due to an engine fire that spread to the wing, killing the entire 10 man crew and 20 others in the Frye meat packing plant just north of Boeing Field. Changes to the production craft came so often and so fast that in early 1944, B-29s would leave the production lines and fly directly to modification depots for extensive rebuilds to incorporate the latest changes. This "Battle of Kansas" (a troubleshooting modification program to get four groups ready for combat by 1 January 1944) nearly ended the program, which was only saved by General Hap Arnold's direct intervention. It would still be nearly a year before the aircraft was operated with any sort of reliability.
The most common cause of maintenance headaches and catastrophic failures was the engine. Though the Wright R-3350 would later become a trustworthy workhorse in large piston-engined aircraft, early models were beset with dangerous reliability problems, many caused by demands that the B-29 be put in operation as soon as possible. It had an impressive power-to-weight ratio, but this came at a heavy cost to durability. Worse, the cowling Boeing designed for the engine was too close (out of a desire for improved aerodynamics), and the early cowl flaps caused problematic flutter and vibration when open in most of the flight envelope. The 18 radial cylinders, compactly arranged in front and rear rows, overheated because of insufficient flow of cooling air, which in turn caused exhaust valves to unseat.
These weaknesses combined to make an engine that would overheat regularly at combat weights, particularly during climbs after takeoff. Unseated valves released fuel-air mixtures during engine combustion that acted as a blowtorch against the valve stems. When these burned through the engines disintegrated and caught fire. A fire that was not immediately contained in the forward part of the engine by fire extinguishers became impossible to put out. An accessory housing manufactured of magnesium alloy in the back of the engine would often catch fire and produce heat so intense it burned through the firewall to the main wing spar in no more than 90 seconds, resulting in catastrophic failure of the wing.
This problem would not be fully cured until the aircraft was re-engined with the more powerful Pratt & Whitney R-4360 Wasp Major in the B-29D/B-50 program, which arrived too late for World War II. Interim measures included cuffs placed on propeller blades to divert a greater flow of cooling air into the intakes, which had baffles installed to direct a stream of air onto the exhaust valves. Oil flow to the valves was also increased, asbestos baffles installed around rubber push rod fittings to prevent oil loss, thorough pre-flight inspections made to detect unseated valves, and frequent replacement of the uppermost five cylinders (every 25 hours of engine time) and the entire engines (every 75 hours).
Pilots, including the present-day pilots of the Commemorative Air Force's "Fifi," the last-remaining flying B-29, describe flight after takeoff as being an urgent struggle for Airspeed (generally, flight after takeoff should consist of striving for altitude). Radial engines need airflow to keep them cool, and failure to get up to speed as soon as possible could result in an engine failure and risk of fire. One useful technique was to check the magnetos while already rolling rather than from a "braked" start.
In wartime, the B-29 was capable of flight up to 40,000 feet (12,000 m), at speeds of up to 350 mph (true Airspeed). This was its best defense, because Japanese fighters of that day could barely get that high, and few could catch the B-29, even if they were at altitude and waiting. Only the heaviest of anti-aircraft weapons could reach it, and since the Axis forces did not have proximity fuses, hitting or damaging the airplane from the ground in combat was next to impossible.
With the revolutionary Central Fire Control System (CFCS), the B-29 had four remote controlled turrets, each armed with two .50 cal M2/AN machine guns. Four gunners were able to control these turrets with the use of four General Electric-made analog computers, one above the Norden bombsight in the nose and three in a pressurized compartment in the rear fuselage which incorporated clear blown sighting blisters. The gunner manning the sight in the upper rear station was the "Central Fire Control gunner" whose job was to allocate turrets to each of the other three gunners, avoiding confusion in the heat of battle. The CFCS had (at that time) a highly advanced analog computer which corrected for the B-29s Airspeed, the target's speed, target lead, gravity, temperature, barrel wear, and humidity. Because of this, the .50 caliber machine guns of the B-29 had a maximum effective range of 1,000 yards (910 m), double the range of the manually-aimed machine guns of the B-17 Flying Fortress. The tail gunner could only control his own weapons (two M2/AN Brownings plus, in early production B-29s, a 20 mm M2 cannon) and the lower rear turret. In post World War II, the tail guns eventually got their own APG-15 gun control radar sets.
In early 1945, with a change of role from high altitude day bomber to low altitude night bomber, LeMay reportedly ordered the removal of most of the defensive armament and remote controlled sighting equipment from his B-29s so that they could carry greater fuel and bomb loads. As a consequence of this requirement Bell, Marietta (BM) produced a series of 311 B-29Bs which had the turrets and sighting equipment removed, except for the tail position which initially had the two .50 cal Browning machine guns and single M2 cannon with the APG-15 radar fitted as standard. This armament was quickly changed to three .50 caliber Brownings. This version also had an improved APQ-7 Eagle bombing-through-overcast radar fitted in an airfoil shaped radome under the fuselage. Most of these aircraft were assigned to the 315th Bomb Wing, Northwest Field, Guam.
The crew enjoyed, for the first time in a bomber, full-pressurization comfort. This first-ever cabin pressure system for an Allied production bomber was developed for the B-29 by Garrett AiResearch. The nose and the cockpit were pressurized, but the designers were faced with deciding whether to have bomb bays that were not pressurized, between fore and aft pressurized sections, or a fully pressurized fuselage with the need to de-pressurize to drop their loads. The decision was taken to have a long tunnel over the two bomb bays so that crews could crawl back and forth between the fore and aft sections, with both areas and the tunnel pressurized. The bomb bays were not pressurized.
Flying Characteristics 2
---
In flight, the pilot called for engine and flap settings instead of moving the throttles and the flap levers himself. Another innovation was the number of calculations the crew had to perform before and during the mission. Prior to the B-29, flight manuals provided only approximate performance figures and pilots relied largely on instinct and experience. The B-29 manual had charts to compute takeoff and landing speeds based on weight, elevation and temperature. Finding the optimum power settings for cruise required consideration of cruise altitude, outside temperature, aircraft weight, and desired true Airspeed. The power settings were recalculated every two hours or with every change in altitude. These types of computations are routine in modern civil and military aviation, but they were an innovation in 1944. The benefits of improved range and performance were irrefutable.
Unlike aircraft such as the B-24 Liberator, the B-29 lacked boosted controls. As a consequence they required considerable physical strength to operate. As it was, most aircrews found the B-29 to be relatively mild-mannered. Though it could be flown with only two engines once airborne, the bomber suffered from engine overheating issues throughout its service, and several B-29s crashed in Saipan due to single engine failures on takeoff at full gross weight.
Operational History 2
---
World War II
The initial plan, implemented at the direction of President Franklin D. Roosevelt as a promise to China and called Operation "Matterhorn," was to use B-29s to attack Japan from four forward bases in southern China, with five main bases in India, and to attack other targets in the region from China and India as needed. The "Chengdu" region was eventually chosen over the Guilin region to avoid having to raise, equip, and train 50 Chinese divisions to protect the advanced bases from Japanese ground attack. The XX Bomber Command, initially intended to be two combat wings of four groups each, was reduced to a single wing of four groups because of the lack of availability of aircraft, automatically limiting the effectiveness of any attacks from China.
This was an extremely costly scheme, as there was no overland connection available between India and China, and all supplies had to be flown over the Himalayas. B-29s started to arrive in India in early April 1944. The first B-29 flight to airfields in China (over the Himalayas, or "The Hump") took place on 24 April 1944. The first B-29 combat mission was flown on 5 June 1944, with 77 out of 98 B-29s launched from India bombing the railroad shops in Bangkok, Thailand. (Five B-29s were lost to operational causes).
Forward Base in China
On 15 June 1944, 47 B-29s launched from Chengdu, China, bombed the Imperial Iron and Steel Works at Yawata Japan. This was the first attack on Japanese islands since the Doolittle raid in April 1942. The first B-29 combat losses occurred during this raid, with one B-29 destroyed on the ground by Japanese fighters after an emergency landing in China, one lost to anti-aircraft fire over Yawata, and another, the "Stockett's Rocket" (after Capt. Marvin M. Stockett, Aircraft Commander) B-29-1-BW (AF 42-6261), disappeared after takeoff from Chakulia, India, over the Himalayas (12 KIA, 11 crew and one passenger)(Source: 20th Bomb Group Assn.) This raid nearly exhausted fuel stocks at the Chengdu B-29 bases, resulting in a slow-down of operations until the fuel stockpiles could be replenished. Starting in July, the raids against Japan from Chinese airfields continued at relatively low intensity. Japan was bombed on: 7 July 1944 (14 B-29s), 29 July (70+), 10 August (24), 20 August (61), 8 September (90), 26 September (83), 25 October (59), 12 November (29), 21 November (61), 19 December (36) and for the last time on 6 January 1945 (49).
The tactic of using aircraft to ram American B-29s was first recorded on the 20 August raid on the steel factories at Yawata. Sergeant Shigeo Nobe of the 4th Sentai intentionally sliced his Kawasaki Ki-45 into a B-29; debris from the explosion following this attack severely damaged another B-29, which also went down. The B-29s were Colonel Robert Clinksale's B-29-10-BW (AF 42-6334) "Gertrude C" and Captain Ornell Stauffer's B-29-15-BW (AF 42-6368) "Calamity Sue," both from the 486th BG. Several B-29s were to be destroyed in this way over the ensuing months. Although the term Kamikaze is often used to refer to the pilots conducting these attacks, the word was not used by the Japanese military.
B-29s were withdrawn from airfields in China by the end of January 1945. Throughout this prior period, B-29 raids were also launched from China and India against many other targets throughout Southeast Asia. However, the entire B-29 effort was gradually shifted to the new bases in the Marianas Islands in the Central Pacific, with the last B-29 combat mission from India flown on 29 March 1945.
New Air Bases from the Mariana Islands
The need to use the very difficult air bases in China for attacks against Japan ceased after the capture of the Marianas islands in 1944. On the islands of Tinian, Saipan, and Guam five major airfields (three on the flat island of Tinian), each constructed as a base for a four-group wing of B-29s, became the launch sites for the large B-29 raids against Japan in the final year of the war. These islands could be easily supplied by ship. The first B-29 arrived on Saipan on 12 October 1944, and the first combat mission was launched from there on 28 October 1944, with 14 B-29s attacking the Truk atoll. The first mission against Japan from bases in the Marianas was flown on 24 November 1944, with 111 B-29s sent to attack Tokyo. From that point, more-and-more intense raids were launched regularly until the end of the war. These attacks succeeded in devastating almost all large Japanese cities (with the exception of Kyoto and several others), and they gravely damaged Japan's war industries. Although less publicly appreciated, the aerial-mining program carried out by B-29s against Japanese shipping routes and harbor approaches profoundly degraded Japan's ability to support its population and its army to fight the war.
Turning Point with the Nuclear Bomb
Perhaps the most famous B-29 is the Enola Gay, which dropped the atomic bomb "Little Boy" on Hiroshima on 6 August 1945. Bockscar, another B-29, dropped "Fat Man" on Nagasaki three days later. These two actions, along with the Soviet invasion of Manchuria on 9 August 1945, brought about the Japanese surrender, and the official end of World War II. Both aircraft were hand picked for modification from the assembly line at the Omaha plant that was to become Offutt Air Force Base.
Following the surrender of Japan, V-J Day, B-29s were used for other purposes. A number supplied POWs with food and other necessities by dropping barrels of rations on Japanese POW camps. A record-breaking long-distance flight was undertaken for public relations purposes: in September, generals Barney M. Giles, Curtis LeMay and Emmett O'Donnell, Jr. piloted three specially-modified B-29s from Chitose Air Base in Hokkaido to Chicago Municipal Airport, the farthest nonstop distance to that date flown by Army Air Forces aircraft and the first-ever nonstop flight from Japan to the U.S. Heavy headwinds were encountered against expectation, but LeMay's aircraft landed with about 1,000 gallons of fuel left, and might have reached the intended destination of Washington, D. C., 600 statute miles (966 km) further east.
B-29s in Europe
Although considered for other theaters, and briefly evaluated in England, the B-29 was predominantly used in World War II in the Pacific Theater. The use of YB-29-BW (41-36393), the so-named "Hobo Queen," one of the service test aircraft flown around several British airfields in early 1944, was thought to be as a "disinformation" program intended to deceive the Germans into believing that the B-29 would be deployed to Europe. The Hobo Queen even seems to have been featured in a photo in the Nazi newspaper Völkischer Beobachter-the German newspaper's headline showing the photo of the Hobo Queen soon appeared in Boeing factory posters of the era.
Soviet Copying the B-29
On three occasions during 1944, individual B-29s made emergency landings in Soviet territory after bombing raids on Japanese Manchuria and Japan. In accordance with Soviet neutrality in the Pacific War, the bombers were interned and kept by the Soviets, despite American requests for their return.
B-29 "Ramp Tramp"
Captain Howard Jarrell and his 10-man crew took off from Chengdu, China, on 31 July 1944 for a mission against a Japanese steel mill in Anshan, Manchuria. Capt. Jarrell's B-29, called "Ramp Tramp",(B-29-5-BW s/n 42-6256) was assigned to the 462nd (Very Heavy) Bomb Group and was part of a large air strike composed of approximately 100 planes.
At the end of the bomb run, the inboard right engine (No. 3) "ran away" and could not be 'feathered' (setting the variable pitched propeller blades parallel to the airflow to minimize aerodynamic drag). So, the engine had to be shut down this increasing the drag of the unfeathered propeller. This made it so that the plane had to burn more fuel, and would not be able to get back to Chengdu. The pilot headed toward the Allied base at Vladivostok, Russia to land the damaged plane. The Russian air force diplomatically interned the B-29 crew and kept the aircraft.
Reverse Engineering
The Tupolev OKB dismantled and studied Ramp Tramp and the other two B-29s, and Stalin ordered Tupolev and his design bureau to copy the B-29s down to their smallest details, and produce a design ready for quantity production as soon as possible. In 1947, the Soviets debuted both the Tupolev Tu-4 "Bull" copy of the B-29, and the Tupolev Tu-70 transport variant. Similar tail-gunner positions to the B-29 would be incorporated in many later bombers and transports.
Between Wars
The B-29s were outfitted with air filters and monitored debris from above ground nuclear weapons test by the United States and the USSR. The aircraft were also used for long range weather reconnaissance (WB-29).
Korean Conflict and Postwar Service
The B-29 was used in 1950-53 in the Korean War. At first, the bomber was used in normal strategic day-bombing missions, though North Korea's few strategic targets and industries were quickly reduced to rubble. More importantly, in 1950 numbers of Soviet MiG-15 "Fagot" jet fighters appeared over Korea (an aircraft specifically designed to shoot down the B-29), and after the loss of 28 aircraft, future B-29 raids were restricted to night-only missions, largely in a supply-interdiction role. Over the course of the war, B-29s flew 20,000 sorties and dropped 200,000 tons (180,000 tonnes) of bombs. B-29 gunners were credited with shooting down 27 enemy aircraft.
The B-29 was notable for dropping the large "Razon" and "Tarzon" radio-controlled bomb in Korea, mostly for demolishing major bridges, like the ones across the Yalu River and for dams.
The B-29 was soon made obsolete by the development of the jet engined fighter plane. With the arrival of the mammoth Convair B-36, the B-29 was reclassified as a medium bomber with the new Air Force. However, the later B-50 Superfortress variant (which was initially designated B-29D) was good enough to handle auxiliary roles such as air-sea rescue, electronic intelligence gathering, and even air-to-air refueling. The B-50D was replaced in its primary role during the early 1950s by the Boeing B-47 Stratojet, which in turn was replaced by the Boeing B-52 Stratofortress. The final active-duty variants were phased out in the mid-1960s. 3,970 B-29s were built before they were retired in 1960.
Variants 2,3,4
---
The Boeing B-29 Superfortress was produced in a large number of experimental and production models.
XB-29
The XB-29, Boeing Model 345, was the first accepted prototype or experimental model delivered to the Army Air Corps, incorporating a number of improvements on the design originally submitted, including more and larger guns and self-sealing fuel tanks. Two aircraft were ordered in 1940 August, and a third was ordered in December. A mock-up was completed in the spring of 1941, and it first flew on September 21, 1942.
Testing continued until February 18, 1943, when the first prototype crashed. Flown by Boeing's chief test pilot, Edmund T. Allen on a two-hour powerplant performance test, leaking fuel from a filler cap in the leading edge ran down inside the leading-edge and ignited spreading to the engines, due to the much reduced power the aircraft, unable to climb, crashed into the Frye meat-packing plant, demolishing the majority of the packing plant and killing all eleven crew, 22 employees at the plant and one fireman. The crash killed many elite Boeing personnel involved in the design; the pilot, Allen, was chief of the Research Division. After the crash, the United States Army Air Forces and a congressional committee headed by then-Senator Harry S. Truman investigated the B-29 program issuing a scathing report, prompting the Army Air Force to take over the program.
YB-29
The YB-29 was an improved XB-29 and 14 were built for service testing. Testing began in the summer of 1943, and dozens of modifications were made to the planes. The engines were upgraded from Wright R-3350-13s to R-3350-21s. Where the XB-29 had three-bladed props, the YB-29 had four-bladed. Various alternatives to the remote-sighted defensive systems were tested on a number of them, particularly the fourth one delivered. After alternative arrangements had been fully tested, defensive armament was standardized at ten .50-caliber machine guns in turret-mounted pairs. The YB-29 also featured a better fire control system.
B-29
The B-29 was the original production version of the Superfortress. Since the new bomber was urgently needed, the production design was developed in tandem with the service testing. In fact, the first B-29 was completed only two months after the delivery of the first YB-29. 46 B-29s of this variant built by the Glenn L. Martin Company at its Omaha plant were used as the aircraft for the atomic bomb missions, modified to "Silverplate" specifications. 2,513 B-29s were manufactured by Boeing-Wichita (1,620), Bell-Atlanta (357), and Martin-Omaha (536).
B-29A
The B-29A was an improved version of the original B-29 production model. All 1,119 B-29As were built exclusively at the Boeing plant in Renton, Washington, formerly used by the United States Navy. Enhancements made in the B-29A included a better wing design and defensive modifications. Due to a demonstrated weakness to head-on fighter attacks, the number of machine guns in the forward dorsal turrets was doubled to four. Where the wings of previous models had been made by the sub-assembly of two sections, the B-29A began the trend of using three. This made construction easier, and increased the strength of the airframe. The B-29A was produced until May 1946, when the last aircraft was completed. It was much used during the Korean War, but was quickly phased out when the jet bomber became operational. Washington B.Mk 1 - This was the service name given to 88 B-29As supplied to the Royal Air Force.
B-29B
The B-29B was a modification used for low-level raids, designed with the intent of fire bombing Japan. Since fighter opposition was minimal over Japan in late 1944, many of the Army Air Force leadership — most notably Curtis LeMay, commander of the XXI Bomber Command — felt that a (lighter) faster bomber would better evade Japanese flak.
In the B-29B, all defensive armament was removed except for that in the tail turret. Initially the armament was two .50 in M2/AN machine guns and one 20 mm M2 cannon which was soon changed to three .50 in M2/AN's. The weight saved by removing the gun system increased the top speed from 357 mph to 364 mph (574 km/h to 586 km/h). Also incorporated on this version was an improved APQ-7 "Eagle" bombing-through-overcast radar fitted in an airfoil shaped radome under the fuselage. All 311 B-29Bs were built at the Bell plant in Marietta, Georgia ("Bell-Atlanta").
B-29C
The B-29C was a modification of the B-29A re-engined with improved Wright R-3350 engines. The Army Air Force originally ordered 5,000, but canceled its request when World War II ended and none were built.
B-29D (XB-44)
The B-29D was an improved version of the original B-29 design, featuring Pratt & Whitney R-4360-35 engines of 3500 hp (2600 kW) each — nearly 60% more powerful than the Wright R-3350. It also had a taller vertical stabilizer and a strengthened wing. The XB-44 was the testbed designation for the D model. When World War II ended, drastic cutbacks were made in military spending, altering the outlook of the B-29 program. Because Congress was reluctant to continue funding wartime projects, the B-29D was redesignated B-50 to make it appear completely new. Congress fell for the trick, and the B-29D was kept alive, even though no planes flew under the original designation.
Test beds
A number of B-29s were converted to serve as test beds for new systems. These all received variant designation, even though many existed only as a single converted aircraft.
XB-29E
The XB-29E for fire-control systems (one converted) was a model B-29-45-BW.
XB-29F
The B-29F for cold-weather operation in Alaska were six converted B-29-BWs.
XB-29G
It was also used in the development of jet engines. Stripped of armament, a converted B-29B-55-BA (44-24043)(Bell) designated the XB-29G carried experimental jet engines in its bomb bay, which it would extend into the airstream for testing during flight. This plane was used to test the Allison J35, General Electric J47 and J73 jet engines.
XB-29H
The XB-29H to test armament configurations was a converted B-29A.
YB-29J, YKB-29J, RB-29J
Experimentation in engines continued. For example, six B-29s (redesignated YB-29J) of various designation were upgraded to R-3350-79 engines. Other engine-associated items were also upgraded, including new Curtiss propellers, and "Andy Gump" cowlings, in which the oil coolers have separate air intakes. Two were later converted to aerial refueling tanker prototypes, and redesignated YKB-29J. The remainder were used for reconnaissance, and designated RB-29J.
KB-29 Tanker Development
The Boeing KB-29 was a modified Boeing B-29 Superfortress for air refueling needs by the USAF. Two primary versions were developed and produced: KB-29M and KB-29P. The 509th and 43rd Air Refueling Squadrons (Walker AFB, NM and Davis-Monthan AFB, AZ respectively) were created in 1948 to operate the KB-29M tankers. The 303rd Bombardment Wing at Davis-Monthan AFB flew B-29s and KB-29s from 1951 to 1953 that provided training for strategic bombardment and air refueling operations to meet SAC's global commitments. Deployed at Sidi Slimane AB, French Morocco, Oct 5 - Nov 6, 1952.
KB-29M
The B-29 played an important role in developing the effective use of aerial refueling during the late 1940s. The first aircraft involved in this program were the KB-29M tanker and B-29MR receiver. At first, a grappling system was used; the tanker would unreel its hose towards the receiving aircraft, which would grab it and reel it in. After connecting with internal fuel compartments pumping would begin. While this system was clumsy, it was often used in the late 1940s before a better system was developed. It was most notably used to refuel the "Lucky Lady II" during her famous circumnavigation of the globe in 1949. As better techniques developed for refueling, some KB-29Ms were modified to use "probe-and-drogue" systems, in which the refueling hose has a torus-shaped para-drogue attached to the end, and the receiving aircraft has a probe on its nose or wing, which the pilot maneuvers into the drogue to link the hose. One KB-29M, redesignated YKB-29T, was modified to have another two refueling hoses on its wingtip. It served as the prototype for the KB-50D. The refueling systems were developed and installed by Flight Refueling Ltd, at Tarrant Rushton in the United Kingdom.
KB-29P
In an effort to improve on the probe-and-drogue system, Boeing developed a rigid flying boom system, which was first used on the KB-29P. The boom was mounted on the aftmost end of the KB-29P, and had two small wings. With these wings, the boom could be maneuvered by the operator. The flying boom system became the most common method for In-Flight Refueling and was used on KB-50s and KC-97s and also on modern tankers such as the KC-135 Stratotanker and KC-10 Extender.
EB-29
The EB-29 (E stands for exempt), was used as a carrier aircraft in which the bomb bay was modified to accept and launch experimental aircraft. They were converted in the years following World War II. One EB-29 was converted to carry the famous Bell X-1 until it was replaced by a B-50. Another was used to carry and test the XF-85 "parasite fighter." This fighter was intended to be carried by the Convair B-36 on long-range missions to protect it from Soviet fighters. Yet another EB-29 was used to carry two EF-84B Thunderjet fighters as part of Project Tom-Tom. All three Tom-Tom aircraft and their crews were lost in a crash on April 24, 1953.
RB-29J ( RB-29, FB-29J, F-13, F-13A)
Early B-29/B-29As were modified for photo reconnaissance they carried the F-13/F-13A designations. "F" for 'photo'. 118 B-29-BWs and B-29As were modified. The aircraft carried three K-17B, two K-22 and one K-18 cameras. Between the end of the war and 1948 the designation was changed to FB-29J. In 1948, the F-13/FB-29s were redesignated RB-29 and RB-29A.
Six B-29A/F-13As were modified with the Wright 3350-CA-2 fuel injected engines and designated at YB-29Js. These were then converted to RB-29Js.
In January 1949, RB-29s were assigned to the 91st Strategic Reconnaissance Wing and moved to Yokota AB, Japan in December 1950; to provide support to the Korean Conflict and attached to the 15th Air Force, Far East Air Forces.
SB-29
The SB-29 "Super Dumbo" was a version of the B-29 adapted for air-sea rescue duty near the end of World War II. Sixteen 29s were modified to carry a droppable A-3 lifeboat under the fuselage, the SB-29 was used mainly as rescue support for air units that flew long distances over water. With the exception of the forward lower gun turret, all defensive armament was retained. They also carried a variety of radio equipment, provisions, survival kits, and extra crew. It was used throughout the Korean War into the mid-1950s. It received its nickname from "Dumbo", the Disney character, whose name was given to the aircraft used in previous missions to pick airmen up when they crashed at sea.
TB-29
The TB-29 was a trainer conversion of B-29 used to train crew for bombing missions; some were also used to tow targets, and the designation included B-29s modified solely for that purpose. Their most important role was serving as radar targets in the 1950s when the United States Air Force was developing intercept tactics for its fighters.
WB-29
The WB-29s were production aircraft modified to perform weather monitoring missions. They conducted standard data-gathering flights, including from the UK over the Atlantic, but were also ordered to fly into the eye of a hurricane or typhoon to gather information. Following nuclear weapons tests, some WB-29s would use air sampling scoops to test radiation levels.
Airborne Early Warning
In the middle of 1951, three B-29s were modified to participate in the Airborne Early Warning program. The upper section of the forward fuselage was extensively modified to house an AN/APS-20C search radar, and the interior was modified to house radar and Electronic Counter Measures (ECM) equipment. This development led to production radar picket aircraft, including the EC-121 "Warning Star." (×3, converted)
A Soviet-built copy of B-29, Tu-4, was used as the platform for a Chinese experimental airborne early warning aircraft, KJ-1 AEWC, in 1970s.
Navy P2B Patrol Bomber
The Navy acquired four B-29-BWs, March 14, 1947, for long-range patrol missions and given the designation P2B-1S with Navy Bureau numbers, BuNo's 84028-84031. P2B, BuNo 84029, went through modification to carry the Douglas D-558 Skyrocket high-speed rocket-powered research aircraft. Modifications of the bomb bay was done to carry the Skyrocket II under the belly and dropped for Mach speed testing. The first Skyrocket test flight occurred on September 8, 1950 with test pilot William B. Bridgeman, and George Jansen flying the B-29. Scott Crossfield broke Mach 2 on November 20, 1953; with the last Skyrocket flight in December 1956. The P2B "mother-ship" was nick-named "Fertile Myrtle" and was assigned the NACA number 137.
The P2B-2S was an anti-submarine patrol bomber.
XB-39 Superfortress
The XB-39 Superfortress was a single YB-29 modified to use water-cooled Allison V-3420-17 inline engines. Since the Army Air Force was concerned that problems might develop with their first choice of engine, the Wright R-3350, they contracted General Motors to do testing on a modified aircraft to show that it could still be used even if the R-3350 failed. Since the R-3350 did not have significant enough problems to prevent its use, no B-39s were ordered.
Tupolev Tu-4
In 1945, three B-29s were forced to land in Soviet territory after a bombing raid on Japan because of a lack of fuel. Since the Soviet Union was not at war with Japan at the time, the aircraft and crews were interned. Eventually, the B-29 crew members were returned, but the aircraft remained in Russian hands. Seeking a modern long-range bomber, Joseph Stalin ordered the Tupolev OKB to reverse-engineer the Superfortress.
The resulting aircraft first flew in May 19, 1947 and immediately began series production. Although largely identical in appearance to American B-29s the Tu-4 (NATO reporting name: "Bull"), had Soviet-designed defensive guns and had been re-engineered to suit production using metric tools; resulting in an aircraft that was slightly heavier and slower than the B-29. The Tu-4 presented a significant leap forward in Soviet strategic bombing. Not only did the Red Air Force have the means to deliver nuclear weapons, but Tu-4 had sufficient range to reach the United States on a one-way trip. On October 18, 1951, a Tu-4 was used in the first air-drop test of a Soviet atomic bomb.
In Soviet service, the Tu-4 had been phased out of service by the early 1960s, being replaced by more modern aircraft such as the Tupolev Tu-95. Although the "Bull" never dropped a bomb in anger, the Tu-4 influenced Soviet aircraft technology, particularly airframe construction and onboard systems. The People's Liberation Army Air Force of China is rumored to still operate up to 15 upgraded Tu-4s, possibly as AWACS platforms.
Advanced transport and bomber variants of the Tu-4 design such as the Tu-70, 75, 80, and 85, were developed and built, but none of these achieved serial production.
Operators 2
---
Australia: Royal Australian Air Force (two former RAF aircraft for trials)
United Kingdom: Royal Air Force (88 loaned from the USAF as the Washington B.1)
United States: United States Army Air Forces, United States Air Force, United States Navy (four former USAF aircraft)
Survivors 2
---
One B-29 named "Fifi" is currently registered as "airworthy", but it is presently grounded due to costly engine problems. In a joint press release, dated 21 January 2008, the Commemorative Air Force and the Cavanaugh Flight Museum, announced a pledge of $1.2M USD to re-engine Fifi.
One other B-29, named "Doc", has been restored and is now flyable.
Another 23 confirmed B-29s are preserved at various museums worldwide, along with six partial airframes, three airframes in storage and known wreck sites of four more.
The Enola Gay is on display at the Steven F. Udvar-Hazy Center of the National Air and Space Museum at Dulles International Airport, Virginia.
Bockscar is preserved on display at the National Museum of the United States Air Force at Wright-Patterson AFB in Dayton, Ohio.
Specifications (B-29) 2,4
---
General Characteristics
Manufacturer: Boeing (Wichita), Bell (Atlanta), Martin (Omaha)
Crew: 11; (A/C) Airplane Commander, Pilot, Flight engineer (a rated pilot), Bombardier, Navigator, Radio operator, Radar operator, Blister gunners (two), CFC upper gunner, and Tail gunner
Length: 99 ft 0 in (30.2 m)
Wingspan:
Height: 29 ft 7 in (8.5 m)
Wing area: 1,736 ft2 (161.3 m2)
Empty weight: 74,500 lb (33,800 kg)
Loaded weight: 120,000 lb (54,000 kg)
Max takeoff weight: 133,500 lb (60,560 kg — 135,000 lb plus combat load (144,000 lb on record))
Powerplant: 4 × Wright R-3350-23 and 23A turbo-supercharged radial engines, 2,200 hp (1,640 kW) each
Zero-lift drag coefficient: 0.0241
Drag area: 41.16 ft2 (3.82 m2)
Aspect ratio: 11.50
Performance
Maximum speed: 357 mph (310 knots, 574 km/h)
Cruise speed: 220 mph (190 knots, 350 km/h)
Stall speed: 105 mph (91 knots, 170 km/h)
Combat range: 3,250 mi (2,820 nm, 5,230 km)
Ferry range: 5,600 mi (4,900 nm, 9,000 km, (record 5,839 mi, 5,074 nm, 9,397 km))
Service ceiling: 33,600 ft (10,200 m)
Rate of climb: 900 ft/min (4.6 m/s)
Wing loading: 69.12 lb/ft2 (337 kg/m2)
Power/mass: 0.073 hp/lb (121 W/kg)
Lift-to-drag ratio: 16.8
Armament
Guns: 10 × .50 in (12.7 mm) caliber Browning M2/AN's in remote controlled turrets. 2 × .50 in and 1× 20 mm M2 cannon in tail position (the cannon was eventually removed as it proved unreliable in service )
B-29B-BW - All armament and sighting equipment removed except for tail position; initially 2 × .50 in M2/AN and 1 × 20 mm M2 cannon, later 3 × 2 × .50 in M2/AN with APG-15 gun-laying radar fitted as standard.
Bombs: 20,000 lb (9,000 kg) standard loadout.
References
---
Shupek, John. Photos via The Skytamer Archive, copyright © 2001, 2012 Skytamer Images. All Rights Reserved
Hough, Jim. Photos via The Skytamer Archive, copyright © 2004 Jim Hough. All Rights Reserved
Wikipedia, the free encyclopedia. B-29 Superfortress
Wikipedia, the free encyclopedia. B-29 Superfortress variants
Bridgman, Leonard. "Boeing: Boeing Model 345 Superfortress." Jane's All The World's Aircraft 1947. Sampson Low Marston & Company Limited, London, 1947. pp. 190c-191c
---
Copyright © 1998-2020 (Our 22nd Year) Skytamer Images, Whittier, California
ALL RIGHTS RESERVED