Boeing-Stearman E75
United States — WW II USN Biplane Primary Trainer
---
Archive Photos 1
---
[Boeing-Stearman E75 "Red Baron Squadron" (N802RB, s/n 75-6451, 1943) on display (10/10/2012) at the CAF Museum, Falcon Field Airport, Mesa, Arizona (Photo by AFIA)]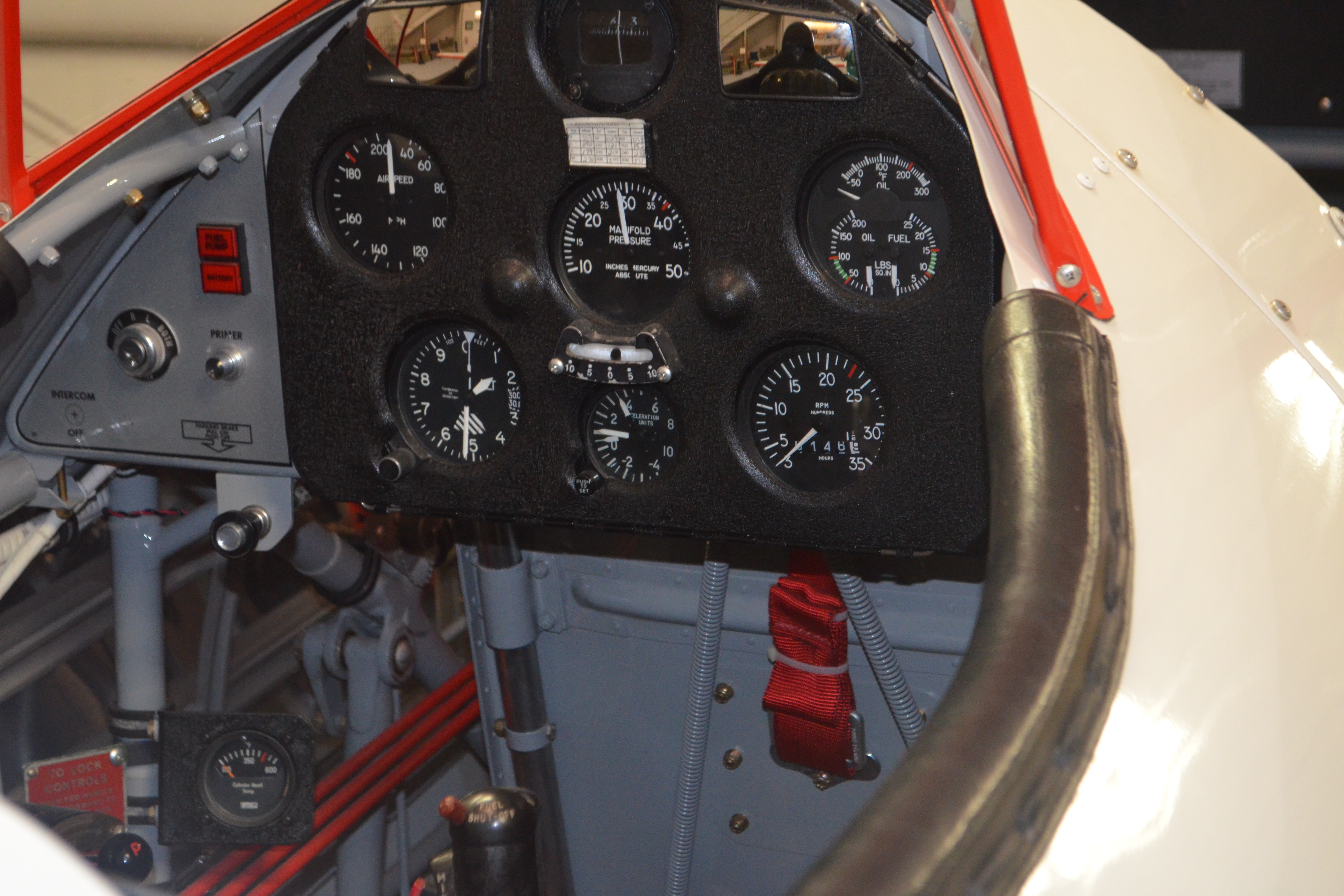 Overview 2
---
The Stearman (Boeing) Model 75 is a biplane, of which 10,346 were built in the United States during the 1930s and 1940s as a military trainer aircraft. Stearman became a subsidiary of Boeing in 1934. Widely known as the "Stearman", "Boeing-Stearman" or "Kaydet", it served as a Primary Trainer (PT) for the USAAF, as a basic trainer for the USN (as the NS1 & N2S), and with the RCAF as the "Kaydet" throughout World War II. After World War II, thousands of surplus aircraft were sold on the civil market. In the immediate post-war years they became popular as crop dusters and as sports planes.
The "Kaydet" was a conventional biplane of rugged construction with large, fixed tailwheel undercarriage, and accommodation for the student and instructor in open cockpits in tandem. The radial engine was usually uncowled, although some Stearman operators choose to cowl the engine, most notably the "Red Baron Stearman Squadron".
The first service training version of the Stearman Model 75 was the PT-13 (Lycoming R-680-5 engine) which was ordered by the Army in 1935. Then followed the PT-17 (Continental R-670-5 engine) in 1940, the PT-18 (Jacobs R-7554 engine) and the PT-27. All were similar, except for the engines fitted and certain minor equipment charges, with the exception of the PT-27 that was built for use in Canada. The PT-27 had the same airframe and power plant as the PT-17 but was fitted with cockpit enclosures and heating, night-flying equipment, blind-flying hood and instruments, etc.
Of the U.S. Navy versions, the N2S-1 and N2S-4 (Continental R-670-4 engine) are similar to the PT-17, the N2S-2 (Lycoming R-680-8 engine) is similar to the PT-13A, the N2S-3 (Continental R-670-4 engine) is similar to the PT-17A, and the N2S-5 (Lycoming R-680 engine) is identical to the PT-13D, these last two aircraft eventually being standardized for unified production for both services.
Production of the "Kaydet" was completed in February 1945, after 10,346 had been built.
Variants 2
---
The US Army Air Forces "Kaydet" had three different designations based on its power plant:
PT-13, with a Lycoming R-680 engine. 2,141 total all models.
PT-13 Initial production. R-680-B4B engine. 26 built. Boeing Model 75.
PT-13A R-680-7 engine. 92 delivered 1937-38. Model A-75.
PT-13B R-680-11 engine. 255 delivered 1939-40.
PT-13C Six PT-13Bs modified for instrument flying.
PT-13D PT-13As equipped with the R-680-17 engine. 353 delivered.
PT-17 with a Continental R-670-5 engine. 3,519 delivered
PT-17A 18 PT-17s were equipped with blind-flying instrumentation.
PT-17B Three PT-17s were equipped with agricultural spraying equipment for pest-control.
PT-18 PT-13 with a Jacobs R-755 engine, 150 built.
PT-18A Six PT-18s fitted with blind-flying instrumentation.
PT-27 Canadian PT-17. This designation was given to 300 aircraft supplied under Lend-Lease to the RCAF.
The US Navy had several versions including:
NS-1 Up to 61 delivered. powered by surplus 220 hp (164 kW) Wright J-5 Whirlwind. Model 73.
N2S Known colloquially as the "Yellow Peril" from its overall-yellow paint scheme.
N2S-1 R-670-14 engine. 250 delivered to the US Navy.
N2S-2 R-680-8 engine. 125 delivered to the US Navy.
N2S-3 R-670-4 engine. 1,875 delivered to the US Navy.
N2S-4 99 US Army aircraft were diverted to the US Navy, plus 577 new aircraft were delivered to the US Navy.
N2S-5 R-680-17 engine. 1,450 delivered to the US Navy.
Operators 2
---
Argentina
Bolivia
Brazil
Canada: Royal Canadian Air Force
China:
Colombia
Cuba
Dominican Republic
Greece
Guatemala
Honduras
Israel
Mexico
Paraguay
Philippines: Philippine Army Air Corps; Philippine Air Force
United States: US Army Air Corps/US Army Air Forces; US Marine Corps; United States Navy
Venezuela
Survivors 2
---
A considerable number of Boeing-Stearmans remain in flying condition throughout the world, as the type remains a popular sport plane and warbird.
Specifications and Performance Data (Model 75) 3
---
Type
Two-seat Primary Training biplane.
Wings
Single-bay unequal-span staggered biplane.
NACA 2213 wing-section.
Center-section carried above the fuselage by splayed-out wire-braced streamline steel-tube struts.
One "N" - type streamline steel-tube interplane strut on each side of the fuselage.
Wing structure consists of spruce laminated spars and ribs, duralumin channel compression struts and steel tie-rod bracing, the whole covered with fabric.
Ailerons, of duralumin construction, on lower wings only.
Fuselage
Welded chrome-molybdenum tubular steel frame, covered forward with metal panels and aft with fabric over aluminum stringer assemblies.
Tail Unit
Monoplane type.
Wire-braced tail-plane and fin.
Welded chrome-molybdenum steel-tube framework and fabric covering.
Trimming-tab in elevator.
Landing Gear
Divided cantilever type.
Each leg incorporates a torque-resisting oleo-spring shock-absorber, enclosed in a metal fairing.
Hydraulic wheel-brakes.
Steerable tail-wheel.
Power Plant
One 220-hp Lycoming R-680 (PT-13 or N2S-2) or
One 220-hp Continental R-670 (PT-17, PT-27, N2S-1, N2S-3 or N2S-4), or
One 225-hp Jacobs R-755 (PT-18) radial air-cooled engine, on steel-tube mounting.
Two-bladed adjustable-pitch metal airscrew.
Petrol tank (43 U.S. gallons = 162.75 L) in center-section.
Oil tank (4 U.S. gallons = 15.14 L) in engine compartment.
Accommodation
Tandem open cockpits, with complete dual controls.
Baggage compartment aft of rear cockpit.
Dimensions
Span: 32 ft 2 in (9.8 m)
Length: 25 ft 1 in (7.63 m)
Height: 9 ft 2 in (2.79 m)
Wing area: 297.4 ft2 (27.6 m2)

Weights and Loadings:

Weight empty: 1,936 lbs (878 kg)
Weight loaded: 2,717 lbs (1,232 kg)
Wing loading: 10.94 lbs/ft2 (44.6 kg/m2)
Power loading 12 lbs/hp (3.85 kg/hp)
Performance
Maximum speed: 124 mph (199.5 km/h)
Cruising speed: at sea level at 65% power: 106 mph (171 km/h)
Landing speed: 52 mph (83.6 km/h)
Initial rate of climb: 840 ft/min (256 m/min)
Service ceiling: 11,200 ft (3,413 m)
Range: 505 miles (812 km)
Endurance at cruising speed 65% power: 4.75 hours.
References
---
Shupek, John. Photos, copyright © 2012 Skytamer Images. All Rights Reserved
Wikipedia, Boeing-Stearman Model 75
Bridgman, Leonard, "Boeing: The Boeing (Stearman 75) "Kaydet"." Jane's All The World's Aircraft 1945/6". Sampson Low Marston & Company Limited, London, 1946. pp. 215c
---
Copyright © 1998-2020 (Our 22nd Year) Skytamer Images, Whittier, California
ALL RIGHTS RESERVED