Beechcraft T-34C Turbo-Mentor
USN Two-seat Turbine-powered Primary Trainer
---
Archive Photos 1
---
[Beechcraft T-34C "Turbo Mentor" (BuNo 160530, c/n GL-87) on display (4/29/89) at the 1989 MCAS El Toro Air Show, MCAS El Toro, Santa Ana, California (Photo by John Shupek copyright © 1989 Skytamer Images)]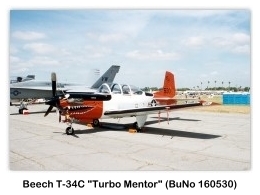 [Beechcraft T-34C "Turbo Mentor" (BuNo 160631, c/n GL-96) on display (c.1990) at the 1990 MCAS El Toro Air Shows, MCAS El Toro, Santa Ana, California (Photo by John Shupek copyright © 1990 Skytamer Images)]
[Beechcraft T-34C "Turbo Mentor" (BuNo 161809, c/n GL-204) on display (c.1992) at the 1992 Hawthorne Air Faire, Hawthorne, CA(Photo by John Shupek copyright © 1992 Skytamer Images)]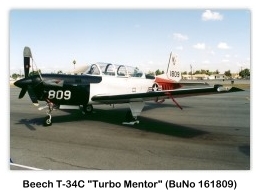 [Beechcraft T-34C "Turbo Mentor" (BuNo 164161, c/n GL-341) on display (c.1990) at the 1990 MCAS El Toro Air Show, MCAS El Toro, Santa Ana, California, (Photo by John Shupek copyright © 1990 Skytamer Images)]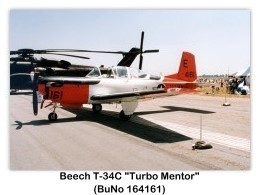 Overview 2
---
The Beechcraft T-34 Mentor is a propeller-driven, single-engined, military trainer aircraft derived from the Beechcraft Model 35 Bonanza. The earlier versions of the T-34, dating from around the late 1940s to the 1950s, were piston-engined. These were eventually succeeded by the upgraded T-34C Turbo-Mentor, powered by a turboprop engine. The T-34 remains in service almost six decades after it was first designed.
Role: Trainer aircraft
National origin: United States
Manufacturer: Beechcraft
First flight: 2 December 1948
Introduced: 1953
Primary users: United States Air Force, United States Navy, Japan Air Self Defense Force, Philippine Air Force
Produced: 1953-1959
Number built: 2,300+
Developed from: Beechcraft Bonanza
Design and Development 2
---
The T-34 was the brainchild of Walter Beech, who developed it as the Beechcraft Model 45 private venture at a time when there was no defense budget for a new trainer model. Beech hoped to sell it as an economical alternative to the North American T-6/NJ Texan, then in use by all services of the U.S. military.
Three initial design concepts were developed for the Model 45, including one with the Bonanza's signature V-tail, but the final design that emerged in 1948 incorporated conventional tail control surfaces for the benefit of the more conservative military (featuring a relatively large unswept vertical fin that would find its way onto the Travel Air twin-engine civil aircraft almost ten years later). The Bonanza's fuselage with four-passenger cabin was replaced with a narrower fuselage incorporating a two-seater tandem cockpit and bubble canopy, which provided greater visibility for the trainee pilot and flight instructor. Structurally the Model 45 was much stronger than the Bonanza, being designed for +10"g" and -4.5"g", while the Continental E-185 engine of 185-hp at takeoff (less than a third of the power of the T-6s engine) was the same as that fitted to contemporary Bonanzas.
Following the prototype were three Model A45T aircraft, the first two with the same engine as the prototype and the third with a Continental E-225, which would prove to be close to the production version. Production did not begin until 1953, when Beechcraft began delivering T-34As to the United States Air Force (USAF) and similar Model B45 aircraft for export. In 1955 production of the T-34B for the United States Navy (USN) began, this version featuring a number of differences reflecting the different requirements of the two services. The T-34B had only differential braking for steering control on the ground instead of nosewheel steering, additional wing dihedral and, to cater for the different heights of pilots, adjustable rudder pedals instead of the moveable seats of the T-34A. T-34A production was completed in 1956, with T-34Bs being built until October 1957 and licensed B45 versions built in Canada (125 manufactured by Canadian Car and Foundry), Japan (173 built by Fuji Heavy Industries), and Argentina (75 by FMA) until 1958. Beechcraft delivered the last Model B45s in 1959. Total production of the Continental-engined versions in the US and abroad was 1,904 aircraft.
Beechcraft Model 73 Jet Mentor 2
---
In 1955 Beechcraft developed a jet-engined derivative, again as a private venture, and again in the hope of winning a contract from the US military. The Model 73 Jet Mentor shared many components with the piston-engined aircraft; major visual differences were the redesigned cockpit which was relocated further forward in the fuselage and the air intakes for the jet engine in the wing roots, supplying air to a single jet engine in the rear fuselage. The first flight of the Model 73, registered N134B, was on 18 December 1955. The Model 73 was evaluated by the USAF, which ordered the Cessna T-37, and the USN, which decided upon the Temco TT Pinto. The Model 73 was not put into production.
Beechcraft T-34C "Turbo-Mentor" 2
---
After a production hiatus of almost 15 years, the T-34C Turbo-Mentor powered by a Pratt & Whitney Canada PT6A-25 turboprop engine was developed in 1973. Development proceeded at the behest of the USN, which supplied two T-34Bs for conversion. After re-engining with the PT6 the two aircraft were redesignated as YT-34Cs, the first of these flying with turboprop power for the first time on 21 September 1973. Mentor production re-started in 1975 for deliveries of T-34Cs to the USN and of the T-34C-1 armed version for export customers in 1977, this version featuring four underwing hardpoints. The last Turbo-Mentor rolled off the production line in 1990.
Operational History 2
---
The first flight of the Model 45 was on 2 December 1948, by Beechcraft test pilot Vern Carstens. In 1950 the USAF ordered three Model A45T test aircraft, which were given the military designation YT-34. A long competition followed to determine a new trainer, and in 1953 the Air Force put the Model 45 into service as the T-34A Mentor, while the USN followed in May 1955 with the T-34B. The US Air Force began to replace the T-34A at the beginning of the 1960's, while the U.S. Navy kept the T-34B operational until the early 1970s. As of 2007, Mentors are still used by several air forces and navies.
The T-34A and T-34C were used by the Argentine Navy during the Falklands War.
In 2004, due to a series of crashes involving in-flight structural failure during simulated combat flights, the entire US civilian fleet of T-34s was grounded by the Federal Aviation Administration. The grounding has since been eased to a series of restrictions on the permitted flight envelope.
The T-34C is still used as the primary training aircraft for United States Navy and Marine Corps pilots. The T-34C is currently being replaced by the T-6 Texan II but is still the primary aircraft at NAS Corpus Christi and NAS Whiting Field. NAS Pensacola has already completed the transition to the T-6 and the first T-6s are scheduled to arrive at Whiting Field in summer 2009.
NASA Dryden Flight Research Center has operated two T-34C aircraft. The first was previously flown at the Glenn Research Center in Cleveland, Ohio, for propulsion experiments involving turboprop engines, and then came to Dryden as a chase aircraft in 1996. That aircraft was returned to the US Navy in 2002. Dryden obtained its second T-34C in early 2005 from the Navy's Air Warfare Center Aircraft Division at NAS Patuxent River, where it was due to be retired. At Dryden, the T-34C is primarily used for chasing remotely piloted unmanned air vehicles which fly slower than NASA's F-18's mission support aircraft can fly. It is also used for required pilot proficiency flying.
The Mentor is the aircraft used by the "Lima Flight Team" and "Dragon Flight", both civilian demonstration teams. It is also used by aerobatic pilot Julie Clark, who flies her T-34 "Free Spirit" (N134JC) at air shows.
Variants 2
---
YT-34: Prototype, three built.
T-34A: US Air Force trainer. Replaced by the Cessna T-37 around 1960 (450 built).
T-34B: US Navy trainer. Used until early 70s when it was replaced by the T-34C (423 built by Beechcraft).
YT-34C: Two T-34Bs were fitted with turboprop engines, and were used as T-34C prototypes.
T-34C Turbo-Mentor: Two-seat primary trainer, fitted with a turboprop engine.
T-34C-1: Equipped with hardpoints for training or light attack. Widely exported.
Turbo-Mentor 34C: Civilian version
T-34 Operators 2
---
Military Operators
Algeria
Argentina: Argentine Air Force, Argentine Navy
Bolivia
Canada
Chile: Chilean Air Force, Chilean Navy (Being replaced by the T-35 Pillán)
Colombia
Dominican Republic
Ecuador
El Salvador
France
Gabon
Greece
Indonesia
Japan:
Mexico
Morocco
Peru
Philippines
Republic of China
Spain
Turkey
United States: United States Air Force, United States Navy, United States Marine Corps, United States Coast Guard
Uruguay
Venezuela
Civil Operators
Chile: Club Aéreo de Santiago
Turkey: Turkish Aeronautical Association, Istanbul Havacilik Kulubu
United States: Dragon Flight, Lima Flight Team, NASA, The San Diego Salute
Specifications T-34C & T-34C-1 Turbo-Mentor 3
---
Type
Two-seat turbine powered primary training and light strike training aircraft.
Wings
Cantilever low-wing monoplane.
Wing section NACA 23016-5 (modified) at root, NACA 23012 at tip.
Dihedral 7°.
Incidence 4° at root, 1° at tip.
No sweepback.
Conventional box beam structure of light alloy.
Ailerons of light alloy construction.
Single-slotted trailing-edge flaps of light alloy.
Manually operated trim tab in port aileron.
Servo tabs in both ailerons.
Fuselage
Semi-monocoque light alloy structure.
Tail Unit
Cantilever structure of light alloy.
Fixed incidence tailplane.
Manually operated trim tabs in elevators and rudder.
Twin ventral fins under rear fuselage.
Landing Gear
Electrically retractable tricycle type.
Main units retract inward, nosewheel aft.
Beech oleo-pneumatic shock absorbers.
Single wheel on each unit.
Mainwheels size 7.00 × 8, pressure 6.20 bars (90.0 psi).
Nosewheel and tire size 5.00 × 5, pressure 4.83 bars (70.0 psi).
Goodyear multiple-disc hydraulic brakes.
Power Plant
One 533 kW (715 shp) Pratt & Whitney Canada PT-6A-25 turboprop, torque limited to 298 kW (400 shp), driving a Hartzell three-blade constant-speed fully-feathering metal propeller with spinner.
Version of same engine derated to 410 kW (550 shp) is available optionally.
Two bladder fuel cells in each wing, in inboard leading-edge and aft of main spar outboard of landing gear; total usable capacity 492 L (130 US gallons; 108 Imp gallons).
Oil capacity 15 L (4 US gallons; 3.33 Imp gallons).
Accommodation
Instructor and pupil in tandem beneath rearward sliding cockpit canopy.
Cockpit ventilated, heated by engine bleed air and air-conditioned.
Dual controls standard.
All armament controls in forward cockpit of T-34C-1.
Systems
Hydraulic system for brakes only.
Pneumatic systems for emergency opening of cockpit canopy.
Diluter demand, gaseous oxygen system, pressure 103.5 bars (1,500 psi).
Electrical power supplied by 250A starter/generator.
Freon air-conditioner for cockpit cooling.
Avionics and Equipment
Standard avionics can include UHF or VHF com, VOR or Tacan nav, DME, transponder, angle of attack indicator, ADF, marker beacon receiver, compass and intercom system.
R/Nav, Loran, HF specialized tactical systems available to customer's requirements.
U.S. Navy T-34C has ARC-159V UHF cam, VIR-30A VOR/Omni, dual 255Y-1 ICS/audio, TCN-40 Tacan and PN-101 remote compass, all by Collins; TDR-950 transponders and a CIR-11-2 emergency locator transmitter.
Blind-flying instrumentation standard.
Electrically heated pitot.
Armament (T-34C-1)
CA-513 fixed-reticle reflector gun sight.
For underwing hard points are provided for the carriage of stores.
The inboard stations are rated at 272 kg (600 lb) each, the outboard stations at 136 kg (300 lb) each, with a maximum load of 272 kg (600 lb) each side 544 kg (1,200 lb) total.
Weapons which can be carried on MA-4 racks include: AF/B37K-1 bomb containers with practice bombs or flares; LAU-32 or LAU-59 rocket pods; Mk.81 bombs; SUU-11 Minigun pods; BLU-10/B incendiary bombs; AGM-22A wire guided anti-tank missiles; and TA8X towed target equipment.
Dimensions, External
Wing span: 10.16 m (33 ft 3.875 in).
Wing chord at root: 2.55 m (8 ft 4.50 in)
Wing chord at tip: 1.05 m (3 ft 5.25 in)
Wing aspect ratio: 6.22
Length overall: 8.75 m (28 ft 8.50 in)
Height overall: 2.92 m (9 ft 7 in)
Tailplane span: 3.71 m (12 ft 2.125 in).
We will track: 2.95 m (9 ft 8 in).
Wheelbase: 2.41 m (7 ft 11 in).
Propeller diameter: 2.29 m (7 ft 6 in).
Propeller ground clearance: 0.29 m (11 ft 11.25 in).
Dimensions, Internal
Cabin length: 2.75 m (9 ft 0 in).
Cabin maximum width: 0.86 m (2 ft 10 in).
Cabin maximum height: 1.22 m (4 ft 0 in)
Areas
Wings, gross: 16.69 m2 (179.6 ft2).
Ailerons (total): 1.06 m2 (11.4 ft2).
Trailing-edge flaps (total): 1.98 m2 (21.3 ft2)
Fin: 1.20 m2 (12.9 ft2).
Rudder, including tab: 0.64 m2 (6.9 ft2).
Tailplane: 3.46 m2 (37.2 ft2).
Elevators, including tabs: 1.26 m2 (13.6 ft2)
Weights and Loading
Weight empty (T-34C): 1,342 kg (2,960 lb)
Weight empty (T-34C-1): 1,356 kg (2,990 lb)
Maximum takeoff and landing weight (T-34C): 1,950 kg (4,300 lb)
Maximum takeoff and landing weight (T-34C-1, strike role): 2,494 kg (5,500 lbs)
Maximum ramp weight (T-34C): 1,962 kg (4,325 lb)
Maximum wing loading (T-34C): 108.3 kg/m2 (22.2 lb/ft2)
Performance (T-34C, at T/O weight of 1,910 kg; 4,210 lb, except where indicated)
Never-exceed speed: 280 knots (518 km/h; 322 mph)
Maximum cruising speed at 5,180 m (17,000 ft): 314 knots (396 km/h; 246 mph)
Stalling speed, flaps down, power off, at typical landing weight of 1,588 kg (3,501 lb): 53 knots (98 km/h; 61 mph)
Maximum rate of climb: at sea level: 451 m/min (1,480 ft/min)
Service ceiling: over 9,145 m (30,000 ft)
Takeoff run: 352 m (1,155 ft)
Takeoff run to 15 m (50 ft): 586 m (1,920 ft)
Landing run from 15 m (50 ft): 547 m (1,795 ft)
Landing run: 226 m (740 ft)
Range with maximum fuel at 181 knots (335 km/h; 208 mph) at 305 m (1,000 ft): 427 nm (790 km; 491 miles)
Range with maximum fuel at 202 knots (374 km/h; 232 mph) at 3,050 m (10,000 ft): 523 nm (968 km; 601 miles)
Range with maximum fuel at 180 knots (333 km/h; 207 mph) at 6,100 m (20,000 ft): 708 nm (1,311 km; 814 miles)
"g"-limits: +6/-3
Performance (T-34C-1 with 410 kW; 550 shp engine, estimated. [A] with two stores at AUW of 2,222 kg; 4,900 lb. [B] with four stores at AUW of 2,494 kg; 5,500 lb, except where indicated)
Maximum level speed at 5,500 m (18,000 ft): [A] 209 knots (387 km/h; 241 mph); [B] 206 knots (382 km/h; 237 mph)
Stalling speed, flaps down, idle power: [A] 65 knots (120 km/h; 75 mph) CAS; [B] 69 knots (128 km/h; 80 mph) CAS
Maximum rate of climb: at sea level: [A] 540 m/min (1,771 ft/min); [B]436 m/min (1,431 ft/min)
Typical combat radius: FAC mission at AUW of 2,429 kg (5,355 lb), with four stores and optional max fuel, including 2.6 hr loiter over target and 20 min +5% reserves: 100 nm (185 km; 115 miles)
Strike mission at AUW of 2,473 kg (5,452 lb), with four stores and optional max fuel, including 20 min +5% reserves: 300 nm (555 km; 345 miles)
References
---
Shupek, John. Photos via The Skytamer Archive, copyright © 1989, 1990, 1992 Skytamer Images. All Rights Reserved
Wikipedia, the free encyclopedia. T-34 Mentor
Taylor, John W.R. and Munson, Kenneth. "Beechcraft T-34C," Jane's All The World's Aircraft 1987-88, London: Jane's Yearbooks, 1987, ISBN 0-7106-0850-0, pp 251
---
Copyright © 1998-2020 (Our 22nd Year) Skytamer Images, Whittier, California
ALL RIGHTS RESERVED