Beechcraft Model D50A Twin Bonanza
United States — Twin-engine six/seven-seat cabin monoplane
---
Archive Photos
---
Beechcraft D50A "Twin Bonanza" (N925DJ, s/n DH-195) at the 2006 Camarillo Air Show, Camarillo, CA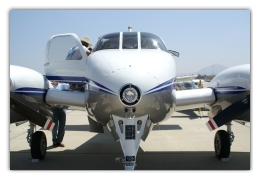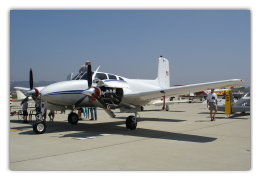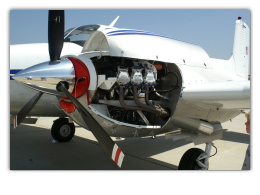 Overview
---
The Beechcraft Model 50 Twin Bonanza was a small twin-engine aircraft designed by Beechcraft as an executive transport for the business market. It was developed to fill a gap in Beechcraft's product line between the single-engine Model 35 Bonanza and the larger Model 18. The Twin Bonanza is about 50% larger than the Bonanza, has more powerful engines, and is significantly heavier, while in its earliest form having only half the passenger capacity of the Model 18.
Role: Utility aircraft
Manufacturer: Beech Aircraft Corporation
First flight: 15 November 1949
Introduced: 1952 (US Army)
Retired: 1992 (US Army)
Status: Active in general aviation
Primary user: Private operators
Produced: 1952-1961
Number built: 994
Variants: L-23/U-8 Seminole, Queen Air, King Air
Development
---
The single-engine Bonanza is one of history's most successful civil aircraft, in production since 1947. Like many light aircraft, a twin-engine derivative was developed in an effort to improve performance, but this was the Model 95 Travel Air (and later the Model 95-55 Baron, its descendant still in production in late 2007 as the Model G58). The Twin Bonanza is not a true twin-engine derivative of the Bonanza, however it superficially resembles the Travel Air (which was designed later).
The Twin Bonanza first flew on 15 November 1949 after a rapid development, only begun in April. The Model 50's type certificate was awarded in 1952, and production began the same year. The United States Army adopted the Twin Bonanza as the L-23 Seminole utility transport, making it the largest fixed-wing aircraft in the inventory at that time. During an initial demonstration flight for the Army, a Twin Bonanza crashed while trying to take off over a 50-foot (15 m) tree line while full of soldiers and sandbags. Everyone on board walked away from the crash. The Army was impressed with the structural strength of the Twin Bonanza, eventually purchasing 216 of the 994 examples produced. It was also the first twin-engine aircraft in its class to be offered to the business market, but the Korean War was raging in the early 1950s and the US Army took almost the entire production for 1952 and 1953.
The Beechcraft Model 65 Queen Air and Model 90 King Air are both direct descendants of the Model 50 Twin Bonanza. All three aircraft share the same basic wing design, as well as landing gear, flaps, instrument panels, fuel cells, and more. The Queen Air added a larger cabin to the design, while the later King Air added turbine power and pressurization. Twin Bonanza production ended in 1963 while the King Air was under development.
Variants
---
Model 50: Initial production version powered by two Lycoming GO-435-C2 engines, 66 built (mostly for the US Army).
Model B50: Upgraded Model 50 with increased take-off weight, extra cabin windows and improved cabin heating, 139 built (40 for the US Army).
Model C50: Superseded the B50; fitted with 275 hp (205 kW) Lycoming GO-480-F1A6 engines, 155 built (one to United States Air Force).
Model D50: Superseded the C50; fitted with 295 hp (220 kW) Lycoming GO-480-G2C6 engines, 154 built (six to US Army).
Model D50A: Upgraded D50 fitted with GO-480-G2D6 engines, 44 built.
Model D50B: Upgraded D50A with new passenger steps and improved baggage area, 38 built.
Model D50C: Upgraded D50B with starboard airstair entry door, three rows of seats, improved air conditioning, larger baggage area, 64 built.
Model D50E: Upgraded D50C with extra port side window, squared-off rear starboard window, pointed nose and 295 hp (220 kW) Lycoming GO-480-G2F6 engines, 47 built.
Model E50: Superseded the D50; with increased take-off weight and 340 hp (250 kW) super-charged GSO-480-B1B6 engines, 181 built (mostly for the US Army).
Model F50: Superseded the D50A with GSO-480-B1B6 engines, 26 built including one converted to G50 standard.
Model G50: Superseded the D50B with 340 hp (250 kW) IGSO-480-A1A6 engines, increased fuel capacity and increased take-off weight, one conversion from F50 plus 23 built.
Model H50: Superseded the D50C with increased take-off weight and IGSO-480-A1A6 engines, 30 built.
Model J50: Superseded the D50E with 340 hp (250 kW) IGSO-480-A1B6 engines and increased take-off weight, 27 built.
Excalibur 800: A modification designed originally by Swearingen Aircraft and taken over by the Excalibur Aviation Company which re-engines the Twin Bonanza with two 400hp (298kW) Avco Lycoming IO-720-A1A flat-eight engines in a new cowling and revised exhaust system. Other optional improvements were also available.
Military Operators
---
Chile: Chilean Air Force (C50)
Colombia: Colombian Air Force (D50)
Switzerland: Swiss Air Force (E50)
Uruguay: Uruguayan Air Force
Specifications (E50)
---
General Characteristics
Crew: 1-2 pilots
Capacity: 5 passengers
Length: 31 ft 6 in (9.61 m)
Wingspan:
Height: 11 ft 6 in (3.51 m)
Wing area: 277 ft2 (25.7 m2)
Empty weight: 5,010 lb (2,270 kg)
Max takeoff weight: 7300 lbs (3311 kg)
Powerplant: 2 × Lycoming GSO-480-B1B6, 340 hp (253 kW) each
Performance
Maximum speed: 229 mph (199 knots, 366 km/h)
Range: 1,000 mi (870 nm, 1,600 km)
Service ceiling: 30,000 ft (9144 m)
Rate of climb: 1,614 ft/min (8.2 m/s)
References
---
Shupek, John. Photos via The Skytamer Archive, copyright © 2009 Skytamer Images. All Rights Reserved
Wikipedia, the free encyclopedia. Beechcraft Twin Bonanza
---