Avro (Federal) 652A "Anson" Mk.V-P
United Kingdom — twin-engine reconnaissance training monoplane
---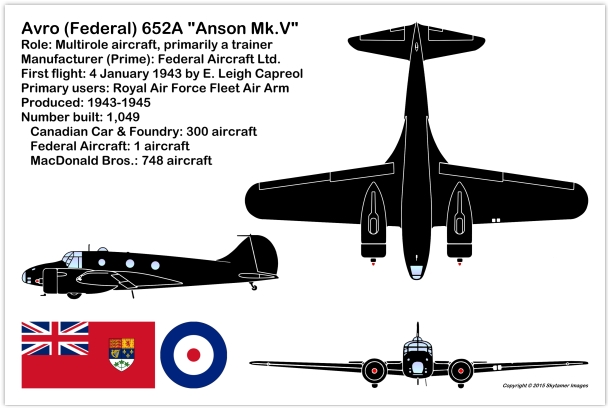 Archive Photos 1
---
Avro 652A "Anson Mk.V-P" (RCAF 12417, CF-HOT, c/n BRC1567, Canadian Warplane Heritage Museum, 9/22/2003 Photos by John Shupek]
Note: Canadian built by Federal Aircraft, Ltd.
Overview 2,3
---
Avro (Federal) 652A "Anson V"
Role: Multi-role aircraft, primarily a trainer
Manufacturer (Prime): Federal Aircraft Ltd.
First flight: 4 January 1943 by E. Leigh Capreol 3
Primary users: Royal Air Force Fleet Air Arm
Produced: 1943-1945 3
Total Number of Mk. V's built (includes Mk. V-Ps): 1,049 3

Canadian Car & Foundry: 300 aircraft 3
Federal Aircraft: 1 aircraft 3
MacDonald Bros.: 748 aircraft 3
In connection with the first Empire Air Training Scheme over 1,500 Avro "Anson" twin-engine trainers had to be provided. Originally, the proportion of these and quantities of component were to have been supplied by the British government but owing to home needs it eventually fell to the responsibility of Canada to undertake production of the type.
Eleven Canadian aircraft plants were entrusted with the manufacturing or assembling of the major components and in order to co-ordinate the output of Ansons and to expedite production of the complete machines, steps were taken in 1940 to segregate this work from the remainder of the aircraft program and place it under one management and direction. For this purpose Federal Aircraft, Limited, a wholly-owned government Company, was formed with headquarters in Montréal in July 1940.
The Canadian Federal &ldquol;Anson II was basically the English Avro Anson but had been modified to provide for the installation of two 330 h.p. Jacobs L-6BM engines in place of the Armstrong Siddeley Cheetah engines, which called for new cowlings and nacelles ; the fitting of Dowty hydraulic landing-gear retraction instead of the manually-operated type; and the use of Canadian-made auxiliaries - controls, instruments, piping, flexible tubing, conduits and all other materials and parts. An interesting feature of the Canadian Anson II was the use of a moulded plastic-plywood nose section made by the Vidal process. Otherwise, similarity in design permitted parts being approximately 75% interchangeable with the British Anson.
The first Federal Anson II flew in August, 1941, and by the end of August, 1943, Federal Aircraft Ltd. had supervised the construction of over 2,000 aircraft, with a spares replacement varying from 10 to 50 per cent. Federal-built Anson II advanced trainers have been supplied to the U.S. Army Air Forces under the designation AT-20.
Additional requirements under the 1942 Combined Training Plan increased the number of Ansons to be manufactured in Canada under the supervision of Federal Aircraft, Ltd. and two new models, the Federal Anson V navigational trainer and the Federal Anson VI bombing and gunnery trainer were developed.
The Federal Anson V and Federal Anson VI differ in many respects from the Anson II. Major changes include the incorporation of fuselages and numerous sub-components and parts of moulded plastic-bonded plywood, and the use of a different and more powerful type of engine. Production of these new types began early in the last quarter of 1942.
Avro (Federal) "Anson V" Specifications and Performance Data 2
---
Type
Twin-engine Navigational trainer (Mk. V)
Twin-engine Reconnaissance trainer (Mk. V-P)
Wings
Low-wing cantilever monoplane.
Same as for British Anson.
In five sections, four of which are of moulded veneer construction made by the Vidal process, the pilot's cabin section being of tubular steel construction similar to that used in the original Anson.
The moulded veneer sections are formed on mandrels and bonded by hot-setting urea-formaldehyde resin glues.
The skin veneers being bonded together and to frame members longerons and stringers by application of heat and pressure.
Longerons and stringers are of solid poplar or pine, transverse frames of laminated construction.
All other glued joints such as the longitudinal joints of the fuselage sectional halves, floor framework, reinforcing pads, etc. are made with cold-setting glue and pressure.
Before half-sections are spliced and glued together all openings such as doors, windows, escape hatches, etc. are cut out.
Half sections of each longitudinal section are joined by gluing before installation of fittings.
The five-section design permits the rapid installation of internal fittings prior to the bolting together of the complete sections.
The sections are joined by four bolts loaded axially.
Final covering of madapolam and one coat of clear and two of aluminium dope.
Tail Unit and Landing Gear
Same as for British Anson except that landing gear has Dowty hydraulic retraction.
Power Plant
Two Pratt & Whitney Wasp-Junior R-985AN-12B or 14B nine-cylinder radial air-cooled engines.
Four fuel tanks in wing.
Total fuel capacity 140 Imp. gallons.
Accommodation
Crew of five.
Pilot's cabin seats two side-by-side with pilot on port side.
Three desks on port wall of main cabin for two navigators and radio-operator.
Adjustable counter poise lamp to each navigator's desk in addition to overhead illumination.
Cabin heating and ventilation.
Astro-dome with hot-air de-icing jet.
Camera hatch in floor.
Entrance door on starboard side aft of wings has quick-release hinges and racks for four crew parachutes grouped round door.
Emergency escape hatches are also located centrally above the pilot and co-pilot and at the main cabin window on port side.
Sliding windows alongside pilot and co-pilot.
Mk. VI differs mainly by introduction of hydraulically-operated Bristol Mk. IV gun-turret and elimination of astro-dome.
Dimensions
Span: 56 ft 6 in (17.2 m)
Length: 42 ft 3 in (12.9 m)
Height: 13 ft 1 in (4 m)
Wing area (gross): 463 ft2 (43.1 m2).
Weights
Weight empty: 6,693 lbs (3,040 kg)
Normal loaded weight: 9,275 lbs (4,210 kg)
Maximum permissible loaded weight: 9,460 lbs (4,295 kg).
Performance
Maximum speed: 190 mph (304 km/h) at 5,000 ft (1,525 m)
Cruising speed: 145 mph (232 km/h)
Stalling speed (with flaps): 66 mph (105.6 km/h)
Stalling speed (without flaps): 73 mph (116.8 km/h)
Maximum rate of climb: 1,500 ft/min (457.5 m/min)
Average rate of climb to 10,000 ft (3,050 m): 1,300 ft/min. (396.5 m/min)
Rate of climb (single engine): 400 ft/min (122 m/min)
Service ceiling: 21,462 ft (6,546 m)
Single-engine ceiling: 7,800 ft (2,380 m)
Duration: 4 hours.
References
---
Shupek, John. "Avro 652A Anson Mk.V," The Skytamer Archive, Copyright © 2009 Skytamer Images. ALL RIGHTS RESERVED
Bridgman, Leonard. "Federal: The Federal Anson V and VI." Jane's All The World's Aircraft 1945/6. Sampson Low, Marston & Company Ltd., London, 1946. pp. 87c-88c.
Molson, K. M. and H. A. Taylor. "Avro 65A Anson V and VI" Canadian Aircraft since 1909. Canada's Wings, Inc, Ontario, Canada, 1982. ISBN 0-920002-11-0, pp. 60-64
---
Copyright © 1998-Present, Skytamer Images, Whittier, California
ALL RIGHTS RESERVED