Avro 652A "Anson" Mk.I
United Kingdom — twin-engine advanced training monoplane
---
Archive Photos
---
Avro 652A "Anson Mk.I" (K6152, Jane's All the World's Aircraft 1936)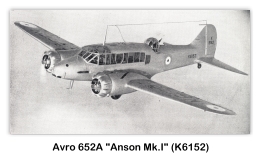 Avro "Anson Mk.I" (G-AMDA) at the Imperial War Museum Duxford, Cambridgeshire, England, c. 1994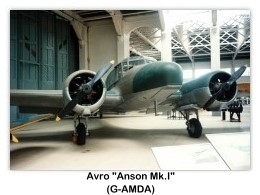 Avro 652 "Anson", K6152 (Aeroplanes & Carriers, Amalgamated Press, 1936, UK, Card 6 of 32)
Avro 652 Anson (Aeroplane Series, SYS-1, Sydney Whole Wheat Bloks, Australia, 7 of 56)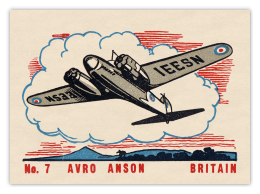 Overview
---
Avro Anson
Role: Multi-role aircraft, primarily a trainer
Manufacturer: Avro
First flight: 24 March 1935
Introduced: 1936
Retired: 28 June 1968 (RAF)
Primary users: Royal Air Force Fleet Air Arm
Produced: 1930s-1952
Number built: 11,020
The Avro "Anson" was a British twin-engine, multi-role aircraft that served with the Royal Air Force, Fleet Air Arm and numerous other air forces during the Second World War and afterwards. Named for British admiral George Anson, it was originally designed for maritime reconnaissance, but was soon rendered obsolete. However it was rescued from obscurity by its suitability as a multi-engine air crew trainer, becoming the mainstay of the British Commonwealth Air Training Plan. By the end of its production life in 1952, the Anson spanned nine variants and a total of 8,138 had been built in Britain by Avro and, from 1941, a further 2,882 by the Canadian Federal Aircraft Ltd.
Design and Development
---
The Anson was evolved from the Avro 652 commercial monoplane which was designed and built to the order of Imperial Airways in 1933. The Avro 652A, or "Anson Mk.I", went into service in the RAF in 1936 as a General Reconnaissance monoplane. It was also adapted for certain specialized training duties. Before the end of its operational career with Coastal Command the Anson had been earmarked to be the standard twin-engine trainer for the Commonwealth Air Training Plan then being organized in Canada. Production of the trainer was originally to be undertaken in England but owing to the grave war situation and the shortage of shipping space in 1940 the decision was taken to build the Anson in Canada and to equip it with engines of American design which were then readily available.
A Government-owned company, Federal Aircraft, Ltd., was set up to handle Anson production in Canada, the Dominion being responsible for the production of the Anson II, III, V and VI. The Mark numbers VIT, VIII and IX were allotted for use in Canada but they were never used. Production continued in England to meet domestic needs, the British versions being the Mk. I, X, XI, and XII.
A distinctive feature of the "Anson Mk.I" was its landing gear retraction mechanism which required no less than 140 turns of the hand crank by the pilot. To forgo this laborious process, early model Ansons often made short flights with the landing gear extended at the expense of 30 mph (50 km/h) of cruise speed.
A total of 11,020 Ansons were built by the end of production in 1952, making it the second-most-numerous (after the Vickers Wellington) British multi-engine aircraft of the war.
Operational History
---
At the start of the Second World War, there were 26 RAF squadrons operating the Anson I; ten with Coastal Command and 16 with Bomber Command. However, by this time, the Anson was obsolete in the roles of bombing and coastal patrol and in the process of being superseded by the Armstrong Whitworth Whitley and Lockheed Hudson.
Limited numbers of Ansons continued to serve in operational roles such as coastal patrols and air/sea rescue. Early in the war, an Anson scored a probable hit on a German U-boat. In June 1940, a flight of three Ansons was attacked by nine Luftwaffe Messerschmitt Bf.109s. Remarkably, the Ansons downed two German aircraft "and damaging a third before the 'dogfight' ended", without losing any of their own. The aircraft's true role, however, was to train pilots for flying multi-engine bombers such as the Avro Lancaster. The Anson was also used to train the other members of a bomber's air crew, such as navigators, wireless operators, bomb aimers and air gunners. Postwar, the Anson continued in the training role and light transport roles. The last Ansons were withdrawn from RAF service with communications units on 28 June 1968.
The Royal Australian Air Force operated 1,028 Ansons, mainly Mk.Is, until 1955. The Royal Canadian Air Force and Royal Canadian Navy operated Ansons until 1952. The USAAF employed 50 Canadian-built Ansons, designated as the AT-20.
The Royal New Zealand Air Force operated 23 Ansons as navigation trainers in the Second World War, (alongside the more numerous Airspeed Oxford), and acquired more Ansons as communication aircraft immediately after the war. A preserved navigation trainer is in the Royal New Zealand Air Force Museum at Wigram.
The Egyptian Air Force operated Ansons in communications and VIP duties. A specially outfitted Anson was gifted to the then King by the Royal Air Force. The Royal Afghan Air Force obtained 13 Anson 18 aircraft for various duties from 1948. These aircraft survived through 1972.
Postwar Civil Use
---
After the war, Ansons continued in civilian use as light transports for small charter airlines and as executive aircraft for industrial companies. Countries which saw civilian operations with Ansons included Great Britain, Canada, Australia and Denmark. Railway Air Services operated Ansons on scheduled services from London via Manchester to Belfast during 1946-1947.
India ordered twelve new Anson 18Cs in 1948 for use by the Directorate of Civil Aviation as trainers and communications aircraft, and these were delivered from Woodford in spring 1949. Avro Ansons continued to be used by the RAF in the role of Station Communications Aircraft, well into the 1960's.
Variants
---
The main Anson variant was the Mk I, of which 6,704 were built in Britain. The other variants were mainly distinguished by their powerplant with Canadian-built Ansons using local engines. To overcome steel shortages, the 1,051 Canadian-built Mk.V Ansons featured a plywood fuselage.
Anson Mk.I: Two 320 hp Armstrong Siddeley Cheetah IX engines. Originally built as a General Reconnaissance aircraft and armed with one fixed forward-firing Vickers .303 in machine-gun in port side of the nose and one Lewis or Vickers K .303 in gun in an Armstrong Whitworth manually-operated turret amidships. Internal stowage for two 100 lbs bombs and external racks for eight 20 lbs bombs, flares or smoke-floats. Manually-operated landing-gear and flaps. Normal loaded weight 7,663 lbs (3,476 kg). Maximum permissible loaded weight 8,000 lbs (3,627 kg). On being withdrawn from operational use, the Anson I was converted for navigation or armament training. In former version turret deleted. Production Anson I armament trainers fitted with a Bristol Mk. VI hydraulically-operated turret. 6,688 Mk Is were built. Powered by two 350 hp (261 kW) Armstrong Siddeley Cheetah IX or 395 hp (295 kW) XIX engines.
Anson Mk.II: Canadian-built under the ægis of Federal Aircraft, Ltd. Two 330 hp Jacobs L-6BM engines in new nacelles. Hydraulically-operated Dowty landing-gear retraction. Canadian-built accessories. Moulded plastic-plywood nose. Otherwise similarity in design permitted parts being approximately 75% interchangeable with the British-built Anson. The first Anson Il flew in August, 1941. Standard advanced trainer in the Commonwealth Joint Air Training Program. The Anson II was supplied to the U.S. Army Air Forces under the designation AT-20. 1,822 Mk IIs were built in Canada; powered by two 330 hp (246 kW) Jacobs L-6MB R-915 engines and fitted with hydraulic landing gear retraction rather than the manual system used on the Anson I.
Anson Mk.III: Anson III: British-built airframes converted in Canada by The de Havilland Aircraft of Canada, Ltd. to take two 330 hp (250 kW) L-6MB R-915 engines; British-built.
Anson Mk.IV: British-built airframes converted in Canada to take two Wright Whirlwind R-975-E3 engines. Only a few converted.
Anson Mk.V: Canadian-built under the ægis of Federal Aircraft Ltd. Two 450 hp Pratt &amo; Whitney R-985-AN-14B engines. Navigational trainer. New fuselage mainly of plastic-plywood construction. First Anson V flew in November, 1942. 1,069 Mk. Vs were built in Canada for navigator training.
Anson Mk.VI: Similar to Anson V except equipped as a bombing and gunnery trainer. Fitted with Bristol Mk. VI hydraulically-operated gun turret. One aircraft was built in Canada for bombing and gunnery training; powered by two 450 hp (340 kW) Wasp Junior engines.
Anson Mk.X: Two 320 hp Armstrong Siddeley Cheetah IX engines. Conversion of Anson I for light transport use. Strengthened floor. Loaded weight 9,450 lbs (4,290 kg). 104 Anson Mk Is were converted into Mk.X's.
Anson Mk.XI: Two Armstrong Siddeley Cheetah XIX engines driving Fairey-Reed fixed-pitch metal airscrews. Light transport. Raised cabin roof to give more headroom in cabin. Crew of two and six passengers or light freight. Hydraulically-operated landing-gear and flaps. 90 Anson Mk Is were converted into Mk.X Is
Anson Mk.XII: Two 420 hp Armstrong Siddeley Cheetah XV engines driving Rotol two-blade constant-speed airscrews. Otherwise similar to Anson XI. In civil guise this is the Avro XIX. Loaded weight 9,500 lbs (4,313 kg). 20 Anson Mk I's were converted into Mk.XIIs, plus 221 new Mk XII aircraft were built.
Anson Mk.XIII: Gunnery trainer powered by two Cheetah XI or XIX engines; never built.
Anson Mk.XIV: Gunnery trainer powered by two Cheetah XV engines; never built.
Anson Mk.XV: Bombing trainer; never built.
Anson Mk.XVI: Navigation trainer; never built.
Anson C.19: 264 were built for the RAF; used as communications and transport aircraft.
Anson T.20: 60 aircraft were built for the RAF; used for bombing and navigation training in Southern Rhodesia.
Anson T.21: Navigation trainers for the RAF; 252 aircraft were built.
Anson T.22: Radio trainers for the RAF; 54 aircraft were built.
Anson 18: Developed from the Avro Nineteen; 12 aircraft were sold to the Royal Afghan Air Force for use as communications, police patrol and aerial survey aircraft.
Anson 18C: 13 aircraft were built for the Indian government; used for training civil aircrews.
Avro Nineteen: (Also known as the Anson XIX): Civil transport version; 56 aircraft were built in two series.
AT-20: United States military designation for Canadian-built Anson IIs used by the United States Army Air Force, 50 built.
Military Anson Operators
---
Afghanistan: 13 Anson 18 aircraft were delivered to the Afghan Air Force from 1948 and retired by 1972.
Argentina: At least one, LV-FBR, in use in 1960.
Australia: 1,028 Ansons were operated by the Royal Australian Air Force, retiring in 1955
Belgium: Belgian Air Force (15 × Anson I, 2 × Anson 12 operated 1946 to 1954)
Botswana:
Canada: Royal Canadian Air Force and Royal Canadian Navy Ansons were retired in 1952.
Cuba: Three Canadian-built Ansons were transported to Cuba, operated by ANSA-Aerolineas del Norte S.A., a regional airline from 1947 through the mid-1950s.
Egyptian Air Force:
Estonia: Estonian Air Force
Ethiopia:
Finland: Finnish Air Force
France:
Greece: Hellenic Royal Air Force
Iran:
Iraq:
Ireland: Irish Air Corps
Israel:
Netherlands:
New Zealand: Royal New Zealand Air Force
Norway:
Paraguay: Paraguayan Air Arm 1 Mk.V bought in Argentina in 1947.
Portugal:
Rhodesia: Royal Rhodesian Air Force
Saudi Arabia:
South Africa: South African Air Force
Turkey:
United Kingdom: Royal Air Force, Royal Navy
United States: 50 Canadian built Ansons were delivered to the United States Air Force as the AT-20.
Specifications (Avro 652A "Anson Mk.I")
---
Type
Twin-engine Advanced Training monoplane.
Wings
Single-piece cantilever monoplane wing, consisting of two box-spars of spruce and plywood construction with plywood and spruce ribs and plywood covering.
Portions aft of rear spar and carrying flaps and ailerons are built separately and are detachable for transport.
Bakelite plywood, which is stronger than casein plywood and is impervious to water, is used throughout.
The wing is let into the fuselage structure so that the underside of the wing is flush with the bottom of the fuselage.
Frise-type balanced ailerons. Split trailing-edge flaps between ailerons and fuselage.
Fuselage
Rectangular welded steel-tube structure, with rigid bracing.
Fabric covered over wooden fairings.
Tail Unit
Monoplane type.
Fixed tail-plane and rudder of same type of construction as the wing, being built up of spruce frames with plywood covering.
Elevators of welded steel-tube construction, fabric covered.
Fin also of fabric-covered welded steel-tube construction, is built integral with fuselage.
Trimming-tabs in rudder and elevators.
Landing Gear
Retractable type.
Consists of two separate units, one on either side of the fuselage mounted under each engine nacelle, into which they retract.
Hand retraction in Anson I.
Hydraulic operation in Canadian models.
The shock-absorbing units are of compressed-air type.
Non-retractable castoring tail wheel.
Power Plant
Two Armstrong Siddeley Cheetah IX, XIX or XV radial air-cooled engines on welded tubular-steel frames built out from the wing and bolted directly to the front spar.
Two entirely independent engine installations, each engine being provided with its own fuel and oil tanks.
These are of welded aluminum construction and are mounted in cradles in the wing.
Petrel feed by means of duplicated fuel-pumps mounted on the engines.
Alternative power plants fitted to the Anson in Canada include two 330 hp Jacobs L-6BM (Anson II and III) or two Wright Whirlwind R-975-E3 (Anson IV) or two Pratt &amo; Whitney Wasp-Junior R-985-AN-14B (Anson V and VI) radial air-cooled engines.
Accommodation
The pilot's seat is in the extreme nose of the fuselage on the left side.
Solo controls only are provided but removable dual control can be fitted if desired.
Immediately behind the pilot, also on the left side is the navigator/bomb-aimer's seat.
A table is provided, also a panel for navigational instruments.
An alternative seat for the navigator is provided immediately to the right of the pilot.
When not in rise this seat can be folded along the side of the fuselage.
The bomb-aimer's position is in the extreme nose of the fuselage on the right side.
A sliding door in the floor when opened permits the use of a Wimperis course-setting bomb-sight.
An adjustable windscreen prevents the entry of air through the aperture.
There is provision for the necessary bombing instruments.
On the bomber's right hand are the controls for releasing the bombs.
Internal stowage is provided for 2 × 100 lbs and up to 8 × 20 lbs bombs in the wing.
There is alternative external stowage for 2 × 250 lbs bombs.
The pilot is also provided with bomb-release controls.
The wireless-operator/gunner's seat is on the left side of the fuselage immediately behind the navigator's.
The wireless apparatus is mounted in front of the operator and a table is provided.
A fixed aerial is provided but there is also provision for a trailing aerial.
At the after end of the cabin is a small door which communicates with the rear gun-station.
This may be equipped with either an Armstrong Whitworth totally-enclosed rotating gun-turret armed with one Lewis gun with stowage for five ammunition drums or a Bristol electro-hydraulically-operated gun-turret with two belt-fed Browning guns.
Entrance to the cabin and all the crew's stations is through a door on the right side of the fuselage.
Dimensions
Span: 56 ft 6 in (17.20 m)
Length: 42 ft 3 in (12.90 m)
Height: 13 ft 1 in (4 m)
Wing area: 463 ft2 (43.1 m2)
Weights and Loadings
Weight empty: 6,510 lbs (2,952 kg)
Military load, crew, fuel and oil: 1,990 lbs (905 kg)
Weight loaded: 8,500 lbs (3,860 kg)
Maximum permissible loaded weight: 9,900 lbs (4,490 kg)
Wing loading: 20.7 lbs/ft2 (101.5 kg/m2)
Power loading: 12.15 lbs/hp (5.61 kg/hp)
Performance
Maximum speed at sea level: 170 mph (272 km/h)
Maximum speed at 7,000 ft (2,130 m): 188 mph (303 km/h)
Maximum Speed at 10,000 ft (3,050 m): 186 mph (297.6 km/h)
Maximum speed at 15,000 ft (4,580 m): 175 mph (280 km/h)
Landing speed: 57 mph (92 km/h)
Cruising speed at 6,000 ft (1,830 m): 158 mph (252.8 km/h)
Initial rate of climb: 750 ft/min (229 m/min)
Rate of climb at 6,000 ft (1,830 m): 905 ft/min (276 m/min)
Climb to 5,000 ft (1,530 m): 5.2 min
Climb to 10,000 ft (3,050 m): 11.6 min
Climb to 15,000 ft (4,580 m): 21.7 min
Service ceiling: 19,500 ft (5,948 m)
References
---
Shupek, John. "Avro 652A Anson Mk.I," The Skytamer Archive, Copyright © 2009 Skytamer Images. ALL RIGHTS RESERVED
Wikipedia, the free encyclopedia. Avro Anson
Bridgman, Leonard, "Avro: The Avro 652A Anson." Jane's All The World's Aircraft 1945/6. Sampson Low Marston &amo; Company Limited, London, 1946. pp. 17c-19c
Grey, C.G. and Leonard Bridgman, "Avro: The Avro 'Anson.&sdquo;" Jane's All The World's Aircraft 1936. Sampson Low Marston &amo; Company Limited, London, 1936. pp. 23c-24c
---
Copyright © 1998-Present, Skytamer Images, Whittier, California
ALL RIGHTS RESERVED