Avions Max Holste MH-1521 "Broussard"
France — Single-engine six-seat high-wing utility monoplane
---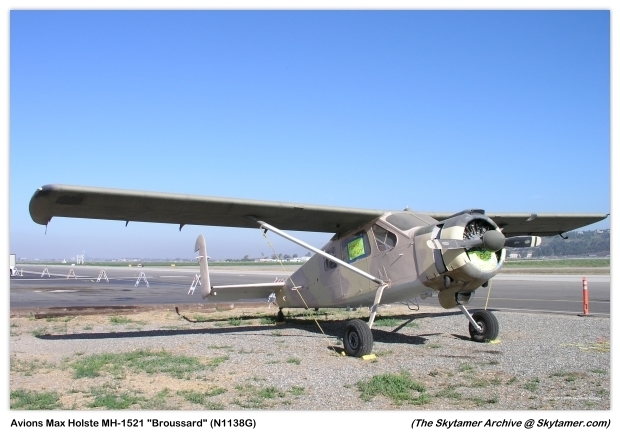 Archive Photos 1
---
Avions Max Holste MH-1521 "Broussard" (N1138G, c/n 301) on display 8/27/2005 at the Camarillo Air Show, Camarillo, CA (John Shupek photos copyright © 2005 Skytamer Images)
Avions Max Holste MH-1521 "Broussard" (N1138G, c/n 301) on display 8/19/2006 at the Camarillo Air Show, Camarillo, CA (John Shupek photos copyright © 2006 Skytamer Images)
Overview 2
---
Max Holste Broussard
Role: Six-seat utility monoplane
National origin: France
Manufacturer: Max Holste
First flight: 1952
Introduced: 1954
Retired: 1983
Primary user: French Army
Number built: 396
Developed from: Max Holste MH.152
The Max Holste MH.1521 Broussard is a 1950s French six-seat utility monoplane designed by Max Holste to meet a French Army requirement.
Design and Development 2
---
The MH.1521 Broussard was designed to meet a requirement for a lightweight liaison and observation aircraft. It is a braced high-wing monoplane with twin vertical tail surfaces. It has a fixed tailwheel landing gear and is powered by a nose-mounted Pratt & Whitney R-985 radial piston engine.
A smaller 220 hp (164 kW) Salmson Argus powered prototype aircraft, the MH.152, was first flown on 12 June 1951; it had room for a pilot and four passengers but was too small and underpowered to meet the Army requirement. The company decided to develop a slightly larger version and changed the engine to a Pratt and Whitney Wasp Junior, which at 450 hp provided almost twice as much power. This model was designated the MH.1521 and later named the Broussard (lit. "Man of the Bush", in the context of Bush Pilots rather than Bushmen). Its development was enthusiastically supported at a political level by WWII fighter ace and French war hero Pierre Clostermann, a close friend of Max Holste.
The prototype Broussard first flew on the 17 November 1952 and was followed by the first civil and military production aircraft in June 1954, and 363 were built between 1954 and 1959. Its similarity to the de Havilland Canada DHC-2 Beaver in looks, capability and performance lead it to be nicknamed "the French Beaver".
Operational History 2
---
It saw service in the Algerian War of Independence as an Army cooperation aircraft, mostly as an artillery spotter and in an air supply/ambulance role where its good short-field performance and resistance to ground fire were required. Its distinctive sound, made by its large propeller, was a disadvantage as the Algerian guerillas could hear its approach long before other aircraft. It remained in service until the 1980s, and can still be seen in France being operated by enthusiasts or collectors.
Variants 2
---
MH.1521: Prototypes, five built plus two pre-production aircraft and 19 pre-production military variants.
MH.1521A: Aircraft modified for agricultural use.
MH.1521C: Commercial variant, 52 built.
MH.1521M: Military variant, 318 built.
MH.1522: One modified prototype aircraft flown in 1958 with full span leading-edge slots and double-slotted trailing edge flaps to improve stall performance.
Military Operators 2
---
Benin: Benin Air Force
Cameroon: Cameroon Air Force
Central African Republic: Central African Air Force
Chad:
France: French Air Force, French Army
Côte d'Ivoire: Ivory Coast Air Force
Madagascar: Malagasy Air Force
Mauritania: Mauritanian Islamic Air Force
Morocco: Royal Moroccan Air Force
Niger: Niger Air Force
Portugal: Portuguese Air Force
Senegal: Senegal Air Force
Specifications (M.H.1521 Broussard) 3
---
Type
Six-seat general utility monoplane
Wings
High-wing rigidly-braced monoplane.
NACA 44013 wing section.
Aspect ratio 7.5.
Chord 1.850 m (6 ft) constant.
Dihedral 1° 30'.
Incidence 3°.
All-duralumin structure.
Central two-spar box with detachable leading-edge.
Slotted flaps and ailerons hinged to rear spar.
Ailerons arranged to droop 13° when flaps are lowered to 45° while still retaining differential action.
Each single bracing strut is a steel tube with dural sheet fairing.
Gross wing area: 25.4 m2 (273.3 ft2).
Fuselage
Duralumin structure with stressed skin canopy.
Tail Unit
Cantilever monoplane type with twin fins and rudders.
Duralumin frames with metal-covered fixed surfaces and fabric-covered elevators and rudders.
Controllable trim-tabs in both elevators and in port rudder.
Landing Gear
Fixed tail-wheel type.
Spring steel (Cessna license) main legs.
Orientable tail-wheel with self-centering device.
ERAM oleo-pneumatic shock-absorber.
Brakes on main wheels.
Power Plant
One 450 hp Pratt & Whitney R-985 nine-cylinder radial air-cooled engine.
Hamilton Standard 2.AD.30 constant-speed airscrew.
Fuel tanks in wing roots.
Accommodation
Enclosed cabin seating six in three pairs, the front pair with dual controls.
Large door in two parts on port side.
As an ambulance can carry pilot, two stretcher cases one above other on starboard side and two sitting cases on port side.
Dimensions, external
Span: 13.745 m (45 ft 1 in)
Length: 8.6 m (28 ft 2 in)
Height: 2.8 m (9 ft 2 in)
Dimensions, cabin internal
Cabin length: 3.08 m (10 ft 1 in)
Cabin with 1.25 m (4 ft 1 in)
Cabin average height: 1.35 m (4 ft 5 in)
Cabin volume: 4.80 m3 (169.4 ft3)
Weights and Loadings (Pilot and five passengers)
Weight empty, equipped: 1, 475 kg (3,205 lbs)
Pilot: 75 kg (165 lbs.)
Fuel and oil: 328 kg (722 lbs)
Useful load: 500 kg (1,100 lbs)
Weight loaded: 2,360 kg (5,192 lbs)
Wing loading: 92.8 kg/m2 (19 lbs/ft2)
Power loading: 5.18 kg/hp (1.39 lbs/hp)
Performance
Max. speed at S/L: 270 km/h (168 mph)
Cruising speed (50% power) at 1,500 m (4,920 ft): 230 km/h (143 mph)
Min. speed: 80 km/h (50 mph)
Rate of climb at S/L: 360 m/min (1,180 ft/m)
Range (with 500 kg = 1,100 lbs commercial load): 1,200 km (745 miles)
Range (with 600 kg = 1,329 lbs commercial load): 800 km (500 miles)
Take-off run: 155 m (170 yds)
Landing run: 80 m (87 yds)
References
---
Photo: John Shupek, copyright © 2005-2006 Skytamer Images. ALL RIGHTS RESERVED
History: Wikipedia, Avions Max Holste Broussard
Specifications and performance data: Bridgman, Leonard, Max Holste: The Max Holste M.H. 1521 Broussard. Jane's All The World's Aircraft 1954-55. The McGraw-Hill Book Company, New York, 1955. pp. 144-145
---