Auster J/1 "Autocrat"
British Single-engine three-seat high-wing touring monoplane
---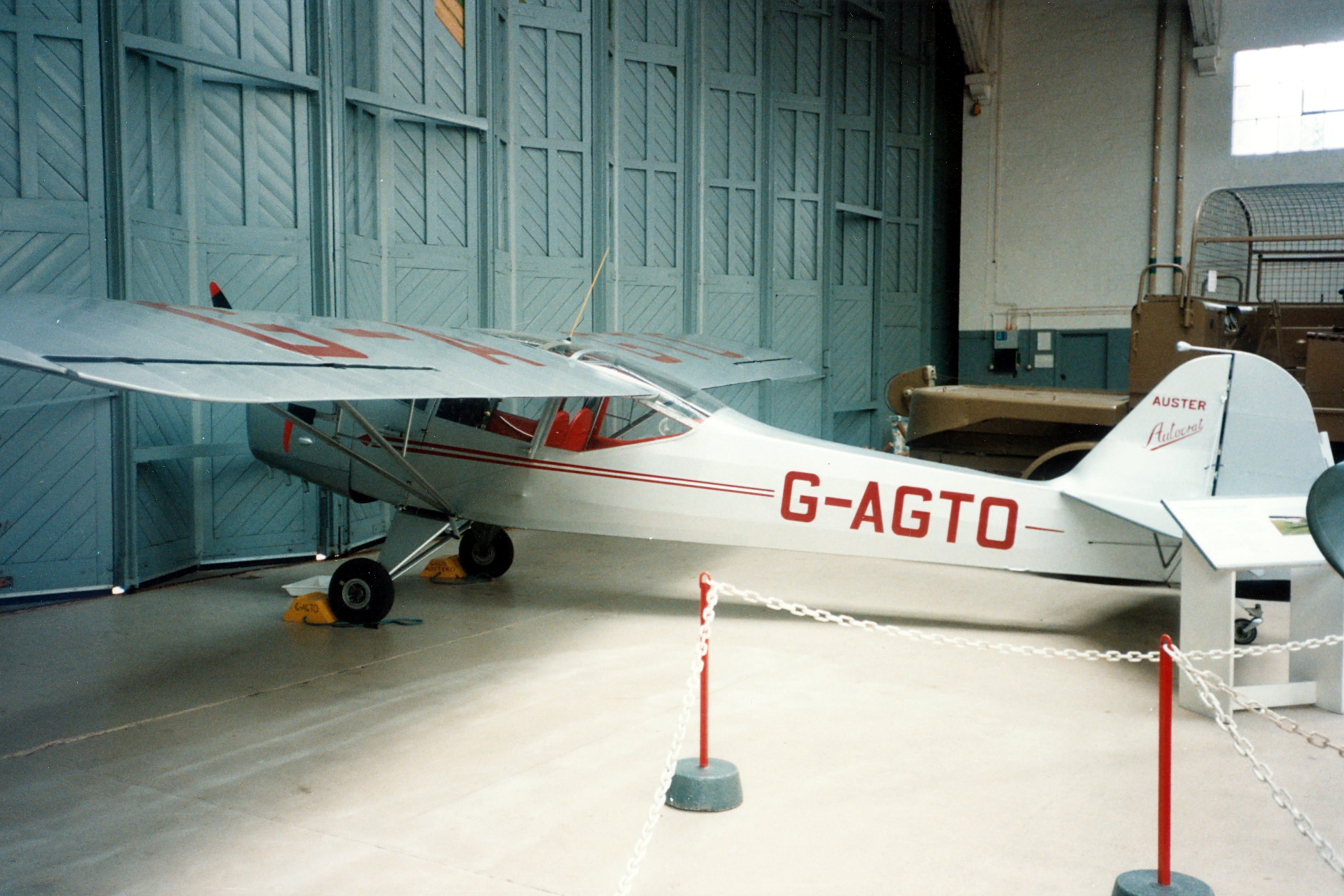 Archive Photos 1
---
Auster J/1 Autocrat (G-AGTO), 1994 Imperial War Museum Duxford, Cambridgeshire, England 1
Overview 2
---
Auster J/1 "Autocrat"
Role: Touring aircraft
Manufacturer: Auster Aircraft Limited
First flight: 1945
Introduced: 1945
Produced: 1945-1952
Number built: 420
Developed from: Taylorcraft Auster 5
Variants: Auster J/1B Aiglet, Auster Workmaster, Auster Avis
The Auster J/1 Autocrat was a 1940s British Single-engine three-seat high-wing touring monoplane built by Auster Aircraft Limited at Rearsby, Leicestershire.
History 2
---
As the end of the Second World War approached the designers at Taylorcraft decided to develop a tourer version of the robust and reliable Taylorcraft Auster Model J AOP.V observation aircraft series. An Auster 5, registered G-AGOH, was modified to take a 100 hp (75 kW) Blackburn Cirrus II engine for trials. At the same time a prototype aircraft was built designated the Taylorcraft Auster V Series J/1 Autocrat. The long name was not used as the company changed name to Auster Aircraft Limited and the aircraft became known as the Auster J/1 Autocrat. The designation J/1 derived from the progenitor Model J, which was the Auster AOP.V.
Production and Operation 2
---
The first production aircraft, registered G-AGTO, was delivered in December 1945. One of the more spectacular feats of the type was the first visit of a civilian aircraft to an aircraft carrier, "HMS Illustrious" in the English Channel in October 1946. The last Rearsby built J/1s were delivered in 1952. The Autocrat became one of the most successful post-war British light aircraft with more than 400 built. A small number of variants were built and the aircraft became the basis for a family of light aircraft. Many J/1s were converted to J/1N Alpha standard with a higher fin and fitted with a 130 h.p. Gipsy Major engine, as used in the J/1B Aiglet. Numbers of Autocrats and Alphas continue to fly (2009) with private owners in the United Kingdom, Australia, New Zealand and elsewhere.
Variants 2
---
Auster J/1 Autocrat - production version with Blackburn Cirrus Major engine. Several later fitted with engines up to the 150 h.p. Lycoming O-320-A1A.
Auster J/1A Autocrat - additional (fourth-seat) for joyriding.
Auster J/1N Alpha - powered by a de Havilland Gipsy Major I engine and with enlarged tail surfaces.
Auster J/1S Autocrat - powered by a 145 h.p. de Havilland Gipsy Major 10 Mk 2-2 engine.
Specifications (J/1) 2
---
General Characteristics
Crew: 3
Length: 23 ft 5 in (7.1 m)
Wingspan:
Height: 6 ft 6 in (1.98 m)
Wing area: 185 ft2 (17.19 m2)
Empty weight: 1,052 lb (478 kg)
Max takeoff weight: 1,850 lb (841 kg)
Powerplant: 1 × Blackburn Cirrus Minor 2 piston engine, 100 hp (76 kW)
Performance
Maximum speed: 120 mph (194 km/h)
Range: 320 miles (515 km)
Service ceiling: 14,000 ft (4,300 m)
References
---
Shupek, John. Photos via The Skytamer Archive, Copyright © 2009 Skytamer Images. All Rights Reserved
Wikipedia, the free encyclopedia. Auster Autocrat
---