Auster A.2/45
British two-seat air observation and reconnaissance prototype monoplane
---
Archive Photos 1
---
Auster A.2/45, card 7 of 25, from the 1956 "Aeroplanes" series by Barbers Teas, UK (Image via the Skytamer Archive) 1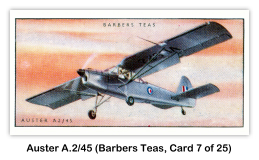 Overview 2
---
Auster Aircraft, Ltd., is the successor to Taylorcraft Aeroplanes (England) Ltd., which was formed in 1939 to manufacture cabin monoplane under license from the Taylorcraft Aircraft Corporation of America. The Company assumed its present title on March 7, 1946, and no longer has any connection with the American firm.
The British Taylorcraft was produced in a number of different forms for the RAF and the Army. The Auster I, (Blackburn Cirrus Minor engine), the Auster 3 (D.H. Gypsy Major engine) and the Auster 4 and 5 (130 hp Lycoming engine) were all used on active service. Throughout World War II development of the design continued and although the same basic welded steel-tube structure remained, considerable strengthening was achieved and the performance was improved. In the later models trailing-edge flaps were incorporated. During World War II, the company built 1,604 Austers for the RAF and the Army Air Corps — 100 Mk. 1s; 2 Mk. 2s; 467 Mk. 3s; 225 Mk. 4s and 708 Mk. 5s. In addition to 6 Model H gliders were built.
A civilian version of the Mk. 5 has been produced and is known as the Auster 5 J/1 Autocrat. It is basically the same as a military /Mk. 5, but has upholstered accommodation and other civilian refinements.
The two-seat Arrow followed the Autocrat into production and subsequently several versions of the basic two and three-seat airframes have appeared. These include the J/3 and the J/3A two-seaters with the 65 hp Continental C65 engines; the J/4 and J/5 with Blackburn Cirrus and D.H. Gypsy Major engines respectively; the J/6, a three-seater similar to the Autocrat, but with the 145 hp D.H. Gypsy Major 10 engine. A J/7 two-seater with the 100 hp Blackburn Cirrus-Minor engine was projected. The four-seat Avis made its appearance in 1947 is now available for production. In the military field, the basic series of Auster air-observable posts has been continued with the A.O.P. Mk. 6, T.Mk. 7 and A.O.P. Mk. 8 while a completely new aeroplane to Specification A.2/45 has been built and flown.
The company is now working on the development of a twin-engine aeroplane of which no details were available for publication at the time of the writing.
The Auster A.2/45 Overview 2
---
Auster A.2/45
Type: Two-seat air observation and reconnaissance monoplane
Manufacturer: Auster Aircraft Ltd.
Country of origin: United Kingdom
First flight: 27 April 1948
Number built: 2 prototypes
This airplane was designed to meet the needs of the British army for an air observation post with a more comprehensive range of equipment and that carried by the standard cluster A.O.P. series. The prototype made its first flight in the summer of 1948, and a second prototype has since been completed.
Specifications and Performance Data &sup2
---
Type:
Two-seat air observation post and reconnaissance monoplane.
Wings
Strut-braced high-wing monoplane.
Wing in two sections attached to top of the fuselage and braced to the apices of the landing-gear attachment pyramids by aluminum-alloy Vee lift struts.
Metal two-spars structure with metal clad leading-edge and overall fabric covering.
One-piece slotted ailerons, split trailing-edge flaps between ailerons and fuselage, and built-in leading-edge slots ahead of ailerons.
Fuselage
Basic welded steel-tube structure covered with metal forward and fabric asked.
Fuselage floor is separate unit of stressed metal with internal stiffening.
Tail Unit
Cantilever monoplane type.
Two-spar metal tailplane with fabric covering.
All-metal fin.
Aerodynamically and mass balanced rudder has metal frame and fabric covering.
Aerodynamically balanced elevators have metal frames and fabric covering.
Elevators interchangeable.
Trim tabs in rudder and elevators.
Landing Gear
Fixed tail-wheel type.
Main compression struts attached to apices of steel-two pyramids on sides of fuselage and braced to lower fuselage longerons.
Fixed tail-wheel.
Power Plant
One 250 hp D.H. Gypsy Queen 34 six-cylinder in-line inverted air-cooled engine in Type "E" power-plant which can be quickly detached, complete with oil tank, filters, etc.
One 24 Imp. gallon (109 L) fuel tank in port wing root with provision for identical tank in starboard wing for long range.
Accommodation
Pilot and observer and tandem, observer facing aft.
Entry for observer by raising blister over rear cockpit and mounting from starboard side.
The blister is also jettisonable for emergency exit.
Pilots emergency exit is through jettisonable starboard door.
Armor plate for pilot protection can be provided for use in certain missions.
Army 62 radio mounted in pilot's dashboard.
Observer has hinged windows on each side for operation of hand-held F.24 or K.20 cameras.
Dimensions
Span: 43 ft 6 in (13.26 m)
Length: 30 ft 1 in (9.2 m)
Wing area 278 ft2 (25.8 m2)
Weights
Weight total: 3,365 lbs (1,530 kg)
Performance
Maximum speed: 130 mph (210 km/h)
Cruising speed: 122 mph (196 km/h)
Economical cruising speed: 105 mph (169 km/h)
Initial rate of climb: 740 ft/min (228 m/min)
Service ceiling: 15,500 ft (4,790 m)
Range: 600 miles (970 km)
Take-off to clear 50 ft (15.25 m): 330 yards (300 m)
Landing distance from 50 ft (15.25 m): 220 yards (200 m)
References
---
Card Image: Aeroplanes, Barbers Teas, 1956, UK, Card 7 of 25, via the Skytamer Archive, copyright © 2013 Skytamer Images
Bridgman, Leonard. Jane's All the World's Aircraft 1949-50, Sampson Low, Marston & Company, Ltd., London, 1950, pp. 18c-19c.
Shupek, John. 3-View images via The Skytamer Archive, copyright © 2013 Skytamer Images. All Rights Reserved
---