Aérospatiale HH-65B "Dolphin"
U.S. Coast Guard SAR Helicopter
---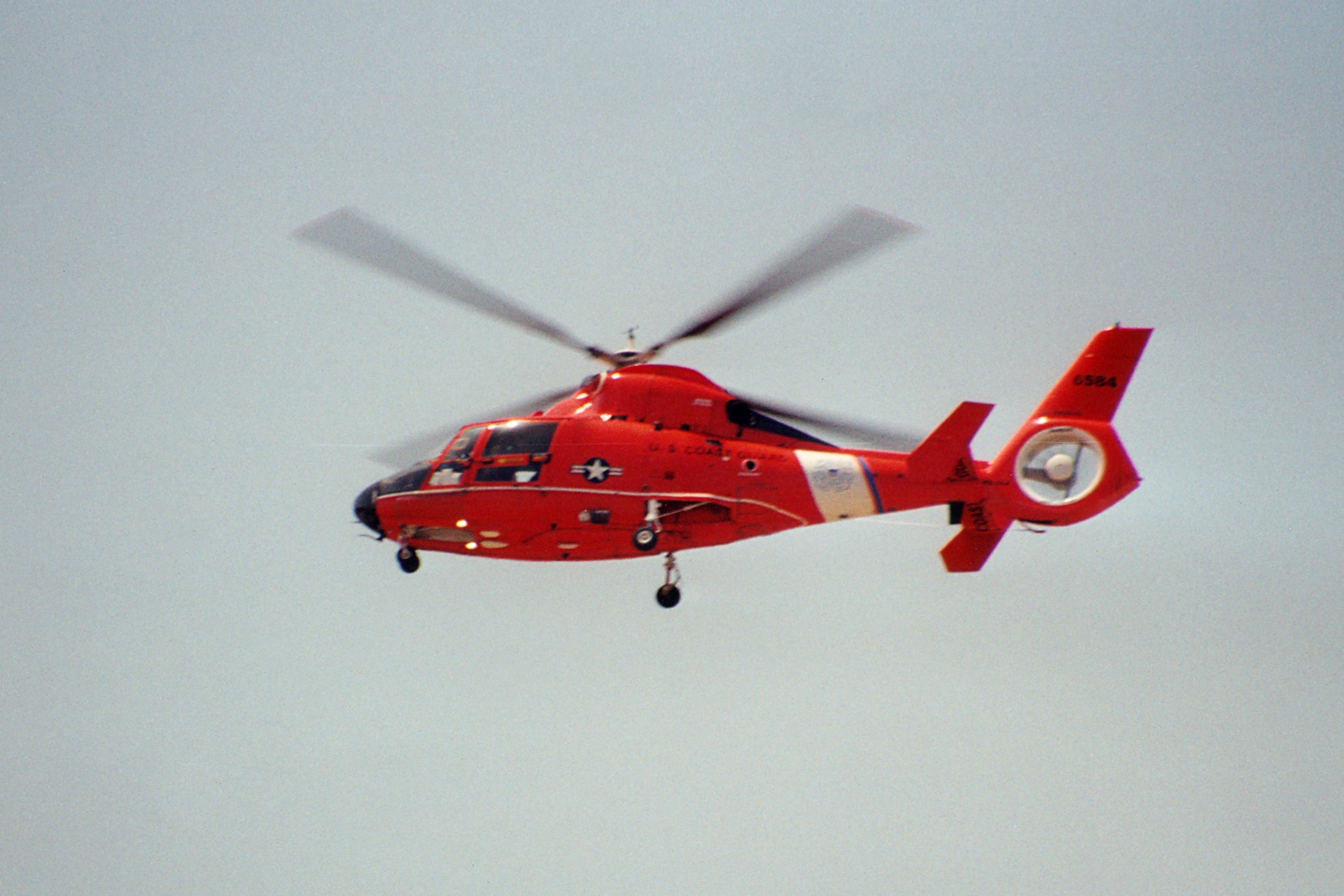 Archive Photos 1
---
Aérospatiale HH-65B "Dolphin" (USCG 6518), 2000 NAS Point Mugu Airshow (Photo 0228 copyright © 2000 Skytamer Images)
Aerospatiale HH-65B "Dauphin" (USCG 6584) on display 1999 at the Camarillo Air Show, Camarillo, CA (Photo 1453 copyright © 1999 Skytamer Images
Overview 2
---
Eurocopter HH-65 Dolphin
Role: SAR helicopter
Manufacturer: Aérospatiale/Eurocopter
First flight: 1980
Introduction: 1985
Status: In service
Primary user: United States Coast Guard
Number built: 102
Unit cost: $9 million
Developed from: Eurocopter AS365 Dauphin
The Eurocopter MH-65 "Dolphin" is a Twin-engine, single main rotor, MEDEVAC-capable Search and Rescue (SAR) helicopter operated by the United States Coast Guard (USCG). It is a variant of the French-built Eurocopter AS365 Dauph&iacuten.
Development 2
---
The SA366 G1 Dauphin version was selected by the United States Coast Guard in 1979 as its new short range recovery (SRR) air-sea rescue helicopter, replacing the Sikorsky HH-52A Sea Guard. In total 99 helicopters, optimized for the USCG's search and rescue role tasks and given the designation HH-65A Dolphin, were acquired. Unlike the HH-52, the HH-65A is not able to perform water landings. The HH-65 normally carries a crew of four: Pilot, Copilot, Flight Mechanic and Rescue Swimmer.
The Dolphin was manufactured by Aérospatiale Helicopter Corporation (now American Eurocopter) in Grand Prairie, Texas. Textron Lycoming (now Honeywell) built the Dolphin's LTS101-750B-2 turboshaft engines in Williamsport, Pennsylvania, and Rockwell Collins manufactured the HH-65's electronic systems in Cedar Rapids, Iowa.
The HH-65 Dolphin is used for homeland security patrols, cargo, drug interdiction, ice breaking, military readiness, pollution control, and search and rescue missions. The HH-65 is known for its Fenestron tail rotor and its autopilot capabilities, which can complete an unaided approach to the water and bring the aircraft into a stable 50 ft (15 m) hover, or automatically fly search patterns, an ability which allows the crew to engage in other tasks.
In order to comply with U.S. regulations relating to local content (based primarily on the value of individual components of the aircraft), engineering changes were required - notably, the SA365's original Turbomeca Arriel engines were replaced with LTS101-750B-2 powerplants, which at the time represented the cutting edge of turboshaft design. Unfortunately, initial teething problems with this engine worsened as the HH-65's weight grew, resulting in several in-flight loss-of-power events. The USCG funded a program to improve engine reliability, but the resulting LTS101-850 failed to meet expectations.
In 1994, the USCG therefore held a fast-track competition to select a new powerplant, and in March 2004 the Guard announced the selection of the Turbomeca Arriel 2C2-CG, already installed on the EC155. This upgrade began in 2004, and has resulted in a safer and more capable aircraft. These modified HH-65As and HH-65Bs, which also gained new avionics and other enhancements, have been designated as HH-65Cs.
Design 2
---
The HH-65A's minimum equipment requirements exceeded anything previously packaged into a helicopter weighing less than 10,000 pounds. 75% of the HH-65's structure - including rotorhead, rotor blades and fuselage - consists of corrosion-resistant composite materials. Some Coast Guard pilots have nicknamed the Dolphin as "Tupperwolf", a portmanteau of tupperware (because of the aircraft's high composites content) and Airwolf (from the 1980s TV series).
Also a unique feature of the Dolphin is its computerized flight management system, which integrates state-of-the-art communications and navigation equipment. This system provides automatic flight control. At the pilot's direction, the system will bring the aircraft to a stable hover 50 feet (15 m) above a selected object. This is an important safety feature in darkness or inclement weather. Selected search patterns can be flown automatically, freeing the pilot and copilot to concentrate on sighting & searching the object.
A distinctive feature of the MH-65 is its fenestron ducted-fan anti-torque device. The fenestron consists of 10 blades spin inside a circular housing at the base of the helicopter's tail fin.
Certified for single-pilot instrument flight rules (IFR) operation, the HH-65A was the first helicopter certified with a four-axis autopilot, allowing for hands-off hover over a pre-determined location.
Operational History 2
---
The Dolphin is primarily a Short Range Recovery (SRR) aircraft. There are now a total of 102 Dolphins in the Coast Guard Fleet. The fleet has home ports in 17 cities on the Atlantic and Pacific Ocean, Gulf of Mexico, Hawaii, and the Great Lakes region.
The Dolphin is usually deployed from shore but it can be deployed from medium and high endurance Coast Guard Cutters, as well as the Polar Icebreakers. The Dolphin's main jobs are: search and rescue, enforcement of laws and treaties (including drug interdiction), polar ice breaking, marine environmental protection including pollution control, and military readiness.
When deployed from an icebreaker, the helicopter acts as the ship's eyes, searching out thinner and more navigable ice channels. They also have the job of airlifting supplies to villages isolated by winter, or transporting scientists to conduct remote research.
The MH-65 is also used to patrol the Air Defense Identification Zone (ADIZ) around Washington, D.C., also known as the National Capital Region (NCR). Seven new-build MH-65Cs were acquired for this mission.
Variants 2
---
HH-65A — Initial USCG version, powered by two 734 shp (547 kW) LTS101-750B-2 turboshafts and with an 8,900 lb (4,000 kg) M.T.O.W.
HH-65B — Avionics upgrade undertaken on a portion of the fleet. Retrofit included an NVG-compatible integrated flight management avionics suite consisting of two GPS-embedded CDU-900G control display units and two MFD-255 multifunction flat panel displays. The HH-65B upgrade was undertaken at the Coast Guard's Aircraft Repair and Supply Center (ARSC) in Elizabeth City, NC, with the first aircraft rolling-off the post-depot maintenance (PDM) line in March 2001.
HH-65C — HH-65A/B upgraded with new 934 shp (696 kW) Arriel 2C2-CG engines that provide 40% more power and higher performance, plus an upgraded tail gearbox, long-nose avionics compartment, increased 9,480 lb (4,300 kg) MTOW, expanded lateral flight envelope and Vehicle and Engine Multifunction Display (VEMD) with First Limit Indicator (FLI). First retrofit completed in October 2004.
MH-65C — Initially intended only for use by the Multi-Mission Cutter Helicopter (MCH), a further enhancement of the HH-65C within the USCG's Deepwater effort, includes the installation of a 10-blade low-noise Fenestron, relocated avionics, and an airborne use of force package (in common with that of the modernized HH-60T) which provides the capability to fire warning and disabling shots from the air. The MH-65C is used in 'airborne use of force' missions, such as the Helicopter Interdiction Tactical Squadron (HITRON) mission taken-up by the MH-65C in early 2008. AUF aircraft are armed with the Barrett M107CQ 12.7 mm anti-materiel rifle and M240G 7.62 mm machine gun.
MH-65D — MH-65C with an upgraded flight navigation system common to Department of Defense helicopters. The first production MH-65D was completed on January 20, 2011 and is fitted with a Honeywell HG7502 radar altimeter, two Honeywell H-764G EGI's (embedded GPS/inertial navigation systems) and two control display units CDU-7000D from Rockwell Collins. 97 HH/MH-65Cs will be upgraded to MH-65D standard.
MH-65E — The MH-65E will incorporate upgrades that will modernize the cockpit by installing digital "glass" cockpit instruments, known as the Common Avionics Architecture System (CAAS), similar to those installed in the Coast Guard's upgraded MH-60T Jayhawk Medium Range Recovery (MRR) helicopters. The Echo upgrade will also replace the legacy analog automatic flight control with a digital system, and installing a digital weather radar system. The MH-65E model is expected to begin to be delivered to the fleet in FY14.
Operators 2
---
United States: United States Coast Guard
HH-65/MH-65 Air Stations
CGAS Atlantic City
Coast Guard Aviation Training Center
CGAS Barbers Point
CGAS Borinquen
CGAS Corpus Christi
CGAS Detroit
CGAS Houston
CGGP/AS Humboldt Bay
CGAS Kodiak
CGAS Los Angeles
CGAS Miami
CGAS New Orleans
CGAS North Bend
CGAS Port Angeles
CGAS San Francisco
CGAS Savannah
CGAS Traverse City
Helicopter Interdiction Tactical Squadron
Specifications and Performance Data 3
---
The following structural description refers to the standard SA 365N, but is generally applicable to all versions:
Type
Twin-turbine commercial general-purpose helicopter.
Rotor System
Four-blade main rotor.
Blades attached by quick disconnect pins to Starflex glassfiber/carbonfiber hub, in which the three conventional hinges for each blade are replaced by a single balljoint of rubber/steel sandwich construction, requiring no maintenance.
Blades of new OA 2 section, developed in collaboration with Onera: varying from OA 212 (thickness/chord ratio 12%) at root to OA207 (7%) at tip, with 10° negative twist from top to tip.
Each blade comprises two Z section carbonfiber spars and carbonfiber skin, a solid glassfiber resin leading-inch covered with a stainless steel sheath, and Nomex honeycomb filling.
Leading-edge of carbonfiber tip is swept back at 45°.
Ground adjustable tab on trading-edge of each blade towards tip.
Blade chord extended outboard of tab to align with tab trading-edge.
Rotor brake standard.
Thirteen-blade 'fenestron' type of metal ducted fan anti-torque tail rotor.
Rotor Drive
Mechanical shaft and gear drive.
Transmission shaft from each engine extends forward, through freewheel, to helical and epicyclic reduction stages of main gearbox.
Shaft to 'fenestron' driven off bottom of main rotor shaft.
Main rotor rpm 349.
"Fenestron" rpm 4,706.
Fuselage
Semi-monocoque structure.
Bottom structure and framework of front fuselage, primary machined frames fore and aft of the main gearbox platform and at the rear of the center fuselage, floors under main gearbox and engines, cabin doors, 'fenestron' and fin are all of light alloy (AU4G).
Nose and power plant fairings and fin tip of glassfiber/Nomex sandwich.
Center and rear fuselage assemblies, flight deck floor, roof, walls and bottom skins of fuel tanks of light alloy/Nomex sandwich.
Tail Unit
Horizontal stabilizer mid-set on rear fuselage, forward of 'fenestron'; swept endplate fins offset 10° to port.
Construction of carbonfiber Nomex/Rohacell sandwich.
Landing Gear
Hydraulically retractable tricycle type.
Twin-wheel steerable and self-centering nose unit retracts rearward.
Single wheel on each rearward retracting main unit, fully enclosed by doors of Kevlar/Nomex sandwich when retracted.
All three units embody oleo-pneumatic shock absorber.
Mainwheel tires size 15 × 6.00, pressure 7 bars (101 psi)
Nosewheel tires 15 × 4, pressure 4 bars (58 psi).
Hydraulic disc brakes.
Power Plant
Two Turboméca Arriel IC free turbine turboshaft engines, each rated at 530 kW (710 shp), mounted side-by-side aft of main rotor driveshaft, with stainless steel firewall between them.
Standard fuel in four tanks under cabin floor and a fifth tank in the bottom of the center-fuselage; total capacity 1,140 L (250 Imp gallons).
Provision for auxiliary tank in baggage compartment, with capacity of 180 L (39.5 Imp gallons); or ferry tank in place of rear seats in cabin, capacity 475 L (104.5 Imp gallons).
Refueling point above landing gear door on port side.
Well capacity 14 L (3 Imp gallons).
Accommodation
Standard accommodation for pilot and co-pilot or passenger in front, and two rows of four seats in the rear.
High density seating for one pilot and 13 passengers.
VIP configurations for four or six persons in addition to pilot.
Three forward opening doors on each side.
Freight hold aft of cabin rear bulkhead, with door on starboard side.
Cabin heated and ventilated.
Systems
Air-conditioning system optional.
Duplicated hydraulic system.
Electrical system includes two 4.5kW starter/generators, one 17Ah 24V battery and two 250VA 115V 400Hz inverters.
Avionics and Equipment
Optional avionics include VHF and HF com/nav, VOR, ILS, ADF, transponder, DME, radar and self-contained nav system.
Optional equipment includes a SFIM 155 duplex autopilot with SFIM CDV 85 nav coupler, a 1,600 kg (3,525 lb) capacity cargo sling, and 275 kg (605 lb) capacity hoist with 90 m (295 ft) cable length.
Dimensions, External
Main rotor diameter: 39 ft 1¾ in (11.93 m)
Diameter of 'fenestron': 2 ft 11-7/16 in (0.9 m)
Main rotor blade chord: 1 ft 3¼ in (0.385 m); basic outboard of tab: 1 ft 4 in (0.405 m)
Length overall, rotor turning: 44 ft 2 in (13.46 m)
Length fuselage: 37 ft 6½ in (11.44 m)
Width, rotor blades folded: 10 ft 6½ in (3.21 m)
Height to top of rotor head: 11 ft 6¼ in (3.51 m)
Height overall (tip of fin): 13 ft 2 in (4.01 m)
Wheel track: 6 ft 2¾ in (1.9 m)
Wheelbase: 11 ft 10¼ in (3.61 m)
Main cabin door (Forward, each side): Height: 3 ft 9½ in (1.16 m); Width: 3 ft 9 in (1.14 m)
Main cabin door (rear, each side): Height: 3 ft 9½ in (1.16 m); Width: 2 ft 10¼ in (0.87 m)
Baggage compartment door (starboard): Height: 1 ft 8 in (0.51 m); Width: 2 ft 4¾ in (0.73 m)
Dimensions, internal
Cabin length: 7 ft 6½ in (2.3 m)
Cabin width, max: 6 ft 8 in (2.03 m)
Cabin height, max: 4 ft 7 in (1.40 m)
Cabin floor area: 45.20 ft2 (4.202)
Cabin volume: 176 ft3 (5.00 m3)
Baggage compartment volume: 56.5 ft3 (1.60 m3)
Areas
Main rotor disc: 1,203.2 ft2 (111.8 m2)
'Fenestron' disc: 6.85 ft2 (0.636 m2)
Weights
Weight empty, equipped: 4,447 lbs (2,017 kg)
Max T-O weight, internal or external load: 8,818 lbs (4,000 kg)
Performance (at T-O weight of 8,488 lbs; 3,850 kg)
Never exceed speed at S/L: 189 mph (305 km/h, 164 knots)
Max cruising speed at S/L: 174 mph (280 km/h, 151 knots)
Econ cruising speed at S/L: 161 mph (260 km/h, 140 knots)
Never exceed speed at S/L: 189 mph (305 km/h, 164 knots)
Max rate of climb at S/L: 1,515 ft/min (462 m/min)
Service ceiling: 15,000 ft (4,575 m)
Hovering ceiling IGE and OGE: 3,445 ft (1,050 m)
Max range with standard fuel at S/L: 546 miles (880 km, 475 nm)
Endurance with standard fuel: 4 hrs 40 min
References
---
Shupek, John. "Aérospatiale SA 366 Dauphin 2," The Skytamer Archive, Copyright © 1999-2000 Skytamer Images. All Rights Reserved
Wikipedia, the free encyclopedia. Eurocopter HH-65 Dolphin
Taylor, John W.R., Jane's All The World's Aircraft 1985-86", Jane's Yearbooks, ISBN 0 7106-0821-7, 1985
---