Aeronca L-3/O-58 "Grasshopper"
United States World War II Single-Engine Light Observation and Liaison Aircraft
---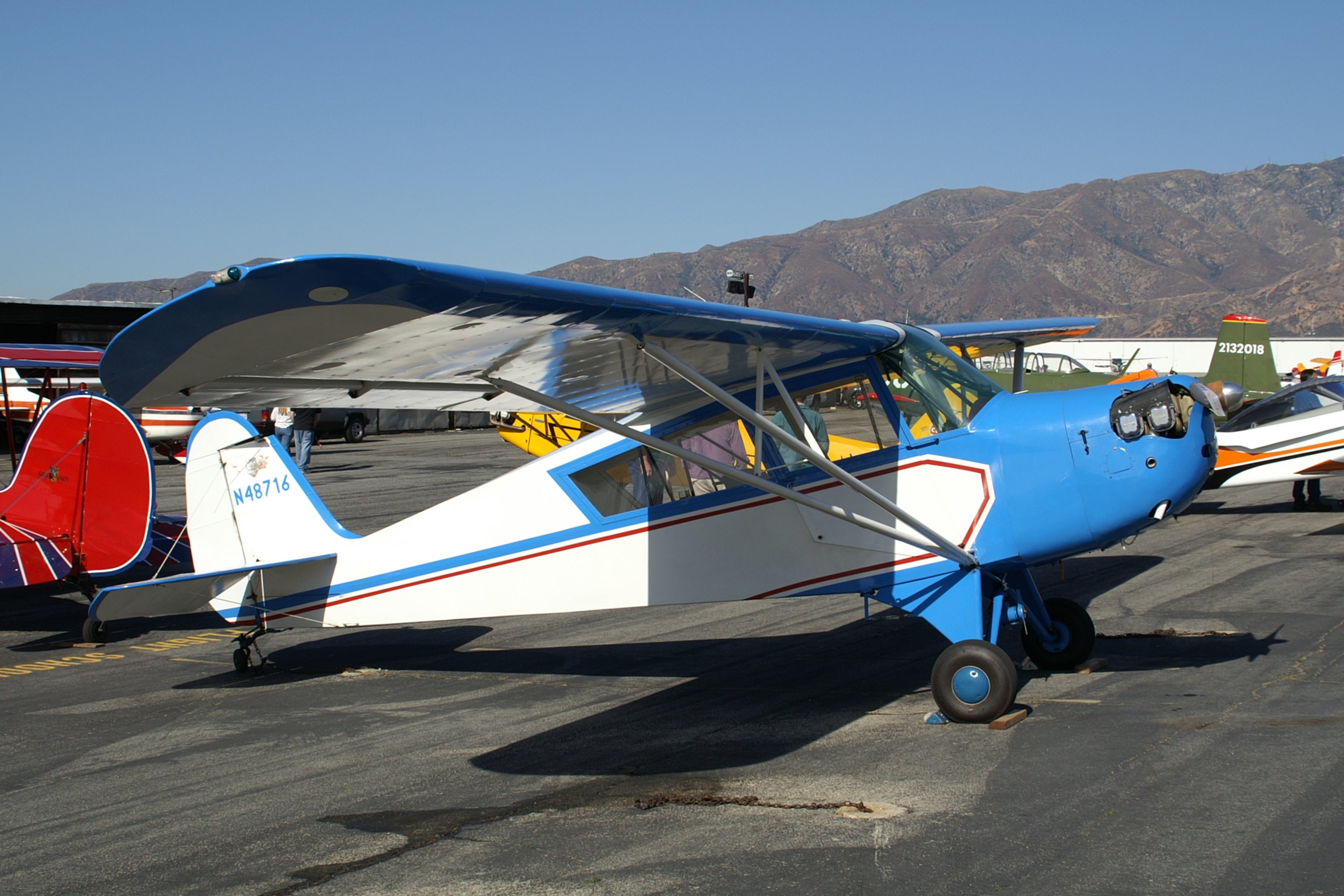 Archive Photos 1
---
1942 Aeronca O-58B "Grasshopper" (N48716, s/n 058B-6452)
1943 Aeronca O-58B "Grasshopper" (N47139, s/n 058B-9093)
History 2
---
Aeronca L-3/O-58 "Grasshopper"
Role: Observation and liaison aircraft
Manufacturer: Aeronca Aircraft
First flight: 1941
Primary user: United States Army Air Forces
The Aeronca L-3 group of observation and liaison aircraft were used by the United States Army Air Corps in World War II. The L-3 series were adapted from Aeronca's pre-war Tandem Trainer and Chief models. The L-3 was initially designated the O-58 at the time it was first ordered by the Air Corps. The airplane was given its service tests in the summer of 1941 during maneuvers in Louisiana and Texas where it was used for various support purposes such as a light transport and courier.
At the time American ground forces went into combat around the world during World War II, the Army Air Force began using the L-3 in much the same manner as the observation balloon was used in France during World War I — spotting enemy troop and supply concentrations and directing artillery fire on them. It was also used for other types of liaison and transport duties and short-range reconnaissance which required airplanes that could land and take off in short distances from unprepared landing strips. Unfortunately, by the time that the United States entered the war, the Aeronca L-3 (and sister ship Taylorcraft L-2) were declared Operationally Obsolete, and never formally left for a foreign front; this was partially due to a nasty tendency for it to stall and spin in a left-hand turn, partially because newer and more capable aircraft were already being pressed into service. Instead they were relegated to training fields to serve as trainers and hacks. Liaison pilots would train in an L-3 and then be moved on to larger aircraft like the Piper L-4 or, in the case of the Army Air Corps, the Stinson L-5.
There are reports that some L-3s were accidentally shipped to the African front, and subsequently given to the Free French Forces operating within the area at the time. It is not known how many were received by the French, nor how many survived the war.
The TG-5 was a three-seat training glider of 1942 based upon the O-58 design. This aircraft retained the O-58's rear fuselage, wings, and tail while adding a front fuselage in place of the engine. In all, Aeronca built 250 TG-5 gliders for the Army. The Navy received a small number as the LNR-1.
Variants 2
---
YO-58 — Four aircraft with a 65 hp (48 kW) YO-170-3 engine
O-58 / L-3 — A civilian Aeronca Defender in USAAC markings. Identifiable by "D"-windows in rear, and side-by-side seating.
O-58A / L-3B — Now sported greenhouse canopy (like the above photo), and tandem (one behind the other) seating. Small radio mast on vertical stabilizer(identifiable by a tiny windsock). Some were fitted with wind-driven generators, presumably to provide power to the radios (The Aeronca L-3 had no electrical system).
O-58B / L-3B — An L-3C before USAAC switched classification systems from "Observer" to "Liaison."
L-3C — In response to "field" reports, body is widened by two inches to accommodate pilots flying with parachutes and other army gear. Radio mast is now a small tab over the vertical stabilizer and is little more than a grounding point.
L-3D — D-J model L-3s are not actual contract aircraft, but aircraft straight from the civilian factory impressed into military service. An L-3D is merely an Aeronca 65TF Defender with a Franklin engine.
L-3E — An Aeronca 65TC Defender with a Continental engine.
L-3G — 65L Super Chief with a Lycoming engine (4 planes).
L-3H — 65T Defender with a Lycoming engine (1 plane).
L-3J — 65TC Defender with a Continental engine (1 plane).
TG-5 — 250 were built as training gliders for the USAAC.
TG-33 — TG-5 converted for prone pilot.
LNR — Three TG-5s were supplied to the US Navy.
Operators 2
---
United States Army Air Force
United States Navy
Specifications 3
---
The description below applies to the L-3, L-3A, L-3B and L-3C, all of which are generally similar, differing mainly in details of equipment.
Type
Two-seat Light Liaison and Observation monoplane.
Wings
High-wing rigidly braced monoplane.
NACA 4412 wing section.
Wings in two sections attached to top longerons of fuselage and braced to lower longerons by Vee struts.
Structure consists of two solid spruce spars, aluminum-alloy ribs, steel-tube compression struts and single-wire drag bracing, the whole being covered with fabric.
Ailerons have metal frames with fabric covering.
Fuselage
Welded steel-tube structure covered with fabric over spruce fairing stringers.
Tail Unit
Braced monoplane type.
Welded steel-tube framework covered with fabric.
Fin built integral with fuselage.
Trimming tab in starboard elevator adjustable from cockpit.
Landing Gear
Divided type.
Faired-in side Vees hinged to lower fuselage longerons and half-axles hinged to Vee cabane beneath fuselage.
Oleo-spring shock-absorber struts incorporated in side Vees.
Full swiveling tail-wheel.
Mechanical wheel-brakes.
Power Plant
One 65-hp Continental O-173-3 four-cylinder horizontally-opposed air-cooled engine on detachable welded steel-tube mounting.
Fuel tanks (12 U.S. gallons) in roof of cabin and conforming to curvature of wings.
Accommodation
Enclosed cabin seating two in tandem.
Dual controls provided but L-3 usually flown from front seat.
Observer's seat may face forward or aft and went in latter position a folding table may be brought into use for maps etc.
Radio equipment.
Dimensions
Span: 35 ft 0 in (10.67 m)
Wing area: 169 ft2 (15.6 m2)
Length: 21 ft 10 in (6.67 m)
Height (tail down): 9 ft 1 in (2.74 m)
Weights and Loadings
Weight empty: 835 lbs (379 kg)
Weight loaded: 1,260 lbs (572 kg)
Wing loading: 7.45 lbs/ft2 (36.1 kg/m2)
Power loading: 19.39 lbs/hp (8.8 kg/hp)
Performance;
Maximum speed: 87 mph (139 km/h)
Cruising speed: 70 mph (126.4 km/h)
Stalling speed: 46 mph (73.6 km/h)
Initial rate of climb: 404 ft/min (123 m/min)
Service ceiling: 10,000 ft (3,050 m)
Normal range: 218 miles (350 km)
References
---
Shupek, John. "Aeronca L-3," The Skytamer Archive, Copyright © 2003, 2006 Skytamer Images. All Rights Reserved
Wikipedia, the free encyclopedia. Aeronca L-3
Bridgman, Leonard, "Aeronca: Aeronca L-3," Jane's All The World's Aircraft 1943/44. Sampson Low, 1944
---