Aeromarine-Klemm AKL-26A
United States, Two-seat Training and Sport Monoplane
---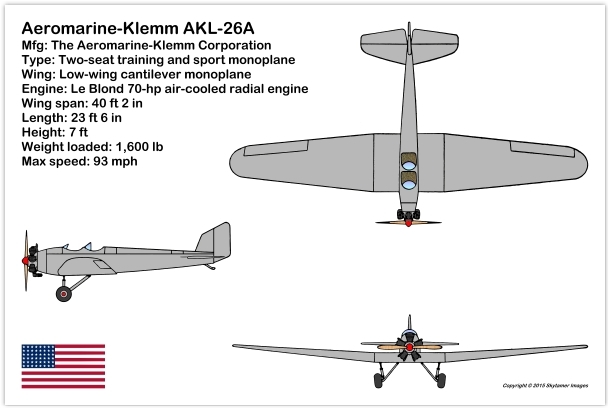 Archive Photos 1
---
Aeromarine-Klemm AKL-26A (N320N, s/n 2-59, 1930) at the Old Rhinebeck Aerodrome, Rhinebeck, NY (John Shupek photos) copyright © 1998, 1999, 2003 Skytamer Images)
Overview 2
---
The Aeromarine-Klemm Corporation was formerly the Aeromarine Plane & Motor Co., and has been reconstituted and renamed to manufacture the German-designed Klemm low-wing monoplane.
This Klemm aircraft design originated in Germany in 1925. The type was successful and was built in many countries throughout the world. It was outstanding for its ease in handling and slow flight characteristics. The Klemm is of all wood construction and was designed to be disassembled in minutes. Klemms could often be seen being towed behind cars and stored in garages.
Specifications 2
---
Type
Two-seat training and sport monoplane.
Wing
Low-wing cantilever monoplane.
Modified Gõttingen.
Outer sections of tapering chord and thickness, attached to wing-stubs of parallel chord and section.
Structure consists of spruce and plywood box-spars and ribs covered with plywood.
Tapering chord ailerons inset from wing-tips.
Ailerons are covered with fabric.
Fuselage
Rectangular wooden structure, covered with plywood
Tail Unit
Monoplane type.
Tail-plane and fin are built of spruce spars and ribs covered with plywood.
Rudder and elevator have spruce framework covered with fabric.
Front part of fin and tail-plane are adjustable on the ground.
Undercarriage
Divided type.
Each unit consists of an oleo-pneumatic shock-absorber leg, the bottom end of which is hinged to the bottom fuselage longerons by steel-tube Vees.
Goodyear Airwheels.
Land undercarriage may be replaced by twin Edo "H" metal floats.
Power Plant
One 70 hp Le Blond (AKL-26A) or 85 hp Le Blond (AKL-26B) five-cylinder air-cooled radial engine, on a quickly-detachable welded steel-tube mounting.
Gravity tank, of 15 U.S. gallons capacity, behind fireproof bulkhead, and one of 14 U.S. gallons capacity in the right wing-stub.
Oil tank in the engine-mounting.
Accommodation
Tandem open cockpits, with complete dual control.
Baggage compartment, of 6 ft3, behind the rear cockpit.
Dimensions
Span: 40 ft 2 in (12.48 m)
Length: 23 ft 6 in (7.16 m)
Height: 7 ft (2.13 m)
Wing area: 194.5 ft2 (18 m2)
Weights and Loadings (AKL-26A Landplane)
Weight empty: 1,025 lbs (465.3 kg)
Disposable load: 565 lbs (256.5 kg.)
Weight loaded: 1,590 lbs. (721.8 kg.)
Wing loading: 8.18 lbs/ft2 (40 kg/ m2)
Power loading: 22.7 lbs/hp (10.3 kg/hp)
Weights and Loadings (AKL-26A Seaplane)
Weight empty: 1,100 lbs (499.4 kg)
Disposable load: 500 lbs (227 kg)
Weight loaded: 1,600 lbs (726.4 kg)
Wing loading: 8.23 lbs/ft2 (40.1 kg/m2)
Power loading: 22.9 lbs/hp (10.39 kg/hp)
Weights and Loadings (AKL-26B Landplane)
Weight empty: 1,016 lbs (461.2 kg)
Disposable load: 574 lbs (260.5 kg)
Weight loaded: 1,590 lbs (721.7 kg)
Wing loading: 8.18 lbs./ ft2. (39.9 kg/m2)
Power loading: 18.7 lbs/hp (8.48 kg/hp)
Performance (AKL-26A Landplane)
Maximum speed: 93 mph (148.8 kph)
Initial rate of climb" 600 ft/min (183 m/min)
Service ceiling: 12,000 ft (3,660 m)
Cruising range: 480 miles (768 km)
Performance (AKL-26A Seaplane)
Maximum speed: 88 mph (140.8 kph)
Initial rate of climb: 500 ft./min. (152.5 m/min)
Service ceiling 10,000 ft (3,050 m)
Cruising range: 450 miles (720 km)
Performance (AKL-26B Landplane)
Maximum speed: 97 mph (155.2 kph.)
Initial rate of climb: 700 fpm. (213.5 m/min)
Service ceiling: 14,000 ft (4,270 m)
Cruising range: 425 miles (680 km)
References
---
Shupek, John. "Aeromarine-Klemm AKL-26A" The Skytamer Archive, Copyright © 2013 Skytamer Images. All Rights Reserved
Bridgman, Leonard. "Aeromarine-Klemm: Aeromarine-Klemm AKL-26A and AKL-26B", Jane's All The World's Aircraft 1931. London: Sampson Low, Marston & Company, Ltd., 1931, pp. 243c-244c Print
---