Aero Vodochody L-59 "Super Albatros"
Czechoslovak, Two-seat Basic and Advanced Jet Trainer
---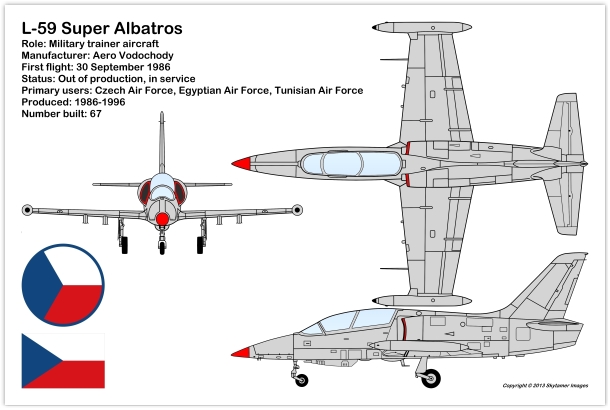 Aero L-59 "Super Albatros" Overview 2
---
Aero L-59 "Super Albatros"
Role: Military trainer aircraft COIN
Manufacturer: Aero Vodochody
First flight: 30 September 1986
Status: Out of production, in service
Primary users: Czech Air Force, Egyptian Air Force, Tunisian Air Force
Produced: 1986–1996
Developed from: Aero L-39 "Albatros"
Variants: Aero L-159 "Alca"
The Aero L-59 "Super Albatros" is a Czech military trainer aircraft developed from the firm's earlier L-39 "Albatros". Compared to its predecessor, it featured a strengthened fuselage, longer nose, a vastly updated cockpit, advanced avionics (including head-up display), and a more powerful engine. At the time of its first flight on 30 September 1986, it was designated the L-39MS. Aero no longer produces this aircraft.
In 1992, a dedicated single-seat attack variant was proposed under the project name ALCA (Advanced Light Combat Aircraft), and was successfully marketed to the Czech Air Force. First flight of this variant, designated L-159A, was on 2 August 1997. The aircraft features mostly Western avionics, with systems integration undertaken by Boeing. Since then a new two-seat trainer has been flown as the L-159B "Albatros II."
Variants 2
---
L-59 — Standard production version (six L-39MS for Czechoslovak Air Force). Later four in Czech Air Force, two in Slovak Air Force.
L-59E — Export version for Egypt. 49 × L-59s for Egyptian Air Force.
L-59T — Export version for Tunisia. 12 × L-59s for Tunisian Air Force.
Operators 2
---
Egypt — Egyptian Air Force 48 delivered in 1993-1994.
Tunisia — Tunisian Air Force 12 delivered in 1995-1996.
Combat History 2
---
In April 2014, Tunisian L-59s were used in reconnaissance and COIN strikes in support of major military offensives in the border region of Mount Chaambi against Ansar al-Sharia and al-Qaeda-linked militants that aim at destabilizing Tunisia's transition to democracy.
Aero Vodochody L-59E "Super Albatros" Specifications and Performance Data 2
---
Type
Developed a version of L-39 jet trainer.
Program
Originally known as L-39MS.
First flight of X-22 prototype (OK-184) 30 September 1986.
Two more prototypes (X-24, X-25) flown 26 June and 6 October 1987.
First flight of production L-39MS, 1 October 1989.
First flight prototype L-59E, April 1992.
Deliveries of L-59E began (two aircraft) 29 January 1993.
Current Versions
L-39MS: Initial production version for Czech and Slavic Air Force.
L-39E: Production version for Egyptian Air Force, generally as L-39MS but with Western avionics. "Detailed description applies to this version."
Customers
Czech and Slavic Air Forces (six L-39MS)
Egyptian Air Force (48 × L-59E)
Costs
Egyptian order reportedly worth $204 million
Design Features
Main changes are a reinforced fuselage.
New and more powerful engine.
Upgraded avionics.
More pointed nose.
Flying Controls
Generally as L-39C except that ailerons and elevators have Czech-designed irreversible power controls and no tabs.
Structure
Generally as for L-39C except for light alloy/honeycomb sandwich ailerons and elevators, and reinforced fuselage.
Landing Gear
Czech design gas/oil shock absorption.
K36 main wheels (610 × 215 mm) and K37 nose wheel (465 × 180 mm).
Main wheel tire pressure 6.0 bars (87 psi) on clean aircraft, 8.0 bars (116 psi) on combat equipped version.
Corresponding nose wheel tire pressures are 3.5 bars (51 psi) and 4.5 bars (65 psi).
Six-piston, air-cooled hydraulic disc brakes on main wheels, with electronic anti-skid units.
Power Plant
Engine: One 21.57 kN (4,850 lb st) Progress (Lotarev/ZVL) DV-2 turbofan.
Internal fuel in fuselage tanks (total 1,077 L: 284.5 US gallons: 237 Imp gallons and two 230 L (60.8 US gallons: 50.6 Imp gallon) non-jettisonable wing tanks.
Provision for two under wing (inboard) 150 or 350 L (39.6 or 92.5 US gallons: 33 or 77 Imp gallon) drop tanks.
Accommodation
Crew: Crew of two and tandem on Czech VS-2 zero/zero ejection seats.
Canopy: One-piece canopy, hinged at rear and opening upward.
Systems
Cockpits pressurized (max overpressure 0.30 bar; 4.35 psi) and air-conditioned, using engine bleed air (25 L/min; 0.883 ft3/min) and cooling unit.
Automatic temperature control from 15°C to 30°C.
Hydraulic system comprises first and second subsystems each with engine driven variable flow pump with operating pressure of 150 bars (2,175 psi), max flow rate 25 L/min (6.6 US gal/min; 5.5 Imp gal/min).
Emergency hydraulic pump for second subsystem driven by APU.
Main (9 kW) and standby (6 kW) generators for electrical power, plus 25 Ah nickel-cadmium battery.
Gaseous oxygen system for crew.
Saphir 5M APU for engine starting and drive of standby hydraulic pump and generator.
Avionics (L-39 MS)
LPR 80 VHF/UHF com radio with intercom
LUN 3524 standby radio
Bendix/King KNS 660 flight management system
KNR 634 VOR
KTU 709 Tacan
KDF 806 ADF
KRA 405 radar altimeter
KLN 670 GPS
KXP 756 transponder
KAH 460 AHRS
KAD 480 air data system
EFS 40 EFIS
Flight Visions F-200 HUD and admission computer with video camera in front cockpit and monitor in rear cockpit
Armament
Gun: Single 20-barrel 23 mm GSh gun in under fuselage pod below front cockpit.
Ammunition: (150 rounds) housed in fuselage.
Hard points: Four underwing hard points, inner ones each with 500 kg (1,102 lb) capacity, outer ones each 250 kg (551 lb) capacity.
Stores: Underwing stores of former Soviet types, including bombs of up to 500 kg size and UB-16-57M (57 mm) rocket launchers.
Dimensions, External
Wing span, including tip tanks: 9.54 m (31 ft 3½ in)
Wing cord at root: 2.80 m (9 ft 2&frac;14; in)
Wing cord at tip: 1.40 m (4 ft 7 in)
Wing aspect ratio (geometric): 4.4
Wing aspect ratio (including tip tanks): 5.2
Length overall: 12.20 m (40 ft 0¼ in)
Height overall: 4.77 m (15 ft 7¼ in)
Tailplane span: 4.40 m (14 ft 5 in)
Wheel track: 2.44 m (4 ft 4¾ in)
Wheelbase: 4.39 m (14 ft 4¾ in)
Areas
Wings, gross: 18.80 m2 (202.36 ft2)
Ailerons (total): 1.686 m2 (18.15 ft2)
Trailing-edge flaps (total): 2.68 m2 (28.89 ft2)
Air brakes (total): 0.50 m2 (5.38 ft2)
Fin: 2.60 m2 (27.99 ft2)
Rudder, including tab: 0.91 m2 (9.80 ft2)
Tailplane: 4.15 m2 (44.64 ft2)
Elevators, including tabs: 1.14 m2 (12.27 ft2)
Weights and Loadings
Weight Empty (trainer, including GSh-23 gun): 4,030 kg (8,885 lb)
Max fuel weight, internal (including wingtip tanks): 1,200 kg (2,645 lb)
Max fuel weight, external (two 350 L drop tanks): 544 kg (1,199 lb)
Maximum T-O weight (trainer, clean with external stores): 7,000 kg (15,432 lb)
Maximum landing weight (on concrete): 6,000 kg (13,228 lb)
Max wing loading (clean): 286.7 kg/m2 (58.72 lb/ft2)
Max wing loading at 7,000 kg (15,432 lb) with max T-O weight: 372.34 kg/m2 (76.26 lb/ft2)
Max power loading (clean): 249.82 kg/kN (2.45 lb/lb st)
Max power loading at 7,000 kg (15,432 lb) at max T-O weight: 372.34 kg/m2 (76.26 lb/lb st)
Performance (at max trainer clean T-O weight)
Max limiting Mach number: 0.82
Max level speed at 5,000 m (16,400 ft): 467 knots (865 km/h; 537 mph)
Stalling speed with flaps up: 116 knots (215 km/h; 134 mph)
Stalling speed with flaps down: 100 knots (185 km/h; 115 mph)
Max rate of climb at S/L: 1680 m/m (5,510 ft/m)
Service ceiling: 7800 m (38,725 ft)
T-O run: 590 m (1,936 ft)
Landing run: 770 m (2,527 ft)
Range at 7,000 m (22,975 f) with max internal and external fuel (1,744 kg; 384 lb): 1,079 nm (2,000 km; 1,243 miles)
References
---
Shupek, John. "Aero Vodochody L-59" The Skytamer Archive, Copyright © 2013 Skytamer Images. All Rights Reserved
Wikipedia, the free encyclopedia. Aero L-59 Super Albatros
Lambert, Mark. "Aero: Aero L-59" Jane's All The World's Aircraft 1993-94. Jane's Information Group, Alexandria, VA, ISBN 0 7106 1066 1, 1994, pg. 64-65 Print
---