Aero L-29 "Delfín"
Czechsolvak, Two-seat Basic and Advance Jet Trainer (NATO code name "Maya")
---
Archive Photos 1
---
1968 Aero Vodochody L-29 Delphín (N3098E, c/n 892817)
1968 Aero Vodochody L-29 Delphín (N7149E, c/n 591328)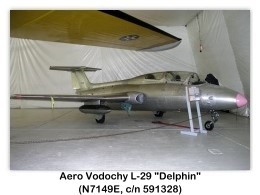 1968 Aero Vodochody L-29 "Delphín" (N700PB, s/n 8928140)
Overview 2
---
AERO, Aero Národní Podnik (Aero National Corporation) perpetuates the name of one of the three founder companies of the Czechoslovak aircraft industry, which began activities shortly after the end of World War I with the manufacture of Austrian Phönix fighters. Subsequent well-known products include the A 11 military general-purpose biplane and its derivatives, and license manufacture of the French Bloch 200 Twin-engine bomber. The present works was established on 1 July 1953, since when it has seven times received the Red Banner award of the Ministry of Engineering and UVOS, as well as many other awards including those of Exemplary Exporting Corporation and the Order of Labor. Its current products include the Aero L-29 "Delphín" jet trainer, details of which are given below.
Aero L-29 "Delfín"
NATO code name: "Maya"
Role: Military trainer aircraft
Manufacturer: Aero Vodochody
Designed by: Z. Rublic and K. Tomáš
First flight: 5 April 1959
Introduced: 1961
Status: Retired; popular civilian warbird
Primary users: Soviet Air Force, Czech Air Force
Produced: 1963-1974
Number built: 3,500
History, Design and Development 2
---
The Aero L-29 Delfín (Czech: Dolphín, NATO reporting name: Maya) was a military jet trainer aircraft that became the standard jet trainer for the air forces of Warsaw Pact nations in the 1960s. It was Czechoslovakia's first locally designed and built jet aircraft. In the late 1950s, the Soviet Air Force was seeking a jet-powered replacement for its fleet of piston-engined trainers, and this requirement was soon broadened to finding a trainer aircraft that could be adopted in common by Eastern Bloc air forces. Aero's response, the prototype XL-29 designed by Z. Rublic and K. Tomáš first flew on 5 April 1959, powered by a British Bristol Siddeley Viper engine. The second prototype was powered by the Czech-designed M701 engine, which was used in all subsequent aircraft.
The basic design concept was to produce a straight forward, easy-to-build and operate aircraft. Simplicity and ruggedness were stressed with manual flight controls, large flaps and the incorporation of perforated air brakes on the fuselage sides providing stable and docile flight characteristics, leading to an enviable safety record for the type. The sturdy L-29 was able to operate from grass, sand or unprepared fields. Both student pilot and instructor had ejection seats, and were positioned in tandem, under separate canopies with a slightly raised instructor position.
In 1961, the L-29 was evaluated against the PZL TS-11 "Iskra" and Yakovlev Yak-30 and emerged the winner. Poland chose to pursue the development of the TS-11 "Iskra" anyway, but all other Warsaw Pact countries adopted the Delfín under the agreements of COMECON. Production began April 1963 and continued for 11 years, with 3,500 eventually built. A dedicated, single-seat, aerobatic version was developed as the L-29A "Akrobat." A reconnaissance version with nose-mounted cameras was built as the L-29R.
Operational History 2
---
The Delfin served in basic, intermediate and weapons training roles. For this latter mission, they were equipped with hardpoints to carry gunpods, bombs or rockets, and thus armed, Egyptian L-29s were sent into combat against Israeli tanks during the Yom Kippur War. The L-29 was supplanted in the inventory of many of its operators by the Aero L-39 Albatros. More than 2,000 L-29s were supplied to the Soviet Air Force, acquiring the NATO reporting name "Maya."
As a trainer, the L-29 enabled air forces to adopt an "all-through" training on jet aircraft, replacing earlier piston-engined types. On October 2, 2007, an unmodified L-29 was used for the worlD's first jet flight powered solely by 100% biodiesel fuel. Pilots Carol Sugars and Douglas Rodante flew their Delphín Jet at Stead Airport, Reno, Nevada in order to promote environmentally friendly fuels in aviation.
L-29 "Delphín" Operators 2
---
Military
Afghanistan: The Afghan Air Force operated as many as 24 from 1978 to as late as 1999.
Armenia: The Armenian Air Force operated a few, which were withdrawn from service in 1996.
Bulgaria: Bulgarian Air Force
Czechoslovakia: The Czech Air Force operated as many as 400
East Germany: East German Air Force
Egypt: Egyptian Air Force
Georgia: Georgian Air Force
Ghana: Ghana Air Force
Guinea:
Hungary: Hungarian Air Force
Indonesia: Indonesian Air Force
Iraq: Iraqi Air Force - no longer operated
Mali:
Nigeria: Nigerian Air Force
Romania: Romanian Air Force - all the L-29 have been retired in 2006
Uganda: Ugandan Air Force
Soviet Union: Soviet Air Force - operated as many as 2,000
Slovakia: Slovak Air Force
Syria: Syrian Air Force
Vietnam:
Civil
Czech Republic: One private L-29C (OK-ATS)
South Africa: Two Sasol Tigers aerobatic team flying the L-29
Ex-military L-29s are proving popular on the civil warbird market.
Specifications (Aero L-29 "Delphín") 2
---
Type
Two-seat jet basic and advanced trainer.
Wings
Cantilever mid-wing monoplane.
Wing section NACA 642A217 at root, NACA 642A212 at tip.
Aspect ratio 5:36.
Chord 8 ft 10 in (2.70 m) at root, 4 ft 7 in (1.40 m) at tip.
Dihedral 0° on center-section, 3° on outer wings.
Incidence 1° 30'.
All-metal stressed-skin structure with single main spar at 40% chord.
All-metal ailerons and hydraulically operated Fowler flaps.
Trim-tab in each aileron.
Fuselage
All-metal monocoque structure of circular section.
Front portion forms pressurized compartment for the crew, radio equipment and electronics.
Center fuselage is integral with wing center-section and contains main fuel tanks.
Engine mounting is attached to rear bulkhead of center-fuselage.
Rear fuselage is connected to center portion through eight attachment points, to permit quick removal for engine servicing.
Zones of high stress have steel-alloy reinforcement.
Hydraulically operated sideways-opening perforated air brake on each side of rear fuselage.
Tail Unit
All-metal structure with variable incidence tailplane and elevator mounted at tip of fin.
Tailplane incidence is linked with landing flaps.
Trim-tabs in elevator.
Landing Gear
Retractable tricycle type.
Hydraulic retraction, main wheels inward into wing-roots, nose-wheel rearward into fuselage.
Oleo-pneumatic shock-absorbers.
Single wheel on each unit.
Barum low-pressure tires, size 600 × 180 on main wheels, 420 × 150 on nose wheel.
Pneumatic brakes.
Power Plant
One M-701c 500 turbojet engine, rated at 1,960 lb (890 kg) st at 15,400 rpm for take-off.
Fuel in two main tanks in fuselage with capacity of 152 Imp gallons (690 L) and 79 Imp gallons (360 L) respectively.
Total internal fuel capacity 231 Imp gallons (1,050 L).
Total usable capacity 211.5 Imp gallons (962 L).
Provision for two 33 Imp gallon (150 L) underwing auxiliary tanks.
Inverted flying tank in rear main tank permits 15 sec of inverted flight.
All tanks of aluminum alloy.
Accommodation
Crew of two in tandem on synchronized ejection seats in air-conditioned and pressurized cabin.
Rear seat raised 6 in (15 cm) higher than front seat.
Fittings for g-suits.
Canopy over front cockpit opens sideways, to starboard.
Rearward-sliding canopy over rear cockpit.
Systems
Hydraulic system, pressure 1,565 psi (110 kg/cm2), actuates landing gear, wheel doors, flaps and air-brakes.
Emergency manual system for extension of flaps and landing gear.
In case of pilot error, flaps retract automatically at an air speed of 168 mph (270 km/h).
Pneumatic system for air-brakes and canopy seals.
Electrical system includes a 3 kW generator on engine and a 28 Ah battery which can be used for emergency engine starting.
Electronics and Equipment
Includes: VHF radio
radio compass
radio altimeter, and
marker beacon receiver.
Armament
Provision for camera gun and gun sight, and
either two bombs of up to 220 lb (100 kg),
eight air-to-ground rockets or
two 7.62-mm machine-gun pods under the wings
Dimensions, External
Wing span: 33 ft 9 in (10.29 m)
Length overall: 36 ft 5-1/2 in (10.81 m)
Height over tail: 10 ft 3 in (3.13 m)
Tailplane span: 10 ft 11-1/2 in (3.34 m)
Wheel track: 11 ft 3-1/2 in (3.44 m)
Wheelbase: 12 ft 9-1/2 in (3.90 m)
Areas
Wings, gross: 213.1 ft2 (19.80 m2)
Ailerons (total): 16.15 ft2 (1.50 m2)
Flaps (total): 30.14 ft2 (2.80 m2)
Air-brakes (total): 5.38 ft2 (0.50 m2)
Fin: 14.00 ft2 (1.30 m2)
Rudder: 8.61 ft2 (0.80 m2)
Tailplane: 23.68 ft2 (2.20 m2)
Elevators: 11.84 ft2 (1.10 m2)
Weights and Loading
Weight empty: 5,027 lb (2,280 kg)
Normal T-O weight: 7,231 lb (3,280 kg)
Max permissible loaded weight with external tanks: 7,804 lb (3.540 kg)
Max wing loading: 36.7 psi (179 kg/m2)
Performance at AUW of 7,165 lb = 3,250 kg)
Max level speed at S/L: 382 mph (615 km/h)
Max speed at 16,400 ft (5,000 m): 407 mph (655 km/h)
Max permissible speed in dive: 510 mph (820 km/h)
Limiting Mach No.: 0.75
Landing speed: 90 mph (145 km/h)
Stalling speed flaps up: 100 mph (160 km/h)
Stalling speed: flaps down: 81 mph (130 km/h)
Rate of climb at S/L: 2,755 ft (840 m) min
Service ceiling: 36,100 ft (11,000 m)
Take-off run: 1,805 ft (550 m)
Landing run: 1,444 ft (440 m)
Max range on internal fuel at 16,400 ft (5,000 m): 397 miles (640 km)
Max range with external tanks at 16,400 ft (5,000 m): 555 miles (894 km)
Endurance on internal fuel at 285 mph (460 km/h) at 16,400 ft (5,000 m): 1 hr 47 min
Endurance with external tanks: 2-1/2 hours
References
---
Shupek, John. Photos, copyright © 1992, 1999, 2004, 2006 Skytamer Images. All Rights Reserved
Wikipedia, the free encyclopedia. Aero L-29 "Delphín"
Taylor, John W.R. Jane's All The World's Aircraft 1969-70. McGraw-Hill Book Company, 1969
---