1970 "History of Aviation"
Nabisco Foods, 10-cards, United Kingdom
---
Series Title: History of Aviation
British Trade Index No.: NAB-5
Issued by: Nabisco Foods, Ltd.
Issued with: Nabisco Shredded Wheat
Country: Welwyn Garden City, Herts, England, UK
Number of Cards: 10
Card Numbering: 1 to 10 on reverse side
Type of Card: Food Insert Card
Card Dimensions: 77.1 × 55.5 mm
Circa: 1970
Checklist: Download Checklist
Overview — A Little History About Nabisco Foods and "Shredded Wheat" [1]
---
As with the Nabisco's 1980 "Aces in Action" 5-card set, Nabisco's earlier 1970 "History of Aviation" 10-card set was also issued by Nabisco Foods, Ltd., Welwyn Garden City, Herts, England as a promotion with their "Shredded Wheat" breakfast cereal. We believe that this 1970 " History of Aviation " 10-Card set was distributed as inserts into Nabisco's " Shredded Wheat " cereal boxes. Unfortunately, at this date (9/9/2015), we have yet to see one of the cereal boxes for this promotion.
The shredded wheat product line started in the United States and eventually migrated to England in the following manner. Shredded wheat is a breakfast cereal made from whole wheat. As of January 2010, it was available in three sizes - bite sized (¾ × 1 in), miniature (nearly half the size of the bite-sized pieces), and original. Both smaller sizes are available in a frosted variety, which has one side coated with sugar and usually gelatin. Some manufacturers have produced "filled" versions of the bite-size cereal containing a raisin at the centre, or apricot, blueberry, raspberry or cranberry filling.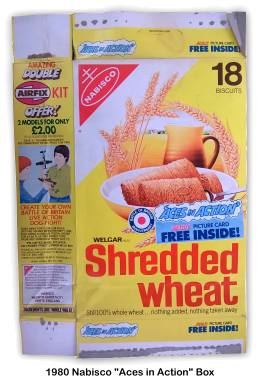 In the United States, shredded wheat is most heavily advertised and marketed by Post Foods, which acquired the product in 1993 through its parent company, Kraft Foods, buying it from its long-time producer Nabisco. Kellogg's sells eight varieties of miniature, or bite-sized, shredded wheat cereal. Natural and organic manufacturer Barbara's Bakery makes an all-natural version of shredded wheat. In the United Kingdom, the Shredded Wheat brand is owned by Cereal Partners, a Nestlé/General Mills company, although there are many generic versions and variants by different names. It was first made in the United States in 1893, while UK production began in 1926.
Henry Perky invented shredded wheat cereal in Denver, Colorado, in 1890. Inspired by his observation of a dyspeptic diner blending wheat with cream, he developed a method of processing wheat into strips that were formed into pillow-like biscuits. The wheat is first cooked in water until its moisture content reaches about 50%. It is then tempered, allowing moisture to diffuse evenly into the grain. The grain then passes through a set of rollers with grooves in one side, yielding a web of shredded wheat strands. Many webs are stacked together, and this moist stack of strands is crimped at regular intervals to produce individual pieces of cereal with the strands attached at each end. These then go into an oven, where they are baked until their moisture content is reduced to 5%.
Perky first sold his shredded wheat cereal to vegetarian restaurants in 1892, distributing it from a factory in Niagara Falls, New York. A health-oriented publication, The Chicago Vegetarian, recommended the use of shredded wheat biscuits as soup croutons. At the same time, Perky leased cereal-manufacturing machines to bakers in Denver and Colorado Springs through his Cereal Machine Company and sold wheat processors.
One of his wheat-processor buyers, Dr. John Harvey Kellogg, admired Perky's manufacturing process for his shredded wheat cereal. Kellogg declined to purchase Perky's patent on it, however, considering it too weak in taste, "like eating a whisk broom." However, after co-founding the Battle Creek Toasted Corn Flake Company — later the Kellogg Company cereal manufacturer — with his brother Will Keith Kellogg in 1906, John Kellogg observed the success of Perky's product and offered to buy its patent from him, but at too low a price to pique Perky's interest.
Premiering to the public at Chicago's World Columbian Exposition in 1893, shredded wheat cereal was then manufactured by The Natural Food Company in Niagara Falls, New York in 1901. It became the Shredded Wheat Company in 1904. It was bought by Nabisco (National Biscuit Company) in December 1928.
United States production of Shredded Wheat moved to Naperville, Illinois in 1954, where it is still made. In 1993, Nabisco sold the brand to Kraft General Foods, but it was still under the Nabisco name until 1999, whereupon it was sold under the slogan "Nabisco brought to you by Post."
Canadian production has been at Niagara Falls, Ontario, since 1904 due to nearby hydro-electric power. United States production is also at Niagara Falls, Ontario. Until recently, United States production took place in Niagara Falls, New York, but that factory was closed when production was consolidated on the Canadian side of the border.
In 1920, Henry Perky's son, Scott Henry Perky, developed a round shredded wheat cereal, which he named Muffets. The Muffets Corporation was sold to the Quaker Oats Company in 1927. The cereal is still marketed in Canada as Muffets, but in the U.S. is now sold as Quaker Shredded Wheat.
In the United Kingdom, the original company opened a factory in Welwyn Garden City, Hertfordshire in 1926 at which time Welgar was its registered trade mark, which became part of Nabisco in 1928. The tall concrete cereal silos that form part of the factory are a local landmark and are listed structures. The first 18 storage units were completed in 1926 with a further 27 constructed in 1938, in both instances they were built by Peter Lind & Company of London who continue in business today. In 1988, Nabisco sold the UK site to Rank Hovis McDougall (who made own-label cereals for supermarkets), whose breakfast cereals division briefly became the Shredded Wheat Company. In 1990, RHM sold the site to Cereal Partners. Now, all Shredded Wheat is made at Staverton, Wiltshire near Bath, Somerset, as the Welwyn Garden City site was shut down in 2008. Also, "Bitesize", "Fruitful" and "Honey Nut" Shredded Wheat are made in the UK.
Shredded Wheat has a particular place in UK popular culture due to a long-running television advertising campaign. The campaign in the 1970s featured Linda Hoyle, singing the lyrics: "There are two men in my life, to one I am a mother, to the other I'm a wife, and I give them both the best with natural Shredded Wheat." The "Three Shredded Wheat" advertisement suggested that the cereal was so nourishing that it was impossible to eat three. Even a black hole was shown as exploding when the third biscuit was sucked into it. Phrases such as "I bet you can't eat three" and "He must have eaten three" were in common use as humorous remarks in the 1970s and 1980s, with celebrities such as Brian Clough, Peter Shilton, Richard Kiel and Ian Botham all 'unable&sdquo; to eat three. A later UK poster advertisement for Carling Black Label showed a bowl with four Shredded Wheat and the caption "I bet he drinks Carling Black Label."
After Henry Perky died in 1908 and the patent on his Shredded Wheat biscuit expired in 1912, John Harvey Kellogg saw that as an opportunity for Kellogg's to sell its own version of the product. Kellogg obtained a patent on the biscuit in 1915, and Kellogg's Shredded Wheat was born. This provoked National Biscuit Company to sue Kellogg for trademark infringement, attempting to enjoin him from using Shredded Wheat as a trade name and from manufacturing the cereal in its pillow-shaped form. This series of litigations led to the United States Supreme Court case Kellogg Co. v. National Biscuit Co. in 1938. The Supreme Court ruled that shredded wheat was generic and not trademarkable; and that in any case, when the first patent for shredded wheat machinery expired in 1912, the right to apply the name "shredded wheat" to the product passed into the public domain along with that patent.
1970 Nabisco "History of Aviation" Overview [2]
---
During 1970, Nabisco Foods issued a 10-card set of "History of Aviation" food insert trading cards that were issued with their Shredded Wheat breakfast cereal. The set features ten British significant aircraft. The aircraft span the timeframe ranging from the Sopwith "Pup" of World War I up through the Hawker-Siddeley "Harrier" of the 1970s. The cards measure 77.1 × 55.5 mm.
The fronts of the "History of Aviation" cards feature color photographs taken from the "HISTORY OF AVIATION," that were published in weekly parts by New English Library starting in September 1970. The card fronts feature an in-flight aircraft photograph with the aircraft title in the LLHC directly beneath the photograph. A copyright line " HISTORY OF AVIATION " photograph appears on the opposite side in the LRHC. The photographs themselves do not contain any borderline, but are surrounded by an ample white border.
The Backs of the cards contain a vertical stack of the following four different elements:(1) Located at the top of the card, a rectangular red box contains the length of the series, the card number, and the card title; (2) Directly beneath the red rectangular box is a descriptive text of the subject aircraft; (3) directly beneath that is a rectangular red-lined box containing advertising copy for the New English Library; and (4) the manufacturer is noted at the bottom of the card. Note: all of the printing on the Backside of the card is in red ink.
The following reference card shows the fronts and Backs of a typical 1970 "History of Aviation" card. Click on the card images to reveal full-size computer enhanced 600-dpi images of the card.
1970 Nabisco Foods "History of Aviation" Image-Guide [2]
---
The following 1970 Nabisco "History of Aviation" Image-Guide shows computer enhanced images of the fronts and Backs of the 10 cards in the set. Behind each thumbnail image is a 600-dpi computer enhanced card image that you may access. In addition, directly beneath the Image Guide, in tabular form, are links to the original scans used for this series.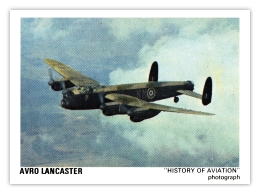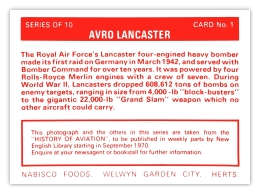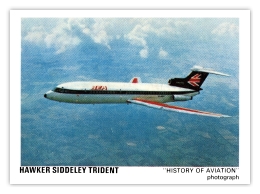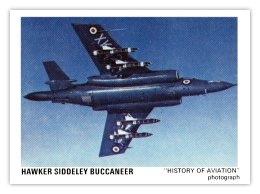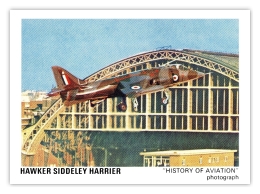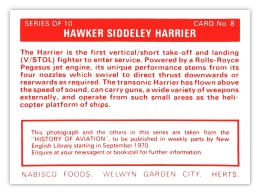 1970 "History of Aviation" Checklist [2]
---
We have provided two versions of the 1970 "History of Aviation" 10-card set issued by Nabisco Foods, United Kingdom. An 8½ × 11 inch PDF version, and the web version shown below. Click on the PDF graphic below to access the PDF version.
1970 "History of Aviation"
Nabisco Foods, 10-Cards, United Kingdom
CHECKLIST
№
x
Card Title
1
Avro Lancaster
2
Fairey Swordfish
3
de Havilland Puss Moth
4
Supermarine Spitfire
5
Hawker Siddeley Trident
6
Hawker Siddeley Buccaneer
7
de Havilland Mosquito
8
Hawker Siddeley Harrier
9
Sopwith Pup
10
S.E.5a
We Need Help!
---
We need your help to complete this 1970 Nabisco "History of Aviation" webpage with scans of the Nabisco "Shredded Wheat" cereal box used for this promotion. If you can help, please let us know. If you are able to help us, we will also acknowledge your contribution at the end of this page. If you have a Business, Business Card or a Website that you would like us to acknowledge, we'll include it. Please email via the "Contact Us" navigation button at the left.
Contributors
---
John Shupek — John is retired Aeronautical/Aerospace Engineer that lives in Southern California. John's 36 year aerospace career/adventure started in the mid-1960s when he worked for Pratt & Whitney at their "FRDC" … Florida Research and Development Center, West Palm Beach, Florida. John was part of the P&W jet engine design team for the CIA/USAF's Lockheed A-12/SR-71A "Oxcart/Blackbird" engines (J58/JT11D-20). He also worked on the RL-10 rocket engine and the JTF-17A which was P&W's entry into the United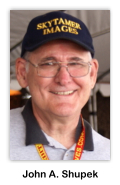 States' SST competition between Boeing and Lockheed. Several years later, John moved Back to California and worked at the AiResearch Mfg. Company at LAX and Torrance. He originally worked on the thermal design of the HRE (Hypersonic Ramjet Engine) which was a supersonic combustion Mach 7 ramjet engine that was to be tested on the North American X-15. John did about three more years of jet engine design work before he disappeared for 13 years into the classified DOE "GCEP" (Gas Centrifuge Enrichment Plant) Atomic Energy program for the enrichment of U235. After the GCEP program was cancelled by the DOE in 1985, John was hired by Northrop Aircraft to do the thermal design for Northrop's entry into the ATF (Advanced Tactical Fighter) competition, the Northrop YF-23A "Black Widow II" stealth supercruise fighter. He also worked on the Northrop Grumman B-2A "Spirit" stealth bomber. After several years on a classified stealth missile program, John worked the remainder of his Aerospace career as one of Northrop Grumman's Program Directors on the United States Navy's F/A-18E/F "Super Hornet" jet fighter program.
During John's career at Northrop Grumman he served for five years as Northrop's "Vintage Aircraft Club" Commissioner and the Curator and Webmaster for the Western Museum of Flight in Hawthorne, California. Several years later, John was the volunteer webmaster (for about 3 years) for the Yanks Air Museum, Chino, California. He also served as President and webmaster for two different NPO's after his retirement. The Whittier Historical Society & Museum and Whittier Meals on Wheels.
John's love of aviation history and aviation photography lead to the establishment of this Skytamer.com website in 1998. The Skytamer.com site has continued to expand and will always grow and will never be completed. It's sort of analogous to a snowball rolling down a hill without any trees to stop it. In approximately 2002, John remembered that he had collected Topps "Wings" (ACC# R707-4) airplane trading cards while in High School. Somehow the cards had disappeared over the years. So at this point, he started to re-collect airplane trading cards via eBay and become an airplane card "Image Collector" rather than a "Card Collector" per se. After John scans an airplane card for the website, he has no further use for it and he puts it Back into circulation via eBay. John's mission statement for the Skytamer.com is basically to restore and preserve high-quality card images/artwork associated with the various airplane card sets from the early 1900s to the present. These cards are wonderful historical "snapshots" into aviation history showing which aviation events and aircraft were important at that point in time. For the Skytamer.com website, basically if it is a trading card collection that features things that fly, but doesn't have feathers, it is eligible for consideration on the Skytamer.com website. John always welcomes inputs and high resolution scans (600-dpi) that can be used on this website. John can be reached via the "Contact Us" navigation button on the left.
Allison Piearce ('Aces in Action' Shredded Wheat cereal box image) — Allison is the owner of the "Little Red Dog" website based in England. "Little Red Dog" sells a wide variety of vintage clothing and collectibles.
When one of Allison's elderly relatives sadly passed away, she discovered her amazing array of vintage clothes and collectibles tucked away in various cupboards and attic rooms in her house. Some of the bedrooms were like time capsules; the wardrobes filled with vintage clothes (some of which dated from as far Back as the 1930s) and dressers adorned with vintage bottles, old books and ephemera from the past six decades.
As Allison explored deeper into the attic rooms she discovered an Aladdin's cave of fantastic collectable ephemera … items that many people would have thrown away over the years … including food packaging, brochures, newspapers and magazines; all neatly folded and stacked into bundles.
After Allison listed a few items on an online auction site, she quickly realized there were thousands of collectors out there looking for all different types of items. So she decided to launch her own website, the … "Little Red Dog" to list all of her discoveries on, and in one central place.
Allison only lists items that have been in her own families' homes, she can vouch for their provenance; she has found this to be very important to collectors. She has had great fun researching all of the items before they get uploaded to the "Little Red Dog" and notes that it's very easy to get side-tracked when reading through all of the old newspapers & magazines from a by-gone era.
Allison and the "Little Red Dog" have met some lovely people along the way; from individual people simply looking for a vintage fancy dress costume, to serious collectors of vintage ephemera. She has also helped theaters and TV production companies with clothes and props for their shows & films. Most of "Little Red Dog's" vintage clothing and collectibles have found new homes in the UK; but the "Little Red Dog" is very happy to ship overseas and has had customers from all over Europe, the USA, Australia and Asia.
Allison still has many more items to list on the "Little Red Dog" website, and hopes to continue building her community of followers who are interested in all things vintage. be sure to check out the "Little Red Dog" by clicking on their logo below.
References
---
Wikipedia. Shredded Wheat
Shupek, John A. "History of Aviation," Nabisco Foods., Ltd. The Skytamer Archive (600-dpi Image Scans). Skytamer Images, Whittier, CA, 2014. Digital Image Database.
Piearce, Allison. "1980 Nabisco 'Aces in Action' Shredded Wheat cereal box image". Message to Skytamer Images. 3 July 2015. E-mail.
---
Copyright © 1998-2018 (Our 20th Year) Skytamer Images, Whittier, California
ALL RIGHTS RESERVED