3-Minute "Plane-Pack" Series (F285)
By: John A. Shupek (Skytamer Images)
---
Series Title: 3-Minute "Plane-Pack" Series (aka "Airplanes")
American Card Catalog No.: F285 (Generic)
Manufactured by: National Oats Company, Inc., Cedar Rapids, Iowa
Obtained via Mail-Order: 3-Minute Oats, 3-Minute RaisinOats, 3-Minute Pop Corn
Variation 1: F285-1: Back with single line of branding (3-MINUTE POP CORN)
Variation 2: F285-2: Back with two lines of branding (3-MINUTE OATS/3-MINUTE RAISINOATS)
Variation 3: F285-3: Back with three lines of branding (3-MINUTE OATS/3-MINUTE RAISINOATS/3-MINUTE POP CORN)
Number of Cards: 42-airplane cards per series
Numbering: unnumbered
Card Format: PLC (Playing Card) format with rounded corners
Card Dimensions: 56 × 87 mm
Circa: 1955
Checklist: F285 Checklist
National Oats Company "3-Minute" Overview
---
The National Oats Company, headquartered in Cedar Rapids, Iowa, was a division of Curtice-Burns Foods, Inc. The National Oats Company's "3-Minute" trademark products included cereal food products and ingredients of foods - namely, oats, corn grits, cornmeal and unpopped popcorn. The primary "3-Minute" food products included: (1) 3-Minute Oats, (2) 3-Minute RaisinOats, and (3) 3-Minute Pop Corn.
Popcorn was a major segment of the National Oats Company. They entered into the popcorn business in 1955 when they purchased the Popcorn Growers and Distributors in Wall Lake, Iowa. National Oats later acquired part of the Blevins company and became a major player in the popcorn processing industry. National Oats popcorn was sold under the "3-Minute Town House" label at Safeway grocery stores. Its institutional sales used the "Butterflake" label. By 1968 the National Oats Company claimed that the company's Wall Lake processing facility was the largest popcorn plant in the World.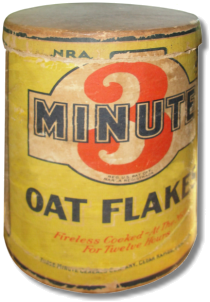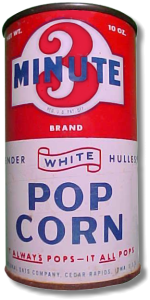 On 13 October 1993, Curtice Burns Foods, announced that it had signed a definitive agreement to sell the oat milling portion of its National Oats division, to the Ralston Purina Company. The "3-Minute" trademark products were thusly discontinued and were no longer marketed in the United States.
3-MINUTE "Plane-Pack" Airplane Cards (F285)
---
During the mid-1950s, the National Oats Company issued their first series of 42-unnumbered airplane cards. Throughout the years, these cards have commonly been known as 3-MINUTE OATS "Airplanes" cards. However … SURPRISE … the official name of these sets are actually 3-MINUTE "Plane-Pack" airplane cards. The cards were available via mail order by redeeming 3-MINUTE trademark labels from their three main products. See the newspaper advertisement and mail order instructions for the initial 42-airplane card set below.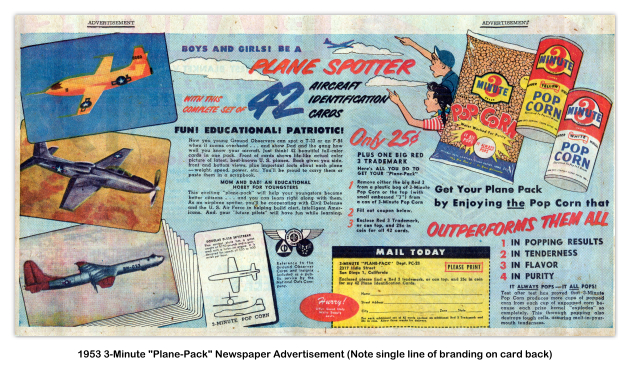 Full-size 600-dpi Image
Now let's take a very close look at the above 3-MINUTE "Plane-Pack" newspaper advertisement. Notice the card back in the advertisement. It has only one line of branding … 3-MINUTE POP CORN. This indicates that there was an initial 42-airplane card set of 3-MINUTE "Plane-Pack" Series 1 (F285-1) with only a single-line of branding. As of 12/30/2016, to the best of our knowledge we have been unable to physically obtain or receive any scans of these F285-1 airplane cards … this just means that they are very scarce … if not rare! Skytamer Images enlarged a section of the above advertisement that contained the image of the card back. The image was then resized and overlaid on the same image from the F285-3 set. It was a perfect match except for the single-line of branding versus the three-lines of branding. We therefore concluded that the set does indeed exist, and seems to be exceptionally rare. Any help with scans of these initial F285-1 cards would certainly be appreciated. For talking purposes, computer enhanced sample card fronts and backs of the three F285 42-airplane card sets are presented below.
As noted above, the initial series of 3-Minute "Plane-Pack" Series 1 (F285-1) of 42-airplane cards was issued to promote the National Oats Company's 3-MINUTE most popular trademark product … 3-MINUTE POP CORN and contained the following single line of branding … 3-MINUTE POP CORN on the card backs. Evidently the 3-MINUTE "Plane-Pack" Series 1 promotion worked well for the National Oats Company's 3-MINUTE POP CORN product line, and a second series was issued. The second series of 3-MINUTE "Plane-Pack" Series 2 (F285-2) 42-airplane card set shared the same card fronts and backs as the F285-1 initial series, with the exception of the branding on the reverse side. This second series of 3-MINUTE "Plane-Pack" Series 2 (F285-2) 42-airplane cards contained the following two-lines of branding on the reverse sides … 3-MINUTE OATS/3-MINUTE RAISINOATS. It appears that both the single-line F285-1 and the two-line F285-2 airplane card sets were being issued during the same timeframe. Between the two sets, the National Oats Company was able to promote all three of their most popular 3-MINUTE trademarked products. Later, the first two series of the 3-MINUTE "Plane-Pack" were discontinued in favor of a third 3-MINUTE "Plane-Pack" Series 3 (F285-3) set of 42-airplane cards. Again, this third set used the same fronts and backs as the previous two sets with the exception of the branding on the reverse side. This third set of 3-MINUTE "Plane-Pack" Series 3 (F285-3) utilized the following three lines of branding surrounded by a rectangular box … 3-MINUTE OATS/3-MINUTE RAISINOATS/3-MINUTE POP CORN. This third set (F285-3) was most likely issued due to financial considerations. The issuance of this third set (F285-3) allowed the National Oats Company to consolidate and promote all three of their 3-MINUTE trademarked products at one time. Essentially, they "put all of their airplane card "eggs" into one basket", thus reducing the costs of printing, advertising, shipping and handling of multiple airplane card sets. The 3-MINUTE "Plane-Pack" Series 3 (F285-3) set of 42-airplane cards is the set that we have all been familiar with over the last 60+ years, and assumed that it was the only airplane card set associated with the National Oats' 3-MINUTE trademarked products. At this time, the original issue dates of the three F285 42-airplane card sets appears to be lost in history.
The fronts of the cards show only American aircraft from the early to mid-1950s. The aircraft artwork is the same that was used in several contemporary aircraft card sets of that era and are later in this article. The backs of the cards are also the same as their contemporary sets with the exception of the product branding on the reverse side. The backs of the cards were printed in a portrait (vertical) format with black ink and arranged in a vertical stack of the following four segments: (1) The card title (aircraft designation); (2) A brief descriptive text of the aircraft; (3) A simplistic 3-view OML (outer mold line) drawing of the aircraft (Note, in some cases the drawing was not included since it was "CLASSIFIED"; and (4) Product branding at the bottom of the card. The cards measure 56 × 87 mm. The generic American Card Catalog reference number for the 3-MINUTE "Plane-Pack" 42-airplane card series is F285.
The 3-MINUTE "Plane-Pack" Series Image Guides
---
Images Guides for all three of the 3-Minute Oats "Plane-Pack" series of 42-airplane cards are shown below. Please keep in mind that actual cards or scans of the initial "Plane-Pack" (F285-1) 42-airplane card set have yet to surface. This "single branding line" set is therefore being presented as a FYI set with only computer simulated images. The other two 3-Minute "Plane-Pack" F285-2 and F285-3 use both computer enhanced/simulated and direct scanned images.
---
3-MINUTE "Plane-Pack" Series 1 (F285-1)
---
---
3-MINUTE "Plane-Pack" Series 2 (F285-2)
---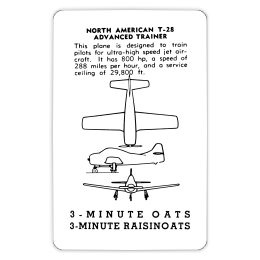 ---
3-MINUTE "Plane-Pack" Series 3 (F285-3)
---
7
Contemporary Sets
---
The 3-MINUTE "Plane-Pack" airplane cards were most likely printed by the Whitman Publishing Company, Racine, Wisconsin, which also had their own anonymous square corners versions of these cards. Whitman Publishing, was a long-time subsidiary of Western Publishing, and was a children's book publishing company that was popular from the early 1900s to the mid-1970s. Whitman published a variety of children's books, including Westerns, Mysteries, Science Fiction, Adventure stories, and various others. Whitman also published authorized editions of popular television shows, such as Hawaii Five-O, Roy Rogers, Lassie, and book adaptions of many Walt Disney films. Their main genre of publishing was Westerns and Mystery, but they encompassed many other genres including playing cards. If you were a coin collector during this era, you bought Whitman Coin Albums for your collections.
Apparently, the Whitman Publishing Company, either printed or authorized various printings these 42-airplane card sets under various set titles for numerous companies to be used as product promotions. All of these aircraft card sets used the same color airplane photos on the card fronts with identical reverses except for product branding. These companies an airplane card sets included:
Hood Country Peach Ice Cream's "Airplanes" (F49) series.
Carnation Corn Flakes' "Aircraft Recognition Cards" with five distinct (F270-1) series.
3-Minute Oats' "Plane-Pack" (F285) with three distinct 42-airplane card sets.
Whitman also issued at least two sets of 12 borderless square-cornered airplane cards. One of these sets is titled "Trading cards - Series B". There was at least one other known set since Skytamer Images has two airplane cards that were not included in the "B" set. The anonymous Whitman cards had no company or set identifiers on the reverse side and were ready for product branding overprinting.
There was also a 42-card set issued via Oak Manufacturing Company's "Premiere Trading Cards, Airplanes" (R724-1). These cards were issued in a traditional non-sports square cornered card format with dimensions of 67 × 95 mm. These cards shared the airplane photos and descriptive text/3-view drawings as of the previous noted issues.
Of the four PLC format sets that used these 42-airplane card setups, the 3-MINUTE "Plane-Pack" sets were by far the toughest to find and collect. Of the three F285 sets, the third set (F285-3) with the three lines of boxed branding would be the easiest set to complete. However, we would probably rate this particular set has SCARCE. The second set (F285-2) with two lines of branding, we would consider to be SEMI-RARE. As of 12/30/2016, we have scans of only nine of the 42 cards in the set. The scans of the nine cards, were provided to Skytamer Images by Lee Kalk. The first set (F285-1) should be considered as RARE. Currently we have no scans of these cards in our archive. The only image that we know of that shows the existence of this set is included in the newspaper advertisement shown near the top of this page. Therefore all of the images related to the F285-1 set are computer-generated as FYI images. If you should by chance have any of these F285-1 cards, please let us know.
3-MINUTE "Plane-Pack" (F285) Checklists
---
The following checklists lists the 126-airplane cards in the 3-MINUTE "Plane-Pack" (F285) series of 3 × 42-airplane cards. Please remember that of cards and the sets are "unnumbered". The numbers shown in the checklist are merely the alphabetical sequence number of the individual cards.
3-MINUTE "Plane-Pack" Airplane Cards
National Oats Company
CHECKLISTS
N/A
F285-1
F285-2
F285-3
Card Title
(1)
Bell 47-D Helicopter
(2)
Bell X-1
(3)
Boeing B-29 Superfortress
(4)
Boeing B-47
(5)
Boeing B-50 Superfortress
(6)
Boeing C-97A Stratofreighter
(7)
Boeing Stratocruiser
(8)
Chance Vought F7U-1 Cutlass
(9)
Convair B-36 Bomber
(10)
Convair-Liner
(11)
Convair Turboliner
(12)
Convair XB-46 Bomber
(13)
Convair XF-81 Escort Fighter
(14)
Convair XF-92 Delta Wing
(15)
Douglas AD Skyraider
(16)
Douglas C-124 — Globemaster
(17)
Douglas D-558 Skystreak
(18)
Douglas D-558-2 Skyrocket
(19)
Douglas Super DC-3
(20)
Douglas DC-6A Liftmaster
(21)
Grumman Albatross
(22)
Grumman F9F-2 Panther
(23)
Lockheed Constellation
(24)
Lockheed Constitution
(25)
Lockheed F-90 Penetration Fighter
(26)
Lockheed F94-A All Weather Interceptor
(27)
Lockheed P2V Neptune Patrol Bomber
(28)
Lockheed T-33 Shooting Star
(29)
Martin 404 Transport
(30)
Martin AM-1 Mauler
(31)
Martin Caroline Mars
(32)
Martin P4M-1 Mercator
(33)
Martin XB-51
(34)
North American AJ-1 Attack Bomber
(35)
North American B-45 Tornado Jet Bomber
(36)
North American F-86 Sabre
(37)
North American T-28 Advanced Trainer
(38)
Northrop F-89 Scorpion
(39)
Northrop X-4
(40)
Northrop YRB-49
(41)
Republic F-84F Thunderjet (side view)
(42)
Ryan Navion 205
n/a
Shipping Envelope
Special Thanks
---
Skytamer Images would like to thank and acknowledge the following individuals for their contributions to this webpage: (1) Albert "Al" B. Kramer for loaning us his entire airplane card collection to scan, which included numerous cards from the 3-MINUTE "Plane-Pack" Series 3 (F285-3) set, and for "filling in the blanks" to complete the F285-3 original card scans; (2) Lee Kalk for loaning us his nine 3-MINUTE "Plane-Pack" Series 2 (F285-2) airplane cards; (3) Pete D'Luhosch for providing us with 600-dpi scans of several of the 3-MINUTE "Plane-Pack" Series 3 (F285-3) airplane cards, (4) Bob Dros for sharing numerous scans with us throughout the years, and (5) Jerry B… for providing us with a scan of the 3-MINUTE "Plane-Pack" shipping envelope via the Net54 Vintage Non-Sports Cards Chat Board.
Contributors
---
John Shupek — John is retired Aeronautical/Aerospace Engineer that lives in Southern California. John's 36 year aerospace career/adventure started in the mid-1960s when he worked for Pratt & Whitney at their "FRDC" … Florida Research and Development Center, West Palm Beach, Florida. John was part of the P&W jet engine design team for the CIA/USAF's Lockheed A-12/SR-71A "Oxcart/Blackbird" engines (J58/JT11D-20). He also worked on the RL-10 rocket engine and the JTF-17A which was P&W's entry into the United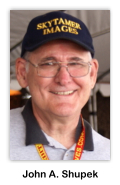 States' SST competition between Boeing and Lockheed. Several years later, John moved Back to California and worked at the AiResearch Mfg. Company at LAX and Torrance. He originally worked on the thermal design of the HRE (Hypersonic Ramjet Engine) which was a supersonic combustion Mach 7 ramjet engine that was to be tested on the North American X-15. John did about three more years of jet engine design work before he disappeared for 13 years into the classified DOE "GCEP" (Gas Centrifuge Enrichment Plant) Atomic Energy program for the enrichment of U235. After the GCEP program was cancelled by the DOE in 1985, John was hired by Northrop Aircraft to do the thermal design for Northrop's entry into the ATF (Advanced Tactical Fighter) competition, the Northrop YF-23A "Black Widow II" stealth supercruise fighter. He also worked on the Northrop Grumman B-2A "Spirit" stealth bomber. After several years on a classified stealth missile program, John worked the remainder of his Aerospace career as one of Northrop Grumman's Program Directors on the United States Navy's F/A-18E/F "Super Hornet" jet fighter program.
During John's career at Northrop Grumman he served for five years as Northrop's "Vintage Aircraft Club" Commissioner and the Curator and Webmaster for the Western Museum of Flight in Hawthorne, California. Several years later, John was the volunteer webmaster (for about 3 years) for the Yanks Air Museum, Chino, California. He also served as President and webmaster for two different NPO's after his retirement. The Whittier Historical Society & Museum and Whittier Meals on Wheels.
John's love of aviation history and aviation photography lead to the establishment of this Skytamer.com website in 1998. The Skytamer.com site has continued to expand and will always grow and will never be completed. It's sort of analogous to a snowball rolling down a hill without any trees to stop it. In approximately 2002, John remembered that he had collected Topps "Wings" (ACC# R707-4) airplane trading cards while in High School. Somehow the cards had disappeared over the years. So at this point, he started to re-collect airplane trading cards via eBay and become an airplane card "Image Collector" rather than a "Card Collector" per se. After John scans an airplane card for the website, he has no further use for it and he puts it Back into circulation via eBay. John's mission statement for the Skytamer.com is basically to restore and preserve high-quality card images/artwork associated with the various airplane card sets from the early 1900s to the present. These cards are wonderful historical "snapshots" into aviation history showing which aviation events and aircraft were important at that point in time. For the Skytamer.com website, basically if it is a trading card collection that features things that fly, but doesn't have feathers, it eligible for the consideration on the Skytamer.com website. John always welcome inputs and high resolution scans (600-dpi) that can be used on this website. John can be reached via the "Contact Us" navigation button on the left.
Albert "Al" B. Kramer — A very special thanks to Albert B. Kramer, President of Roll-EZ Wheels, for loaning
us his entire collection of over 200 Non-Sports aviation trading card sets to scan for our Skytamer.com website. Without Al's generous help, the scope of the airplane trading cards on this website would be significantly less.
Al is a retired Air Racing pilot who raced during the 1980's in his famous "Cobra #22" Biplane Air Racer (N12FE). After his Air Racing career, Al went on to become Owner and President of San-Val Aviation located at the Van Nuys Airport. Al recently "retired" and turned his hobby of large scale model trains into "Roll-EZ Wheels". Roll-EZ Wheels specializes in the finest large scale model train wheels, and other exclusive products strictly for large scale model trains! Be sure to visit Al's Roll-EZ Wheels website.
Al's Non-Sports card collection consists of War Cards, Presidents, Indians, Cars, Boats, Ships, Planes, Rockets, Movie Stars, Dogs, Licence Plates, Flags of the World, Headlines, Cigarette, and Cereal cards. Al's collection includes the only-known example of the Carnation "Aircraft Recognition Cards" (F270-1a) Douglas D558-2 "Red Skyrocket". Al obtained the Carnation "Red Skyrocket" card in a group of 12 different cards that he bought on eBay. He originally thought that the cards were a batch of Nabisco cards until he turned over the "Red Skyrocket" card and it instantly became Al's most prized Non-Sports card. Al believes that the "Red Skyrocket" was made as a sample for Carnation and somehow got into circulation. The Carnation "Red Skyrocket" (Douglas D-558-2) was an artist drawing, while the Douglas D-558-2 "Skyrocket" included in both the Carnation F270-1a (single line) and the F270-1b (two-line) normal circulation sets were color photos, rather than drawings. As a sidenote, the Douglas D-558-1 "Red Skystreak" was also an artist drawing, but went into general circulation and was included in both the F270-1a and F270-1b Carnation sets. All of the other cards in both of the Carnation sets appear to be photographs.
Lee Kalk — Lee Kalk is a native Oregonian, College graduate, High School Physical Science teacher (ret.) and a small business owner (ret.). He enjoys all sports … Blazers, Mariners, Titans, football (now that Mariota is QB), hockey, golf, bowling, and down time just to take it easy and enjoy life. Lee has been married for 50 years, has two daughters and one grandson.
.
Lee's grandparents promoted an interest in stamp and coin collecting when Lee was nine years old. So when he got involved with cards he was very condition conscious, especially regarding centering.
Lee started with baseball cards in 1954 & 1955, and seemed to like or at least end up with mostly Bowman cards. His Little League Team was the "White Sox&rdquo so he started following the Sox … which of course makes him a lifelong "Yankee" hater. At one point Lee is sure that he traded a "Minnie Minoso" or "Nellie Fox" for a "Mantle&rdquo or "Ford" etc. Over the years, Lee's cards survived in the proverbial shoe box, and he got back into the hobby in the 1970s, when he and his wife owned a "KarmelKorn" franchise. Lee got back into collecting when he purchased two cases of 1975 Topps Mini Baseball Cards from his candy salesman. Lee sold one in the store (retail) and he gave the other case to friends who collated the cards into several sets, keeping one for their "trouble". Lee then began to buy collections, attend shows; Portland, Seattle, once in Hawaii, and eventually several "non-sports" shows in San Jose.
Ultimately Lee had complete sets of Topps, Bowman, Goudey, and Playball baseball cards plus many others. Lee then expanded into football, basketball, and finally hockey cards. Lee sold most of his sports cards years ago, right before "slabbing" became popular and prices increased. Finally, he started focusing on non-sports cards. Like most of us "veteran" collectors, due to age and space, Lee is selling his collectibles. The Carnation cards and those like them have always been a favorite ever since he was groping around in a box of corn flakes to try to find the card.
Lee has always collected for pure enjoyment and still enjoys going to estate and garage sales looking for undiscovered treasures.
Pete D'Luhosch — Pete is a retired IBM programmer/manager who lives in upstate New York. He graduated from Union College (Schenectady, New York) in 1963, with a degree in English Literature. Pete's 38-year IBM career, at their semiconductor development and manufacturing facility in East Fishkill, New York, spanned the time from punched cards and hard wired "unit record" machines being the norm, up to the time when computers were populated with chips containing millions of transistors that were "printed" on 12-inch silicon wafers.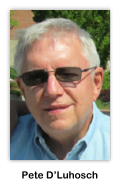 Pete's introduction to computers came on an IBM 1401 computer that was as big as a refrigerator and had an astonishing 4k of memory. Pete then learned IBM 360 programming and for many years worked on application programming at IBM East Fishkill. He eventually moved on to systems analysis and then held various management positions in support of chip manufacturing and statistical analysis. When he retired, Pete was a programmer/analyst in a staff department supporting the Director of the East Fishkill Semiconductor Laboratory.
Pete's interest in card collecting came, as many did, with baseball cards in the early '50s. The 1951 Bowman baseball card set is still his favorite. Sad to say, all Pete's cards disappeared while he was in college. He rekindled his love of cards in the late '70s, working on Topps baseball card sets with his kids, and attempting to re-create some of his sets from the '50s. When baseball cards became too expensive, Pete remembered another set he once collected: the 1952 Topps Wings set. On a whim, he bought a couple of them on eBay, just to see if they were still as cool as he remembered. Naturally, that led to years of trying to complete the set in the best condition he could find. Today, Pete's collecting interest lies almost exclusively with airplane cards from the World War II and Korean War periods. Some of Pete's card sets can be found on the SGC Registry.
Pete has written articles on the 1951 Bowman baseball card set for Sports Collectors Digest and articles on Topps Wings and Card-O Aeroplanes for The Wrapper. He has developed his own website that contains a lot of airplane and baseball card reference material. The website can be found at https://www.pjdenterprises.com.
Bob Dros — Bob was born on a Dutch island that had a small airfield and a gunnery range for naval aircraft. Bob experienced his first signs of aviation addiction at age of 7, when he was seeing and hearing "Spitfires" that flew overhead from the nearby airstrip as target tugs. Bob's childhood memories include seeing and hearing the low flying Dutch naval "Avengers", "Harpoons", "Neptunes" and "Sea Furies" target practicing just five miles from his island village. Bob started off his airplane
trading card collection by collecting the wonderful five series of Croydon aircraft cigarette cards, and the Van Dijk's Gouda's Roem albums "History of Aviation" and "World Aviation" and
Dutch aircraft gum cards. Much later, Bob started to include other Dutch sets, and airplane card sets from nearby Germany, England, and France. During 2000, Bob started collecting as many airplane sets as he could in order to create an "Encyclopedia of the World's Aviation Trade Cards" which is scheduled for publication in 2015.
Bob's interests also include music. His first group in 1962 was "The Typhoons". Starting in 1974, Bob played drums in one of Holland's best known blues bands "Barrelhouse". During 1978 "Barrelhouse" invited the American blues guitarist Albert Collins to Holland and toured and recorded with him. "Barrelhouse" also worked with B.B. King on his European tours. During 2014, "Barrelhouse" did a 40th Anniversary Tour in Europe.
Bob studied psychology from 1968-1975, got his degree and worked for two years, but his love of music pulled him Back into the music world.
During 1986, Bob started his own business … Bel Air Models. At first, Bel-Air Models specialized in miniature musical instruments, like electric guitars, drums and classical instruments. However, Bob's lifelong love affair with aviation later changed the focus of Bel-Air Models completely to model aircraft types. Bel-Air Models specializes in odd types of model aircraft, which are not available on the regular model aircraft market, such as the wonderful airliner designs from the Inter-War years. Bel-Air Models mostly takes commissions from specialist collectors and constructs the models by hand from solid Perspex or Plexiglas. So far, Bel-Air Models has done more than 150 aircraft types, many of them twice, three times and even 25 times, dependent on their popularity.
In Bob's spare time, he writes short articles about model history for a periodic of a group of enthusiast flying model airplane owners.
References
---
Shupek, John A. "3-MINUTE "Plane-Pack" (F285) National Oats Company." The Skytamer Archive (600-dpi Image Scans). Skytamer Images, Whittier, CA, 2016. Digital Image Database.
Kramer, Albert B. "3-MINUTE "Plane-Pack" (F285) National Oats Company." Personal Collection of Aircraft Trade Cards (600-dpi Image Scans).
D'Luhosch, Pete. "3-MINUTE "Plane-Pack" (F285) National Oats Company." Personal Collection of Aircraft Trade Cards (600-dpi Image Scans).
Dros, Bob. "3-MINUTE "Plane-Pack" (F285) National Oats Company." Personal Collection of Aircraft Trade Cards (600-dpi Image Scans).
Jerry B?. "3-MINUTE "Plane-Pack" Shipping Envelope. Vintage Non-Sports Cards Chat Board. Web. 1 July 2015.
---
Copyright © 1998-2018 (Our 20th Year) Skytamer Images, Whittier, California
ALL RIGHTS RESERVED