1942 "Hi-Speed Victory Club War Album Series" (UO33)
Hi-Speed Gasoline Stations, 50-Lithographs, USA
---
Series Title: Hi-Speed Victory Club War Album Series
American Card Catalog №: UO33
Issued by: Hi-Speed Gasoline Stations
Country: United States of America
Number of lithographs: 50
Card Numbering: 1 to 50 (Card fronts only, backs are blank)
Card Dimensions: 160 × 216 mm
Circa: 1942
Album: Victory Club Album, Official Government Photographs
Checklist: Download Checklist
Hi-Speed Service Stations
---
Hi-Speed Gas Stations were owned by the Hickok Oil Company of Toledo, Ohio. They opened a large number service stations throughout Michigan and Ohio. For some strange reason, there were many more Hi-Speed Stations in Michigan than in Ohio, even though Toledo was almost on the Michigan border. Most likely, the real reason that there were less Hi-Speed Gas Stations in Ohio was there was much more competition from other oil companies in Ohio than in Michigan.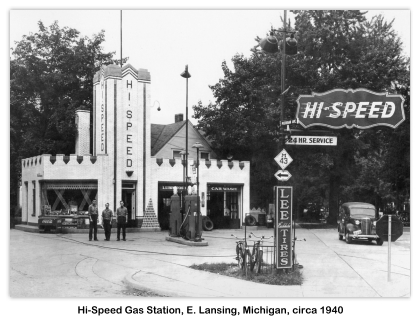 During the late 1920s, the Pure Oil Company purchased a slight majority in Hickok Oil Company stock. However, despite this, the Pure Oil Company had Hickok Oil Company continue to manage all of the Hi-Speed Stations. Hi-Speed Stations were famous for their "Give-a-Ways". For example during the Great Depression of the 1930s they gave away cheese. Their promotions included advertising of Hi-Speed products on the high wattage radio stations in Detroit, Michigan. They also sponsored the '6 O'clock News' featuring Dick Osgood. They also sponsored the 'Radio School House' which was broadcast from the stage of the Broadway Capital Theater located in downtown Detroit, Michigan. They also sponsored several other network radio programs.
One of the network shows that High-Speed sponsored was 'The Adventures of Jimmy Allen'. Jimmy Allen played the part of a superior teenager not unlike like the Jack Armstrong radio show character which was quite popular with the kids of that era. Jimmy Allen starred in a couple of movies. Let's just say that the movies were not "Oscar" material. Of course, during this era you needed to get your "Membership Card" from your local High-Speed Gasoline Station.
Hi-Speed Stations gave away 'Green Depression Glass' during the 1930s, and when World War II began, they started the 'Victory Club'. Kids were given a 'Victory Club Badge' and a 'Hi-Speed Victory Club Album'. Every week a new 'Official Photo' was 'Presented to Victory Club Members by Hi-Speed Gas Stations'. The photos included a series of 50 Land, Sea, and Air war-time equipment used by the United States Armed Forces. The photos included everything from airplanes, to tanks, to ships, to servicemen, and everything in between. The photos were then pasted or attached to the album pages via photo corner mounts.
Hi-Speed Victory Club War Album Series Overview
---
This interesting set of 50 "gasoline" WWII lithographs was issued post Pearl Harbor, most likely during late 1942 by Hi-Speed Gasoline Stations. The oversize (160 × 216 mm) 'Official Photographs' are printed in blue sepia shades on medium thickness white paper stock. These large blank-backed lithographs depict planes, ships, tanks, artillery, and troops in action. The lithographs were aimed at the young boy and girl collectors of World War II who were members of the 'Hi-Speed Victory Club'. Forty-five of the lithographs are presented in a landscape (horizontal) format, while the remaining five lithographs are presented in a portrait (vertical) format. The combined image area and descriptive text is centered on the card with equal margins. The descriptive text located beneath the image area contains the following four basic elements: (1) The "Hi-Speed Victory Club War Album Series" logo which is located in the lower left-hand corner, (2) the "Official Photo No. " is located in the lower right-hand corner, (3) the card title and descriptive text are centered between the logo and the card number, and (4) the following advertising copy "Presented to Victory Club Members by High-Speed Gas Stations" is centered directly below the card title and descriptive text. A new lithograph was issued each week and made available to 'Hi-Speed Victory Club Members' at the local Hi-Speed Gas Station. The attractive 'Victory Club Albums' were also obtained directly from the Si-Speed Gas Stations. The lithographs are boldly numbered from 1 to 50. The American Card Catalog reference number for the series is UO33.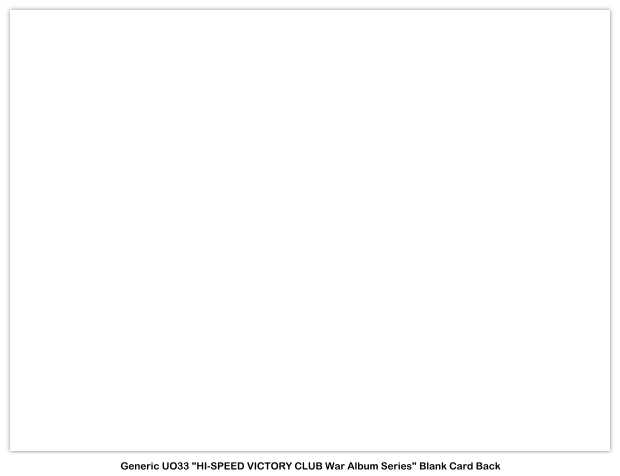 This set's album has probably one of the most attractive album covers of any of the World War II card albums that we've ever seen. The front and back covers are dark brown faux leather. The front cover titled "Victory Club Album / Official Government Photographs" has a gold-embossed eagle grasping six arrows of war. The lettering is also gold embossed. The album contains black paper pages, secured with an attractive tasseled coiled binding chord. The backs of the lithographs are not adhesive so the collector had to either: (1) glue the lithographs directly to the blank pages (bad idea), or (2) use corner mounts (four per lithograph) to mount the lithographs on each page of the album. Option 2 was the more desirable method since it did not harm the lithographs.
UO33 Image-Guide
---
The following 1942 UO33 "Hi-Speed Victory Club War Album Series" 50-lithograph set by Hi-Speed Gas Stations Image-Guide shows computer enhanced images of the fronts and backs of the 50 lithographs in the set. Behind each thumbnail image is a 600-dpi computer enhanced lithograph image that you may access. In addition, directly beneath the Image Guide, in tabular form, are links to the original scans used for this series.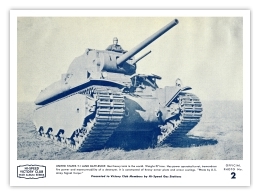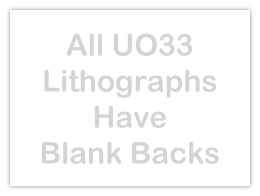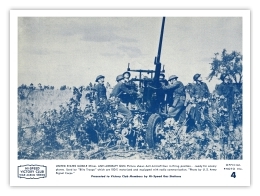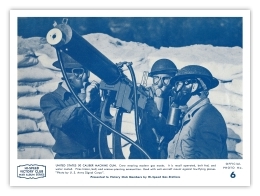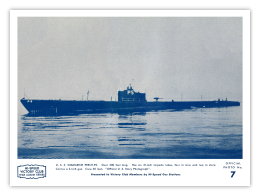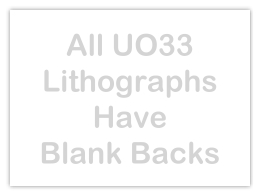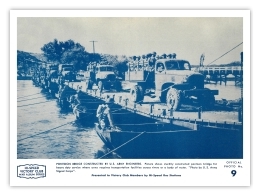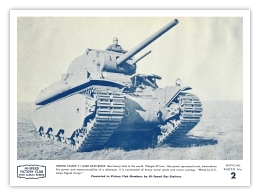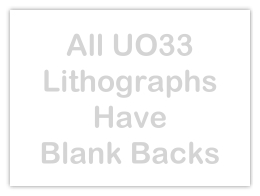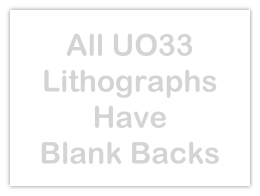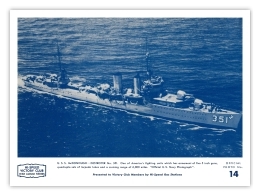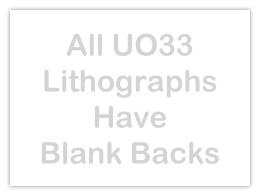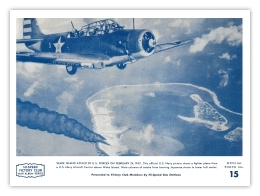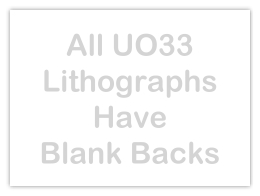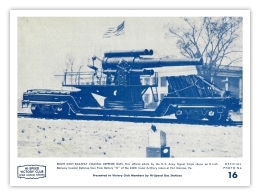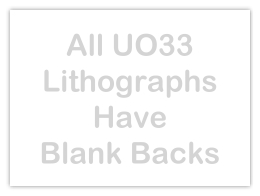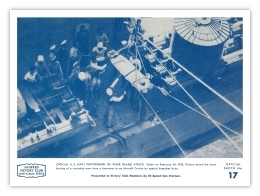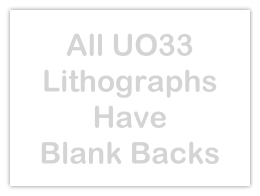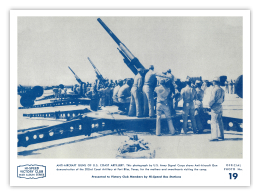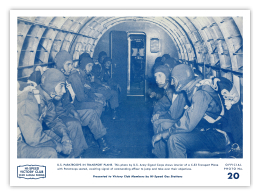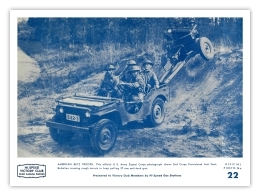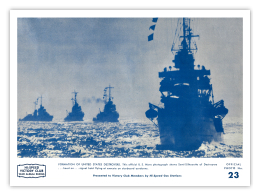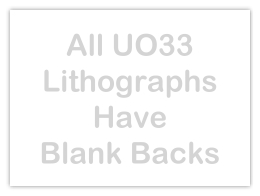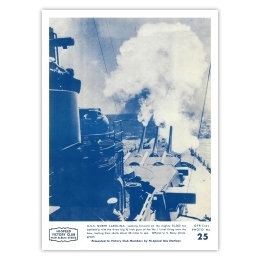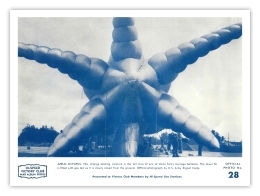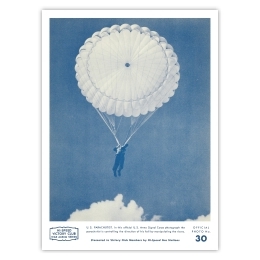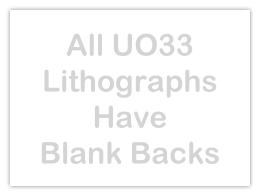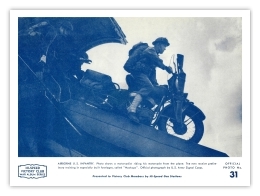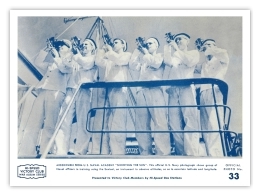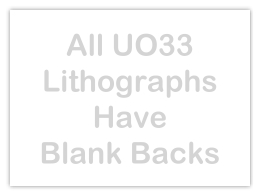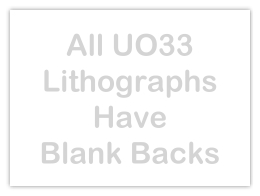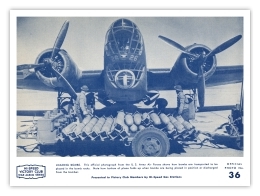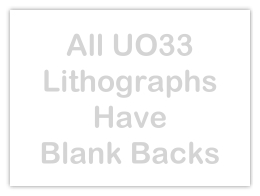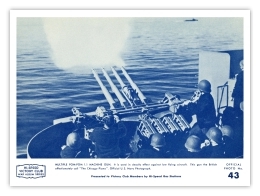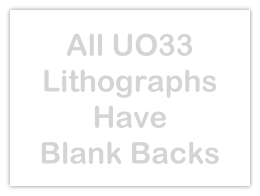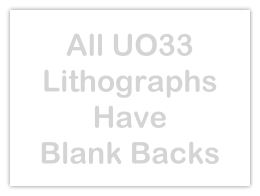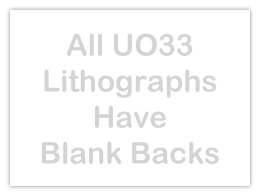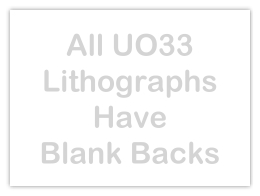 UO33 Set Checklist
---
We have provided two versions of the checklist for this set: (1) An 8½ × 11 inch PDF version, and (2) the web version shown below. Click on the PDF graphic below to access on print-out the PDF checklist version.
1942 "Hi-Speed Victory Club War Album Series" (UO33)
Hi-Speed Gas Stations, 50-lithographs, United States
CHECKLIST
№
x
Card Title
1
United States Bomber B-24
2
United States T-1 Land Battleship
3
United States Motor Torpedo Boat
4
United States Mobile 37mm Anti-Aircraft Gun
5
U.S.S. Saratoga, Aircraft Carrier
6
United States 50 Caliber Machine Gun
7
U.S.S. Submarine Perch-P5
8
United States Bell P-39 "Aeracobra" (sic) Airplane
9
Pontoon Bridge Constructed by U.S. Army Engineers
10
U.S.S. Salt Lake City — Heavy Cruiser
11
United states B-17E Boeing Bomber
12
Deck of United States Battleship
13
U.S. Navy Dive Bombers
14
U.S.S. McDonough — Destroyer No. 351
15
Wake Island Attack by U.S. Forces on February 24, 1942
16
Eight Inch Railway Coastal Defense Gun
17
Official U.S. Navy Photograph of Wake Island Attack
18
Protecting a Convoy of Ships
19
Anti-Aircraft Guns of U.S. Coast Artillery
20
U.S. Paratroops in Transport Plane
21
Navy Gun Crews Guard American Merchantmen on the High Seas
22
American Blitz Troops
23
Formation of United States Destroyers
24
U.S. Navy Patrol Bomber
25
U.S.S. North Carolina
26
U.S. Medium Tanks
27
Mechanized Cavalry Regiment
28
Aerial Octopus
29
Mechanized Anti-Aircraft Guns on Desert Maneuvers
30
U.S. Parachutist
31
Airborne U.S. Infantry
32
Coast Artillery 14" Railway Gun in Action
33
Midshipmen from U.S. Naval Academy "Shooting the Sun"
34
War-Time Scene Aboard an Aircraft Carrier
35
Tank Destroyer
36
Loading Bombs
37
Battle of the Solomon Islands
38
U.S. Marines in Action
39
U.S. Cargo and Troop Carrying Transport
40
Training Crews for Submarines
41
Flying Tigers Curtiss Tomahawks
42
U.S. Troops in Caribbean Area
43
Multiple Pom-Pom 1.1 Machine Gun
44
Douglas A-20A Bomber
45
Marine Invasion Force
46
On Duty in Alaska
47
U.S.S. North Carolina
48
U.S. Troops in Iceland
49
Anti-Aircraft Crew on Aircraft Carrier
50
Squadron of Torpedo Boats
Album
Victory Club Album
Contributors
---
PFC Carl William Kimpel — A very special thanks to Lisa Kimpel for sending us her father's UO33 album to scan "In loving memory of PFC Carl William Kimpel: Loving husband, father and soldier … The nicest man you would ever meet. Thank you for you service!"
★ ★ ★ ★ ★
John Shupek — John is retired Aeronautical/Aerospace Engineer that lives in Southern California. John's 36 year aerospace career/adventure started in the mid-1960s when he worked for Pratt & Whitney at their "FRDC" … Florida Research and Development Center, West Palm Beach, Florida. John was part of the P&W jet engine design team for the CIA/USAF's Lockheed A-12/SR-71A "Oxcart/Blackbird" engines (J58/JT11D-20). He also worked on the RL-10 rocket engine and the JTF-17A which was P&W's entry into the United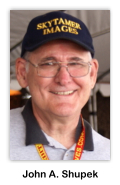 States' SST competition between Boeing and Lockheed. Several years later, John moved back to California and worked at the AiResearch Mfg. Company at LAX and Torrance. He originally worked on the thermal design of the HRE (Hypersonic Ramjet Engine) which was a supersonic combustion Mach 7 ramjet engine that was to be tested on the North American X-15. John did about three more years of jet engine design work before he disappeared for 13 years into the classified DOE "GCEP" (Gas Centrifuge Enrichment Plant) Atomic Energy program for the enrichment of U235. After the GCEP program was cancelled by the DOE in 1985, John was hired by Northrop Aircraft to do the thermal design for Northrop's entry into the ATF (Advanced Tactical Fighter) competition, the Northrop YF-23A "Black Widow II" stealth supercruise fighter. He also worked on the Northrop Grumman B-2A "Spirit" stealth bomber. After several years on a classified stealth missile program, John worked the remainder of his Aerospace career as one of Northrop Grumman's Program Directors on the United States Navy's F/A-18E/F "Super Hornet" jet fighter program.
During John's career at Northrop Grumman he served for five years as Northrop's "Vintage Aircraft Club" Commissioner and the Curator and Webmaster for the Western Museum of Flight in Hawthorne, California. Several years later, John was the volunteer webmaster (for about 3 years) for the Yanks Air Museum, Chino, California. He also served as President and webmaster for two different NPO's after his retirement. The Whittier Historical Society & Museum and Whittier Meals on Wheels.
John's love of aviation history and aviation photography lead to the establishment of this Skytamer.com website in 1998. The Skytamer.com site has continued to expand and will always grow and will never be completed. It's sort of analogous to a snowball rolling down a hill without any trees to stop it. In approximately 2002, John remembered that he had collected Topps "Wings" (ACC# R707-4) airplane trading cards while in High School. Somehow the cards had disappeared over the years. So at this point, he started to re-collect airplane trading cards via eBay and become an airplane card "Image Collector" rather than a "Card Collector" per se. After John scans an airplane card for the website, he has no further use for it and he puts it back into circulation via eBay. John's mission statement for the Skytamer.com is basically to restore and preserve high-quality card images/artwork associated with the various airplane card sets from the early 1900s to the present. These cards are wonderful historical "snapshots" into aviation history showing which aviation events and aircraft were important at that point in time. For the Skytamer.com website, basically if it is a trading card collection that features things that fly, but doesn't have feathers, it is eligible for consideration on the Skytamer.com website. John always welcomes inputs and high resolution scans (600-dpi) that can be used on this website. John can be reached via the "Contact Us" navigation button on the left.
References
---
Kimpel, Lisa. Loan of PFC Carl William Kimpel's "Hi-Speed Victory Club War Album Series (UO33) Hi-Speed Gas Stations." album for scanning.
Shupek, John A. "Hi-Speed Victory Club War Album Series (UO33) Hi-Speed Gas Stations." The Skytamer Archive (600-dpi Image Scans). Skytamer Images, Whittier, CA, 2017. Digital Image Database.
---
Copyright © 1998-2019 (Our 21st Year) Skytamer Images, Whittier, California
All rights reserved