"1936 History of Aviation" (R65)
Goudey Gum Company, United States
---
Set Title: History of Aviation Series
ACC No.: R65
Distributed with: Air Service Gum
Manufactured by: Goudey Gum Company, Boston, Massachusetts
Country: United States
Number of Cards: 10
Numbering: 1 to 10 (front and Back)
Card Dimensions: 5½ × 5½ inches (139.7 × 139.7 mm)
Circa: 1936
Checklist: Download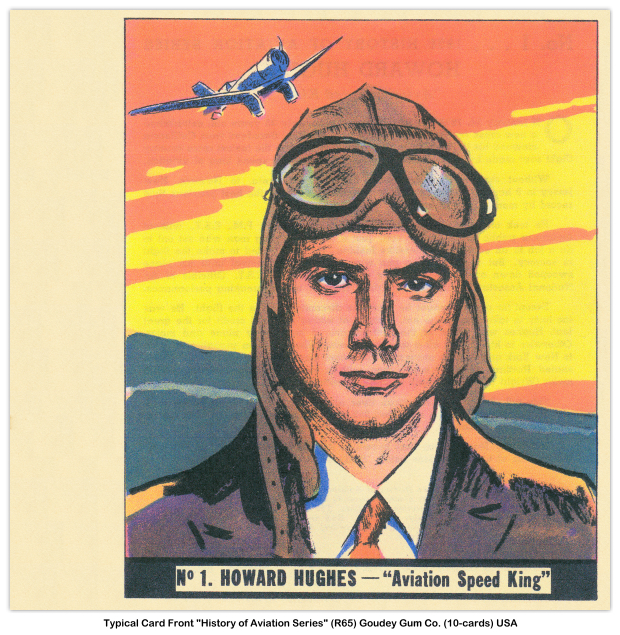 1936 "History of Aviation Series" (R65) Overview
---
During 1936, the Goudey Gum Company, Boston, Massachusetts issued a series of ten airplane cards featuring five American aviators and their famous airplanes. The set title was "1936 History of Aviation Series." The 5½ inch square lithograph cards are actually paper album pages, with directions for punching ring holes printed on the Back of the card. According to the advertising, this card series came only with "Air Service Gum." According to Benjamin¹, the wrapper has not been seen and it is generally assumed that the album pictures were handed out with the purchase of a Goudey product.
The cards are printed on paper. Each card contains two printed "holes" which were meant to be punched out in order to be inserted into a book. We do not know if a purpose designed booklet was available for these cards³. If anyone should know of such a booklet or album, please let us know.
The fronts of the cards feature color lithographs of Howard Hughes, Captain Edward V. RickenBacker, Wiley Post, Colonel Charles A. Lindbergh, and Rear Admiral Richard E. Byrd. The five aircraft lithographs include Wiley Post's "Winnie Mae" Lockheed Vega, Howard Hughes' Northrop Gamma Mail Plane, Lindbergh's "Spirit of St. Louis," Admiral Byrd's Fokker, and the "China Clipper." The five pilot pages carry extensive biographical text about each pilot, while the Backs of the aircraft pages provide interesting technical details about each aircraft. The American Card Catalog reference number for this series is R65.
1936 "History of Aviation Series" (R65) Image Guide
---
The following image guide shows the fronts and Backs of all ten of the cards. Behind each thumbnail image shown below is a 600 dpi (3,300 x 3,300 pixel) image². The following computer enhanced images were derived from scans of two original cards and eight reproduction cards.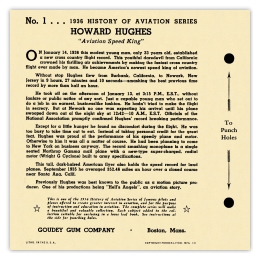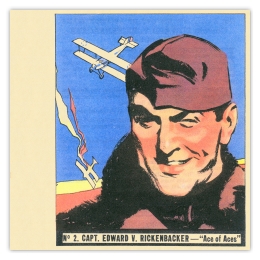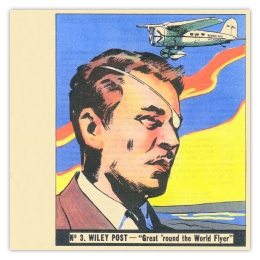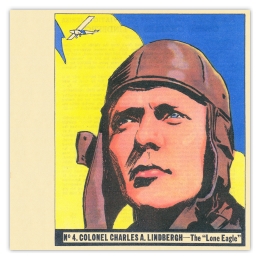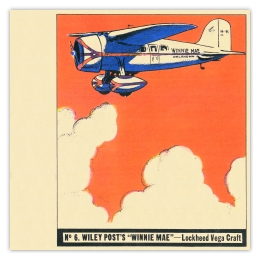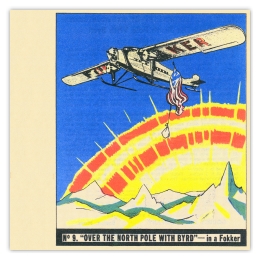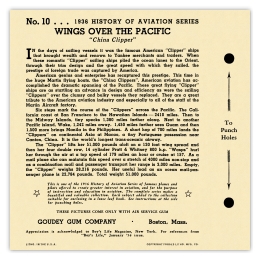 1936 "History of Aviation Series" (R65) Checklist
---
We have provided two versions of the 1936 "History of Aviation Series" (R65) Checklist. An 8½ × 11 inch PDF version, and the web version shown below. Click on the PDF graphic below to access the PDF version.
1936 "History of Aviation Series" (R65)
The Goudey Gum Company, Boston, Mass., USA
Checklist
№
x
Card Title
1
HOWARD HUGHES — "Aviation Speed King"
2
CAPT. EDWARD V. RICKENBackER — "Ace of Aces"
3
WILEY POST — "Great 'round the World Flyer"
4
COLONEL CHARLES A. LINDBERGH — The "Lone Eagle"
5
REAR ADMIRAL RICHARD E. BYRD
6
WILEY POST'S "WINNIE MAE" — Lockheed Vega Craft
7
HUGHES' RECORD SMASHER — Northrop Gamma Mail Plane
8
LINDBERGH'S "SPIRIT OF ST. LOUIS" — A Ryan Monoplane
9
"OVER THE NORTH POLE WITH BYRD" — in a Fokker
10
WINGS OVER THE PACIFIC — "China Clipper"
References
---
Benjamin, Christopher. The Sport Americana® Price Guide to the Non-Sports Cards 1930-1960, Number 2, Edgewater Book Company, Cleveland, Ohio, USA, 1993, ISBN 0-937424-66-8, pp. 89-91
Card Images, 600-dpi card scans from the Skytamer Collection, 2011
Watson, James C., M.D. "History of Aviation Series." Non-Sports Bible (NSB). Vol. I. Chelsea, MI: Sheridan, 2007. 392. Print.
---
Copyright © 1998-2018 (Our 20th Year) Skytamer Images, Whittier, California
ALL RIGHTS RESERVED