1941 "Uncle Sam" (R157)
Gum Inc., United States
---
Series Title: Uncle Sam
Country of Origin: United States of America
Type of Card: Gum
American Card Catalog No.: R157
Manufactured by: Gum, Inc., Philadelphia, Pennsylvania
Packaged with: Uncle Sam Chewing Gum
Number of Cards: 96
Numbering: 1 to 96
Card Dimensions: 1½ × 3⅛ inches
Circa: 1941
Checklist: Download
Background
---
The "Uncle Sam & Uncle Sam's Home Defense" series is made up of two separate subsets. Both sets were issued by Gum, Inc. in 1941 prior to the attack on Pearl Harbor and the entrance of the United States into World War II. The first subset titled "Uncle Sam", consists of 96 cards, sequentially numbered from 1 to 96. They depict various scenes from the four branches of United States military; Army, Navy, Air Force and Marines. The cards themselves are arranged in four subsets: (1) Uncle Sam — Soldier, (2) Uncle Sam — Sailor, (3) Uncle Sam — Airman, and (4) Uncle Sam — Marine. The set itself is rather benign in content and subject compared to its contemporaries such as the Horrors of War and The Nightmare of Warfare. Both of these sets depicted the horrible events and more graphic details of what was happening in the world at that time. On the other hand, the Uncle Sam and Uncle Sam's Home Defense series were more directed towards the United States preparedness for hostilities, and concentrated on the various training aspects of the U.S. Armed Forces and Civilian population. The color artwork in both sets is pleasing to eye, with good coloring. The "Uncle Sam" set has the American Card Catalog reference number R157.
The 48 card "Uncle Sam's Home Defense" subset, followed the "Uncle Sam" set in 1941. The set was sequentially numbered from 97 to 144. This particular subset is devoted to the civilian activities in preparation for warfare. The series is also very pleasing to the eye, and is interesting from the historical perspective of what United States citizens were doing in preparation for hostilities in 1941. The "Uncle Sam's Home Defense" subset has an American Card Catalog number of "R158". This subset is more difficult to obtain since the production of the cards came under the jurisdiction of wartime restrictions on resources. However reprint cards of the series are available.
R157 "Uncle Sam" Image Guide
---
The following R157 "Uncle Sam" Image Guide contains images of the fronts and backs of all 96 cards in the set. Behind each thumbnail image is a 600-dpi image that you may access. Some of the card images were obtained from lower-grade scans and scaled up to full-scale images. All of the thumbnail and the 600-dpi images have been computer enhanced for presentation purposes.
"Uncle Sam — Soldier" (Cards 1 to 12)
"Uncle Sam — Sailor" (Cards 13 to 24)
"Uncle Sam — Marine" (Cards 25 to 36)
"Uncle Sam — Airman" (Cards 37 to 48)
"Uncle Sam — Soldier" (Cards 49 to 54)
"Uncle Sam — Sailor" (Cards 55 to 60)
"Uncle Sam — Marine" (Cards 61 to 66)
"Uncle Sam — Airman" (Cards 67 to 72)
"Uncle Sam — Soldier" (Cards 73 to 78)
"Uncle Sam — Sailor" (Cards 79 to 84)
"Uncle Sam — Marine" (Cards 85 to 90)
"Uncle Sam — Airman" (Cards 91 to 96)
R157 "Uncle Sam" Checklist
---
We have included two versions of checklist: (1) the web version shown below, and (2) an Adobe® Acrobat® PDF 8½ × 11 inch format checklist.
1941 "Uncle Sam" (R157)
Gum, Inc. (96-cards)
CHECKLIST
№
x
Card Title
1
"You're in the Army Now"
2
Drill with Arms
3
Learning to Shoot
4
Sham Bayonet Charge
5
Gas Discipline
6
The Infantry's Supreme Duty
7
Parachute Troops
8
Field Artillery
9
Anti-Aircraft Crew
10
The Armored Force
11
Field Maneuvers
12
How to Tell an Officer's Rank
13
The Training Station
14
Semaphore Signals
15
Salute to Authority
16
"Over the Mounting Main"
17
"On Watch"
18
Navigation
19
Knots and Hitches
20
Man Overboard!
21
Fire at Sea
22
Abandon Ship!
23
Target Practice with the Turret Guns
24
War at Sea
25
What Is a Marine?
26
While Scaling and Marine Recruit Depot
27
Shore Rifle Practice
28
"Turned Over for Duty"
29
Shore Duty
30
Sea Duty
31
On Foreign Soil
32
Gunners at the Secondary Batteries
33
The Landing Party
34
Landing Force in Attack
35
Jungle Expedition
36
"Telling the Marines"
37
Can You Take It?
38
Flight Instruction
39
Use of the 'Chute
40
Take-Offs and Landings
41
Gunnery in the Air Corps
42
Stunts in Combat
43
Formation Flying
44
Blind Flying
45
Learning to Dive-Bomb
46
Torpedo Bombing
47
Air Photography
48
Planes at Sea
49
"Digging In"
50
Barbed Wire Tactics
51
Parachute "Attack"
52
Ski Troops and Patrols
53
Engineers Building Bridge
54
Cavalry Charge
55
Life on a Submarine
56
Submarine Dive Drill
57
Loading a Submarine with Torpedoes
58
Submarine Torpedo Practice
59
Submarine Battle Drill
60
"Abandoned Submarine" Drill
61
Keeping "Fit"
62
Motor Convoy Drivers
63
Field Radio
64
Riot Duty
65
National Disasters
66
Machine Gun Practice
67
Catapult Take-Off
68
Lane a Smoke Screen
69
Safety Measures
70
The "Side Slip"
71
The Bombardier
72
Men with Wings
73
Streamlined Drill
74
Guard Duty
75
Rifle Air Defense
76
Crew of Pygmy Scout Car
77
Anti-Tank Team
78
Jujitsu for Military Police
79
Carrying the Wounded
80
Destroyer Duty
81
Inspection Aboard Destroyer
82
Destroyer Torpedo Drill
83
School for Divers
84
Blinkers Signals
85
Cargo Net Loading
86
Forming an Ammunition Line
87
Trench Construction
88
Pitching Hand Grenades
89
Marine Mountain Battery
90
Marines Sky Troops
91
The Loop
92
Prone Defense Gunner
93
High Altitude Pilots
94
Bomber Rescue Craft Tactics
95
Patrol Duty
96
Night Bomber
n/a
1¢ "Uncle Sam" Wrapper
"Uncle Sam" 1¢ Wrapper
---
The R157 "Uncle Sam" 1¢ Wrapper has red and white horizontal strips with a drawing of "Uncle Sam" surrounded by five stars. The stars are labeled: (UL) "Soldier" (UR) "Sailor" (LL) "Airman" (LC) "Civilian" and the lower right (LR) "Marine."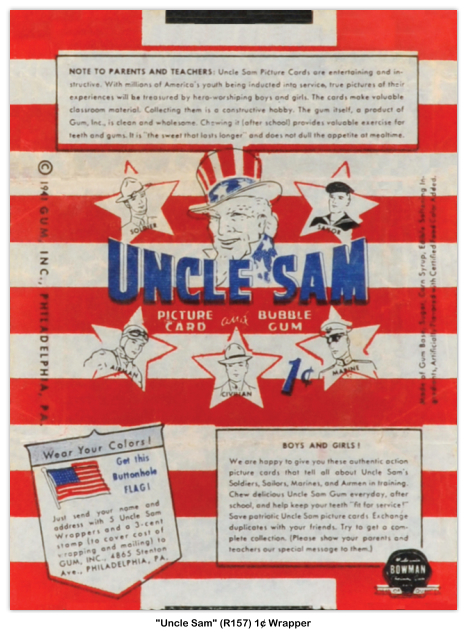 Contributors
---
John Shupek — John is retired Aeronautical/Aerospace Engineer that lives in Southern California. John's 36 year aerospace career/adventure started in the mid-1960s when he worked for Pratt & Whitney at their "FRDC" … Florida Research and Development Center, West Palm Beach, Florida. John was part of the P&W jet engine design team for the CIA/USAF's Lockheed A-12/SR-71A "Oxcart/Blackbird" engines (J58/JT11D-20). He also worked on the RL-10 rocket engine and the JTF-17A which was P&W's entry into the United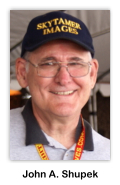 States' SST competition between Boeing and Lockheed. Several years later, John moved back to California and worked at the AiResearch Mfg. Company at LAX and Torrance. He originally worked on the thermal design of the HRE (Hypersonic Ramjet Engine) which was a supersonic combustion Mach 7 ramjet engine that was to be tested on the North American X-15. John did about three more years of jet engine design work before he disappeared for 13 years into the classified DOE "GCEP" (Gas Centrifuge Enrichment Plant) Atomic Energy program for the enrichment of U235. After the GCEP program was cancelled by the DOE in 1985, John was hired by Northrop Aircraft to do the thermal design for Northrop's entry into the ATF (Advanced Tactical Fighter) competition, the Northrop YF-23A "Black Widow II" stealth supercruise fighter. He also worked on the Northrop Grumman B-2A "Spirit" stealth bomber. After several years on a classified stealth missile program, John worked the remainder of his Aerospace career as one of Northrop Grumman's Program Directors on the United States Navy's F/A-18E/F "Super Hornet" jet fighter program.
During John's career at Northrop Grumman he served for five years as Northrop's "Vintage Aircraft Club" Commissioner and the Curator and Webmaster for the Western Museum of Flight in Hawthorne, California. Several years later, John was the volunteer webmaster (for about 3 years) for the Yanks Air Museum, Chino, California. He also served as President and webmaster for two different NPO's after his retirement. The Whittier Historical Society & Museum and Whittier Meals on Wheels.
John's love of aviation history and aviation photography lead to the establishment of this Skytamer.com website in 1998. The Skytamer.com site has continued to expand and will always grow and will never be completed. It's sort of analogous to a snowball rolling down a hill without any trees to stop it. In approximately 2002, John remembered that he had collected Topps "Wings" (ACC# R707-4) airplane trading cards while in High School. Somehow the cards had disappeared over the years. So at this point, he started to re-collect airplane trading cards via eBay and become an airplane card "Image Collector" rather than a "Card Collector" per se. After John scans an airplane card for the website, he has no further use for it and he puts it back into circulation via eBay. John's mission statement for the Skytamer.com is basically to restore and preserve high-quality card images/artwork associated with the various airplane card sets from the early 1900s to the present. These cards are wonderful historical "snapshots" into aviation history showing which aviation events and aircraft were important at that point in time. For the Skytamer.com website, basically if it is a trading card collection that features things that fly, but doesn't have feathers, it is eligible for consideration on the Skytamer.com website. John always welcomes inputs and high resolution scans (600-dpi) that can be used on this website. John can be reached via the "Contact Us" navigation button on the left.
✶✶✶✶✶✶✶
Greg Morris: Special thanks to Greg Morris for supplying us with needed card scans.
References
---
Shupek, John A., Card images from the Skytamer Archive
Morris, Greg. 7/12/2020 email with scan
---
Copyright © 1998-2020 (Our 22nd Year) Skytamer Images, Whittier, California
ALL RIGHTS RESERVED