1936 "Aeroplanes & Carriers" (ZB7-0)
Amalgamated Press Ltd., 32-Aeroplane Cards, UK
---
Series Title: Aeroplanes & Carriers
Cartophilic Reference Number: ZB7-0
Issued by: Amalgamated Press Ltd.
Issued via: Amalgamated Press periodicals
Country: London, England
Number of Cards: 32
Card Numbering: 1 to 32
Type of Card: Airplane card
Card Dimensions: 38 × 70 mm
Circa: 1936
Checklist: Checklist
Overview
---
"Aeroplanes & Carriers" is a 32-card set of trading cards featuring British aircraft and British Aircraft Carriers of the early 1930s. The set was issued by Amalgamated Press Ltd., London. Amalgamated Press Ltd. is a British Publishing Company that was known for its British Comic Book publications. In the 1920s and 1930s Amalgamated Press Ltd. published several sets of airplane trading cards including: "Aeroplanes & Carriers" (1936); "Aeroplanes" (1933); "Famous Aircraft" (1927); "Fighting Planes of the World" (1934); and "The RAF at War" (1940).
This set was originally thought to be published in 1932. However, Bob Dros (Amsterdam, Netherlands) pointed out that the set could not have been published in 1932 since Card No. 5 featured the Supermarine "Spitfire" prototype (K5054). K5054 was first flown on 5 March 1936 from the Eastleigh Aerodrome, Hampshire, England.
The cards feature thirty-one British aircraft and one aircraft carrier, the H.M.S. Glorious. The card fronts are all landscape formatted with a thin borderline and a white margin. The card subject, i.e. Gloster "Gauntlet," is printed directly beneath the artwork in the lower left corner. The card number is noted in the opposite lower right corner.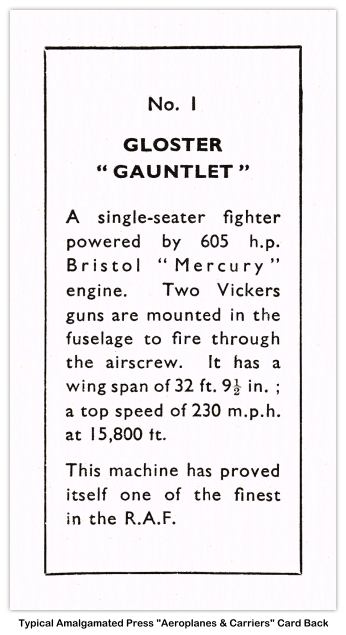 The simple card backs are all "portrait" formatted with the text contained within a rectangular lined box. The text is divided in three vertical zones: (1) The card number, (2) The card title, and (3) descriptive text. There is no reference to the manufacturer, Amalgamated Press Ltd. or date of issue.
Currently, we do not have all the details concerning this set. For example, how was it packaged? What products, if any, was associated with? Was there an album, etc.? The cards themselves do not have any reference to its publisher, Amalgamated press Ltd. The nominal dimensions of the cards appear to be 38 × 70 mm. We certainly could use some help with these details.
1936 Amalgamated Press Ltd. "Aeroplanes & Carriers" (ZB7-0) Image-Guide
---
The following 1936 "Aeroplanes & Carriers" (ZB7-0) 32-card set by Amalgamated Press Ltd., London, England, Image-Guide shows computer enhanced images of the fronts and backs of the 32 cards in the ZB7-0 set. Behind each thumbnail image is a 600-dpi computer enhanced card image that you may access. In addition, directly beneath the Image Guide, in tabular form, are links to the original scans used for this series.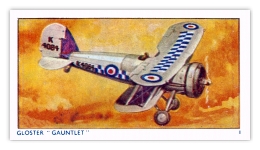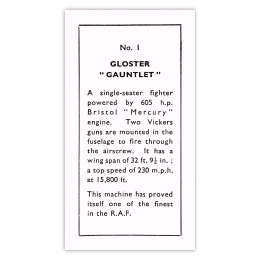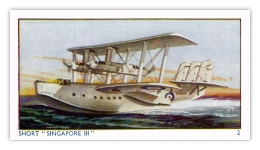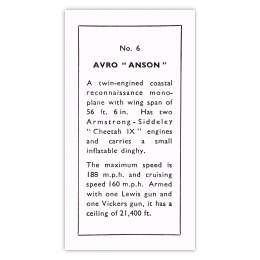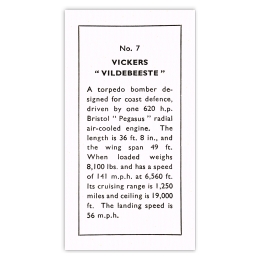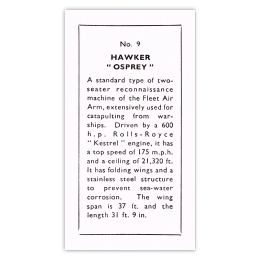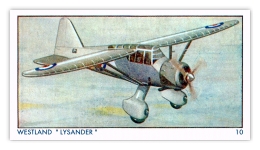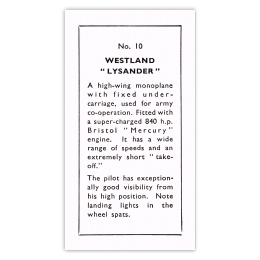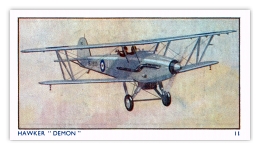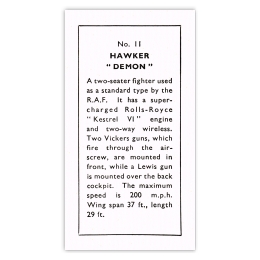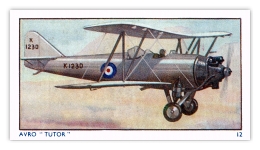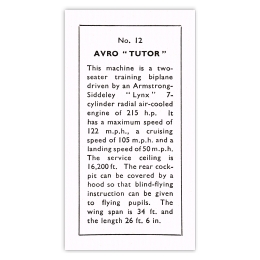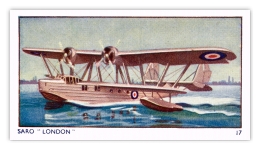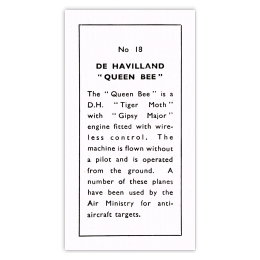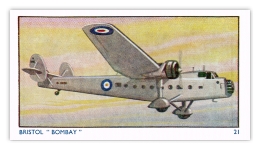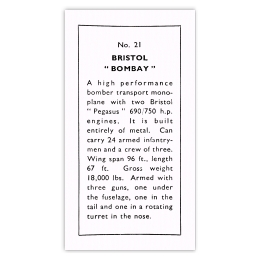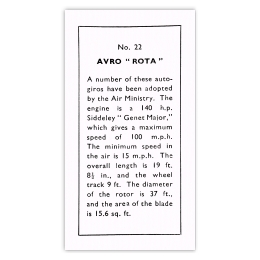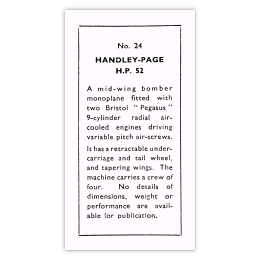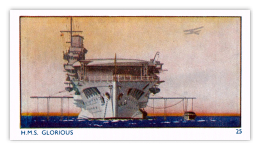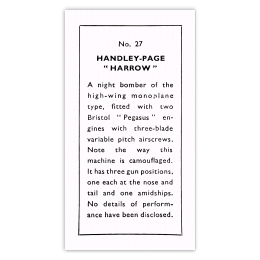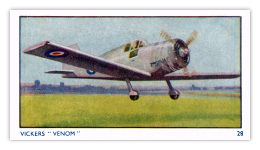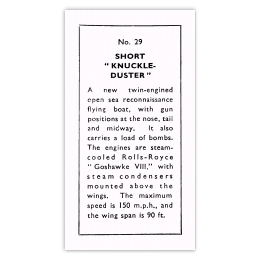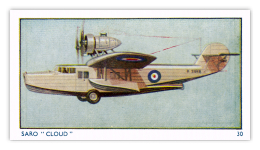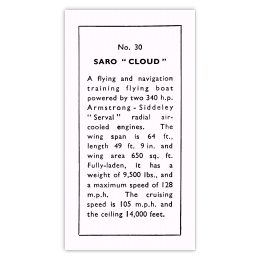 1936 "Aeroplanes & Carriers" (ZB7-0) Checklist
---
We have provided two versions of the 1936 "Aeroplanes & Carriers" (ZB7-0) 32-card set issued by Amalgamated Press Ltd., London, England. An 8½ × 11 inch PDF version, and the web version shown below. Click on the PDF graphic below to access the PDF version.
1936 "Aeroplanes & Carriers" (ZB7-0)
Amalgamated Press Ltd., 32-Cards, London, England
CHECKLIST
№
x
Card Title
1
Gloster "Gauntlet"
2
Short "Singapore III"
3
Bristol "Blenheim"
4
Fairey "Battle"
5
Supermarine "Spitfire"
6
Avro "Anson"
7
Vickers "Vildebeeste"
8
Boulton Paul "Overstrand"
9
Hawker "Osprey"
10
Westland "Lysander"
11
Hawker "Demon"
12
Avro "Tutor"
13
Hawker "Audax"
14
Hawker "Nimrod"
15
Blackburn "Shark"
16
Supermarine "Walrus"
17
Saro "London"
18
De Havilland "Queen Bee"
19
Bristol "138"
20
Supermarine "Stranraer"
21
Bristol "Bombay"
22
Avro "Rota"
23
Fairey "Swordfish"
24
Handley-Page H.P. 52
25
H.M.S. Glorious
26
Fairey "Hendon"
27
Handley-Page "Harrow"
28
Vickers "Venom"
29
Short "Knuckle-Duster"
30
Saro "Cloud"
31
Vickers "Wellington"
32
Hawker "Hurricane"
Contributors
---
Bob Dros — Bob was born on a Dutch island that had a small airfield and a gunnery range for naval aircraft. Bob experienced his first signs of aviation addiction at age of 7, when he was seeing and hearing "Spitfires" that flew overhead from the nearby airstrip as target tugs. Bob's childhood memories include seeing and hearing the low flying Dutch naval "Avengers", "Harpoons", "Neptunes" and "Sea Furies" target practicing just five miles from his island village. Bob started off his airplane
trading card collection by collecting the wonderful five series of Croydon aircraft cigarette cards, and the Van Dijk's Gouda's Roem albums "History of Aviation" and "World Aviation" and
Dutch aircraft gum cards. Much later, Bob started to include other Dutch sets, and airplane card sets from nearby Germany, England, and France. During 2000, Bob started collecting as many airplane sets as he could in order to create an "Encyclopedia of the World's Aviation Trade Cards" which is scheduled for publication in 2015.
Bob's interests also include music. His first group in 1962 was "The Typhoons". Starting in 1974, Bob played drums in one of Holland's best known blues bands "Barrelhouse". During 1978 "Barrelhouse" invited the American blues guitarist Albert Collins to Holland and toured and recorded with him. "Barrelhouse" also worked with B.B. King on his European tours. During 2014, "Barrelhouse" did a 40th Anniversary Tour in Europe.
Bob studied psychology from 1968-1975, got his degree and worked for two years, but his love of music pulled him back into the music world.
During 1986, Bob started his own business … Bel Air Models. At first, Bel-Air Models specialized in miniature musical instruments, like electric guitars, drums and classical instruments. However, Bob's lifelong love affair with aviation later changed the focus of Bel-Air Models completely to model aircraft types. Bel-Air Models specializes in odd types of model aircraft, which are not available on the regular model aircraft market, such as the wonderful airliner designs from the Inter-War years. Bel-Air Models mostly takes commissions from specialist collectors and constructs the models by hand from solid Perspex or Plexiglas. So far, Bel-Air Models has done more than 150 aircraft types, many of them twice, three times and even 25 times, dependent on their popularity.
In Bob's spare time, he writes short articles about model history for a periodic of a group of enthusiast flying model airplane owners.
John Shupek — John is retired Aeronautical/Aerospace Engineer that lives in Southern California. John's 36 year aerospace career/adventure started in the mid-1960s when he worked for Pratt & Whitney at their "FRDC" … Florida Research and Development Center, West Palm Beach, Florida. John was part of the P&W jet engine design team for the CIA/USAF's Lockheed A-12/SR-71A "Oxcart/Blackbird" engines (J58/JT11D-20). He also worked on the RL-10 rocket engine and the JTF-17A which was P&W's entry into the United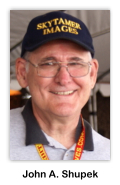 States' SST competition between Boeing and Lockheed. Several years later, John moved back to California and worked at the AiResearch Mfg. Company at LAX and Torrance. He originally worked on the thermal design of the HRE (Hypersonic Ramjet Engine) which was a supersonic combustion Mach 7 ramjet engine that was to be tested on the North American X-15. John did about three more years of jet engine design work before he disappeared for 13 years into the classified DOE "GCEP" (Gas Centrifuge Enrichment Plant) Atomic Energy program for the enrichment of U235. After the GCEP program was cancelled by the DOE in 1985, John was hired by Northrop Aircraft to do the thermal design for Northrop's entry into the ATF (Advanced Tactical Fighter) competition, the Northrop YF-23A "Black Widow II" stealth supercruise fighter. He also worked on the Northrop Grumman B-2A "Spirit" stealth bomber. After several years on a classified stealth missile program, John worked the remainder of his Aerospace career as one of Northrop Grumman's Program Directors on the United States Navy's F/A-18E/F "Super Hornet" jet fighter program.
During John's career at Northrop Grumman he served for five years as Northrop's "Vintage Aircraft Club" Commissioner and the Curator and Webmaster for the Western Museum of Flight in Hawthorne, California. Several years later, John was the volunteer webmaster (for about 3 years) for the Yanks Air Museum, Chino, California. He also served as President and webmaster for two different NPO's after his retirement. The Whittier Historical Society & Museum and Whittier Meals on Wheels.
John's love of aviation history and aviation photography lead to the establishment of this Skytamer.com website in 1998. The Skytamer.com site has continued to expand and will always grow and will never be completed. It's sort of analogous to a snowball rolling down a hill without any trees to stop it. In approximately 2002, John remembered that he had collected Topps "Wings" (ACC# R707-4) airplane trading cards while in High School. Somehow the cards had disappeared over the years. So at this point, he started to re-collect airplane trading cards via eBay and become an airplane card "Image Collector" rather than a "Card Collector" per se. After John scans an airplane card for the website, he has no further use for it and he puts it back into circulation via eBay. John's mission statement for the Skytamer.com is basically to restore and preserve high-quality card images/artwork associated with the various airplane card sets from the early 1900s to the present. These cards are wonderful historical "snapshots" into aviation history showing which aviation events and aircraft were important at that point in time. For the Skytamer.com website, basically if it is a trading card collection that features things that fly, but doesn't have feathers, it's eligible for the consideration on the Skytamer.com website. John always welcome inputs and high resolution scans (600-dpi) that can be used on this website. John can be reached via the "Contact Us" navigation button on the left.
References
---
Shupek, John (Skytamer Images), Card scans from the Skytamer Card Collection
Dros, Bob (Bel-Air Models), Card scans from the Bob Dros Collection
Bridgman, Leonard. Jane's All The World's Aircraft 1936, Sampson Low, Marston & Company, Ltd., London, England, p. 75c
---
Copyright © 1998-2020 (Our 22nd Year) Skytamer Images, Whittier, California
ALL RIGHTS RESERVED