"World on Wheels" (R714-24)
By: John A. Shupek (Skytamer.com)
---
Series Title: World on Wheels
American Card Catalog No.: R714-24
Manufactured by: Topps Chewing Gum
Packaged with: Wheels Bubble Gum
Number of Cards: 180-cards
Numbering: 1 to 180
Card Dimensions (measured): 3.73 × 2.65 inches
Card Format: Landscape format with square corners
Circa: 1953-1954
Overview ¹
---
This Topps 1954-55 series, commonly known as "World on Wheels," rather than the simple "Wheels" which appears on the wrappers, because of the "World on Wheels" feature printed on the back of most cards (on some cards it says "See the World on Wheels"). The highly-detailed artwork pictures depict many different types of automobiles, and the up-to-date models of 1955. The make, model, and year of the car are stated on the front. The back of the card includes the card number, card title, a descriptive text of the subject vehicle, and a boxed "World on Wheels" historical drawing an short anecdote are found on the back. ¹
There are two mysteries associated with this set, The first of which involves the date of issue. The first two 1¢ wrappers clearly indicate the scope of the set to be 1896-1954 and later from 1896-1955, and the 5¢ wrapper also highlights vehicles from 1896-1954. Yet an insert from a 5-cent box which gives a contest expiration date of December 20, 1953. Given the way new car models are introduced in the fall of the preceding year, it's most likely that the "Wheels" set was introduced in late 1953 (there are certainly enough 1954 autos featured in the set!). On the other hand, we have the run of 1955 models which appear at the very end of the series, evidence that "Wheels" set was also around in the fall of 1954. To make matters worse, The Card Collectors Bulletin of August 1956 states that "Topps added 20 cards to "Wheels" in 1956." Surely, this last reference is mistaken and the writer meant to say "1955." ¹
The second "Mystery" — the case of the different color backs — has a definite but as yet unexplained association with the first. It now appears that "Wheels" was originally a set of 160 cards, and that 20 more cards were added later on. These 20 cards are as difficult to find as the first of 160 are easy to find. To confuse the situation, cards 161-170 are found with red backs and cards 171-180 with both red and blue backs.
The American Card Catalog reference number for the set is R714-24. The measured card dimensions are 3.73 × 2.65 inches.
Wrappers and Retail Store Display Boxes
---
The Topps R714-24 "World on Wheels" has the following 1954 1¢ wrapper, 5&cent, the rare 1955 1&cent wrapper, the 1¢ and 5¢ retail boxes, and two of the 20 December 1953 contest inserts. Note: A special thanks to Lonnie Cummins foe providing us a scan of his rare 1955 wrapper.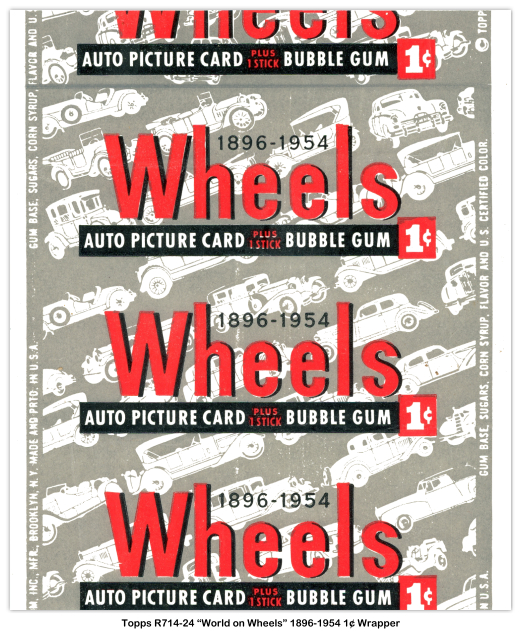 Image Guide 2,3
---
The Topps "World on Wheels" (R714-24) set consists of the following 190 cards. The backs of cards 1-180 are printed in red ink. The backs of cards 171-180 are also printed with blue ink, bring the total number of cards for the set to 190 cards. The following card images were scanned from the Kramer Collection² and the Skytamer Archive³. Behind each of the thumbnail images is a 600-dpi image of the card. All of the images have been computer enhanced for presentation purposes.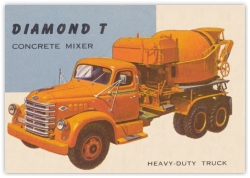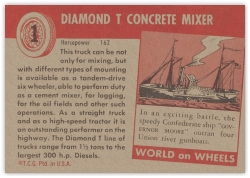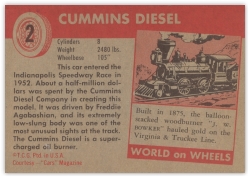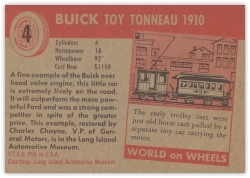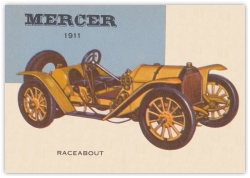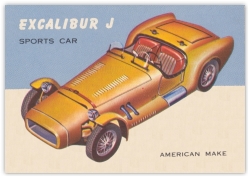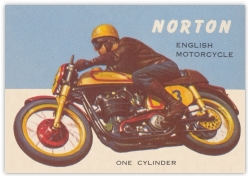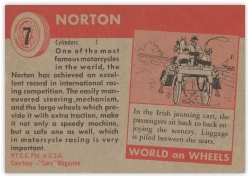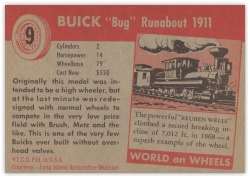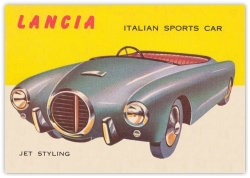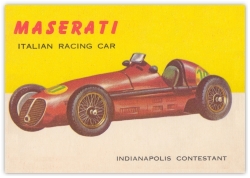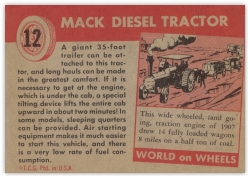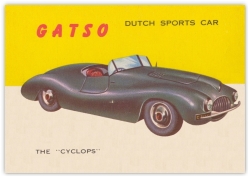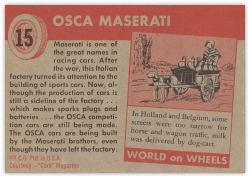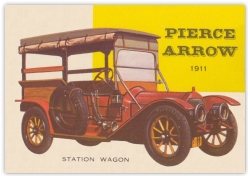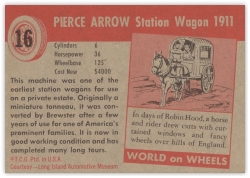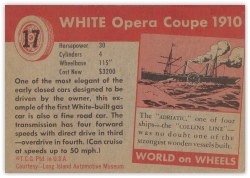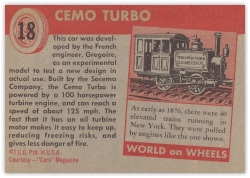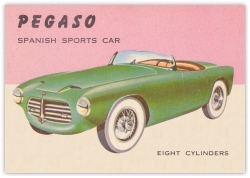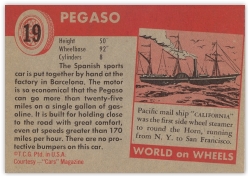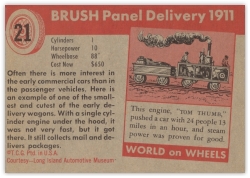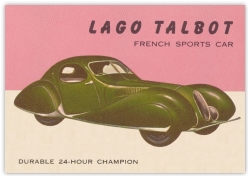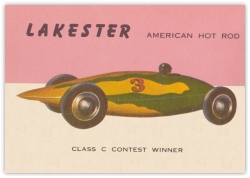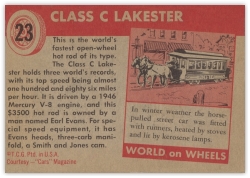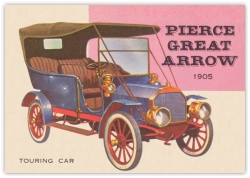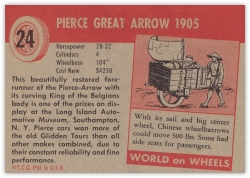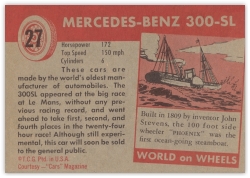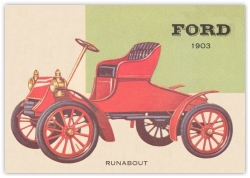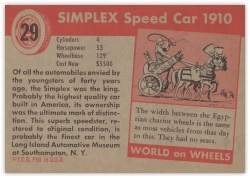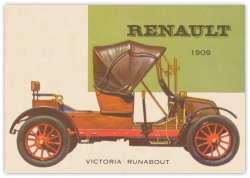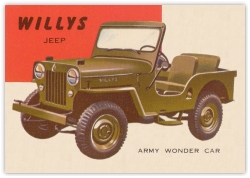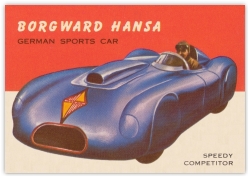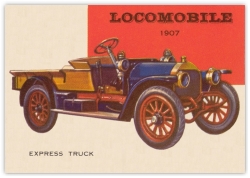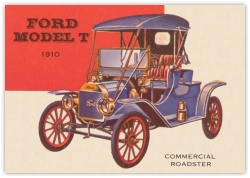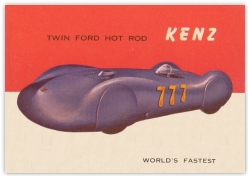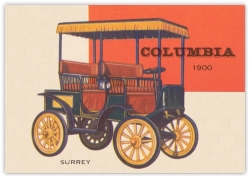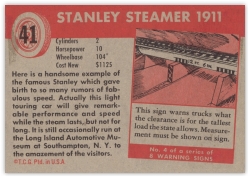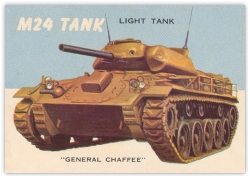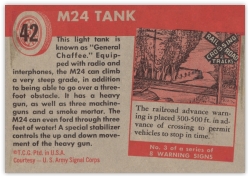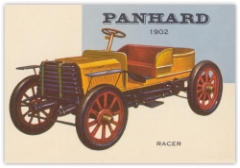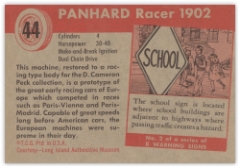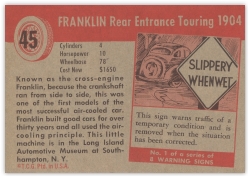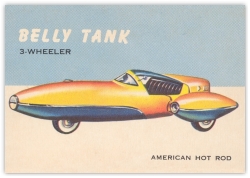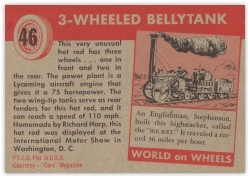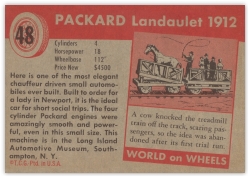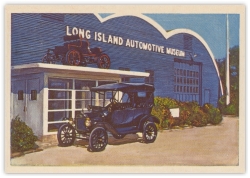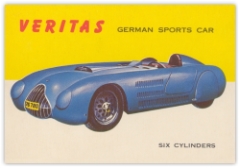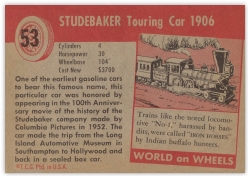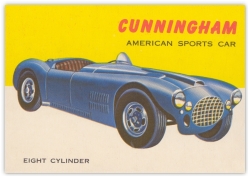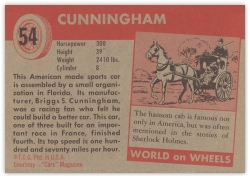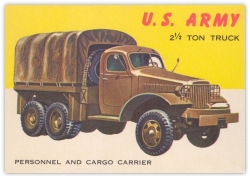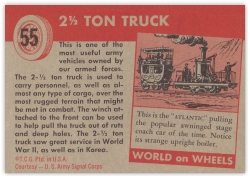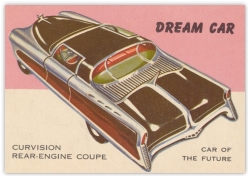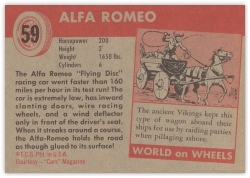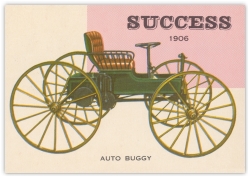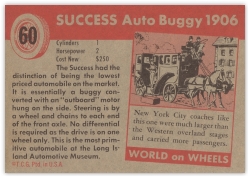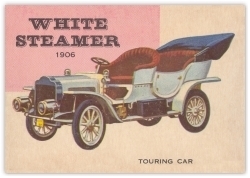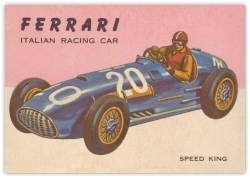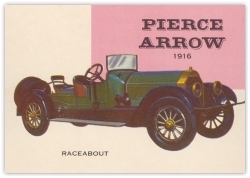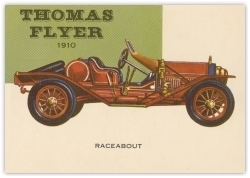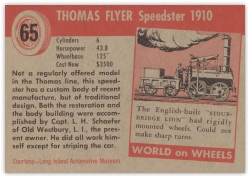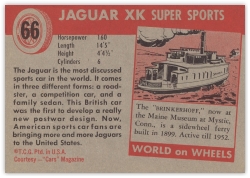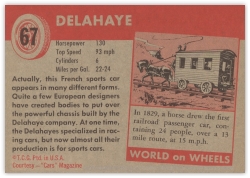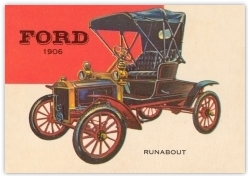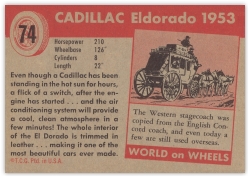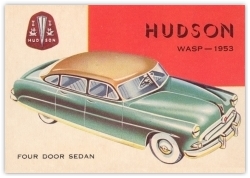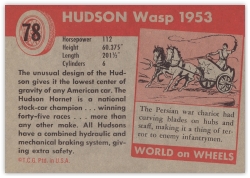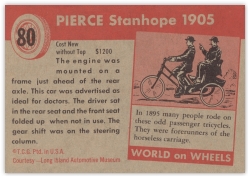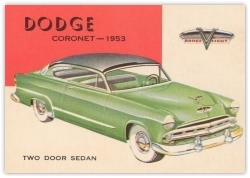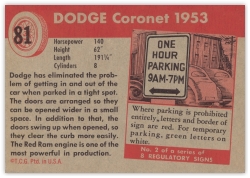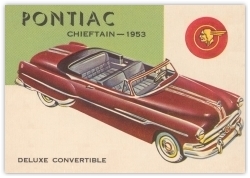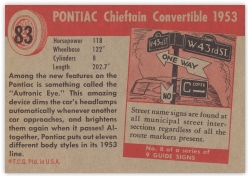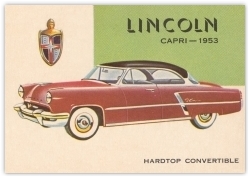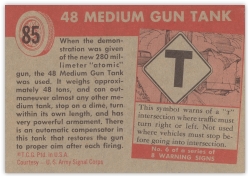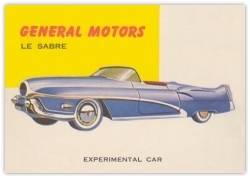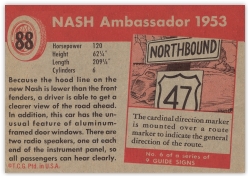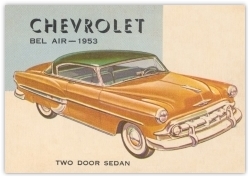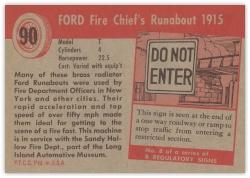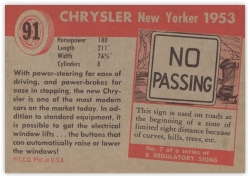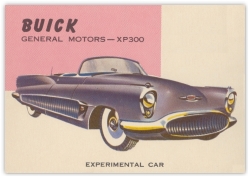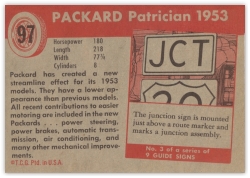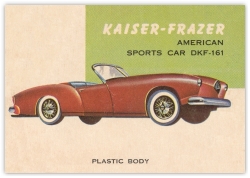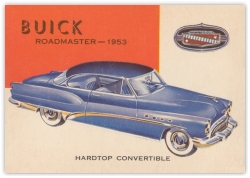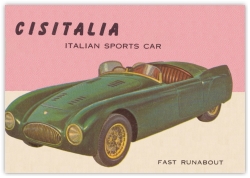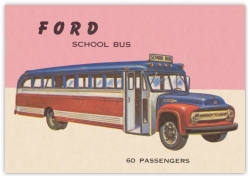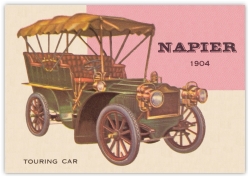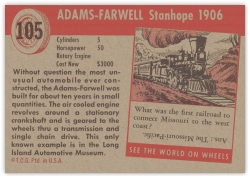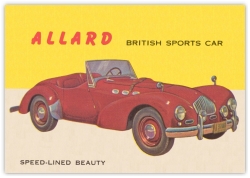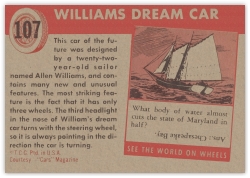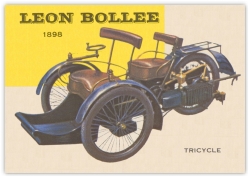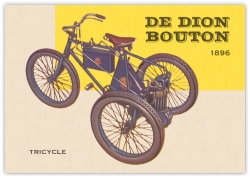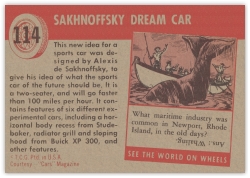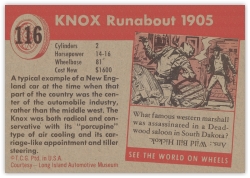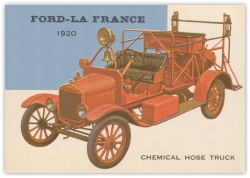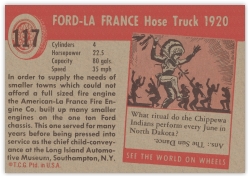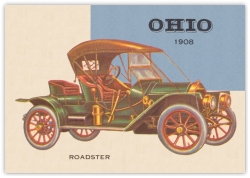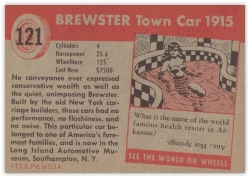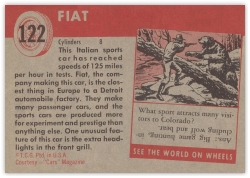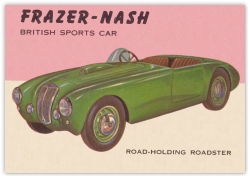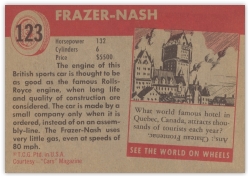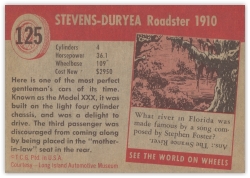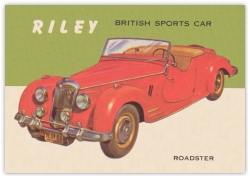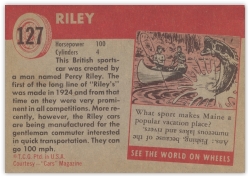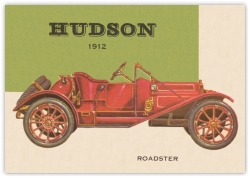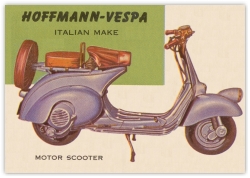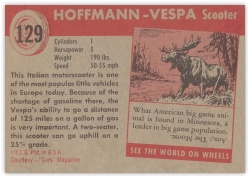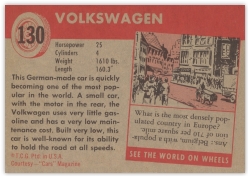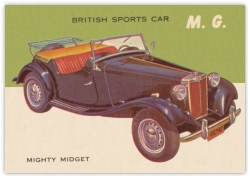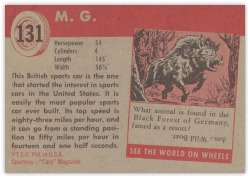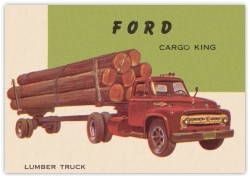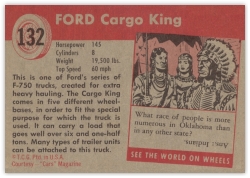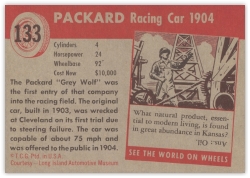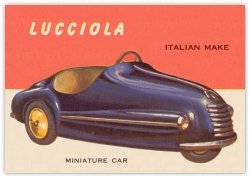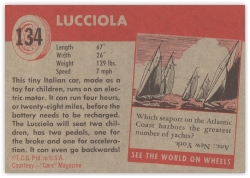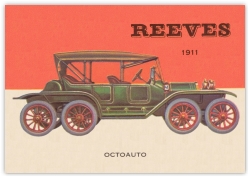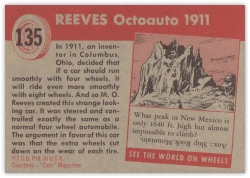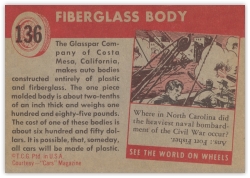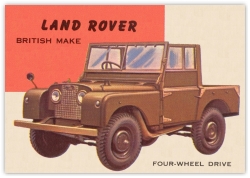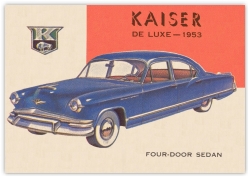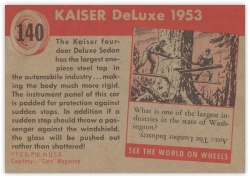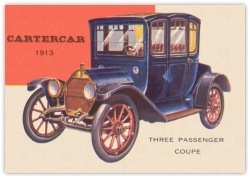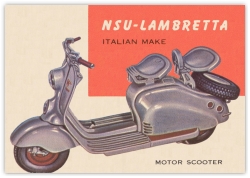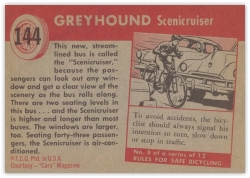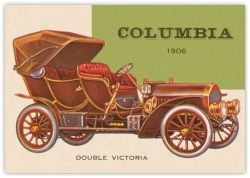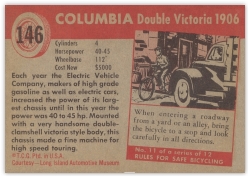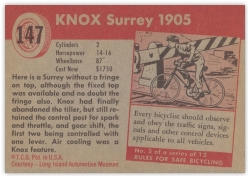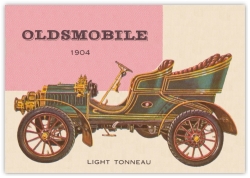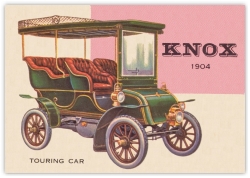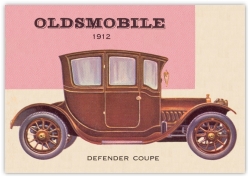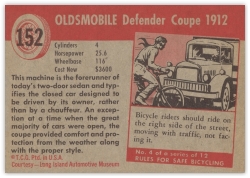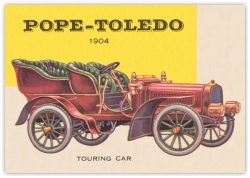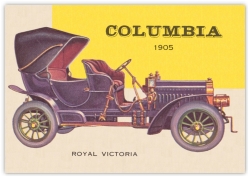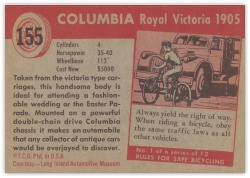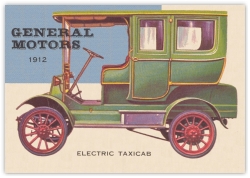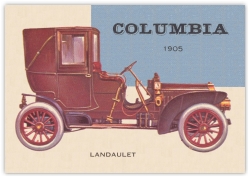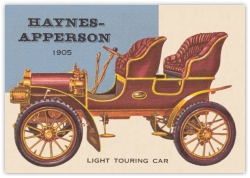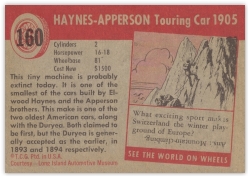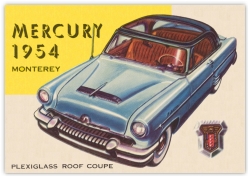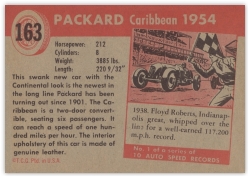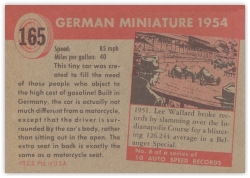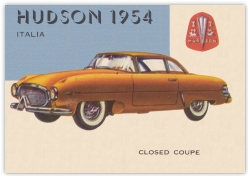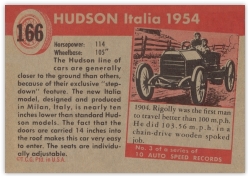 Checklist
---
The following checklist lists the 190 cards in the Topps "World on Wheels" R214-24 set.
"World on Wheels" (R714-24)
Topps Chewing Gum
№
Red Back
Blue Back
Card Title
1
n/a
Diamond T, Concrete Mixer, Heavy-Duty Truck
2
n/a
Cummings Diesel, American Racer, Supercharged Oil Burner
3
n/a
Connaught, British Sports Car, Fast-Moving Competitor
4
n/a
Buick, 1910, Toy Tonneau
5
n/a
Mercer, 1911, Raceabout
6
n/a
Excalibur J, Sports Car, American Make
7
n/a
Norton, English Motorcycle, One Cylinder
8
n/a
Lumber Truck, Straddle Type, Specialized Vehicle
9
n/a
Buick, 1911, Runabout
10
n/a
Lancia, Italian Sports Car, Jet Styling
11
n/a
Maserati, Italian Racing Car, Indianapolis Contestant
12
n/a
Mack, Diesel Tractor, Heavy-Duty Truck
13
n/a
Maxwell, 1911
14
n/a
Gatso, Dutch Sports Car, The "Cyclops"
15
n/a
Osca Maserati, Italian Sports Car, Famous Name in Cars
16
n/a
Pierce Arrow, 1911, Station Wagon
17
n/a
White, 1910, Opera Coupe
18
n/a
Cemo Turbo, French Experimental Car
19
n/a
Pegaso, Spanish Sports Car, Eight Cylinders
20
n/a
Pierce, 1903, Motorette
21
n/a
Brush, 1911, Panel Delivery
22
n/a
Lago Talbot, French Sports Car, Durable 24-Hour Champion
23
n/a
Lakester, American Hot Rod, Class C Contest Winner
24
n/a
Pierce Great Arrow, 1905, Touring Car
25
n/a
Airport Fire Truck, Fire Engine, Versatile Fire Fighter
26
n/a
Cooper - Bristol, Racing Car, British Competitor
27
n/a
Mercedes-Benz, German Sports Car — 300SL , Record Breaker
28
n/a
Ford, 1903, Runabout
29
n/a
Simplex, 1910, Speed Car
30
n/a
Alfa Romeo, Italian Racing Car, Record Breaker
31
n/a
Hose Truck, Combination Emergency Fire Truck, Fast-Moving Life-Saver
32
n/a
Renault, 1909, Victoria Runabout
33
n/a
Willys, Jeep, Army Wonder Car
34
n/a
Borgward Hansa, German Sports Car, Speedy Competitor
35
n/a
Effyh, Swedish Racer, One Cylinder Midget
36
n/a
Locomobile, 1907, Express Truck
37
n/a
Ford Model T, 1910, Commercial Roadster
38
n/a
Kenz, Twin Ford Hot Rod, World's Fastest
39
n/a
BRM, British Racing Car, Government-Backed
40
n/a
Columbia, 1900, Surrey
41
n/a
Stanley Steamer, 1911, Touring Car
42
n/a
M24 Tank, Light Tank, "General Chaffee"
43
n/a
Twin Tanker, American Hot Rod, Italian Design
44
n/a
Panhard, 1902, Racer
45
n/a
Franklin, 1904, Rear Entrance Touring Car
46
n/a
Belly Tank, 3 Wheeler, American Hot Rod
47
n/a
U.S. Army, Anti-Aircraft Half Track, Heavy Firepower
48
n/a
Packard, 1912, Landaulet
49
n/a
The Long Island Automotive Museum
50
n/a
Dream Car, Two Place Astra-Coupe, Car of the Future
51
n/a
Vertias, German Sports Car, Six Cylinders
52
n/a
Locomobile, 1899, Stanhope
53
n/a
Studebaker, 1906, Touring Car
54
n/a
Cunningham, American Sports Car, Eight Cylinder
55
n/a
U.S. Army, 2½ Ton Truck, Personnel and Cargo Carrier
56
n/a
Cadillac, 1906, Touring Car
57
n/a
Vim, 1916, Stage
58
n/a
Dream Car, Curvision Rear-Engine Coupe, Car of the Future
59
n/a
Alfa Romeo, Italian Sports Car, "Flying Disc"
60
n/a
Success, 1906, Auto Buggy
61
n/a
White Steamer, 1906, Touring Car
62
n/a
U.S. Army, 40-mm Dual Self-Propelled Guns, Armored Gun Carrier
63
n/a
Ferrari, Italian Racing Car, Speed King
64
n/a
Pierce Arrow, 1916, Raceabout
65
n/a
Thomas Flyer, 1910, Raceabout
66
n/a
Jaguar, XK Super Sports Car, British Sports Car
67
n/a
Delahaye, French Sports Car, The Custom Coachmaker's Dream
68
n/a
Oakland, 1911, Roadster
69
n/a
Knox, 1904, Surrey
70
n/a
1500 Gallon Pumper, Fire Engine, Moving Water Supply
71
n/a
Lincoln-Mercury, Experimental Car — XL500, Fiberglass Body
72
n/a
Hudson, 1911, Touring Car
73
n/a
Ford, 1906, Runabout
74
n/a
Cadillac, El Dorado — 1953, Convertible
75
n/a
Willys, Aero-Falcon 1953, Two Door Sedan
76
n/a
Peerless, 1913, Roadster
77
n/a
Northern, 1904, Rear Entrance Touring Car
78
n/a
Hudson, Wasp — 1953, Four Door Sedan
79
n/a
Plymouth Cranbook — 1953, Convertible Club Coupe
80
n/a
Pierce, 1905, Stanhope
81
n/a
Dodge, Coronet — 1953, Two Door Sedan
82
n/a
Henry J., Corsair Deluxe, Two Door Sedan
83
n/a
Pontiac, Chieftain — 1953, Deluxe Convertible
84
n/a
Lincoln, Capri — 1953, Hardtop Convertible
85
n/a
U.S. Army, 48 Medium Gun Tank, Armored Gun Carrier
86
n/a
Chrysler, "Special" Sport Model, Experimental Car
87
n/a
General Motors, Le Sabre, Experimental Car
88
n/a
Nash, Ambassador — 1953, Two Door Sedan
89
n/a
Chevrolet, Bel Air — 1953, Two Door Sedan
90
n/a
Ford, 1915, Fire Chief's Runabout
91
n/a
Chrysler, New Yorker — 1953, Club Coupe
92
n/a
Mercury, Custom — 1953, Two Door Sedan
93
n/a
Studebaker, Champion — 1953, Hardtop Convertible
94
n/a
Ford, Country Squire — 1953, Station Wagon
95
n/a
Buick, General Motors — XP300, Experimental Car
96
n/a
Healey Silverstone, British Sports Car, Ultra-Light
97
n/a
Packard, Patrician — 1953, Four Door Sedan
98
n/a
Kaiser-Frazer, American Sports Car DKF-161, Plastic Body
99
n/a
Buick, Roadmaster — 1953, Hardtop Convertible
100
n/a
Pontiac, La Parisienne, Experimental Car
101
n/a
Elgin, Sweeper Truck, Utility Vehicle
102
n/a
Cisitalia, Italian Sports Car, Fast Runabout
103
n/a
Ford, School Bus, 60 Passengers
104
n/a
Napier, 1904, Touring Car
105
n/a
Adams-Farwell, 1906, Stanhope
106
n/a
Allard, British Sports Car, Speed-Lined Beauty
107
n/a
Dream Car, Allen Williams Design, Three-Wheeled
108
n/a
Moon, 1912, Raceabout
109
n/a
Leon Bollee, 1898, Tricycle
110
n/a
Apache, American Hot Rod, Hand Built Roadster
111
n/a
Nardi, Italian Racing Car, Grand Prix Racer
112
n/a
De Dion Bouton, 1896, Tricycle
113
n/a
Oldsmobile, 1905, Coach
114
n/a
Dream Car, Sakhnoffsky Design, New Look in Sports Car
115
n/a
Reliant, British Sports Car, Three-Wheeled Bantam
116
n/a
Knox, 1905, Runabout
117
n/a
Forward- La France, 1920, Chemical Hose Truck
118
n/a
Kurtis, American Sports Car, Two-Seater Speedster
119
n/a
Hudson, Super Jet, Experimental Car
120
n/a
Ohio, 1908, Roadster
121
n/a
Brewster, 1915, Town Car
122
n/a
Fiat, Italian Sports Car, Fast Runabout
123
n/a
Frazer-Nash, British Sports Car, Road-Holding Roadster
124
n/a
Packard, 1904, Tonneau
125
n/a
Steven-Duryea, 1910, Roadster
126
n/a
Triumph, British Sports Car, Streamlined Roadster
127
n/a
Riley, British Sports Car, Roadster
128
n/a
Hudson, 1912, Roadster
129
n/a
Hoffman-Vespa, Italian Make, Motor Scooter
130
n/a
Volkswagen, Convertible, German Make
131
n/a
M.G., British Sports Car, Mighty Midget
132
n/a
Ford, Cargo King, Lumber Truck
133
n/a
Packard, 1904, Racing Car
134
n/a
Lucciola, Italian Make, Miniature Car
135
n/a
Reeves, 1911, Octoauto
136
n/a
Glasspar, Detachable Body, Completely Fiberglass
137
n/a
Land Rover, British Make, Four-Wheel Drive
138
n/a
Siata, Italian Sports Car, Chrysler-Powered
139
n/a
Checker, Taxicab, 6 Passengers
140
n/a
Kaiser, Deluxe — 1953, Four-Door Sedan
141
n/a
Cartercar, 1913, Three Passenger Coupe
142
n/a
Thomas, 1905, Limousine
143
n/a
NSU-Lambretta, Italian Make, Motor Scooter
144
n/a
Greyhound Bus, Scenicruiser, Double Decker
145
n/a
American-La France, 1911, Hose Truck
146
n/a
Columbia, 1906, Double Victoria
147
n/a
Knox, 1905, Surrey
148
n/a
Apperson, 1908, Toy Tonneau
149
n/a
Oldsmobile, 1904, Light Tonneau
150
n/a
Columbia, 1904, Limousine
151
n/a
Knox, 1904, Touring Car
152
n/a
Oldsmobile, 1912, Defender Coupe
153
n/a
Pope-Toledo, 1904, Touring Car
154
n/a
Pope-Hartford, 1902, Rear Entrance Touring Car
155
n/a
Columbia, 1905, Royal Victoria
156
n/a
Royal, 1906, Touring Car
157
n/a
General Motors, 1912, Electric Taxicab
158
n/a
Columbia, 1905, Landaulet
159
n/a
Thomas Flyer, 1904, Limousine
160
n/a
Haynes-Apperson, 1905, Light Touring Car
161
n/a
Chevrolet 1954, Corvette, Sports Car
162
n/a
Mercury 1954, Monterey, Plexiglass Roof Coupe
163
n/a
Packard 1954, Caribbean, Two Door Convertible
164
n/a
Cadillac 1954, Series 62, Four-Door Sedan
165
n/a
Miniature Car 1954, German Make, Family Machine
166
n/a
Hudson 1954, Italia, Closed Coupe
167
n/a
Microbo 1954, French Make, Miniature Car
168
n/a
Bristol 1954, British Make, Convertible
169
n/a
Ford 1954, Thunderbird, Sports Car
170
n/a
Buick 1954, Skylark, Sports Car
171
Pontiac, Strato-Star, Dream Car
172
Chevrolet, Biscayne, Dream Car
173
Buick, Wildcat III, Dream Car
174
Messerschmitt, German Make, "Mighty Mite"
175
De Soto 1955, Fireflite, Convertible
176
Chrysler 1955, The "300", Custom Made
177
Cadillac 1955, Eldorado Brougham, Luxury Show Car
178
Nash 1955, Rambler "Cross Country", Station Wagon
179
Dodge 1955, Custom Royal Lancer, V-8 Convertible
180
Ford 1955, Crown Victoria, Transparent Roof
Non-Sports Cards for Sale
---
If you by chance need any Aviation or Military related Non-Sports cards and/or card sets, be sure to visit our online store, the SkyCardShop, to see what we currently have listed for sale. If the cards you need are not there, please drop us a note at want-list@skytamer.com and tell us what cards you need. If we have your cards, we'll post them on the SkyCardShop. However, as we post them, we'll also send you a "heads-up" email so you can get them before someone else does. We can also set up "Private Sales" via PayPal and skip posting the cards/sets on the SkyCardShop. We're looking forward to helping you fulfill your non-sports cards needs.
Since 2002, we've been buying vintage aviation and military related non-sports cards to feature on our Skytamer.com website. We are currently in the process of populating our website with approximately 400+ non-sports card sets, mostly aviation related. Nearly all of the sets that we feature include both "original" and "computer enhanced" 600-dpi scans of the fronts and backs of all the cards in the individual sets. We also include printable PDF checklists for each of the card featured on the website. By the way, if you print out these 600-dpi card images on any high-quality computer (including photo paper) and trim them, they make great full-size "Filler Card Images" to use before you acquire the real card. We should note that we are actually "Image Collectors" rather than "Card Collectors" per se. Once we've scanned a card for he Skytamer.com website, we're therefore have no use for it, and eventually post it on the SkyCardShop.
Contributors
---
John Shupek — John is retired Aeronautical/Aerospace Engineer that lives in Southern California. John's 36 year aerospace career/adventure started in the mid-1960s when he worked for Pratt & Whitney at their "FRDC" … Florida Research and Development Center, West Palm Beach, Florida. John was part of the P&W jet engine design team for the CIA/USAF's Lockheed A-12/SR-71A "Oxcart/Blackbird" engines (J58/JT11D-20). He also worked on the RL-10 rocket engine and the JTF-17A which was P&W's entry into the United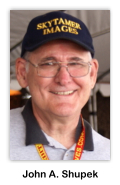 States' SST competition between Boeing and Lockheed. Several years later, John moved back to California and worked at the AiResearch Mfg. Company at LAX and Torrance. He originally worked on the thermal design of the HRE (Hypersonic Ramjet Engine) which was a supersonic combustion Mach 7 ramjet engine that was to be tested on the North American X-15. John did about three more years of jet engine design work before he disappeared for 13 years into the classified DOE "GCEP" (Gas Centrifuge Enrichment Plant) Atomic Energy program for the enrichment of U235. After the GCEP program was cancelled by the DOE in 1985, John was hired by Northrop Aircraft to do the thermal design for Northrop's entry into the ATF (Advanced Tactical Fighter) competition, the Northrop YF-23A "Black Widow II" stealth supercruise fighter. He also worked on the Northrop Grumman B-2A "Spirit" stealth bomber. After several years on a classified stealth missile program, John worked the remainder of his Aerospace career as one of Northrop Grumman's Program Directors on the United States Navy's F/A-18E/F "Super Hornet" jet fighter program.
During John's career at Northrop Grumman he served for five years as Northrop's "Vintage Aircraft Club" Commissioner and the Curator and Webmaster for the Western Museum of Flight in Hawthorne, California. Several years later, John was the volunteer webmaster (for about 3 years) for the Yanks Air Museum, Chino, California. He also served as President and webmaster for two different NPO's after his retirement. The Whittier Historical Society & Museum and Whittier Meals on Wheels.
John's love of aviation history and aviation photography lead to the establishment of this Skytamer.com website in 1998. The Skytamer.com site has continued to expand and will always grow and will never be completed. It's sort of analogous to a snowball rolling down a hill without any trees to stop it. In approximately 2002, John remembered that he had collected Topps "Wings" (ACC# R707-4) airplane trading cards while in High School. Somehow the cards had disappeared over the years. So at this point, he started to re-collect airplane trading cards via eBay and become an airplane card "Image Collector" rather than a "Card Collector" per se. After John scans an airplane card for the website, he has no further use for it and he puts it back into circulation via eBay. John's mission statement for the Skytamer.com is basically to restore and preserve high-quality card images/artwork associated with the various airplane card sets from the early 1900s to the present. These cards are wonderful historical "snapshots" into aviation history showing which aviation events and aircraft were important at that point in time. For the Skytamer.com website, basically if it is a trading card collection that features things that fly, but doesn't have feathers, it is eligible for consideration on the Skytamer.com website. John always welcomes inputs and high resolution scans (600-dpi) that can be used on this website. John can be reached via the "Contact Us" navigation button on the left.
★ ★ ★ ★ ★
Albert "Al" B. Kramer — A very special thanks to Albert B. Kramer, President of Roll-EZ Wheels, for loaning
us his entire collection of over 200 Non-Sports aviation trading card sets to scan for our Skytamer.com website. Without Al's generous help, the scope of the airplane trading cards on this website would be significantly less.
Al is a retired Air Racing pilot who raced during the 1980's in his famous "Cobra #22" Biplane Air Racer (N12FE). After his Air Racing career, Al went on to become Owner and President of San-Val Aviation located at the Van Nuys Airport. Al recently "retired" and turned his hobby of large scale model trains into "Roll-EZ Wheels". Roll-EZ Wheels specializes in the finest large scale model train wheels, and other exclusive products strictly for large scale model trains! Be sure to visit Al's Roll-EZ Wheels website.
Al's Non-Sports card collection consists of War Cards, Presidents, Indians, Cars, Boats, Ships, Planes, Rockets, Movie Stars, Dogs, Licence Plates, Flags of the World, Headlines, Cigarette, and Cereal cards. Al's collection includes the only-known example of the Carnation "Aircraft Recognition Cards" (F270-1a) Douglas D558-2 "Red Skyrocket". Al obtained the Carnation "Red Skyrocket" card in a group of 12 different cards that he bought on eBay. He originally thought that the cards were a batch of Nabisco cards until he turned over the "Red Skyrocket" card and it instantly became Al's most prized Non-Sports card. Al believes that the "Red Skyrocket" was made as a sample for Carnation and somehow got into circulation. The Carnation "Red Skyrocket" (Douglas D-558-2) was an artist drawing, while the Douglas D-558-2 "Skyrocket" included in both the Carnation F270-1a (single line) and the F270-1b (two-line) normal circulation sets were color photos, rather than drawings. As a sidenote, the Douglas D-558-1 "Red Skystreak" was also an artist drawing, but went into general circulation and was included in both the F270-1a and F270-1b Carnation sets. All of the other cards in both of the Carnation sets appear to be photographs.
★ ★ ★ ★ ★
Lonnie Cummins — A collector of Non-sport trading cards since the late 1960's. Lonnie concentrates his collecting and research on Topps' issues from 1948 through 1992, their "wax pack" era, and specializes in their test and limited issues. He has written a few articles for "The Wrapper" magazine, which is devoted to non-sports trading cards. Lonnie does more research than collecting these days and enjoys trying to solve the many mysteries of Topps trading cards.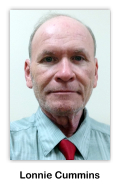 References
---
Christopher, Benjamin. The Sport Americana® Price Guide to the Non-Sports Cards 1930-1960, Number 2, Edgewater Book Company, Cleveland, Ohio, USA, 1993, ISBN 0-937424-66-8, pp. 428-430.
Kramer, Albert B. R714-24 high-resolution scan of cards fronts
Shupek, John A., Card images via the Skytamer Archive
Cummins, Lonnie. Wheels Wrapper Update, email: 4/26/2018
---
Copyright © 1998-2018 (Our 20th Year) Skytamer Images, Whittier, California
ALL RIGHTS RESERVED