"Models of U.S. Space Missiles"
Bazooka Chewing Gum, 6-PD cards, United States
---
Series Title: Models of U.S. Space Missiles
ACC No.: unknown
Manufactured by: Bazooka Bubble Gum (Topps)
Number of Cards: 6 (numbered from 1 to 6)
Card Dimensions: 6.25 × 2.94 inches (nominal)
Circa: early to mid 1950s
Bazooka Overview 1, 2
---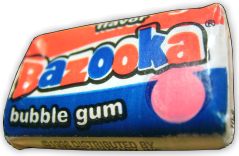 "Bazooka" is a brand of bubble gum. It was first marketed shortly after World War II in the U.S. by the Topps Company of Brooklyn, New York. The gum was packaged in a red, white, and blue color scheme. Beginning in 1953, Topps changed the packaging to include small comic strips with the gum, featuring the character "Bazooka Joe". There are 50 different "Bazooka Joe" comic-strip wrappers to collect. Also on the comic strip is an offer for a premium and a fortune. Older Bazooka comic strips were larger in size, and older strips are no longer available.
The Topps company expanded the flavors, making them Original, Strawberry Shake, Cherry Berry, Watermelon Whirl, and Grape Rage. The Strawberry flavor is packaged in a pink and white wrapper and the Grape in a purple and white wrapper. Bazooka gum can also be found in a sugar free variety with the standard bubble gum flavor and a "Flavor Blasts" variety, claimed to have longer lasting, more intense taste. Bazooka gum comes in two different sizes.
Bazooka bubble gum is sold in many countries, often with "Bazooka Joe" comic strips translated into the local language. Bazooka gum is sold in Canada with cartoons in both English and French, depending upon the city. In Israel, it is manufactured under license by Elite, the cartoons are written in Hebrew. In November 2012, Bazooka Candy Brands announced they would no longer include comics, instead using brain-teasing puzzle wrappers in an attempt to modernize the brand.
The Three Bazooka Military Sets 3,4,5
---
During the early to mid 1950s, Bazooka issued three sets of military based PD sets of trading cards printed the backs of their 20 or 25-count gum boxes. The cards were subsequently cut from the box backs, and then assembled into models. The overall dimensions of the cards were approximately 6¼ × 3 inches. The three sets were: (1) 7-PD card set of "Real Flying Models of U.S. Planes" (R707-3); (2) 6-PD set of "Models of U.S. Space Missiles" (ACC number unknown); and (3) a ??-PD card set of "American Defenders" Cutouts (ACC number unknown). In lieu of official ACC designations, we'll simply refer to them as R707-3, R707-3b and R707-3c.
All three of these "cutout" sets pre-date the infamous 1959 Bazooka baseball and football cards that were also cut from the backs of boxes. The three military sets are very scarce with only a few examples of each set known to the card collecting community. The initial airplane set "Real Flying Models of U.S. Planes" (R707-3) features aircraft with first flights between 1949 (Lockheed F-94C) and 1953 (Convair F-102). To date only 5 tiles of this 7-PD card set are known.
The second set, a 6-PD card set of "Models of U.S. Space Missiles" (which we call ACC R707-3b) features 6 missile cards. Currently, titles for only two of the 6 cards are known. The only card that has a real historic date associated with it, is the "Jupiter" missile with a design date of 1954, and production dates of 1956 to 1961.
The third set, "American Defenders" Cutouts, which we call "R707-3c" has an unknown number of PD cards. To date, the Topps Archive ³ and the Vintage Non-Sports Cards Chat Board 4 show the only known example of the card/box. The card/box is titled "Set No.2 Army" which features three different Soldier cutouts: (1) "Army Sergeant", (2) "Soldier in Army combat dress", and (3) "Infantryman carrying bazooka (M-18 Rocket Launcher)." The M-18 bazooka was in service use between 1945 through the 1960s, which provides little help to establish the date of this set. Examples of the three different Bazooka military series sets are shown below.
"Models of U.S. Space Missiles" Image-Guide 4, 6
---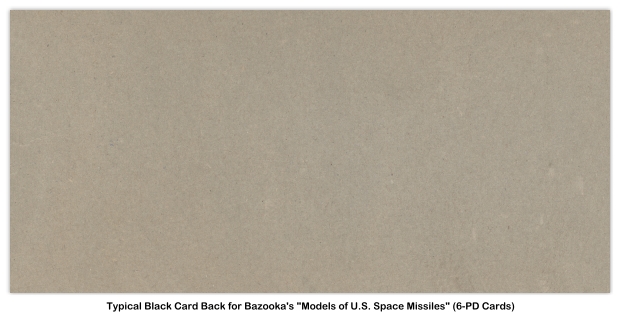 Currently, we have only two card images in this six PD (package design) card set. The original images were acquired from the Network54 4 "Vintage Non-Sports Cards Chat Board" website (Reference 4), and computer enhanced for presentation purposes. In this case, both of the card images were completely redrawn by Skytamer Images to provide 600-dpi examples of the cards. We obviously need some help with this set, so if you can help, please use the "Contact Us" link. We would certainly appreciate your help!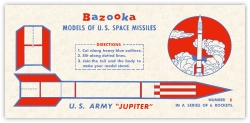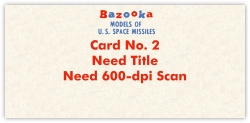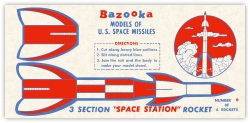 Gum Box 3
---
Since this set was a PD (package design), there was no wrapper, the collecting options are therefore: (1) "Full" box with card uncut, and (b) Card cut from box Back.
Checklist
---
Since we only have a partial checklist, we have only the online checklist version below.
"Models of U.S. Space Missiles"
Bazooka Chewing Gum (Topps), 6-PD Cards, USA
PARTIAL CHECKLIST
№
Box
Card
Card Title
1
U.S. Army "Jupiter"
2
Need Title and 600-dpi Scan
3
Need Title and 600-dpi Scan
4
Need Title and 600-dpi Scan
5
Need Title and 600-dpi Scan
6
3 Section "Space Station " Rocket
References
---
Wikipedia, Bazooka (chewing Gum)
Wikipedia Photo, Bazooka Gum
Topps Archive, Having a Party
Vintage Non-Sports Cards Chat Board R707-3
Shupek, John A., "The Skytamer Archive"
Skytamer Images, Flying Models of U.S. Airforce Planes (R707-3)
---
Copyright © 1998-2019 (Our 21st Year) Skytamer Images, Whittier, California
ALL RIGHTS RESERVED