1954 "Power for Peace" (R701-10)
Bowman Gum, United States
---
Title: Power for Peace
ACC No.: R701-10
Issued by: Bowman Gum Company
No. of Cards: 96
Numbering: 1 to 96
Dimensions: 2½ × 3¾ in.
Circa: 1954
Checklist: Download
Overview
---
During 1954, the Bowman Gum Company of Philadelphia, Pennsylvania, issued the 96-card "Power for Peace" series of military collector cards. The front of each card featured the most modern weaponry available to America's Armed Forces as of 1954. The fronts of the cards were not captioned or titled. The backs of the cards contained the red "Power for Peace" logo with the card number embedded within the logo; the card title; a descriptive text; a copyright line; and an "Official Photo" of … caption. The American Card Catalog Number for this series is R701-10. We do not know of an album associated with the set.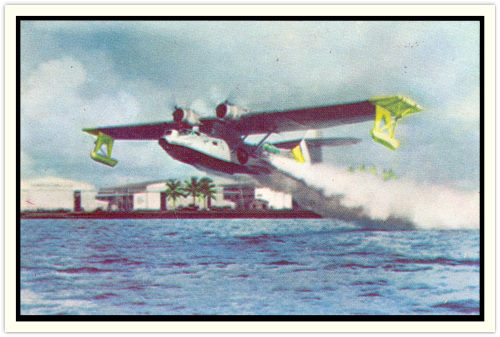 Typical R701-10 "Power for Peace" Card Front

Typical R701-10 "Power for Peace" Card back
Image Guide
---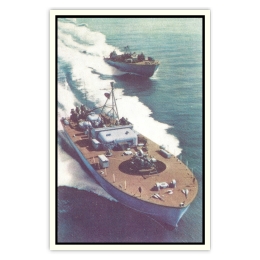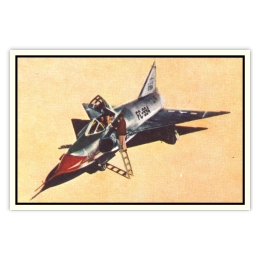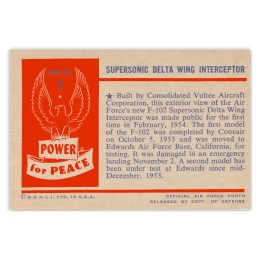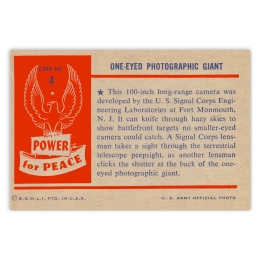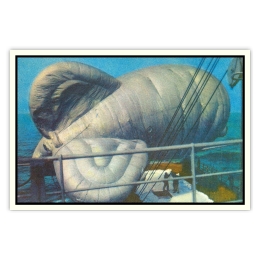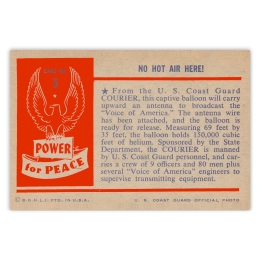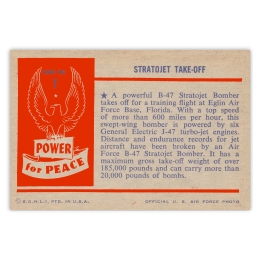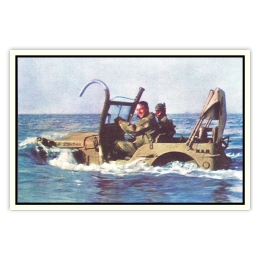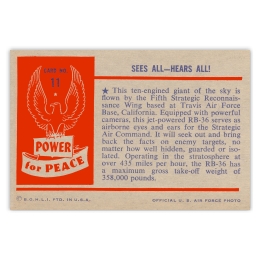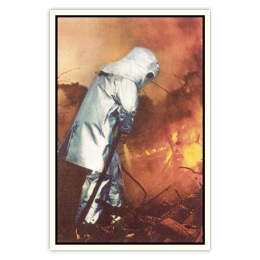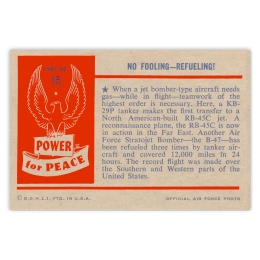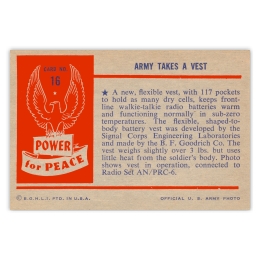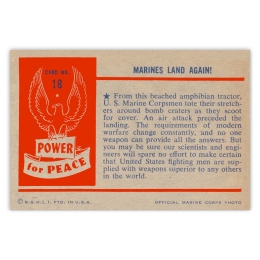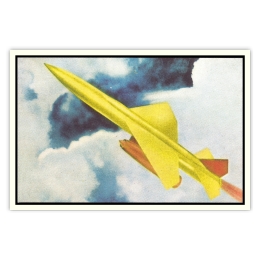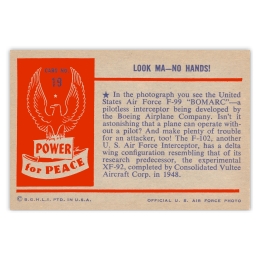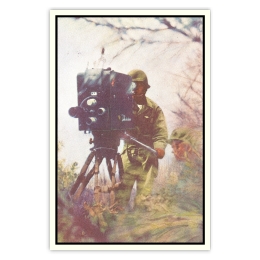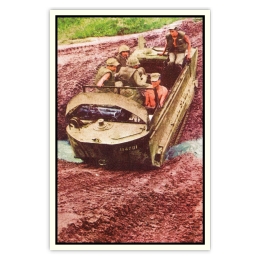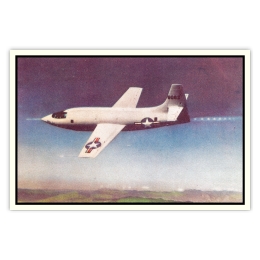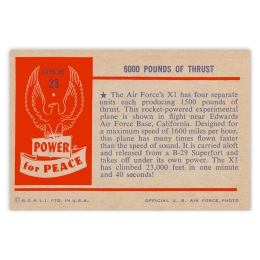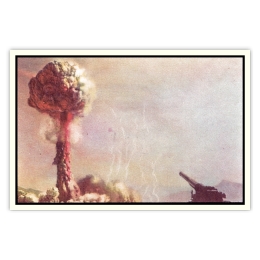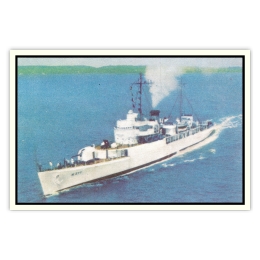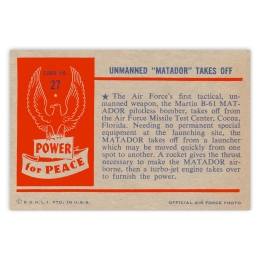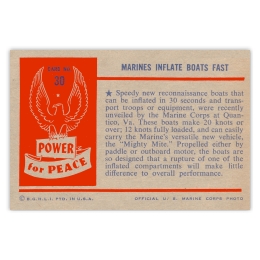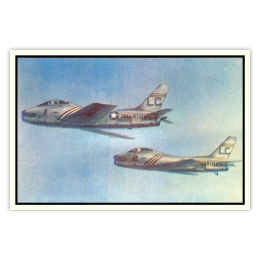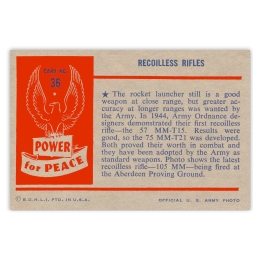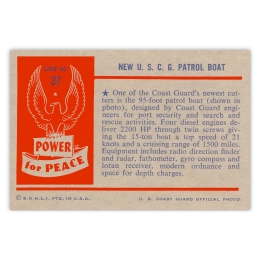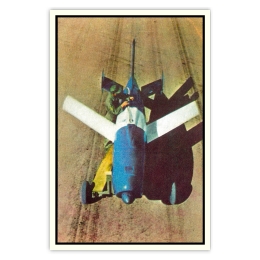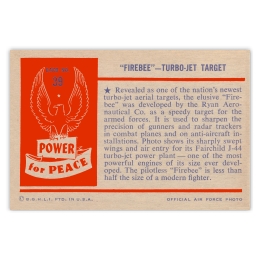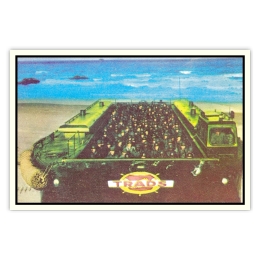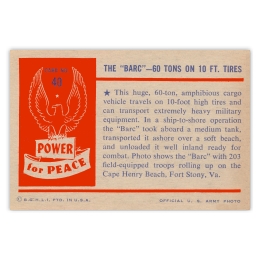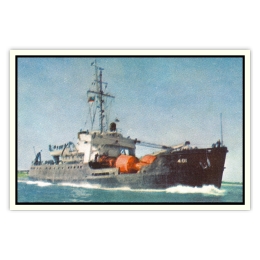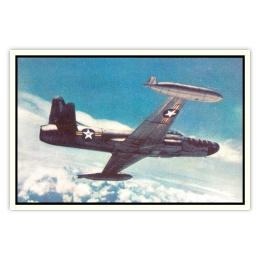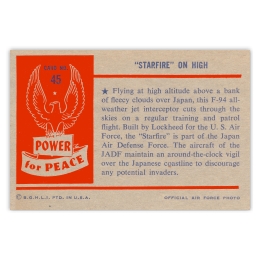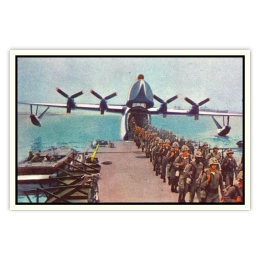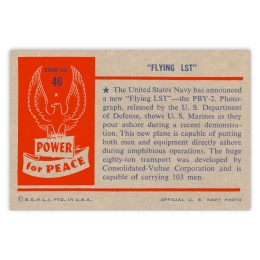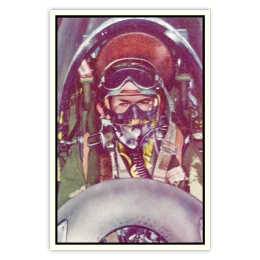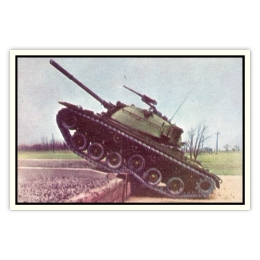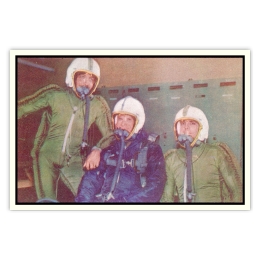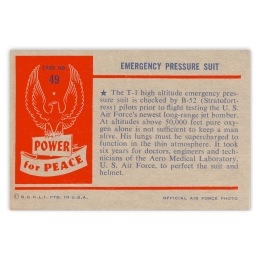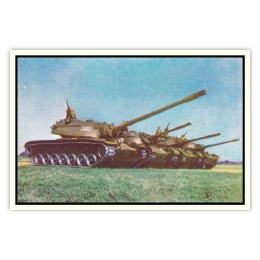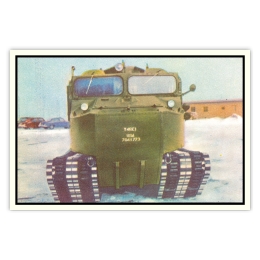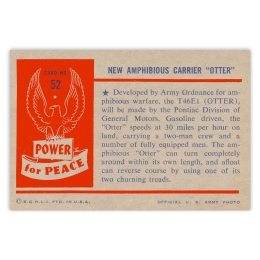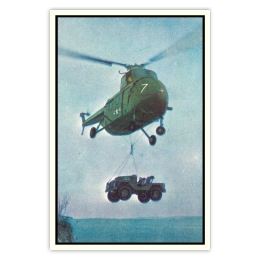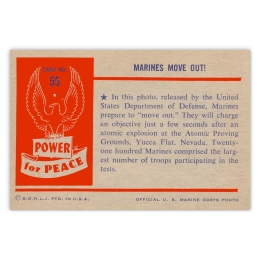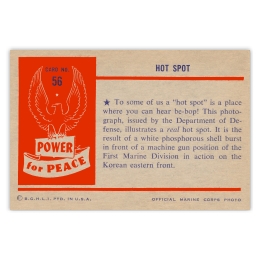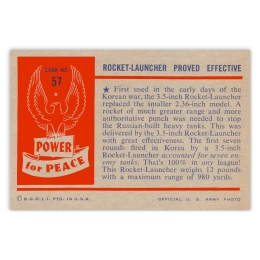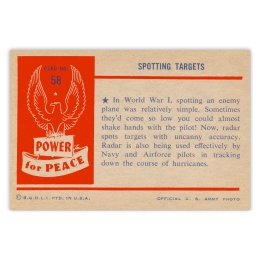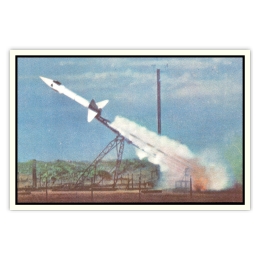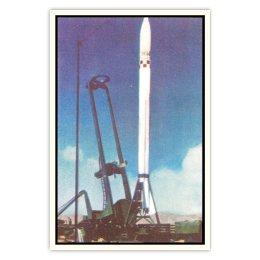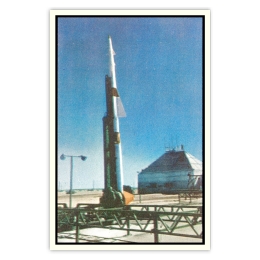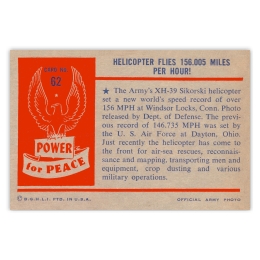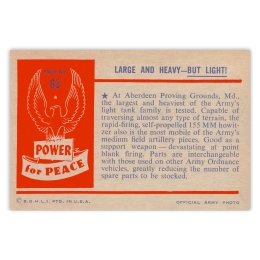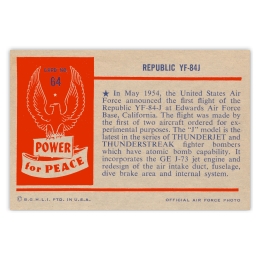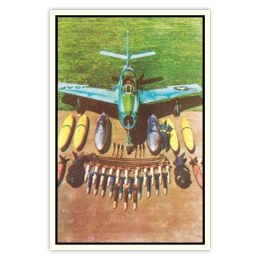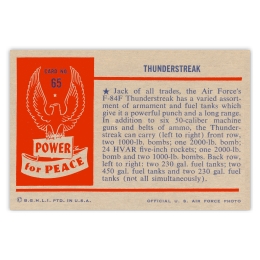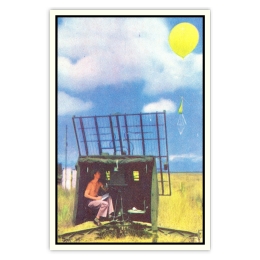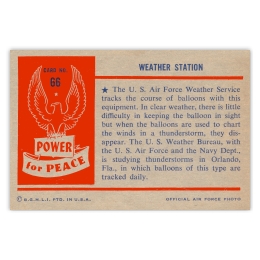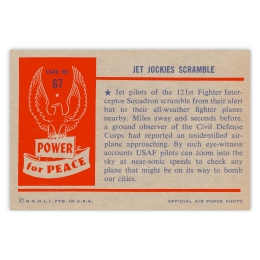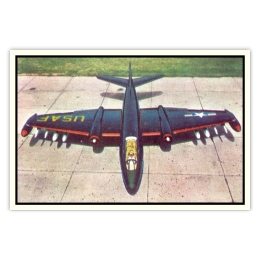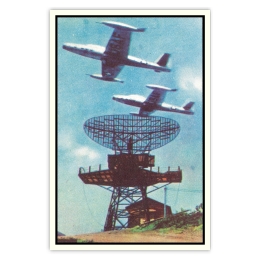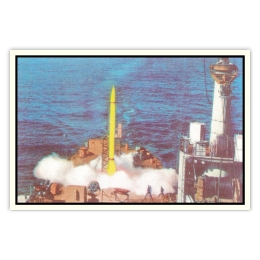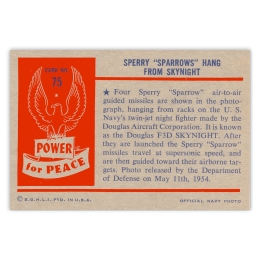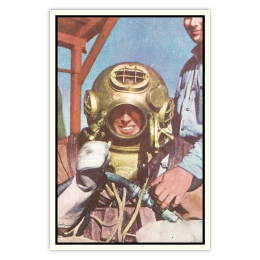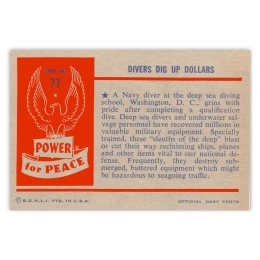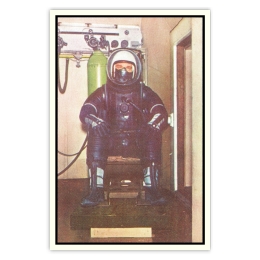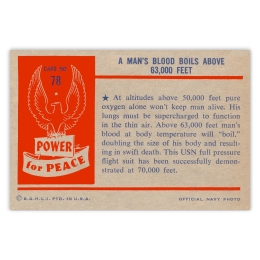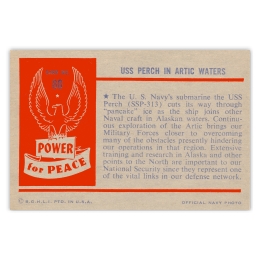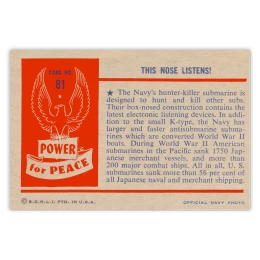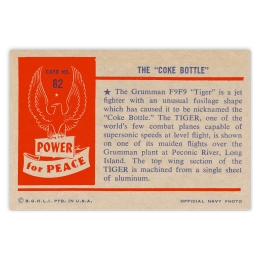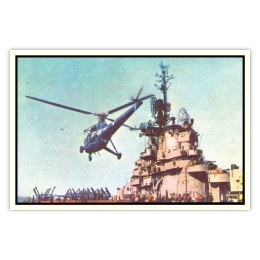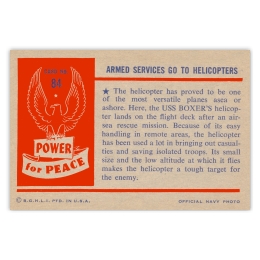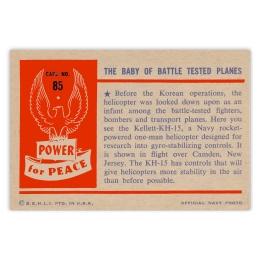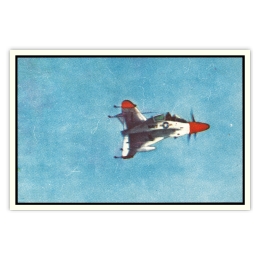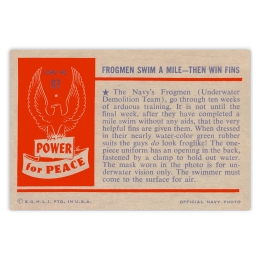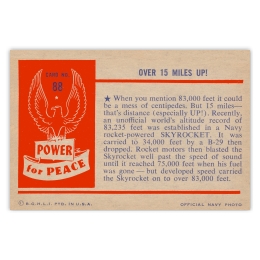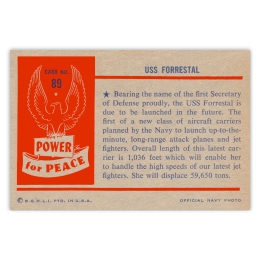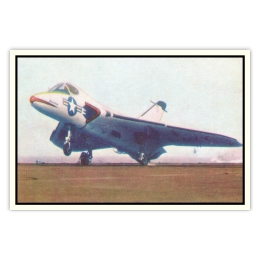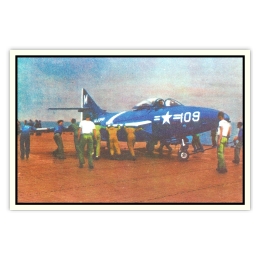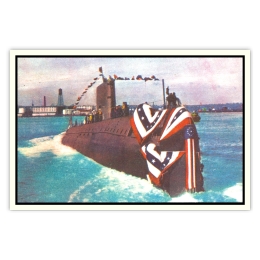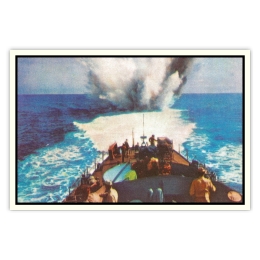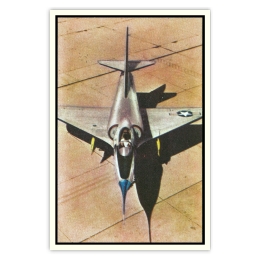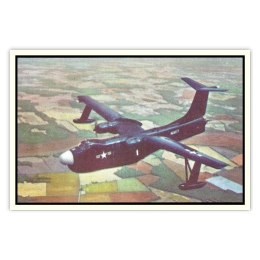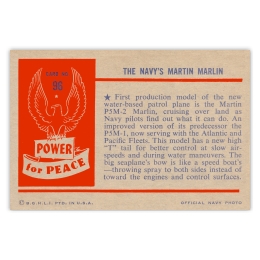 R701-10 Wrapper and Display Box
---
The R701-10 "Power for Peace" 1¢ and 5¢ wrappers are presented in a red, white and blue color scheme with the word "POWER" printed in yellow with a red outline. There were both the 1¢ and 5¢ denomination display boxes. Color photos of the 1¢ wrapper and display box are presented below. We are in need of high quality images for the 5¢ wrapper and display box. The images for the 5¢ wrapper are very low quality.
In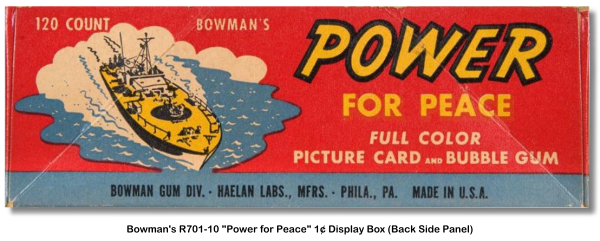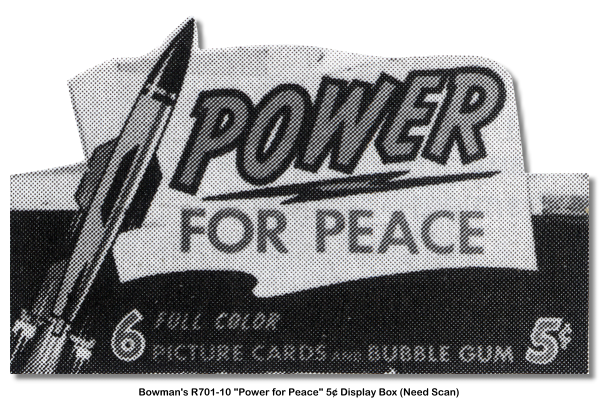 Checklist
---
"Power for Peace R701-10"
R701-10 Checklist
Card No.
X
Card Title
1
Iceberg Patrol
2
Navy's New Type PT
3
Supersonic Delta Wing Interceptor
4
One-Eyed Photographic Giant
5
No Hot Air Here!
6
Seagull Spews Marines
7
Stratojet Take-Off
8
Titanic Tank
9
PBY Answers SOS
10
Snorkel Jeep
11
Sees All - Hears All!
12
8½ Ounce Duck Fights Fire
13
Saves - Sends - Serves
14
No Kick Here!
15
No Fooling - Refueling!
16
Army Takes A Vest
17
Won Battle Stars In Two Areas
18
Marines Land Again!
19
Look Ma - No Hands!
20
TV On the Battlefront
21
Small Boats - Big Job!
22
Ammo Movers
23
6000 Pounds of Thrust
24
Atomic Cannon Test
25
U.S.C.G. Cadets Cruise to Europe
26
New Amphibian Assault Vehicle
27
Unmanned "Matador" Takes Off
28
Citizen Solders
29
U.S.C.G. "Eagle" in Flight
30
Marines Inflate Boats Fast
31
Four F-84 Thunderjets Over Japan
32
3-in-One Machine Gun
33
U.S. Icebreakers Traverse Northwest Passage
34
FJ Furies in Flight
35
X-3 Flying Laboratory
36
Recoilless Rifles
37
New U.S.C.G. Patrol Boat
38
Phantom Jets Over El Morro
39
"Firebee" - Turbo-Jet Target
40
The "Barc" - 60 Tons on 10 Ft. Tires
41
That's My Buoy!
42
Aerial Curiosity Proves Its Worth
43
First Test of YH-16 "Transporter"
44
"Mechanical Mule"
45
"Starfire" on High
46
"Flying LST"
47
Modern Aerial Warrior
48
Tank Climbs 3 Ft. Vertical Wall
49
Emergency Pressure Suit
50
Tanks for the Infantry
51
Lifesaver at "Pork Chop" Hill
52
New Amphibious Carrier "Otter"
53
"Mighty Mite"
54
Helicopter Flies Off With 50 Ft. Hangar
55
Marines Move Out!
56
Hot Spot
57
Rocket-Launcher Proved Effective
58
Spotting Targets
59
"Honest John" Takes Off
60
The "Corporal" Is Tough!
61
Guide Missile "Nike"
62
Helicopter Flies 156.005 Miles Per Hour!
63
Large and Heavy - But Light
64
Republic YF-84J
65
Thunderstreak
66
Weather Station
67
Jet Jockies Scramble
68
Air Force Strato-Jet
69
The B-57-B Can Sting!
70
140 Miles Up!
71
Air Vigil in Japan
72
Navy Test Center
73
Viking Number Four
74
7½ Ton Missile Makes 3900 MPH
75
Sperry "Sparrows" Hang from Skynight
76
F3H Demon
77
Divers Dig Up Dollars
78
A Man's Blood Boils Above 63,000 Feet
79
Soar Straight Up - Land on a Dime!
80
USS Perch in Arctic Waters
81
This Nose Listens!
82
The "Coke Bottle"
83
USS Franklin D. Roosevelt (CVB42)
84
Armed Service Go to Helicopters
85
The Baby of Battle Tested Planes
86
This Fighter Is a Vertical Riser
87
Frogmen Swim a Mile - Then Win Fins
88
Over 15 Miles Up!
89
USS Forrestal
90
16" Salvo from the "Mighty Mo"
91
USS Coral Sea (CVB43)
92
Carrier Strike
93
Atomic Submarine - USS Nautilus
94
Hunter Killer Team
95
Baby Bomber
96
The Navy's Martin Marlin
Contributors
---
Albert "Al" B. Kramer — A very special thanks to Albert B. Kramer, President of Roll-EZ Wheels, for loaning
us his entire collection of over 200 Non-Sports aviation trading card sets to scan for our Skytamer.com website. Without Al's generous help, the scope of the airplane trading cards on this website would be significantly less.
Al is a retired Air Racing pilot who raced during the 1980s in his famous "Cobra #22" Biplane Air Racer (N12FE). After his Air Racing career, Al went on to become Owner and President of San-Val Aviation located at the Van Nuys Airport. Al recently "retired" and turned his hobby of large scale model trains into "Roll-EZ Wheels". Roll-EZ Wheels specializes in the finest large scale model train wheels, and other exclusive products strictly for large scale model trains! Be sure to visit Al's Roll-EZ Wheels website.
Al's Non-Sports card collection consists of War Cards, Presidents, Indians, Cars, Boats, Ships, Planes, Rockets, Movie Stars, Dogs, Licence Plates, Flags of the World, Headlines, Cigarette, and Cereal cards. Al's collection includes the first-known example of the Carnation "Airplane Flash Cards" (F270-1A) Douglas D558-2 "Red Skyrocket". Al obtained the Carnation "Red Skyrocket" card in a group of 12 different cards that he bought on eBay. He originally thought that the cards were a batch of Nabisco cards until he turned over the "Red Skyrocket" card and it instantly became Al's most prized Non-Sports card. Al believes that the "Red Skyrocket" was made as a sample for Carnation and somehow got into circulation. The Carnation "Red Skyrocket" (Douglas D-558-2) was an artist drawing, while the Douglas D-558-2 "Skyrocket" included in both the Carnation F270-1A & F270-1A1 (single line) and the F270-1B (two-line) normal circulation sets were color photos, rather than drawings. As a sidenote, the Douglas D-558-1 "Red Skystreak" was also an artist drawing, but went into general circulation and was included in the three other Carnation sets. All of the other cards in both of the Carnation sets appear to be photographs.
John Shupek — John is retired Aeronautical/Aerospace Engineer that lives in Southern California. John's 36 year aerospace career/adventure started in the mid-1960s when he worked for Pratt & Whitney at their "FRDC" … Florida Research and Development Center, West Palm Beach, Florida. John was part of the P&W jet engine design team for the CIA/USAF's Lockheed A-12/SR-71A "Oxcart/Blackbird" engines (J58/JT11D-20). He also worked on the RL-10 rocket engine and the JTF-17A which was P&W's entry into the United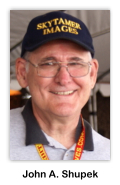 States' SST competition between Boeing and Lockheed. Several years later, John moved back to California and worked at the AiResearch Mfg. Company at LAX and Torrance. He originally worked on the thermal design of the HRE (Hypersonic Ramjet Engine) which was a supersonic combustion Mach 7 ramjet engine that was to be tested on the North American X-15. John did about three more years of jet engine design work before he disappeared for 13 years into the classified DOE "GCEP" (Gas Centrifuge Enrichment Plant) Atomic Energy program for the enrichment of U235. After the GCEP program was cancelled by the DOE in 1985, John was hired by Northrop Aircraft to do the thermal design for Northrop's entry into the ATF (Advanced Tactical Fighter) competition, the Northrop YF-23A "Black Widow II" stealth supercruise fighter. He also worked on the Northrop Grumman B-2A "Spirit" stealth bomber. After several years on a classified stealth missile program, John worked the remainder of his Aerospace career as one of Northrop Grumman's Program Directors on the United States Navy's F/A-18E/F "Super Hornet" jet fighter program.
During John's career at Northrop Grumman he served for five years as Northrop's "Vintage Aircraft Club" Commissioner and the Curator and Webmaster for the Western Museum of Flight in Hawthorne, California. Several years later, John was the volunteer webmaster (for about 3 years) for the Yanks Air Museum, Chino, California. He also served as President and webmaster for two different NPOs after his retirement. The Whittier Historical Society & Museum and Whittier Meals on Wheels.
John's love of aviation history and aviation photography lead to the establishment of this Skytamer.com website in 1998. The Skytamer.com site has continued to expand and will always grow and will never be completed. It's sort of analogous to a snowball rolling down a hill without any trees to stop it. In approximately 2002, John remembered that he had collected Topps "Wings" (ACC# R707-4) airplane trading cards while in High School. Somehow the cards had disappeared over the years. So at this point, he started to re-collect airplane trading cards via eBay and become an airplane card "Image Collector" rather than a "Card Collector" per se. After John scans an airplane card for the website, he has no further use for it and he puts it back into circulation via eBay. John's mission statement for the Skytamer.com is basically to restore and preserve high-quality card images/artwork associated with the various airplane card sets from the early 1900s to the present. These cards are wonderful historical "snapshots" into aviation history showing which aviation events and aircraft were important at that point in time. For the Skytamer.com website, basically if it is a trading card collection that features things that fly, but doesn't have feathers, it is eligible for consideration on the Skytamer.com website. John always welcomes inputs and high resolution scans (600-dpi) that can be used on this website. John can be reached via the "Contact Us" navigation button on the left.
References
---
Kramer, Albert B., Loan of R701-10 "Power for Peace" card collection for scanning.
Shupek, John A., Card images from the Skytamer Archive
---
Copyright © 1998-2020 (Our 22nd Year) Skytamer Images, Whittier, California
ALL RIGHTS RESERVED