Antique Autos
Bowman Gum, United States
---
Series Title: Antique Autos
American Card Catalog No.: R701-1
Manufactured by: Bowman Gum
Country: United States
Number of Cards: 48
Card Dimensions: 2-1/2" x 3-3/4"
Circa: 1953
Typical R701-1 "Antique Autos" Card Front
Background
---
In 1953 Bowman gum issued this 48-card set of "Antique Autos." The color drawings depict early car models from the "Golden Age" of the automobile industry. However, the drawings featured on the fronts of the cards are not new to card collectors. It turns out that the majority of ... if not all of the drawings were copied from an American Tobacco Co. set circa 1911 in "Turkey Red" Cigarettes. The automobiles are named on the front of the card, but the title often appears in abbreviated form on the reverse side. Card numbers are located on the Back only. The card's measure 2-1/2 x 3-3/4 inches and are numbered sequentially from 1 to 48. The American Card Catalog reference number is R701-1.
As you probably remember, during the early 1950s, the 3-D movie craze was hitting the silver screens at your local theaters. Not to be outdone, the Backs of these cards all featured 3-D drawings of the automobiles shown on the fronts. Of course to view the 3-D images required special 3-D glasses. The glasses were obtained from the local retailer ... free with every four packages of gum cards purchased.
Typical R701-1 "Antique Autos" Card Back


R701-1 3-D Glasses
A very special thanks to Walter Biskupski for sending us scans of the 3-D glasses.
( Click on 3-D Glasses to expand images )
R701-1 "Antique Autos" Image-Guide
---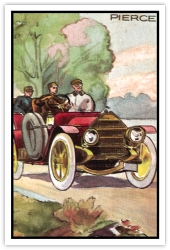 1 - Pierce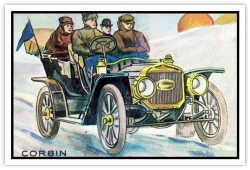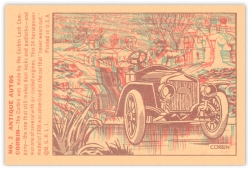 2 - Corbin

3 - Pullman-Racer

4 - Fiat-Racer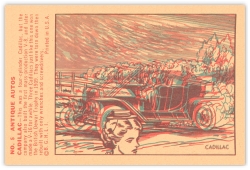 5 - Cadillac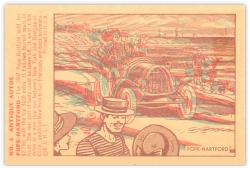 6 - Pope-Hartford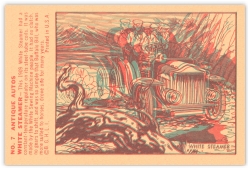 7 - White Steamer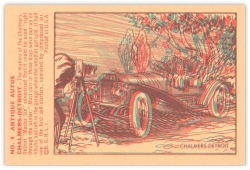 8 - Chalmers-Detroit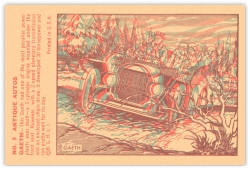 9 - Gaeth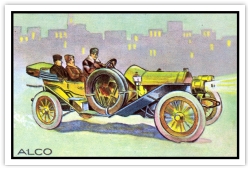 10 - Alco

11 - Chadwick Racer

12 - Matheson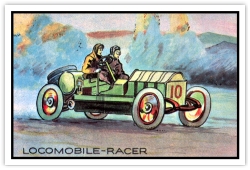 13 - Locomobile-Racer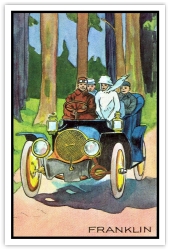 14 - Franklin

15 - Reo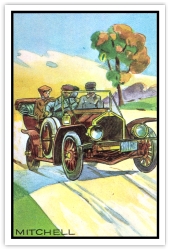 16 - Mitchell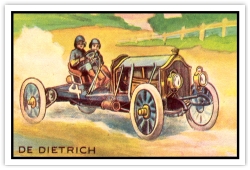 17 - De Diedrich

18 - Lancia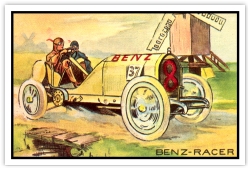 19 - Benz-Racer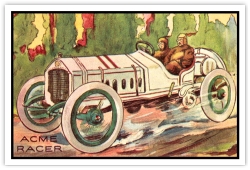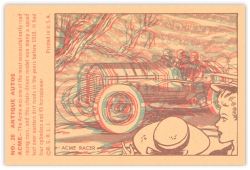 20 - Acme Racer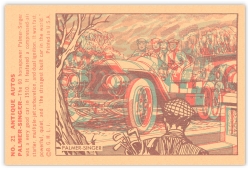 21 - Palmer-Singer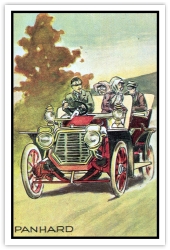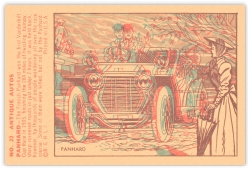 22 - Panhard

23 - Rainier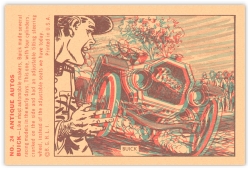 24 - Buick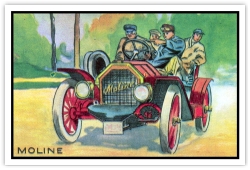 25 - Moline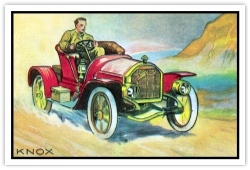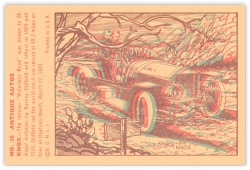 26 - Knox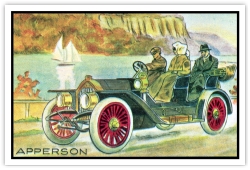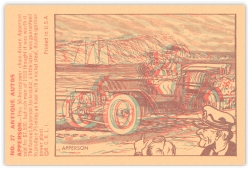 27 - Apperson

28 - Baker Electric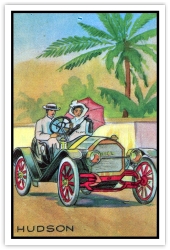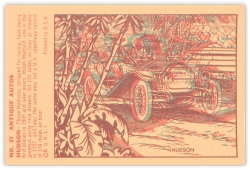 29 - Hudson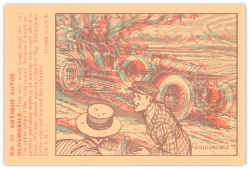 30 - Oldsmobile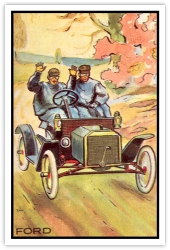 31 - Ford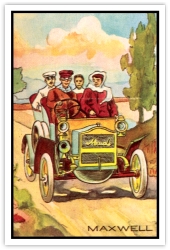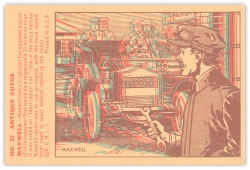 32 - Maxwell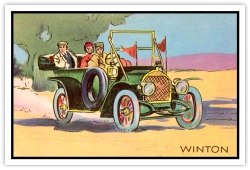 33 - Winton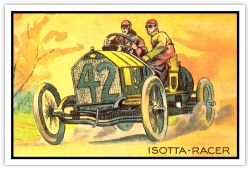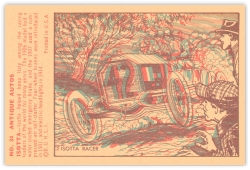 34 - Isotta-Racer

35 - Lozier-Racer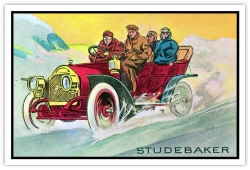 36 - Studebaker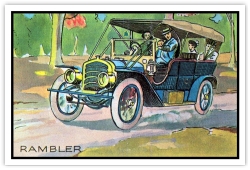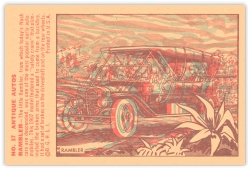 37 - Rambler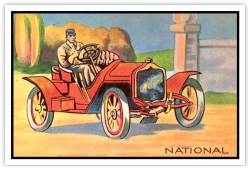 38 - National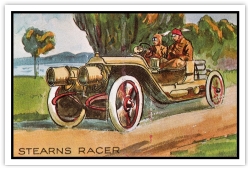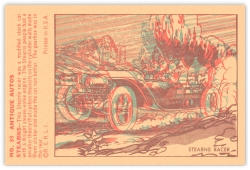 39 - Stearns Racer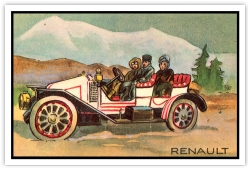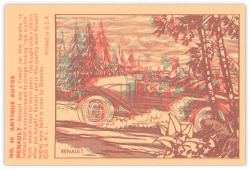 40 - Renault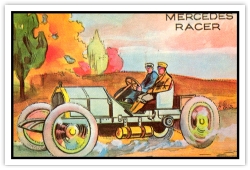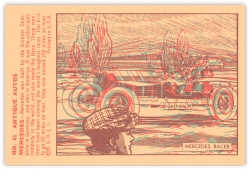 41 - Mercedes Racer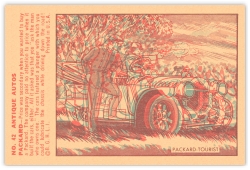 42 - Packard-Tourist

43- Simplex

44 - Thomas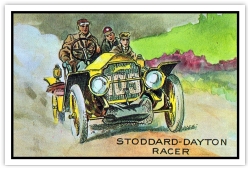 45 - Stoddard-Dayton Racer

46 - Peerless

47 - Haynes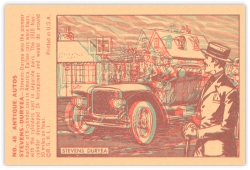 48 - Stevens Duryea
Antique Autos Wrapper (Wax-Pack)
---
Currently there appears to be only one wrapper associated with the series. If you should run across any other wrapper variants, please let us know. The "Antique Autos" wrapper features two different antique automobiles driving by a billboard announcing "Antique Autos." The primary color of the wrapper is red with green and yellow accent colors.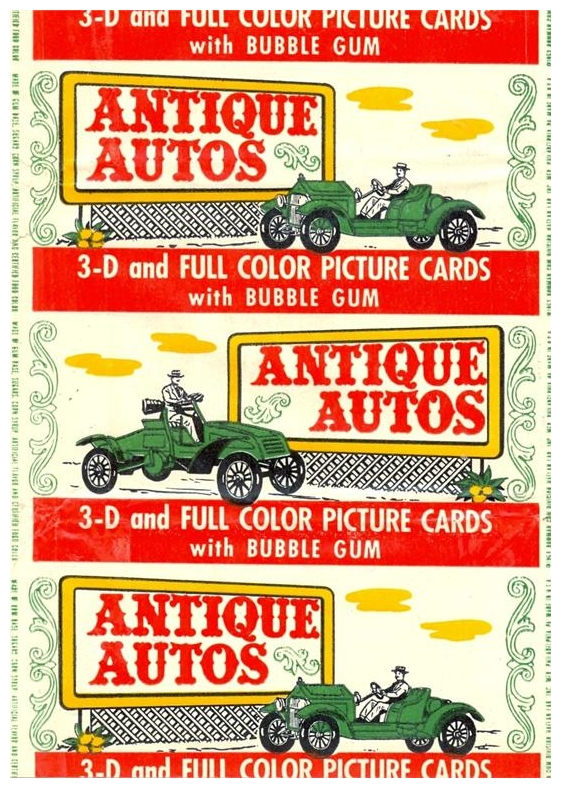 R701-1 Wrapper
Special thanks to Vladislav Kuchta for sending us this scan.
Antique Autos Retailer's Display Box
---
The "Antique Autos" display box is shown below. The following statement on the display box was addressed to "Mr. Retailer": "there are six pairs of 3-D (third dimensional) glasses in this box at no extra cost to you. Please give one pair free with each sale of four packages ..." the yellow and blue display box held 24 packs; each pack contained five cards and a slant of gum. We are currently in need of a high-quality color image of this display box. If you can help us out please let us know.
R701-1 Retailer's Display Box
Special thanks to Vladislav Kuchta for sending us this scan.
Checklist
---
The R701-1 "Antique Autos" Checklist may be downloaded by clicking the "Checklist" button below. This document is presented as an Adobe® Acrobat® PDF format document. The R701-1 "Checklist" presents a "Checkbox" listing of cards, wrapper and the retailer's display box. Skytamer Archive Subscribers may access, download and print out this document by entering their Username and Password when prompted.

Skytamer Archive Subscription Required
Special Thanks
---
A very special thanks to Albert B. Kramer of Roll-EZ Wheels, Inc. for loaning us his Antique Autos collection to scan. "Click" on Al's card below to visit his website.
We would also like to thank Vladislav Kuchta from Prague, Czech Republic for sending us a scan of the display box and wrappers. Vladislav is a long-time collector of chewing gum wrappers. He has over 100,000 items in his collection. Be sure to visit his website at www.chewing-gum.biz.
And finally, we would also like to thank Walter Biskupski for sending us high resolution scans of the 3-D glasses.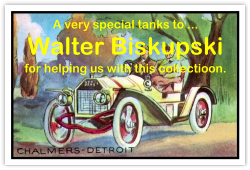 ---
| Home | Archive Subscriber Support | Guestbook | Contact Us | Legal Notice | Aviation Links |
Copyright © 2010 Skytamer Images, Whittier, California
ALL RIGHTS RESERVED