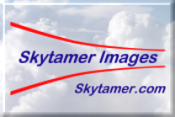 Action Gum (R1)
The Goudey Gum Company, 96-cards, USA
---

Series Title: Action Gum
American Card Catalog Number: R1
Issued by: The Goudey Gum Company
Packaged with: Action Bubble Gum
Country: United States
Number of Cards: 96
Numbering: 1 to 96 on card back
Card Dimensions: 2⅜ × 2⅞ inches
Circa: 1938-39
Checklist: Checklist
Background
---
The 96-card "Action Gum" trading card set was most likely issued during the 1938-1939 time-frame prior to the Japanese attack on Pearl Harbor and the United States formally entering World War II. Subsequently, none of the 96 cards in the set refer to a specific wartime event. The cards all feature "action" scenes showing the United States Armed Services in wartime scenarios. It is interesting to note that there were numerous other "Wartime" card sets issued before this series. However, according to Goudey, Action Gum was "The Greatest Card Series Ever Produced," as they claimed on the back of every card. The color artwork and text of the series is rather simplistic when compared to other similar series, such as "War Gum" or "Horrors of War." The American Card Catalog reference number for Action Gum is R1.
Wrapper
---
To date, we've been able to identify three wrapper schemes: (1) Red, (2) Blue and (3) Green. As shown below, the action-packed center design of the wrappers is printed in red, blue or green inks. All three color schemes feature the same artwork and contain premium offers for service rings and a "Snappy the Aviator's Hat." High resolution scans (600 dpi) of these wrappers would be appreciated.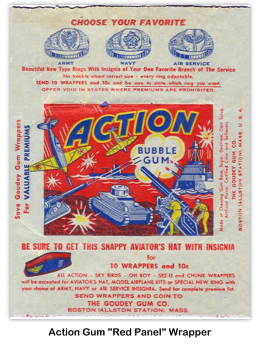 Image Guide
---
The "Action Gum" images presented in this "Image Guide " are greatly enhanced computer images that were derived from a series of low-grade cards. The backs of the cards were all reconstructed to match the original card backs. Behind each of the following card-images are full-size computer-enhanced 600-dpi images of the fronts and backs of each card. These 600 dpi images make ideal "filler" card images.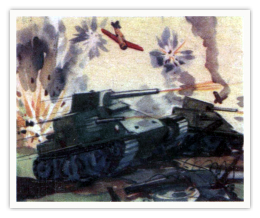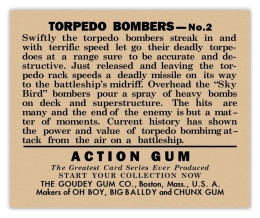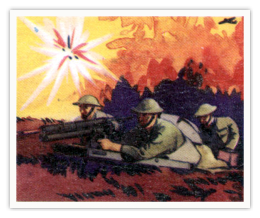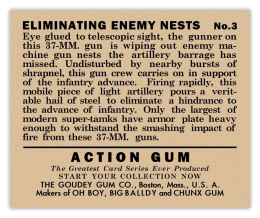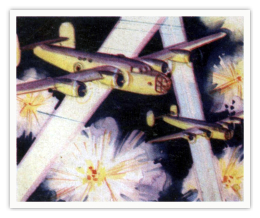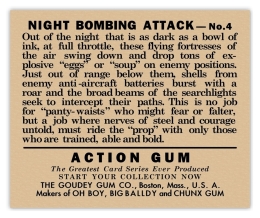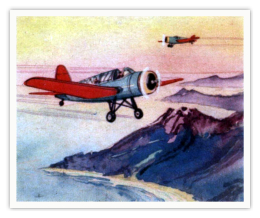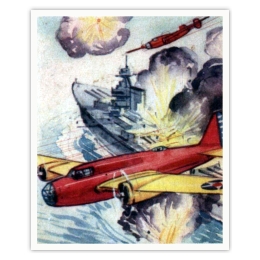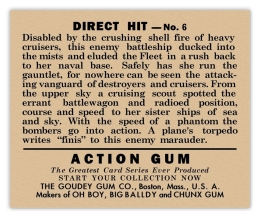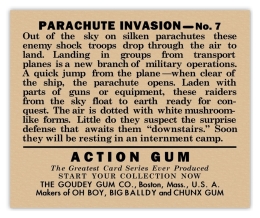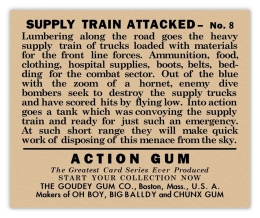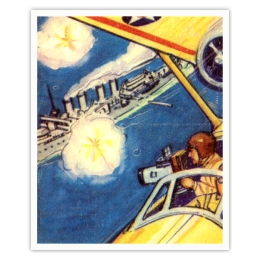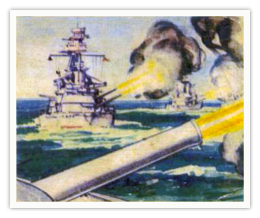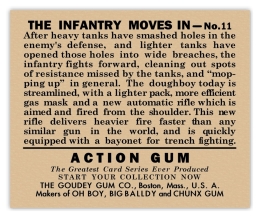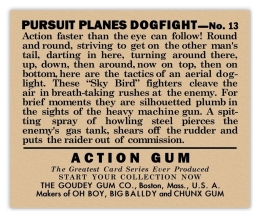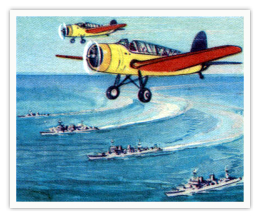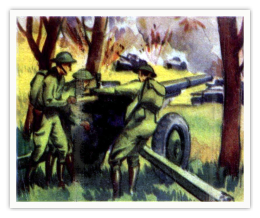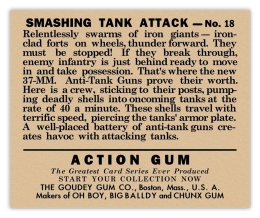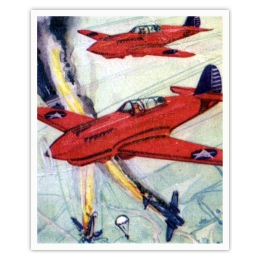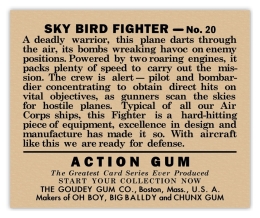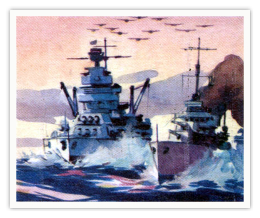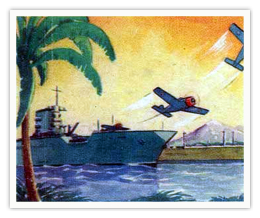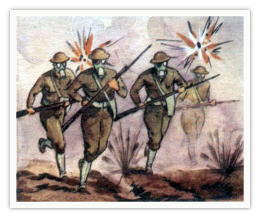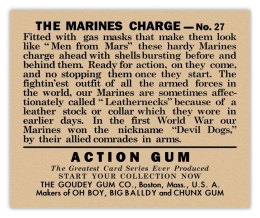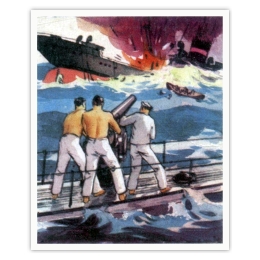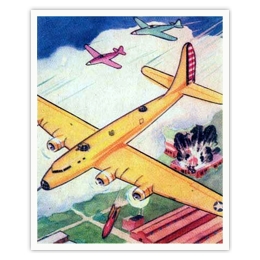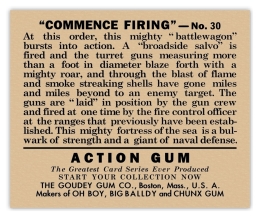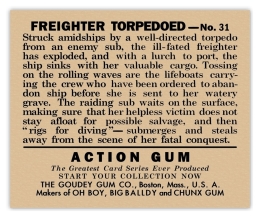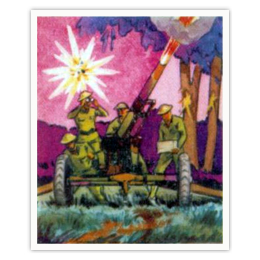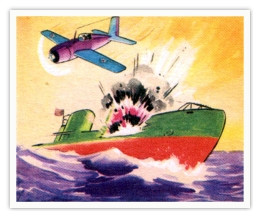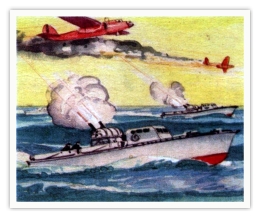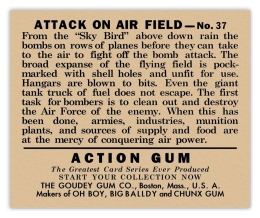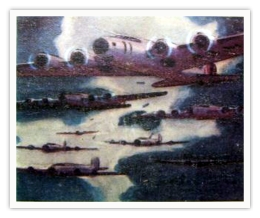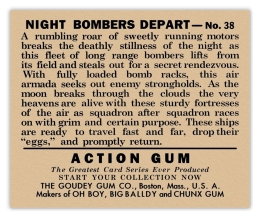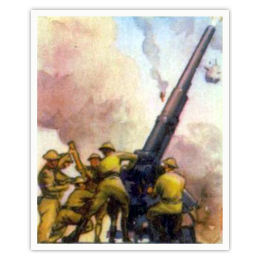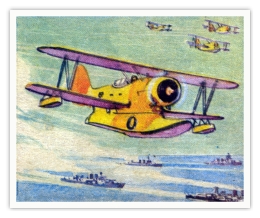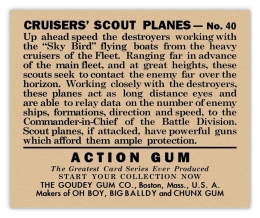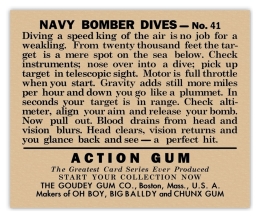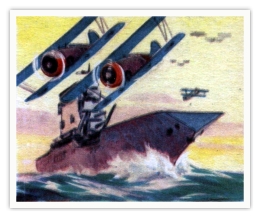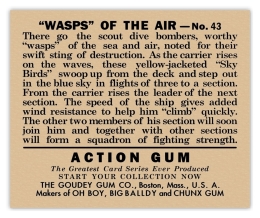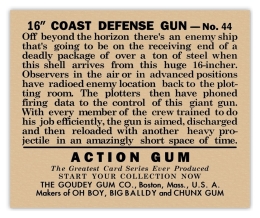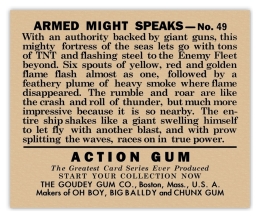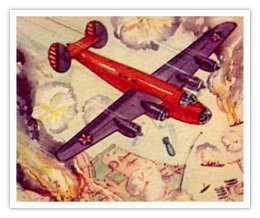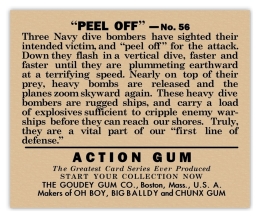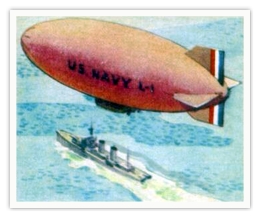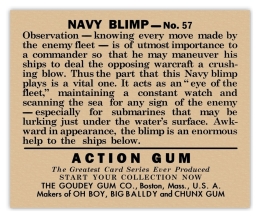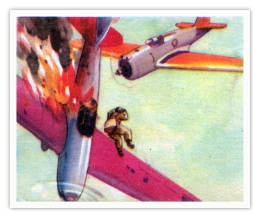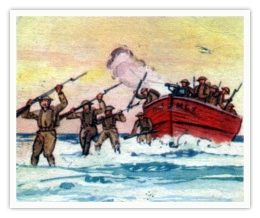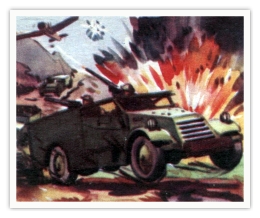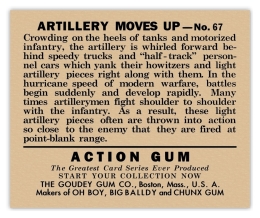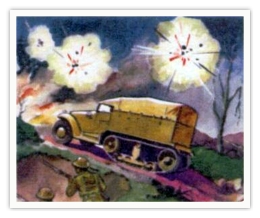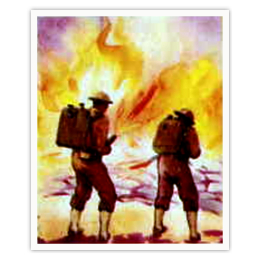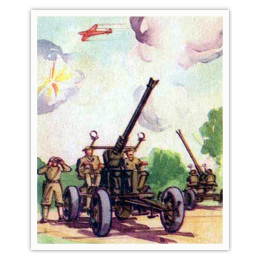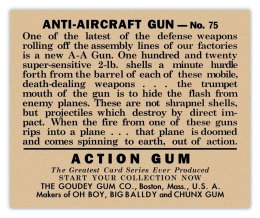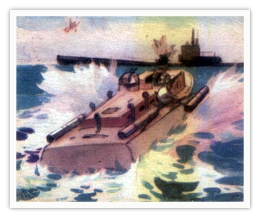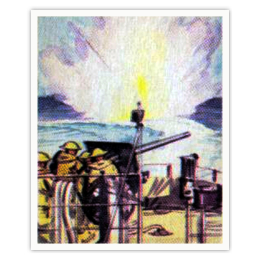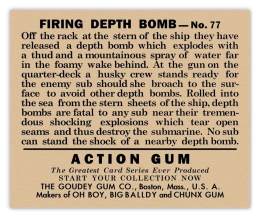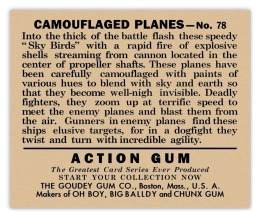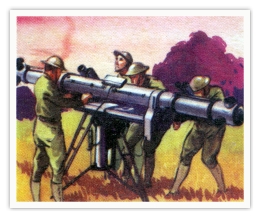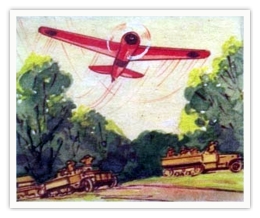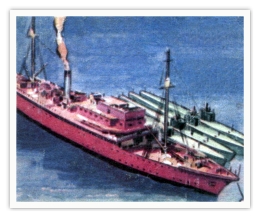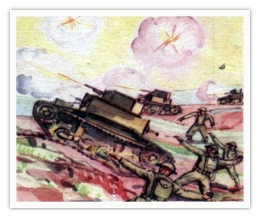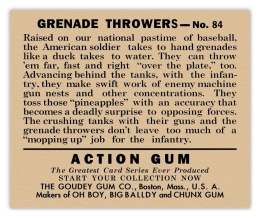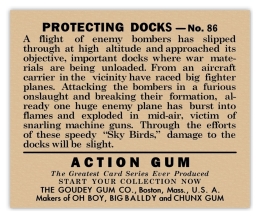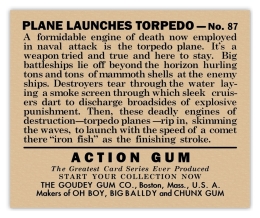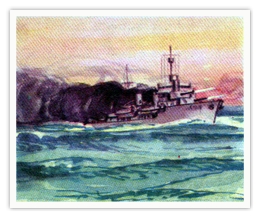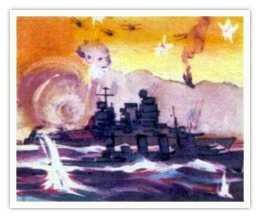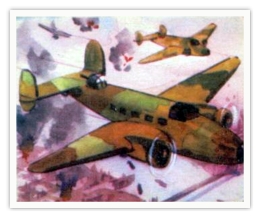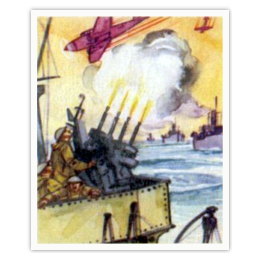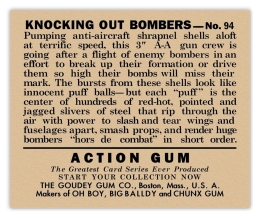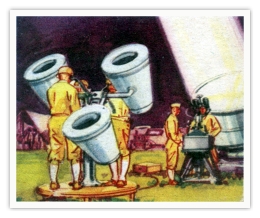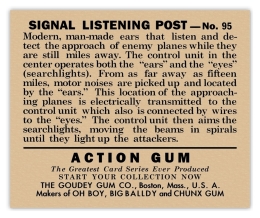 Series Checklist
---
We have included the following two versions of the checklist: (1) the web version shown below, and (2) an Adobe® Acrobat® PDF 8½ × 11 inch format checklist.
1938-39 "Action Gum " (R1)
The Goudey Gum Company, United States
Checklist
№
x
Card Number
1
Tanks Attack
2
Torpedo Bombers
3
Eliminating Enemy Nests
4
Night Bombing Attack
5
Offshore Air Patrol
6
Direct Hit
7
Parachute Invasion
8
Supply Train Attacked
9
Pictures Under Fire
10
A Withering Broadside
11
The Infantry Moves In
12
Machine Gun and Crew
13
Pursuit Planes Dogfight
14
Team Work Aloft
15
Plane Attacks Convoy
16
Cruisers Make Turn
17
Motorcycle Scout
18
Smashing Tank Attack
19
Pursuit Plane Victory
20
Sky Bird Fighter
21
Battleship Formation
22
Attack on Carrier
23
Tops in Fighting Speed
24
Spotting Night Raiders
25
Leaving Aircraft Carrier
26
Bombers in Formation
27
The Marines Charge
28
Sinking in Flames
29
World's Largest Bomber
30
"Commence Firing&lrquo;
31
Freighter Torpedoed
32
Planes to the Rescue
33
Light Artillery
34
"Sky Birds " Take Off
35
Surprising Enemy Sub
36
Mosquitoes in Action
37
Attack on Air Field
38
Night Bombers Depart
39
3" Anti-Aircraft Gun
40
Cruisers' Scout Planes
41
Navy Bomber Dives
42
Planes Screen Advance
43
"Wasps" of the Air
44
16" Coast Defense Gun
45
Convoying Freighters
46
Away at Dawn
47
Landing by "Chute"
48
Dive Bombing a Fort
49
Armed Might Speaks
50
Tanks Fording River
51
To the Rescue
52
Loading the Bomber
53
Tanks in Combat
54
Hard-Hitting Advance
55
Bombing Harbor Forts
56
"Peel Off"
57
Navy Blimp
58
"Listening In"
59
Down in Flames
60
Marines Land
61
Motorcycle in Action
62
Mine Sweeping
63
Caught In Balloon Cables
64
Engineers Make Crossing
65
Tossing Thunderbolts
66
Infantry Advances
67
Artillery Moves Up
68
Army "Half Track Car"
69
8" Railway Gun
70
Long Range Flying Boat
71
Single Seat Fighter
72
Time To Bail Out
73
To a Watery Grave
74
Flame Throwers
75
Anti-Aircraft Gun
76
"Tin Fish" from Skeeter
77
Firing Depth Bomb
78
Camouflaged Planes
79
"Range and Altitude"
80
"Hedgehopping"
81
Fighting Pursuers
82
Mother Ship and Subs
83
The Marines Advance
84
Grenade Throwers
85
Scout Crew in Action
86
Protecting Docks
87
Planes Launches Torpedo
88
Laying a Screen
89
Full Speed Ahead
90
Bombers Lay "Eggs"
91
Taking the "Short-Cut"
92
Pom-Pom Gun in Action
93
Ambulance Rushes Aid
94
Knocking Out Bombers
95
Signal Listening Post
96
A Shattering Broadside
-
Red Wrapper
-
Blue Wrapper
-
Green Wrapper
Contributors
---
John Shupek — John is retired Aeronautical/Aerospace Engineer that lives in Southern California. John's 36 year aerospace career/adventure started in the mid-1960s when he worked for Pratt & Whitney at their "FRDC" … Florida Research and Development Center, West Palm Beach, Florida. John was part of the P&W jet engine design team for the CIA/USAF's Lockheed A-12/SR-71A "Oxcart/Blackbird" engines (J58/JT11D-20). He also worked on the RL-10 rocket engine and the JTF-17A which was P&W's entry into the United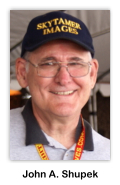 States' SST competition between Boeing and Lockheed. Several years later, John moved back to California and worked at the AiResearch Mfg. Company at LAX and Torrance. He originally worked on the thermal design of the HRE (Hypersonic Ramjet Engine) which was a supersonic combustion Mach 7 ramjet engine that was to be tested on the North American X-15. John did about three more years of jet engine design work before he disappeared for 13 years into the classified DOE "GCEP" (Gas Centrifuge Enrichment Plant) Atomic Energy program for the enrichment of U235. After the GCEP program was cancelled by the DOE in 1985, John was hired by Northrop Aircraft to do the thermal design for Northrop's entry into the ATF (Advanced Tactical Fighter) competition, the Northrop YF-23A "Black Widow II" stealth supercruise fighter. He also worked on the Northrop Grumman B-2A "Spirit" stealth bomber. After several years on a classified stealth missile program, John worked the remainder of his Aerospace career as one of Northrop Grumman's Program Directors on the United States Navy's F/A-18E/F "Super Hornet" jet fighter program.
During John's career at Northrop Grumman he served for five years as Northrop's "Vintage Aircraft Club" Commissioner and the Curator and Webmaster for the Western Museum of Flight in Hawthorne, California. Several years later, John was the volunteer webmaster (for about 3 years) for the Yanks Air Museum, Chino, California. He also served as President and webmaster for two different NPO's after his retirement. The Whittier Historical Society & Museum and Whittier Meals on Wheels.
John's love of aviation history and aviation photography lead to the establishment of this Skytamer.com website in 1998. The Skytamer.com site has continued to expand and will always grow and will never be completed. It's sort of analogous to a snowball rolling down a hill without any trees to stop it. In approximately 2002, John remembered that he had collected Topps "Wings" (ACC# R707-4) airplane trading cards while in High School. Somehow the cards had disappeared over the years. So at this point, he started to re-collect airplane trading cards via eBay and become an airplane card "Image Collector" rather than a "Card Collector" per se. After John scans an airplane card for the website, he has no further use for it and he puts it back into circulation via eBay. John's mission statement for the Skytamer.com is basically to restore and preserve high-quality card images/artwork associated with the various airplane card sets from the early 1900s to the present. These cards are wonderful historical "snapshots" into aviation history showing which aviation events and aircraft were important at that point in time. For the Skytamer.com website, basically if it is a trading card collection that features things that fly, but doesn't have feathers, it's eligible for the consideration on the Skytamer.com website. John always welcome inputs and high resolution scans (600-dpi) that can be used on this website. John can be reached via the "Contact Us" navigation button on the left.
J.L. Cards — A very special thanks to Joseph Lange of JL Cards for helping us with this series. When you're in the Philadelphia area be sure to visit their store at:
JL Cards
2606 Orthodox Street
Philadelphia, PA 19137
(215) 535-3447
(215) 288-9468
References
---
Shupek, John A. "Action Gum (R1) (Goudey Gum)." The Skytamer Archive (600-dpi Image Scans). Skytamer Images, Whittier, CA, 2010. Digital Image Database.
Lange, Joe. "Action Gum (R1) (Goudey Gum)." 600-dpi scans from personal collection
Burdick, J.R., The American Card Catalog, Kistler Printing Company, East Stroudsburg, Pennsylvania, 1960, pp. 103
Benjamin, Christopher and Dennis W. Eckes, The Sport Americana Price Guide to the Non-Sports Cards 1930-1960, Edgewater Book Company, Inc., Cleveland, OH, 1991, ISBN 0-937424-53-6, pp. 9-10
---
Copyright © 1998-2020 (Our 22nd Year) Skytamer Images, Whittier, California
ALL RIGHTS RESERVED